In the present era phone is a basic necessity of our lives rather than a luxury, gone are the days when you could keep your phone unlock as now your phone has every single detail related to your life and if someone got access to it then you are an open book for them. Most of us prefer to keep a backup of our data so that in case your phone breaks or you lost it, somehow you get access to the data.
Backing up your data with the iTunes is the sanest thing one can do for himself. Protected by a password all this data can be recovered and restored easily, but what if you forget your password? What will you do then? With that one single password all the data will be gone too, but here is an edge for the people who use iPhone Backup Unlocker, they can recover all their data despite not having their password. Here are the top 5 iPhone Backup Unlocker Review, which will help you to select the software meeting your needs in the most efficient way
iMyFone iPhone Backup Unlocker - KeyGenius
If you are looking for something more secure and easy to operate, then go for iMyFone KeyGenius to recover your iTunes Backup Password. You can easily decode your iTunes password with iMyFone KeyGenius in all scenarios. Having advanced algorithms, it has various features to decode the password through its powerful attack methods.
Whereas with PhoneRescue you needed to decode the password first to turn off its password encrypted settings, with iMyFone KeyGenius you do not need to go through all that hassle, it can easily disable the encryption settings whether you know the password or not.
Key Features of iMyFone KeyGenius
Easy and intuitive to use, involving no technical knowledge.
Support all versions of iTunes and iOS devices.
Protect your backup data and executes no damage to the backup.
Allow you to pause and save the password recovering progress and continue at any time.
Get rid of a password when creating new backups.
After downloading and successful installation, launch iMyFone KeyGenius on your computer. Choose the "Unlock iTunes Backup" option to recover the iTunes backup password.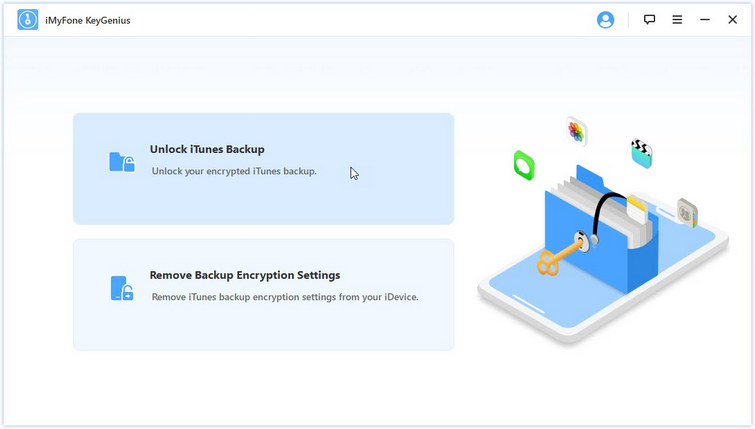 PhoneRescue iPhone Backup Unlocker
PhoneRescue iPhone Backup Unlocker helps you to retrieve all your files, images and whatnot in its original form, even though if it was encrypted or damaged. While restoring, you can also pick and choose the files you need to restore rather than the bulk of data and then deleting it again. PhoneRescue iPhone Backup Unlocker supports lightning-fast scanning and all the discovered photos and files can be previewed in a matter of minutes.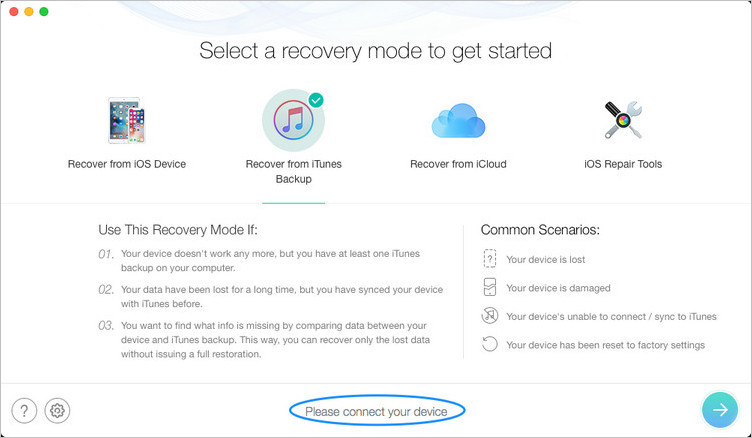 Note:
PhoneResue is a safe option to go for if you forget your iTunes password however it has its own limitations and its every mode encounter certain errors to proceed with. There is a better alternative of PhoneRescue which is not only easy to use but also very fast.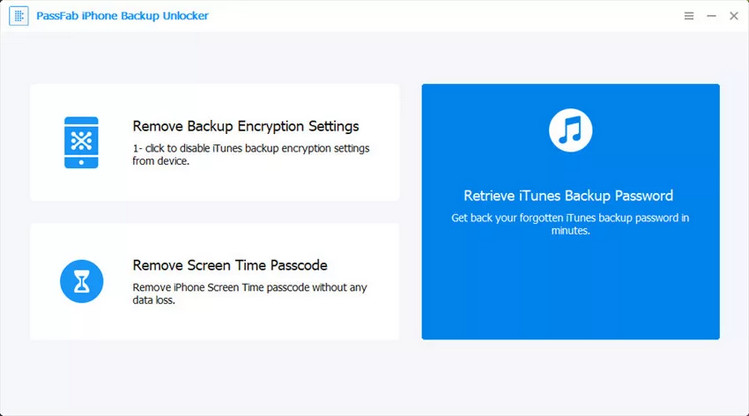 Daossoft iTunes Password Rescuer
Daossoft iTunes Password Rescuer is also one of that amazing software which can help you to retrieve your data that was not accessible because you forgot your password. It has some worth features which makes it stand out from the rest.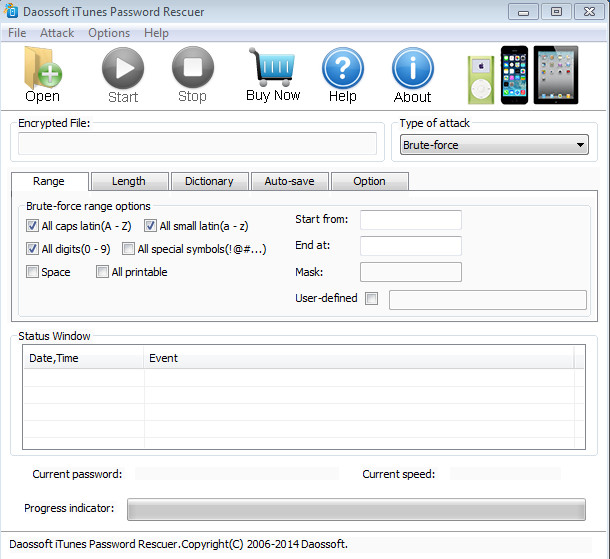 Features of Daossoft iTunes Password Rescuer:
You can recover passwords from iPhones, iPads, and iPods.
It supports all versions of iTunes.
It does not let your data damage.
Supports high-speed recovery, and multi-core CPU.
Note:
Although this software is highly used but it is restricted to some versions of iPhones and does not support the latest iPhones. It is limited till iPhone7 only.
PassFab iPhone Backup Unlock Software
PassFab iPhone Backup Unlocker is one of the most accurate and effective software to go for. It is efficient and supports almost all versions of iOS and iTunes with its amazing features. It can easily help you in all frustrating situations with few simple taps, you wouldn't need to go through a series of steps. Some powerful features to solve password backup issues are listed below.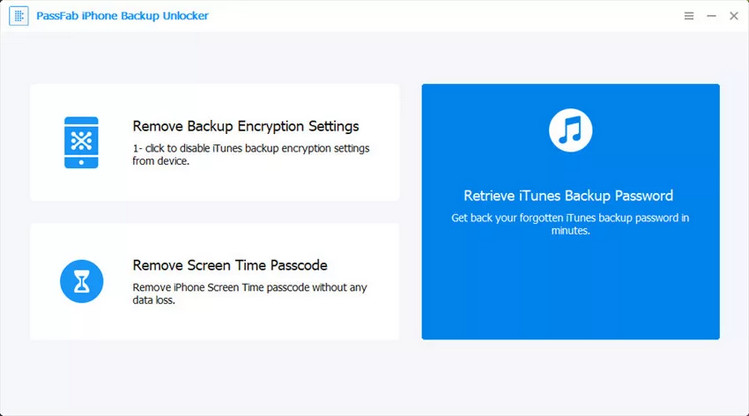 Features of PassFab iPhone Backup Unlock software:
It can easily remove backup encryption settings.
Retrieve your iPhone backup password with its 3 advanced attack features.
If you have the latest iOS version or its above 12 then you can bypass screen time passcode.
It has 40X Faster Speed, which enhances the decryption speed and provides your data in fractions of a second.
GPU acceleration technique is available.
Free iPhone Backup Unlocker
This safe and efficient unlocker has a solution to most of your password related problems. You can easily unlock your iOS device with Free iPhone Backup Unlocker and restore all your pictures, videos, files, etc.
It can recover all lost files, unlock iTunes backup password, supports 3 powerful decryption method and regain access to your iPhone backup data.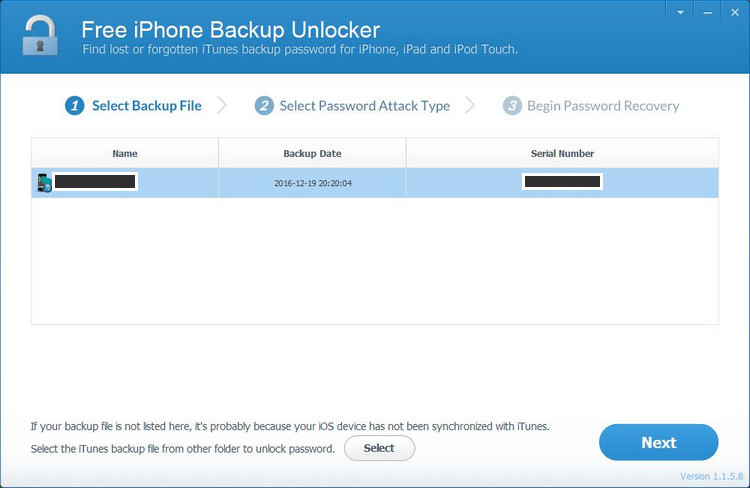 Note:
Although it is very user-friendly and provides great features to decrypt your password it does not offer any trial version, you need to pay for it to try its standard version too.
Conclusion
So, if you are one of those people who happened to forget their iTunes password or lost it due to some other reason than these amazing software is for your rescue, download any of these into your computer and get access to your precious data with few simple steps. With iMyFone KeyGenius you can not only decode your password easily, but it is also very strong in terms of its features and functionalities, also having a very user-friendly interface. Download trial version of iMyFone KeyGenius, and get access to all those long-lost files in a matter of seconds.