iTunes has a feature of encrypting your backup files. If you set a password to your iPhone/iPad/iPod backup files, you need to enter a password every time you want to restore backup from iTunes. It's annoying, right? What's worst, you forgot the correct password or you didn't set a password at the very beginning but it still asks you to enter a password.
The solution for those troublesome situations is a third-party tool. iMyFone KeyGenius is such an tool that you can use to unlock iTune encrypted backup or remove iPhone backup encryption settings. In this short post, we will make a detailed description of iMyFone KeyGenius and the usage of its registration code.
1. When to Use iMyFone KeyGenius
iMyFone KeyGenius iPhone backup unlocker is there to help you out from any of the annoying situations you encounter on your device. Let's have a look at the most common problems users face during iTune data backup and restore.
If you encrypt your backup file in iTunes before, then you won't be able to restore from backup if you forgot the password.

In some cases, your iTunes refuses to accept the original and correct password during the backup process.

If you have never set a password for your iTunes account, generally, they will never ask you to enter one. However, in many cases, users complained that iTunes asks for a password that was never set.

If you are unable to change your iTunes backup password and set a new one to protect your data, you can use iMyFone KeyGenius to get rid of the current issue.

The iPhone backup is encrypted from the beginning, but you can always turn it off  by using iMyFone KeyGenius iPhone backup unlocker whether you remember your password or not. So, you can create new backups without entering a password.
Top Features of iMyFone KeyGenius
Equipped with 3 powerful attack modes, which ensure a high success rate.
The tool is simple to use. The password can be recovered within 3 steps.
iMyFone KeyGenius concerns about your data security, therefore, it won't cause any damage to your data by using this tool.
KeyGenius supports all versions of iTunes and iOS devices.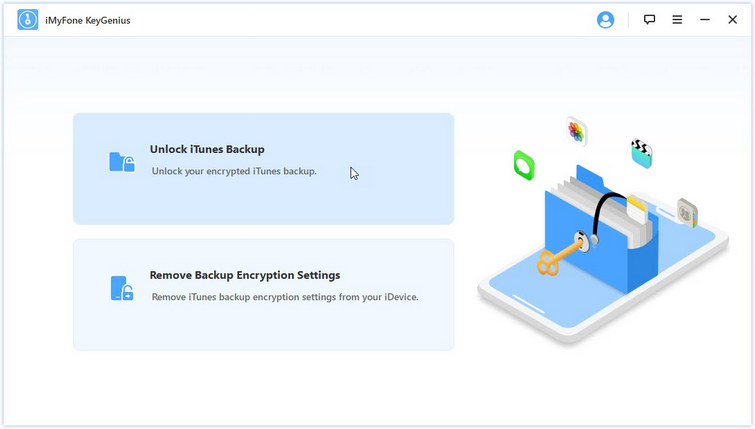 2. Is It Possible to Get Free iMyFone KeyGenius Registration Code?
You may find various articles and posts on the internet, claiming that you can find an iMyFone KeyGenius registration code for free. But in reality, it is currently not possible. This is because the developers always detect the use of the iMyFone KeyGenius registration code. And that also brings a limitation to the people who can use the registration code. Moreover, the number of devices that support the KeyGenius is also under the control of the company. So, you can not use the same license to your multiple devices if the number of your device exceeds their required quantity.
3. Should I Buy iMyFone KeyGenius Registration Code?
If you want to enjoy the full features of iMyFone KeyGenius, you need to buy a registration code. And when you purchase the registration, you can get the following benefits:
Full Version: Purchasing the full version of the application also improves the overall performance of the software. You can use it in all your iOS devices without facing any compatibility issues.  
Free Lifetime Update: You will be able to enjoy lifetime and live updates for free. As the developers upgrade the software with the latest features along with significant improvement, you will receive the software update to your application without an extra cost.
Professional Customer Service: If you are unable to understand the functions of the software or you encounter any problems during the usage, you can get in touch with the iMyFone customer service. The technique team will help you out with your issue in no time.
30-Days Money Back Guarantee: iMyFone KeyGenius ensures you a 30-days money back guarantee after purchasing the official registration code.
Don't try to search for a free iMyFone KeyGenius serial key online because that would be a massive waste of time.
4. How to Purchase iMyFone KeyGenius Registration Code?
There are 3 options you can choose from when buying iMyFone KeyGenius Registration code. The basic plan supports 1 iOS Device for 1 Year. The Family Plan will be high for 2-5 iOS Devices, and it gives you lifetime access.The Multi-User Plan is a customized plan where you get to choose the number of devices you will use the application on. You can pick from 6-10 devices, 11-15 devices, 16-20 iOS devices, or unlimited devices and the plan also gives you lifetime access.

And finally, this is the 15% discount Coupon Code for you after you select one license plan.
Your 15% OFF Coupon Code: KEY-15O-FFG
You can follow the below steps that will help you apply the coupon and get 15% off.
Step 1. After select one license plan of iMyFone KeyGenius for Windows or for Mac, click "Proceed to Checkout" to continue.
Step 2. Now you can see them both the product and the license. Check the box that reads "Redeem Coupon Code".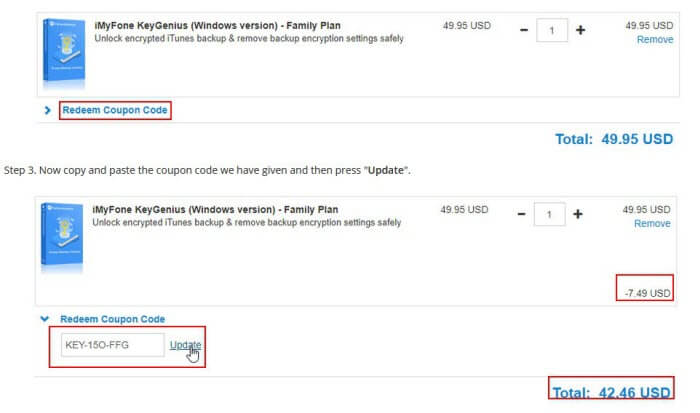 Step 3. Now copy and paste the coupon code we have given and then press "Update".

Step 4. Now provide your payment details and review them to complete your purchase.
These are the essential information you needed to know about iMyFone KeyGenius and iMyFone KeyGenius registration code. In case of any technical disturbance, you can let us know.