Imagine getting locked out of your iPhone, and you are unable to get things done using your device. You know how that feels right? Even though it is an unforgettable experience, there is a solution to it. In this article, you will discover an excellent tool to unlock your iPhone effectively.
iMyFone KeyGenius is a powerful tool for unlocking encrypted iTunes backup password and removing iPhone encryption settings. Read on to learn about the iMyFone KeyGenius serial key.
Things You Need to now about iMyFone KeyGenius Serial Key
1

Why You Need iMyFone KeyGenius
iMyFone KeyGenius is a versatile software for unlocking iTunes backup on any iDevice with a high success rate. It also allows iPhone users to remove encryption setting and permits you to create a new backup without requesting a password.
Now, the reasons you need iMyFone KeyGenius include:
To unlock iTunes backup password.
To remove iPhone encryption settings.
To keep your data safe while removing encryption settings
---
Key Features of iMyFone KeyGenius
Removes Encryption Settings in Record Time: iMyFone KeyGenius completely removes backup encryption settings in less than a minute.
Easy to Use: With its unique user interface, you can quickly navigate through the software and unlock your phone without stress.
Supports All Devices and iTunes: iMyFone KeyGenius supports all iOS versions of iPhone, and it also supports all iTunes versions including the latest iTunes 12.9.
One-Click solution: Keygenius also makes it easy to disable iTunes backup encryption with just a click. It's fast and efficient.
No Data Loss: With KeyGenius, you can easily unlock your iPhone without losing any data.
100% Decryption Rate: Safely analyze iTunes encryption process and find the right password with a high success rate.
iMyFone KeyGenius has been reviewed and highly recommended by professional software review media, including SOFTPEDIA, download.hr, etc. The following are true and real reviews of iMyFone KeyGenius:

2

Truth About iMyFone KeyGenius Serial Key
iMyFone KeyGenius being a robust software offers three premium plans. These plans or licenses include:
Basic Plan: This plan as the name implies supports only 1 device for a year, and it costs $34.95.
Family Plan: The family plan is a unique plan that allows 2-5 devices for a lifetime. It costs only $49.95 to activate this license.
Business Plan: This plan is ideal for 6-10 iOS devices, and it comes with a lifetime offer. It is available for only $59.95.
Note: It is important to note that once you purchase any of these plans, your license will be given to you immediately.
Truth
Now the truth about free iTunes backup unlocking tools is that they are fake. Those sites that claim to offer free licenses just want to waste your time with no good results. So, it is advisable to get a premium and working license from
iMyFone KeyGenius official website
at a discounted price.
3

Why You Need a Serial Key to Use iMyFone KeyGenius
No genuine software company that works hard to get a software working will ever give out the software for free without the end-users paying for it. It is essential to know that iMyFone company does not offer free licenses because her team spent valuable time and resources to make sure the software works well. Again, funds are needed to keep the software updated with the latest improvements and features.
Like I have said before, any software that offers free licenses to end-users does not work. Some of these free software is designed to steal your personal information. So, you have to be careful when scouting for free online tools to unlock your iDevice.
4

Why You Should Get Your Own iMyFone KeyGenius Serial Key
It is necessary as an iPhone user to get a personal KeyGenius serial key in case of emergency. You may forget your iTunes backup password someday and unlocking it with KeyGenius may be your only option. Some other reasons you need to get a serial key include:
Maximum cost-efficiency
Reliable 24/7/365 customer service
30-day money-back guarantee
Free lifetime upgrades
5

We Have A Bonus for You!
iMyFone KeyGenius offers 10% discount on any purchase made on their website. So, what are you waiting for? Grab this offer now while it still lasts.
Your 10% OFF Coupon Code: YTR5E7
Copy the Code and Follow below to Use It:
Step 1: Click here and get to iMyFone KeyGenius purchase page: for Windows or for Mac.
Step 2: Choose a plan and click on Buy Now button and you will be guided to the payment page.

Step 3: Find and check I have a coupon in the lower lefthand corner, paste the code YTR5E7 into the box and click Apply.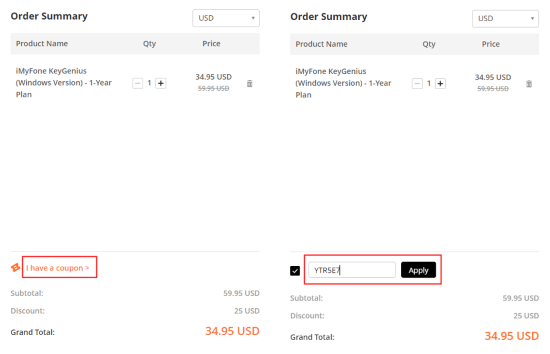 Step 4: Now you can see that the coupon is set successfully. And you can continue with the purchasing process.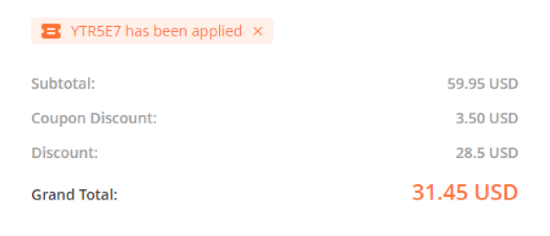 iMyFone KeyGenius is an excellent tool to unlock iTunes backup password and remove encryption password from your iPhone. If it is within your budget, ensure you get this software and watch work wonders.