Imagine forgetting your iPhone backup password. You know what that means right? You won't be able to restore the encrypted backup when the need arises. However, there are various solutions you can use for a password to restore iPhone backup. In this article, we'll talk about these solutions and where to get them for encrypted iPhone backup issues.
What is Password to Restore iPhone Backup?
If you were wondering if this password is your iCloud account password or Apple ID, then you're wrong. iPhone backup password is always required whenever you want to restore an encrypted file from iTunes. So, if you've forgotten your backup password, it will be quite difficult to restore your iTunes account.
However, there are some good tools for total recovery of password to restore iPhone backup from iTunes. We'll look at some of them here in this article.
What to Do When Forget Password to Restore iPhone Backup?
If you have forgotten the password to restore iPhone backup, there are three sure-fire methods you can use to get back your iPhone backup password. Let's discuss these three methods below.
Forgot Password to Restore iPhone Backup? Unlock with KeyGenius
iMyFone KeyGenius is a new powerful software specially developed by trusted professionals to help iPhone users solve iTunes backup problems. It is the latest game-changer and a new program from the stable of iMyFone. There are some great features you would like to know about this new amazing software. Let's go check.
Key Features:
Unlock Flexibly: iMyFone KeyGenius can recover forgotten iTunes backup password in three flexible ways.
One Click Solution: KeyGenius also makes it easy to disable iTunes backup encryption with just a click. It's superfast and reliable.
No Data Loss: With its powerful & advanced technology, you can easily use it without your data getting lost. Everything is safe!
Decrypt Safely: With iMyFone KeyGenius, you can safely analyze iTunes encryption process and find the right password with high accuracy.
Steps for iPhone Backup Restore Password Recovery
Step One - Download and Install the Software
Download and install the software for Windows or Mac PCs. Launch the software and follow the next instruction.
Step Two - Choose Encrypted Backup File
On the software interface, select "Unlock iTunes Backup" from the three options provided.
All iTunes backup on your PC will be displayed. Select the one you'd love to remove its password and click on "Next".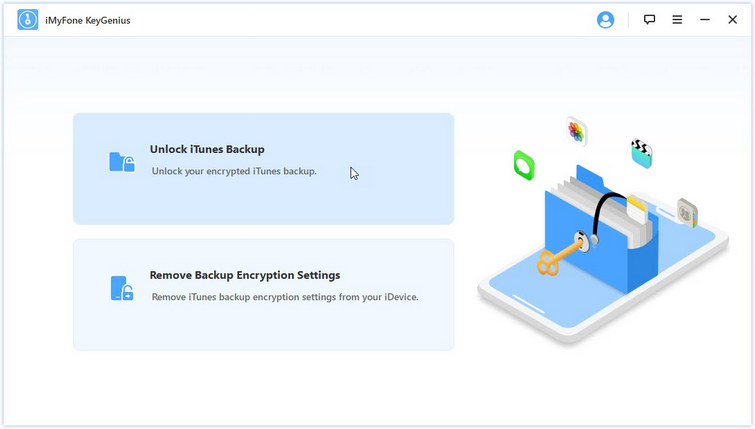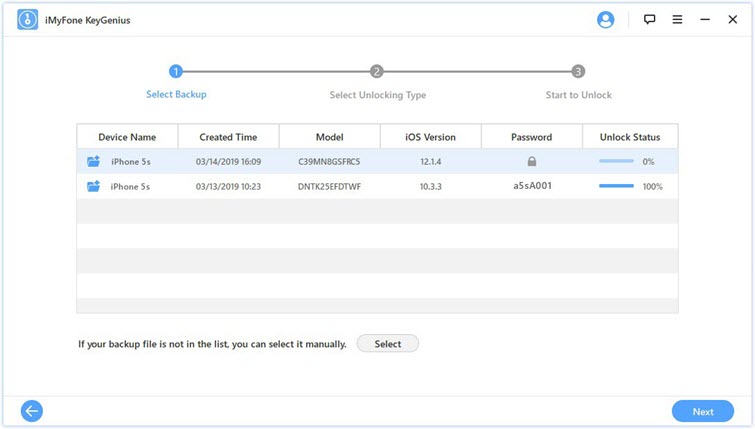 Step Three - Choose the Password Unlock Mode
You'll find three kinds of iTunes backup attack on the software interface, namely Dictionary Attack, Brute-Force with Mask Attack, and Brute-Force Attack. Select the one that you want to efficiently retrieve backup file password.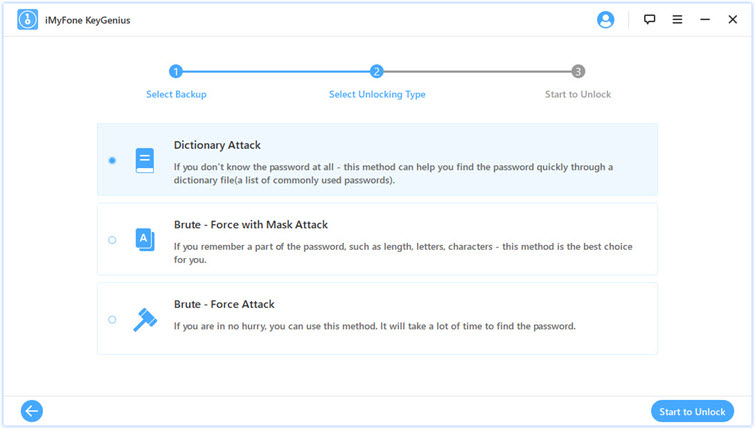 Step Four - Recover iTunes Backup Password
Once you've decided on the option to use, click the "Next" button to begin and the software will start finding the password as soon as possible. When the decryption begins, you can stop the process if you have an emergency to sort out. Once you've settled the emergency, you can continue the decryption process.
The time to recover the password depends on the length of the password, attack settings and how difficult the password is. Password with less than 4 digits can be retrieved quickly. However, if you have a longer password, the software will take more time. Once the password is successfully found, a pop-up will appear notifying you of your iTunes password.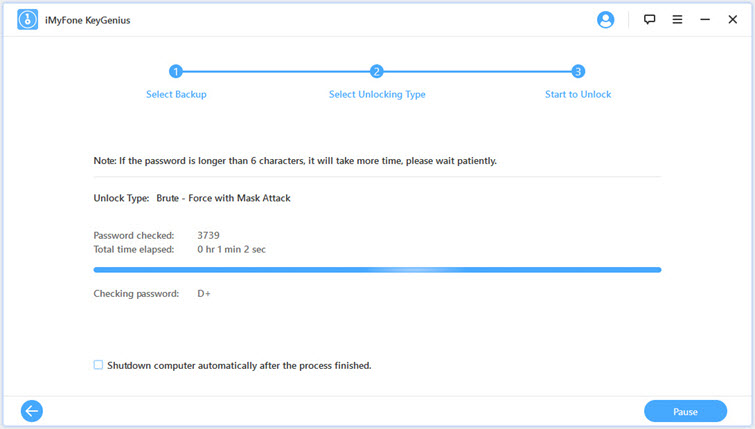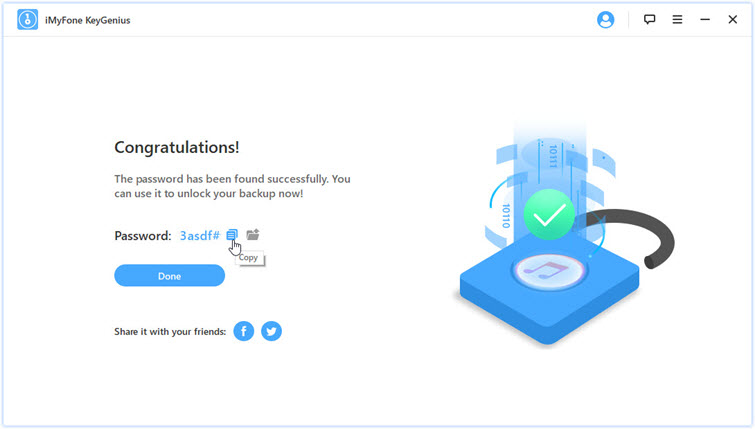 Forgot Password to Restore iPhone Backup? Try All Possible Password
This method of recovering iTunes backup password is less effective because you'll have to waste a lot of time thinking about different password combination you've used in the past. However, if you're lucky enough, you may be able to gain some success. When it comes to trying all possible passwords, make sure you try:
Your windows account password
Your Apple ID password
Commonly used passwords for online registration such as social networks and forums
Variations of your family member's names or birthdays
Frequently used passwords such as abcd, 12345, 0000, etc.
For Mac Users, Use Keychain
Mac users can recover their iTunes backup password if they saved the password to Keychain. With Keychain, you can easily get back your password. Below are the steps to follow:
Step 1. On your Mac, Go to Applications > Utilities > Keychain Access
Step 2. Tap "All Items". In the search field, enter "iPhone" and look for a keychain item titled "iPhone Backup".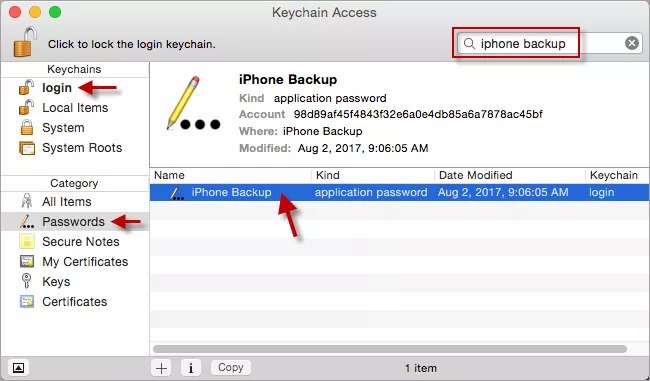 Step 3. Click to open the iPhone Backup and a new window will pop-up requesting you to tick the "Show Password".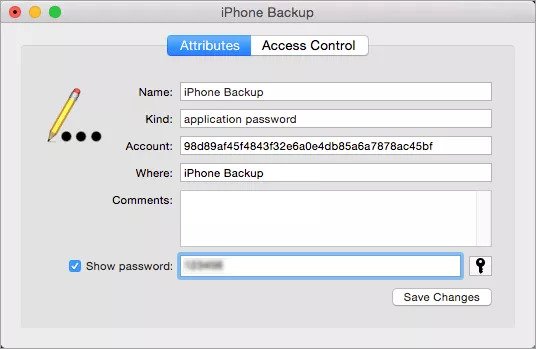 Step 4. Input your Keychain password and tap "Allow". Once you've done that, your iPhone backup password will appear on the pop-up window.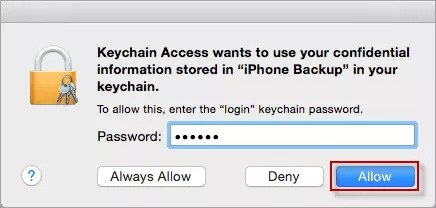 Conclusion
Retrieving password to restore iPhone backup from iTunes can be quite difficult to achieve. However, we've tried our best to outline three powerful options that work of which iMyFone KeyGenius is the best. Get this awesome software right now and you will not regret doing so.