If you're looking for the best ways to download and play Wild Rift on your PC, then you have come to the right platform. Even if this game is primarily available for mobile users, you can still enjoy it on a big screen.
Wild Rift has taken the gaming industry by storm has already gained immense popularity - thanks to the breathtaking views and high-end graphics it offers. Here in this article, we will talk you through several ways on how to play Wild Rift on PC seamlessly.
Part 1: How to Play League of Legends: Wild Rift on PC with Emulator?
Emulators have taken the gaming industry by storm. These applications empower uses to play games on their computers without relying on the their devices.
Below is a curated list of the most sought-after emulators for playing Wild Rift on a PC.
1. BlueStacks
BlueStacks is considered the fasted and most reliable Wild Rift emulator having millions of dedicated user-base. Apart from its compatibility with Mac and Windows, BlueStacks comes preloaded with tons of amazing features that further enhance the users' gaming experience.
Here's how you play mobile legends on BlueStacks:
After downloading it, install BlueStacks on your computer.
Launch the application and log in with your Google Play Account. If you don't already have an account, make one.

Now, search and install Wild Rift on BlueStacks.
Navigate to My Apps, run the recently installed BlueStacks Wild Rift and start playing it on your PC.
Users can adjust the controls and keybinds in the Settings menu of the game.
2. GameLoop
Previously known as Tencent gaming Buddy, GameLoop is a comprehensive emulator to play any game on your computer. Being one of the advanced Android emulators, it offers an intuitive procedure to install and play Wild Rift on a Windows PC.
Check out yourself how to use this Wild Rift emulator PC:
Head to the official GameLoop website and download it on your computer.
Once downloaded, run the installer and follow the on-screen instructions.
Launch the application, create an account, and sign in.
Search Wild Rift and hit on Install. Now, open the game and start playing it.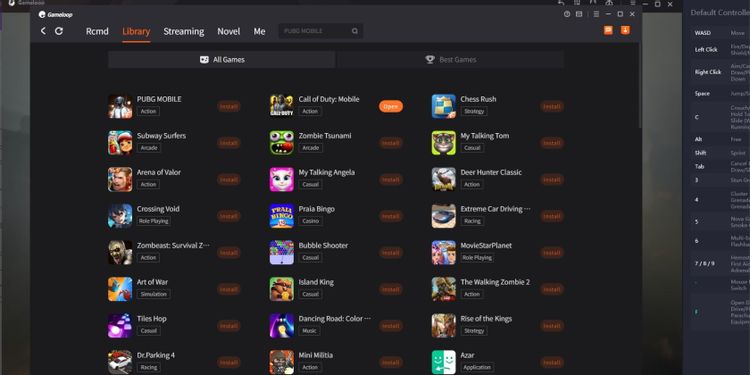 3. LDPlayer
LDPlayer is a lightweight yet highly efficient Wild Rift PC emulator that comes with a wide array of gaming-oriented features. For many avid gamers, LDPlayer is a worthy alternative for BlueStacks thanks to its impeccable features including high FPS and graphical support, superior keyboard mapping control, and macros.
To use this best emulator to play Wild Rift:
Start by downloading and installing LDPlayer from the official site.
Launch it and hit on the LD Store icon.

Search Wild Rift and hit install to download it. Now, you can play it on your PC.

Users can adjust the controls and keybinds in the Settings menu of the game.

Part 2: How to Play Wild Rift on PC without Emulator?

If you don't want to use emulators to play Wild Rift on a PC, we still got you covered. For that, you can rely on screen mirroring apps to cast the game from your Android device on your PC.

Luckily, the internet is awash with such apps. Read on to learn about the two top-ranked screen mirroring apps for playing Wild Rift without emulators.

1. iMyFone MirrorTo

iMyFone MirrorTo is an amazing Android device custom projection software. It supports most Android devices, and has faithful users from all over the world. With MirrorTo, you can mirror your full screen or a specific window from Android devices; you can call you friends and send message on social media freely; or you can play your favorite mobile games on PC, such as Clash of Clans, Mini World, and Subway Surfer.

Here's how to use iMyFone MirrorTo to play Wild Rift on a PC.

Step 1: Download iMyFone MirrorTo and complete the installation, then launch the program.

Step 2: Use a USB cable to connect your phone to your computer. Note that the connection mode is selected "file transfer".

Step 3: Give permission to MirrorTo and allow it to show things on top. Click "Turn on".

Step 4: Now you can enjoy playing Wild Rift game on your computer in full screen, and easily controlling the characters in the game.

Tips

iMyFone MirrorTo also supports live streaming function.

It can stream your phone to YouTube or other platfroms like Zoom, Cisco Webex Meeting,ect, so if you want share with friends how do you play Wild Rift, go get it!

Come and have a look at more details.

If you're working on a Windows PC and want the apps and content from android devices screen to show on your PC screen, you'll want to consider iMyFone MirrorTo that device can mirror screen or projecting it to your PC.

2. ApowerMirror

ApowerMirror is a powerful and feature-rich tool for displaying your phone's screen on a PC. Using mainstream mirroring technology, it offers the best possible mirroring experience with high-quality audio.

Here's how to use ApowerMirror to play Wild Rift on a PC.

For Android users:

Step 1: Install ApowerMirror on your Android device and PC and connect it with a computer via a lightning cable. Enable the USB Debugging on your mobile.

Step 2: Once PC feature is activated, launch the app and tap the Mirror icon > name of your PC > Phone Screen Mirroring > Start Now.

Step 3: Launch Wild Rift on your mobile and adjust the controllers via the Keyboard icon in the top bar as needed.

For iPhone users:

Step 1: Install ApowerMirror and launch it.

Step 2: Navigate to Mirror > Control Center > Screen Mirroring > your computer's name.

Step 3: Finally, connect your iPhone to the computer with a lightning cable and start playing the game on the big screen.

3. LetsView

Another highly popular screen mirroring app for playing Wild Rift on a PC is LetsView. With this app, you can cast your mobile on a big screen wirelessly and experience Wild Rift like never before.

Follow the below steps to use LetsView.

Step 1: Install LetsView on your mobile and PC. Make sure both devices are connected to the same Wi-Fi connection.

Step 2: Launch the app on both devices. Wait until your mobile detects the computer. Hit Start Mirroring to continue.

Now launch Wild Rift on your mobile and start playing it on the PC.

Part 3: How to play Wild Rift on PC with mouse and keyboard?

Like many mobile games, Wild Rift doesn't provide an official mouse and keyboard support and you have to rely on third-party Android emulators or key mapping apps to use your mouse and keyboard.

All Android emulators come with a built-in customizable mouse and keyboard keybind mappings. After installing Wild Rift on an emulator, you can tweak the hotkeys and keybinds to your liking.

Use LDPlayer

As mentioned earlier, LDPlayer is a powerful Android emulator that offers default mouse and controller settings for Wild Rift. Here are the three examples of Keyboard settings:

Fire Key: Users can set a keyboard key for "fire" to make it easy to shoot at the opponents quickly and score big.
Move Control: Set the arrows on your keyboard for moving the character in the desired location.
Skill Key: Setting a Skill key on the keyboard makes it convenient to assign a skill to the character without delays.

Part 4: FAQs You Should Know about Playing Wild Rift on PC

Read the below commonly asked questions to improve your understanding of the topic at hand.

1

How to download Wild Rift on Windows 10?

Unfortunately, there's no direct way to download Wild Rift on Windows 10. But you can rely on Android emulators like BlueStacks, GameLoop, and LDPlayer to install it on a PC and start enjoying it on your big screen.

---

2

Which is the Best Emulator for LOL Wild Rift PC?

The best emulator is a subjective term that varies from user to user depending on their individual preferences and requirements. However, if statistics are anything to go by, BlueStacks remains the most popular and best emulator for Wild Rift in 2022.

---

3

Can you play Wild Rift on PC with a controller?

Yes, users can play Wild Rift on a PC with controllers. For that, you have to use an emulator or screen mirroring app which stimulates your mobile's screen on a PC and you can enjoy Wild Rift with controllers.

---

4

What is the Wild Rift system requirements of PC?

Here are the minimum system requirements for playing Wild Rift on a PC:
OS: Both Windows and macOS
CPU: 3.8GHz Intel Core i3-6300 or higher and 4.2GHz AMD FX-4350 Quad-Core CPU or higher
Hard Disk: almost 2GB free storage
RAM: 6GB
GPU: NVIDIA GeForce GT 640 / AMD Radeon HD 7700
GPU RAM: 1 GB
---
Final Words
This article shed light on various methods you can fall back on to play Wild Rift on a PC. As it turns out, users can enjoy this remarkable game on a big screen with emulators, screen mirroring apps, like iMyFone MirrorTo mirroring app as well as mouse and controllers. Choose the option that best suits your needs and enjoy Wild Rift as it is meant to be.
Feel free to ask any questions. We will get back to you as soon as possible.