Have you ever felt troubled about buying a new phone because you fear it might mean losing all your important data and apps? Or are you simply worried that all the tools you've found do not offer a way to migrate some of your most important data?
If you've faced similar questions to the aforementioned, you should consider cloning your phone.
What does it mean to clone a phone?
Cloning a phone means making a copy of all or most of the data on a mobile phone, and moving them over to another phone. If you own an iPhone, but you recently purchased a Samsung, a clone would mean moving over almost all your personal data, apps and media from your iPhone to your Samsung.

Thanks to modern the technological advancements, it has become easier than ever before to fully clone a phone. There are numerous tools available for both smartphones and PCs that can offer efficient cloning services.
Tools to Clone a Phone (Both mobile and PC apps)
Regardless of if you're considering a switch between Android and iPhone, or from Android to Android, or from iPhone to iPhone, cloning a phone can deliver the results you need. It is the easiest and simplest method to migrate all your data from one phone to another.
There are many outstanding cloning tools available on mobile app stores, like CLONEit and SHAREit, and others that are available as desktop/PC tools.
Here are some of our favourites:
1. Clone an iPhone/Samsung/Huawei Phone [WhatsApp clone supported]
iMyFone iTransor Pro is an outstanding cloning tool for cloning all the data from iPhone to Samsung or from Samsung/Huawei to iPhone. It makes it possible to clone almost every possible data and app from phone to phone. Its speed is multiple times faster than most other cloning tools and it has one of the fewest restrictions between iOS and Andriod. Meaning, it is compatible with most modern iPhone, Samsung, and Huawei devices.
Furthermore,  iMyFone iTransor Pro delivers a very easy-to-use interface and guarantees the security of all your cloned data. It can even help you to directly clone WhatsApp no matter what operating systems the devices are running on, which cannot be done by most tools.
Here is how you can clone a phone with iTransor Pro:
Download and install the program to your PC.
Launch the app and connect both your phones to your PC via USB. Follow the guide to allow the PC to access phone data.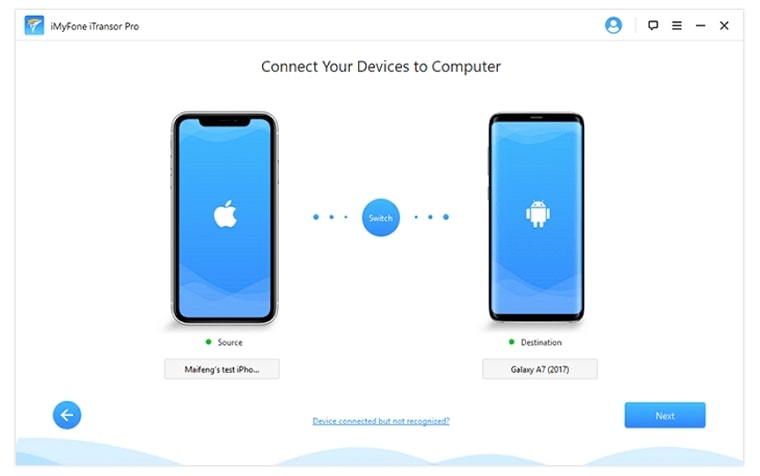 Click Next and follow all the on-screen instructions.
Select all the data you wish to clone and wait for the process to complete.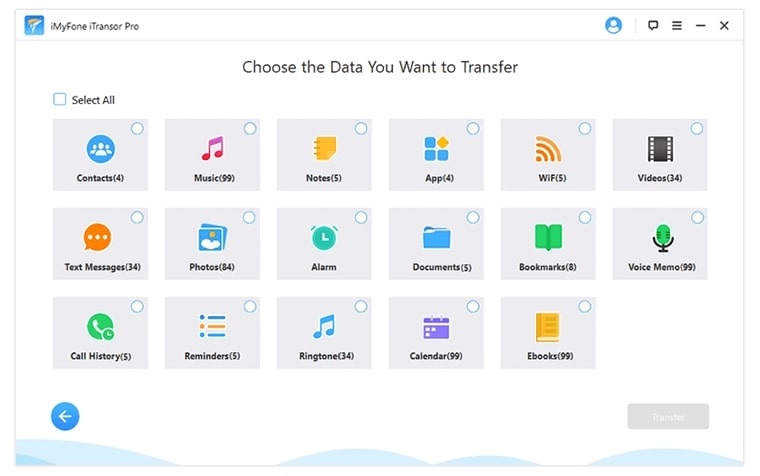 2. Clone a Phone to Huawei - Phone Clone
Huawei's Phone Clone app is a cloning tool for wirelessly cloning data from any iPhone or Android to a Huawei phone. Instead of using your phone's local Wi-Fi like most rival mobile apps, Phone Clone uses a QR code system to move your data across devices.
If you bought, or you plan to buy a Huawei Phone, the Phone Clone app should be your top choice. Not only does it offer fast transfer speeds, it also encrypts the cloning process making it less likely for you to experience a data breach.
Here is how you can clone a phone with Huawei's Phone Clone app:
Download the Phone Clone app on both the source and target devices. You can download it from the Google Play store and the App Store.
Open the app and tap on "This is the new phone" on the source device and "This is the old phone" on the receiving device.
Scan the QR code and choose the data you wish to clone. Tap "send data" and wait for the transfer to complete.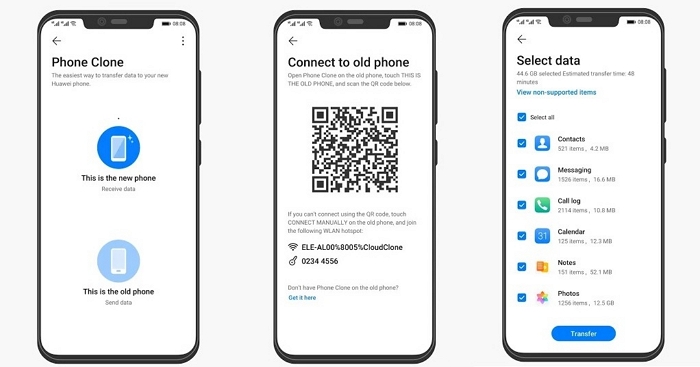 3. Clone an Android Phone to Another - CLONEit
Although only available for Android phones, CLONEit is a remarkable mobile cloning app which delivers one of the best cloning results of any mobile app. It is a free app which boasts a transfer speed of up to 20mb/s, making it about 2000 times faster than the speed of Bluetooth.
CLONEit supports android devices running on Android OS 2.2 and later versions, and makes it possible to clone almost every data on a phone, including photos, videos, music/audio, messages, app data, bookmarks, passwords, notes, alarms, browser history and calendar, among others.
Here is how you can clone a phone with CLONEit:
Download the CLONEit app on both the older and newer android Devices. Open the app and turn on the Wi-Fi on both the devices. Remember to accurately select the source device as "Sender" and the target devices as a "Receiver".
The newer device should automatically start looking for the sender. View the Wi-Fi hotspot the sender has created to confirm the connection. Click "OK"
Go to the older device (sender) and select the data that you wish to transfer and click on "Start" to initiate the cloning process. You will be notified as soon as the cloning process is complete.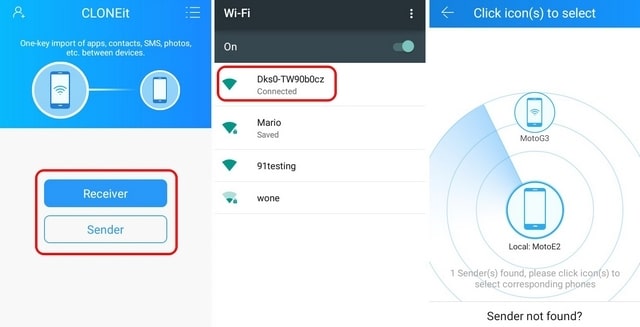 4. Clone a Phone Across Different Operating Systems - SHAREit
SHAREit is an app with a very similar function to CLONEit with one exception; it is available for both Android and iOS phones (it is also available for PC and Mac). With over 500 million downloads, SHAREit is without a doubt one of the most popular cloning apps in the market.
It delivers unrivalled transfer speed and offers a very simple user interface. Furthermore, it makes it easy to move many types of data between any two smartphones and it supports cloning all your music, photos, videos, and other document files.
Here is how you can clone a phone with SHAREit:
Download the SHAREit app on both the sending and receiving phones. It is available on both Google Play and the App Store. Open the app on the source device and click on "Send".
Select all the data you wish to clone and click on "Next". Open the app on the receiving phone and bring it close to the sending phone. Select it as a receiving device.
Select the Wi-Fi Hotspot that is associated with the sending device to create a secure local connection. This should initiate the cloning process. Wait for the process to complete.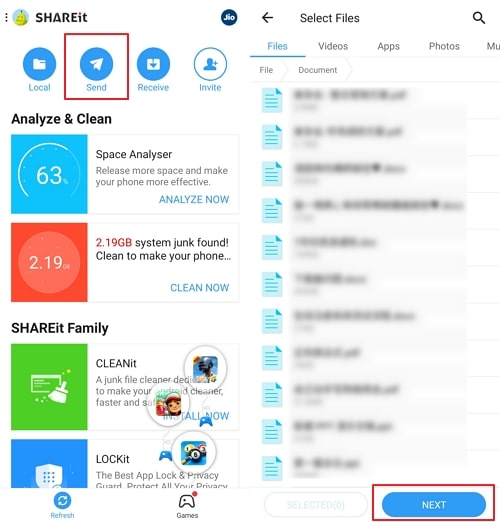 A Comparison of All the Mentioned Tools
Our most favorite pick is the iMyFone iTransor Pro, so if you'd like to clone an iPhone/Samsung/Huawei phone, you should absolutely get this tool. However, all the other tools can also clone your phones excellently, so you can just give them all a try. .
Here is a vivid comparison of all our favourite cloning tools:
iTransor Pro
Phone Clone
CLONEit
SHAREit
Compatible Devices
iPhone, Samsung, & Huawei
Huawei & Other phones
Only Android phones
iPhone & Android phones
Operating System (OS) Requirement
iOS 9.0+
Android 4.4+
iOS 8.0+
Android 4.4+
Android 2.3+
iOS 10+
Android 4.1+
Operational Mode
PC app
Mobile app
Mobile app
Mobile app
Limitation
No mobile app
Clones only to
Huawei Phone
Only works for Android devices
Requires a large storage space
Data Security
Most secure
Very secure
Fairly secure
Fairly secure
Speed
Excellent speed
Good speed
Excellent speed
Excellent speed
Ease of Use
Very easy
Easy
Easy
Very easy