You may have downloaded some movies that show up on your iTunes list and now you want to delete them. Fortunately, iTunes allows you to delete content in order to effectively manage your iTunes library. The process to do this is quite easy as you simply need to select the type of content (in this case: movies) and remove it from your iTunes library.
How to Delete Movies from iTunes on Mac/Windows?
Deleting movies from iTunes is similar to deleting any other content. You will need to navigate to the respective section on iTunes, use the right-click context menu, and then simply delete the item you no longer wish to keep. Follow these instructions:
Open iTunes on your Windows PC or Mac.
Once iTunes is launched, find and click on Movies from the drop-down menu. Your movie library will open. This section is available at the top-left corner of iTunes.
Now find the movie that you wish to delete. There are many filters you can use to find the item quickly, these include Downloaded, Home Movies, Recently Added, etc.
Once you have found the movie that you wish to delete, right-click on it and then select 'Delete' option from the context menu. A confirmation message may appear, confirm your action to proceed.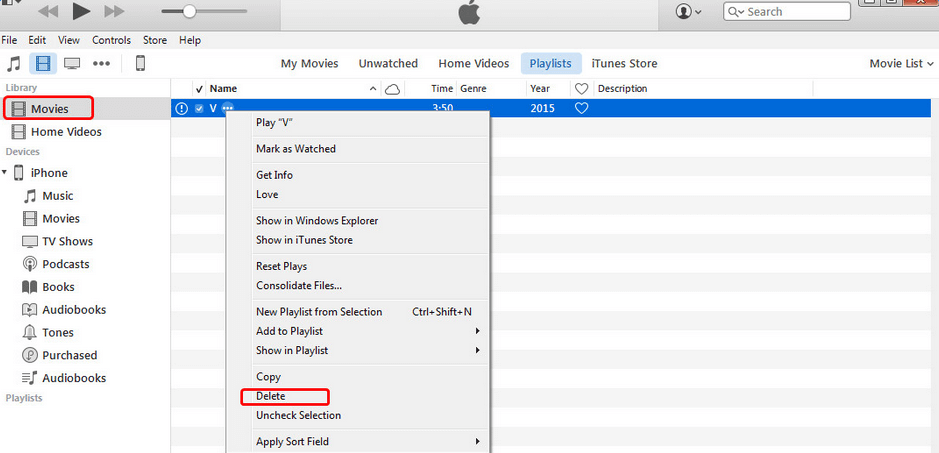 Depending on the type of movie, there are different options you will need to use in order to delete it. If it is a 'Home Movie' that you didn't purchase from iTunes Store and simply added to your iTunes library from your computer, then you will need to select 'Delete' option.
If you have downloaded the movie, then you will need to select 'Remove download' option to delete the movie.
How to Delete Purchased Movies from iTunes Account?
You have purchased a movie via iTunes Store and then transferred it to your iDevice to watch it. After deleting the movie from your iDevice, you will still find that movie in your iTunes library. It can be a bit annoying because you already watched the movie and no longer want to see it in your iTunes library. While you cannot actually delete the purchased movie from your iTunes account, you can hide it so that it does not appear in the Movies section of iTunes.
Follow these instructions:
First, make sure that the movie is deleted locally. To do this, open iTunes, navigate to Movies section and then delete it via right-click or Delete key on your keyboard.
Now that you have deleted the movie locally, you may be surprised to see it still listed in iTunes. This is because the movie is still available on your iTunes account. You will notice a little cloud icon next to that movie.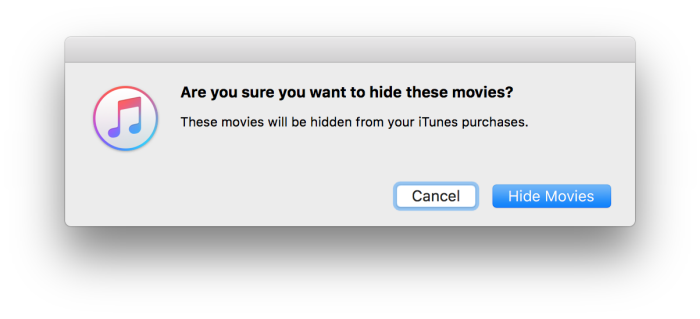 Now as mentioned above, you cannot actually delete the downloaded movie, but you can hide it. To do this, simply select the movie again and press Delete button on your keyboard. This time, iTunes will prompt you to hide the content. Click 'Hide Movies' option when prompted and it will disappear from your iTunes library.
Best Tool to Manage Movies for iDevice/iTunes
There are many alternative softwares that you can use to effectively manage your iTunes/iDevice movies. iMyFone TunesMate iPhone Transfer is one such software. It is one of the best file transfer tools designed for iDevices. It allows you to manage as well as transfer iDevice media to your iTunes/computer and vice versa. Managing your iTunes/iDevice movies via TunesMate is a breeze as it supports various video formats and offers many tools for file management. Furthermore, you don't need to open iTunes to manage and transfer iDevice movies when you are using TunesMate.
What Can iMyFone TunesMate Do with Movies?
Following are some features of TunesMate that are related to movies:
TunesMate supports movies, home videos, music videos, TV shows, Podcasts, iTunes U, and more.
You can transfer all movies/videos at once or transfer them selectively from your iPhone to your PC/iTunes and vice versa.
Many video formats are supported such as .mp4, .avi, .wmv, .m4v, .flv, .rmvb, etc.
Enjoy ultra-fast speeds when transferring movies between your iPhone and computer, regardless of how large they may be.
You can delete movies one-by-one or all at once without hassles and quickly free up space.
iMyFone TunesMate allows you to manage both purchased and non-purchased movies.
iMyFone TunesMate has been Highly recommended by many professional software review webistes, such as Getintopc, Geekreply, tricksworldzz.com, etc.
Other Features
Following are some other features of TunesMate:
Manage and transfer virtually all kinds of media files including photos, music, apps, ringtones, playlists, etc.
Create and customize ringtones from your iPhone music files.
100% safe file transfers; the previous data is not erased when syncing.
Rebuild corrupted iTunes library as well as share the entire iTunes library with friends and family.
Uninstall apps in bulk.
Faster transfer speeds, user-friendly interface, hassle-free iPhone file management, and many other features make iMyFone TunesMate the best iTunes alternative in 2018.