You can also read this guide in Français.
Duplicate songs on iPhone are mostly seen when you have a big iPhone music library. In such as case, you will definitely have a lot of same song duplicates. These duplicates are also very hard to find manually on iPhone, most especially when you download multiple versions of songs from different sources. However, iTunes have a built-in feature that can aid you in fetching out these song duplicates manually and exterminate them once and for all.
Nevertheless, we shall learn different methods on how to find and delete duplicate songs on iPhone.
Method 1: Delete Duplicate Songs on iPhone using iTunes
Duplicated songs on iOS device can only be deleted on iTunes through manual process. However, iTunes offers users the privilege of viewing such files before deleting one of the copies.
Here are steps on how to delete duplicate songs on iPhone using iTunes.
Step 1: Open iTunes.
Step 2: Click on View Menu on Mac, Windows PC users may need to click (Ctrl + B) keys to reveal the menu first.
Step 3: Click on File > Library > Show Duplicate Items.
Step 4: Tap Show Duplicate Items.
Step 5: iTunes will show a list of duplicate songs. You can also request to see this list grouped by albums by tapping on Same Album.
Step 6: Sort and find the songs you want to delete.
Step 7: Delete them individually till you are done.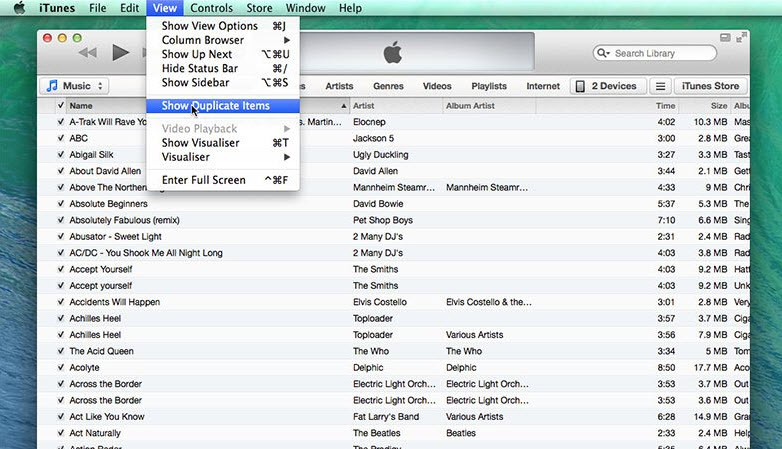 Method 2: Delete Duplicate Songs on iPhone using Third-Party Tool
Nothing removes duplicate on iPhone like iMyFone TunesMate. It is now the most applauded iTunes alternative for relieving bad experiences gotten from annoying duplicate songs. The fact is that iTunes is good in finding and removing duplicates, but the truth is that iTunes can only be useful when removing a few duplicate songs manually.
It is ridiculous and tedious to use iTunes in removing extremely multiple duplicate songs from iPhone. TunesMate can achieve this fit in just 1-click.
How to use TunesMate in Deleting Duplicate Songs on iPhone?
To enjoy TunesMate, you will need to connect your iPhone/iPod/iPad to computer via USB cable. Once you have established a connection, the process becomes simple and easy through these steps.
Step 1: Run TunesMate on your computer.
Step 2: Click on Home interface, and choose "Transfer iTunes media to iDevice" from one of the three 1-click options.
Step 3: Then, TunesMate will detect the duplicate songs automatically and give you the options: Keep both or delete the duplicate songs.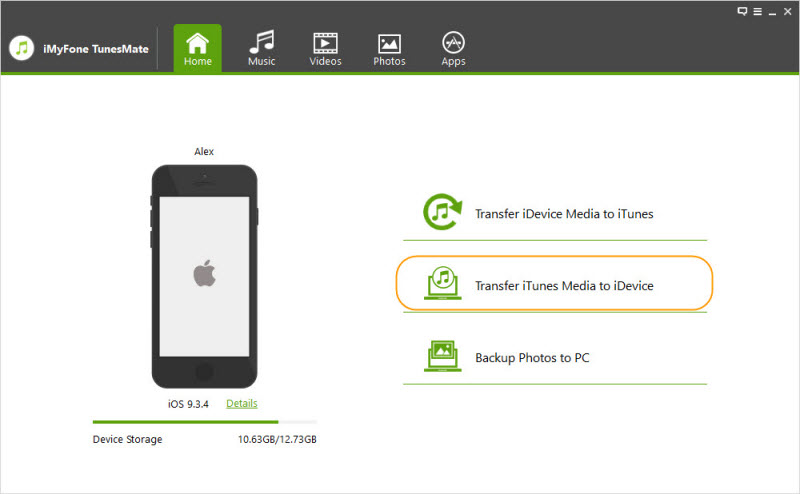 Once these steps have been completed, you can now disconnect your iPhone from your PC, and enjoy your songs with no irritations from duplicate songs.
iMyFone TunesMate has many advantages over iTunes and other iTunes alternatives in removing duplicate files. Here are some of the advantages of TunesMate.
Selectively transfer iTunes files to iPhone instead of syncing all data.
Transfer iTunes files to iPhone without deleting original iPhone data.
Both free and paid files can be transferred between iPhone and iTunes/PC.
Rebuild iTunes library by transferring data to iTunes from different iDevices.
Add local PC files directly to iPhone.
iMyFone is highly spoken of by hundreds of users and well-known media.