Listening to music while working out gives you the motivation to stay focused. Moreover, high-beat songs can enhance energy and help you reach your exercise goals. In this age of technology, most people prepare to wear smart bands like Fitbit Versa, but they face issues when they want to listen to iPhone music through their Fitbit. Do not worry because here we have some simple ways on how you can transfer your favorite music from iPhone to Fitbit.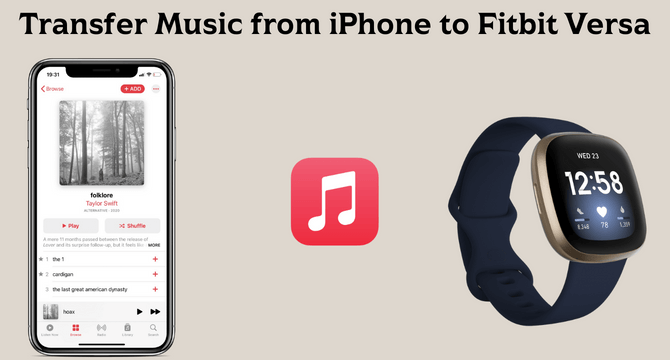 Step 1. Transfer Music from iPhone to Computer
To transfer music to Fitbit Versa from iPhone needs you first to get your music on your PC, then transfer it to your Fitbit Versa. Transferring your music from your iPhone to your Computer can be hard. However, here are some of the best solutions you can try out.
Option 1.

Transfer Music from iPhone to Computer with iOS Data Export Tool

The best option for you to transfer your music is by using TunesMate. It is your iOS media file transfer tool that makes transferring music extremely easy. Its easy user interface and wired connection help you quickly get your music from iPhone to PC.

Main Features of TunesMate
Tunesmate will allow you to import and export files freely.
It supports almost all media file types including music, videos, photos etc.
There will be no limitation on the number of PCs or iDevices when using this tool.
With TunesMate, you can surpass iTunes limitations and errors easily.
You can preview your data and then select exactly what you wish to transfer.
Step 1.Download and install TunesMate on your computer. Connect your iPhone with a USB cable.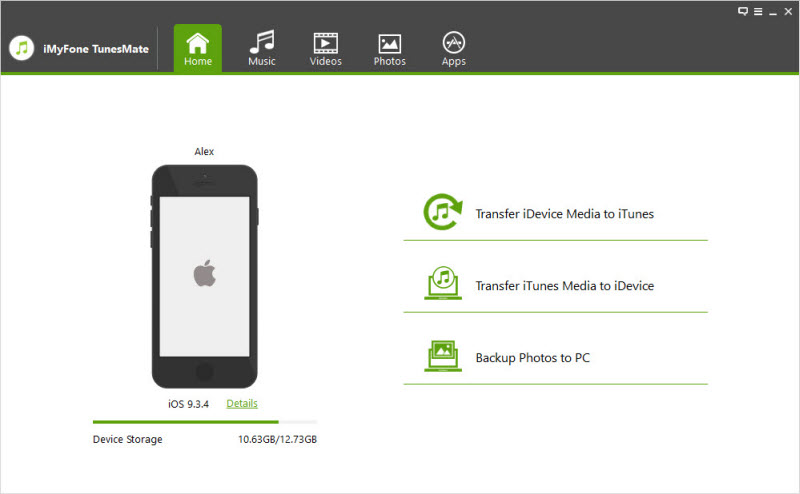 Step 2.Go for Music page and then select specific song or all the music. Choose Export to PC from the Export menu.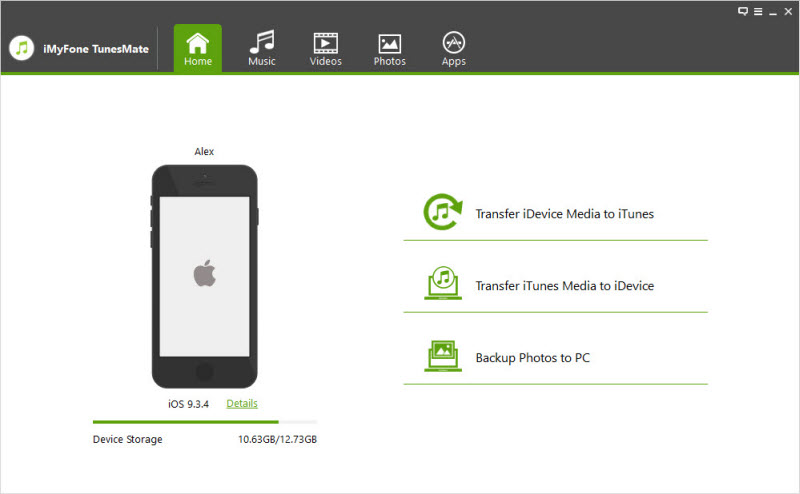 Step 3.You will need to choose the storage path in your computer. Then Select Folder to continue.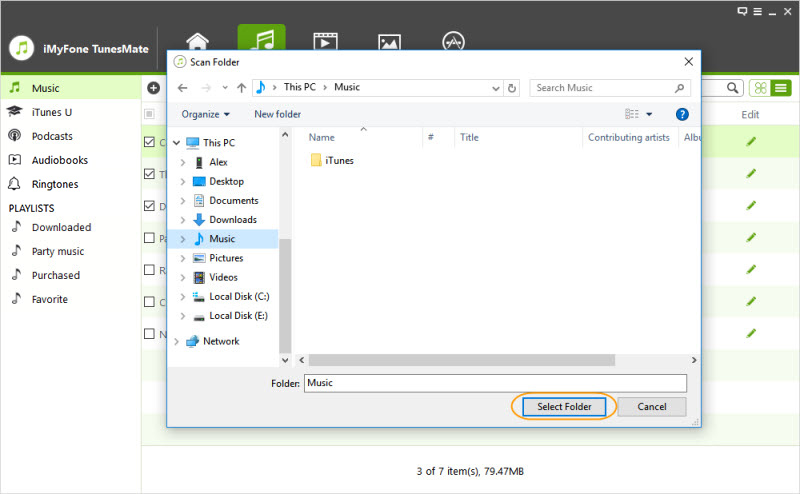 Step 4.The program will show the noteExport Successfully. From there you can directly Open Folder or click OK to finish.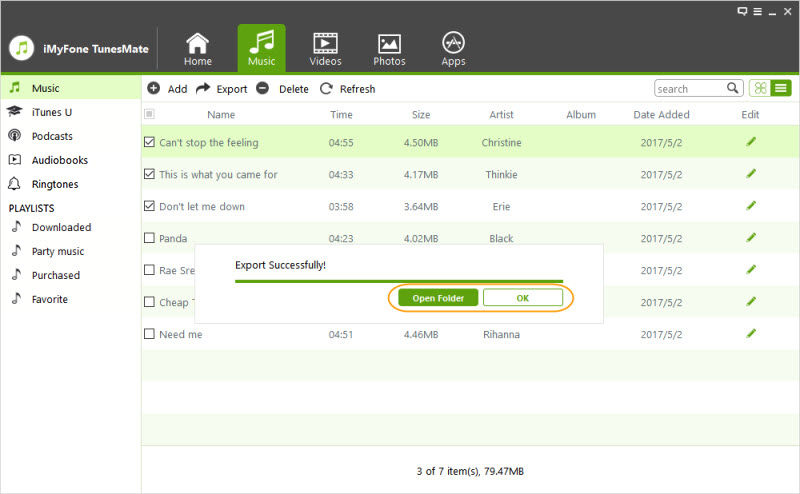 Step 5.Whenever you need the music transferred to your computer, you can also manually open the folder you select before.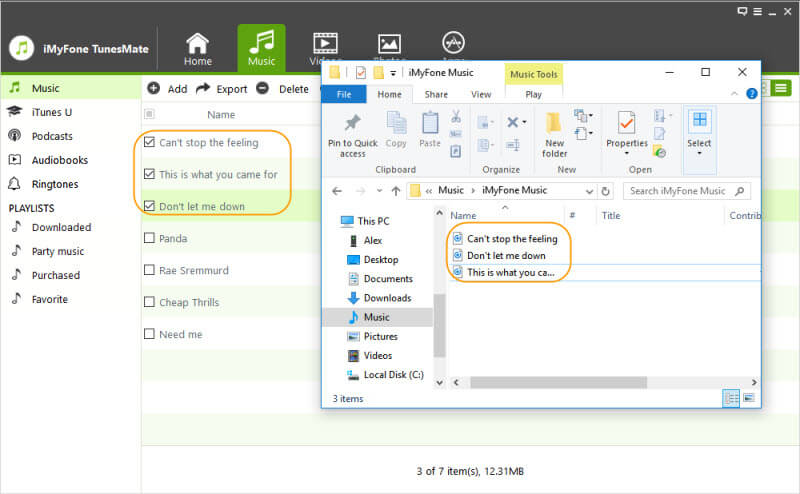 Option 2.

Sync Music from iPhone to Computer with iTunes

Another option for how to transfer music from iPhone to Fitbit Versa is by using the iTunes tool. Although you will not get a lot of features here like iTunes, it can get the job done by exporting your music.

You can use the following steps to transfer music to Fitbit Versa from iPhone:
Connect iPhone with iTunes running on your PC.
Click on the device icon and then go for file sharing.

Now from the Songs/Music option, you can see all the songs that you have on your iPhone.
Export them to your PC and select a specific location to save them.
Now you will have all the desired songs on your PC exported from your iPhone.
Step 2. Transfer Music to Fitbit Versa with Fitbit Connect App
You will need to download the Fitbit Connect app on your Computer for the next step. This app helps transfer all your music files on your PC to your Fitbit watch. Although the process is not too long, you need to follow all the steps correctly for it to work. Otherwise, you may not be able to transfer your music.
The following are all the steps that you need to follow to add your music to your Fitbit Versa smart tracking watch:
Step 1. Download & Install the Fitbit Connect App on your Computer. It is available for both Windows PCs as well as Macs.
Step 2. Keep your watch and your PC on the same network.
Step 3. Open the application and click on Manage Music.
Step 4. Now go to the watch and open the Music application.
Step 5. Tap on Transfer Music and wait for it to connect. It may take a minute or two.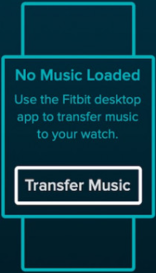 Step 6. Now go back to your PC and add the music to your watch using the + button on the top.
The watch and its software will now take some time to download those songs on the watch, and then you will be done. The good part here is that you can also create playlists while uploading your music to your smartwatch.
With these steps done, you will have your music on the Fitbit app. While the Fitbit fitness tracking smartwatches and smart bands are amazing at fitness tracking, they do not allow music sharing like other smartwatches. Instead, you must use the proprietary Fitbit connect the app to transfer your songs.
FAQs: More About Transferring Music to Fitbit Versa
1

Can Fitbit connect to iPhone music?
You can download the music from your Apple device to Fitbit using your Computer. It takes a few minutes to get the work done, and you can listen to your songs.
2

How to transfer music to Fitbit Versa 2 without a computer?
You will need a strong Wi-Fi connection and a Fitbit app to transfer music from your phone or any other device to Fitbit. It is impossible to transfer your music directly from the iPhone to the Fitbit Versa 2.
Conclusion
Make sure you follow the steps correctly and download all your favorite songs on your Fitbit. Thus, you will not have to worry about carrying your phone around because all your top songs will be on your smart band. Enjoy your workout session as you can connect your wireless earphones or headphones and listen to your favorite music directly from your watch.