It's not easy to manage your iPad music if you have a huge collection. Sometimes loading times and syncing can take forever if you used iTunes. Most people feel like they're stuck using iTunes since it's the official Apple tool for managing your files—but is this really true?
Why You Shouldn't Use iTunes to Manage You iPad Music
iTunes has a lot of limits and inconveniences if you think about it. For example:
Syncing overwrites the library on your device, which can delete music that you already have on there.
You are limited in what music you can transfer from your iPad to your PC.
If a music file is obscure or can't be used by an iPad directly, it won't convert the file for you.
You can't share you music with other devices that have different Apple IDs, such as your friends' devices.
It can be really slow and bloated at times.
There are alternatives, though. Check out these iPad music manager tools that let you bypass the limits of iTunes:
Top 3 Programs for Managing iPad Music without iTunes
1. Best iPad Music Manager - iMyFone TunesMate
iMyFone TunesMate is one of the best iPad music or file managers available. It lets you view files, delete them in bulk, and of course transfer them to and from your PC. It's an all-in-one manager that allows you to take full control of all your iPad or iTunes media. It saves you time and energy especially when you have a huge collection of music to manage. It also manages videos, photos, audiobooks, iTunes U and more.
TunesMate - Your iPad Music Expert
Two-way sync to freely transfer music between iPad and computer, between iPad and iTunes library.
Backup & Restore: Back up your iPad/iTunes music so that you can restore backup anytime you need it.
Delete iPad selectively at bulk or all at once.
Manage iPad Music and Playlists: Rebuild or create your own playlist, you can share it to different devices.
Manage Ringtones: Customize tones from any song, transfer ringtones freely and delete unwanted tones.
Syncing iTunes music to iPad without overwriting the existing data.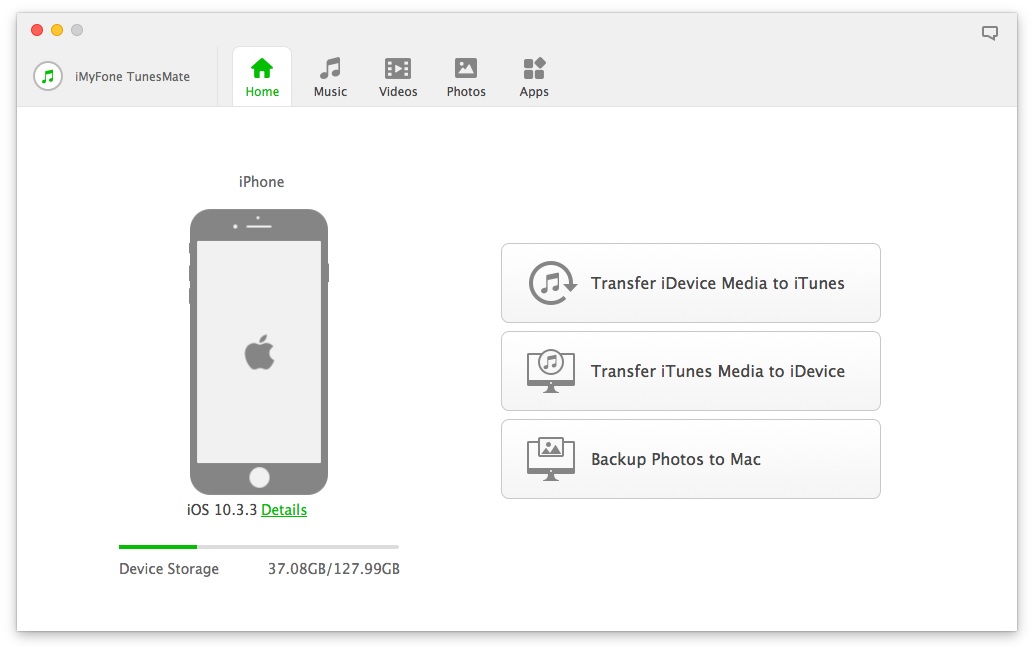 2. WonderShare TunesGo
WonderShare TunesGo is an iPad manager application that has been around for awhile. It's fairly popular and does some of the same things that iMyFone can. Some of its key features include:
It can transfer music files from iPad to computer, or from computer to iPad.
You can transfer also video, photos, and other types of files.
You can edit the song information of the music files.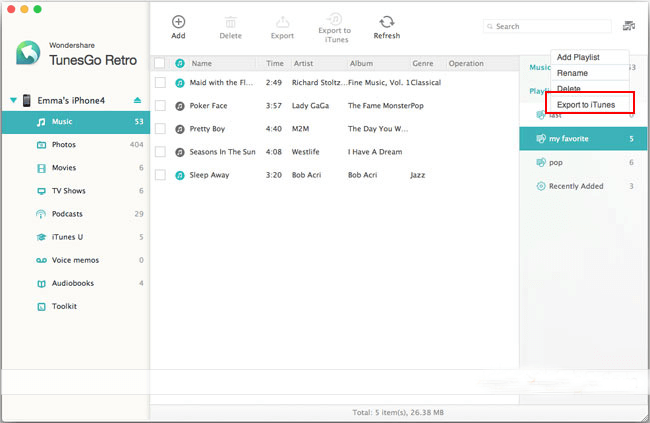 3. AiseeSoft FoneTrans
FoneTrans is another common application that some people use to manage their iPad files. It lets you manage music, voice memos, texts, photos, videos, and other types of files. Some of its features include:
You can transfer back and forth between your PC and your iPad.
Export your iPad files to your computer or iTunes.
You can manage the music and playlists.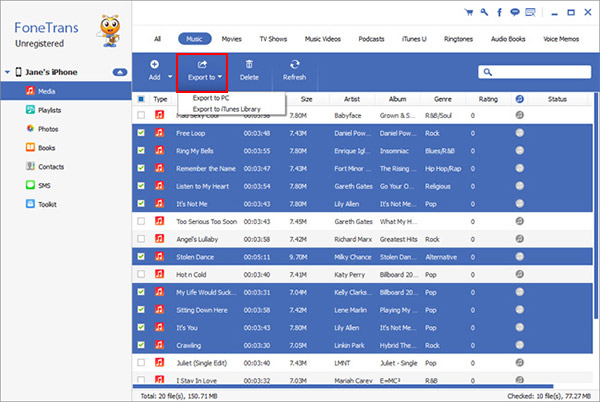 Which iPad Music Manager Is Better for You
| Apps and Metrics | | TunesGo | FoneTrans |
| --- | --- | --- | --- |
| Transfer iPad music freely between iPad and computer | | | |
| Edit music information | | | |
| Rebuild your iTunes library from a device | | | |
| Convert incompatible music automatically when transferring | | | |
| Convert incompatible music automatically when transferring | | | |
| Manage playlists | | | |
| Make or transfer iPad ringtones | | | |
| Price | | $39.95 | $34.96 |
From the comparison, you may have your own opinion on which one to try. Obviously, TunesMate has much more great features yet in lowest price. That's why we recommend TunesMate as the top 1 for you. Since now, you have your own choice, don't be hesitate to manage your iPad music.
How to Manage iPad Music without iTunes
Since iMyFone TunesMate would be your best choice to manage iPad music, here we take TunesMate for example to show you how to manage your iPad music without iTunes.
Download iMyFone TunesMate for Windows or Mac here and follow the steps below:
Step 1: Launch iMyFone TunesMate on your computer and connect your iPad.
Step 2: You will see a tab that says Music at the top. Click on this tab, and you will see a list of the music that is on your iPad. On the left sidebar, you can also switch through different music categories and locations.
Step 3: On the right panel, you will see the functional option at the top: Add, Export and Delete. Click on any feature and go ahead to finish the management.
Add: This feature allows you to add music files to your iPad from computer, external hard drive or android device.
Export: This feature allows you to export music from iPad to your local computer, iTunes library, or external hard drive.
Delete: This feature allows you to delete iPad music selectively.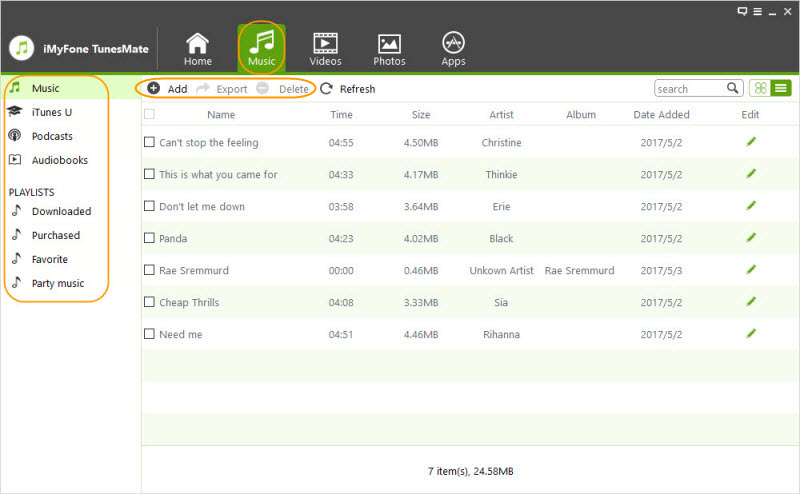 iMyFone TunesMate's free trial allows you to manage 5 music files. You can have a try. If you need to manage more files, please get a license to register and enjoy its unlimited functions.
Save 20% to Get iMyFone TunesMate Official Registration Code >>