When you have to transfer data from iPhone to Computer, the first thought that comes into mind is about using iTunes. Although it is officially available from Apple for free, it does not provide you with all the features and functionalities that you may need. You can use Tansee iPhone transfer, and in this Tansee iPhone transfer Review, you will learn how it brings great value to you.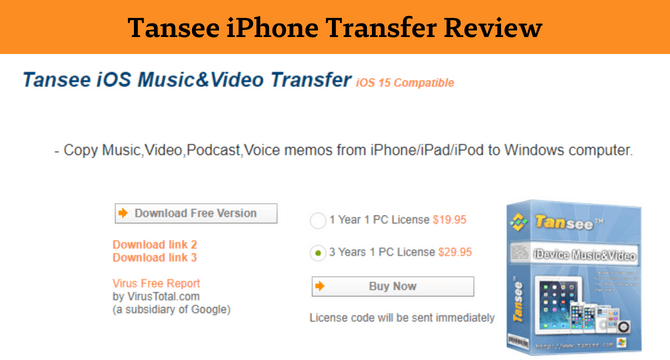 Part 1. Tansee iPhone Transfer Review
Tansee iPhone Transfer tool comes with 4 different applications with different functionalities. So, you will need to find the right application for whichever feature you want to use. However, the good part here is that you will have most of the features with Tansee to export data from iPhone that you usually do not find in iTunes.
1.1 What Does Tansee iOS Transfer Tool Do?
Tansee, an iOS transfer tool, comes with all sorts of data exporting features and functionalities you will need. The 4 different products that you can use from Tansee are:
Message Transfer Windows
Message Transfer Mac
Music and Video Transfer
Photo & Camera transfer
With these 4 different tools, you can export everything from messages to media, contacts, deleted messages, WhatsApp data, and files from your iPhone. It also lets you convert the iPhone-specific (HEIC and HEIF) image formats into universal JPG formats to easily use those images on different devices.
1.2 How to Transfer with Tansee iOS Photo & Camera Transfer
If you are looking for how to use the Tansee iPhone transfer tool, you will find the right guide here. Below is the step-by-step guide to using this tool:
Step 1. From the 4 different tools available, you need to see which one you need and download it on your PC.
Step 2. Connect your iPhone to your Computer using its data cable and wait for the tool to detect your device.
Step 3. From the top menu, select the app from which you need to export data.
Step 4. Click the Copy button and select backup type.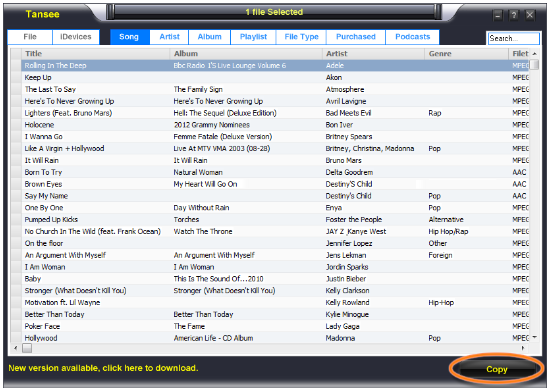 Step 5. Click on next and select the dates or files according to your requirement.
Step 6. Click on start copy, and you will see all the files appear on the screen.
The tool will take some time, and your data will be successfully exported to your PC.
1.3 Is Tansee iPhone Transfer Safe and Free?
There are no claims on the official website regarding safety and reliability, and it is also available as a free version. When it comes to the pricing packages, there are 2 main options available:
Tansee for 1 year for 1PC costs $19.95
Tansee for 3 years for 1PC costs $29.95
Both these licensing plans are available for 7 different versions of Tansee, depending on which device and OS you are willing to use.
Part 2: All-round Alternative to Transfer Media Files on iPhone and iTunes
Tansee is not the only tool that can provide you with such features. iMyFone TunesMate also brings amazing functionalities to meet your iPhone data exporting needs. Below are all the details that you need to know about it.
2.1 What Can iMyFone TunesMate Do?
iMyFone Tunes Mate is your complete data exporting package that provides you with many features to easily export your data from iPhone to PC. Here are some of the features that you will enjoy here:
It lets you sync your iTunes library without overwriting the previous data.
You can transfer all types of data present on your iPhone.
iMyFone TunesMate lets you rebuild the corrupted or damaged data.
It is available for both Mac and Windows OS.

With these features, you get a flexible platform to transfer your data from iOS to Computer.
2.2 How to Transfer Photos & Videos from iPhone to Computer
Using TunesMate is pretty simple as you only have to go through straightforward steps. Below are all the steps on how to transfer data using TunesMate:
Step 1. Connect your iPhone to the Computer with TunesMate running on it using a USB data cable.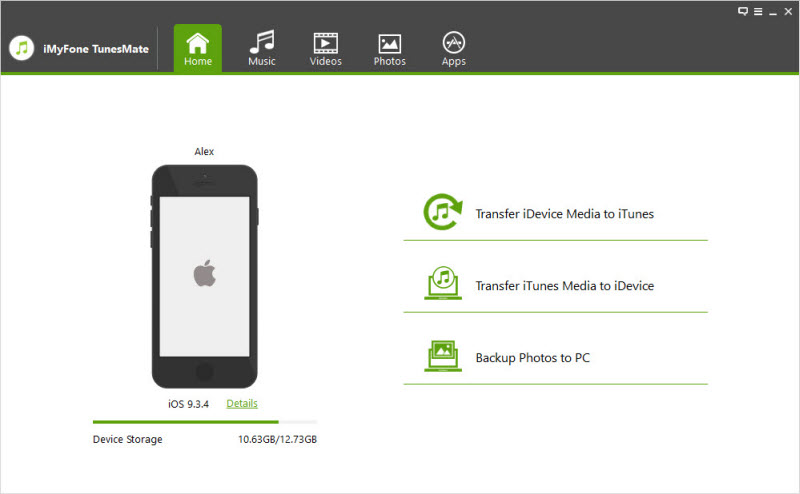 Step 2. Now you will need to select the file type you want to transfer from the left-side menu.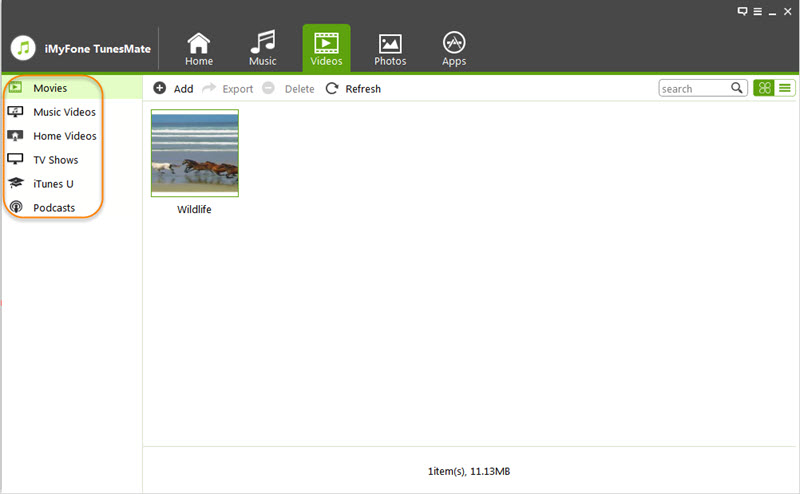 Step 3. Select the files selectively for selective transfer or select all of them to export all at once.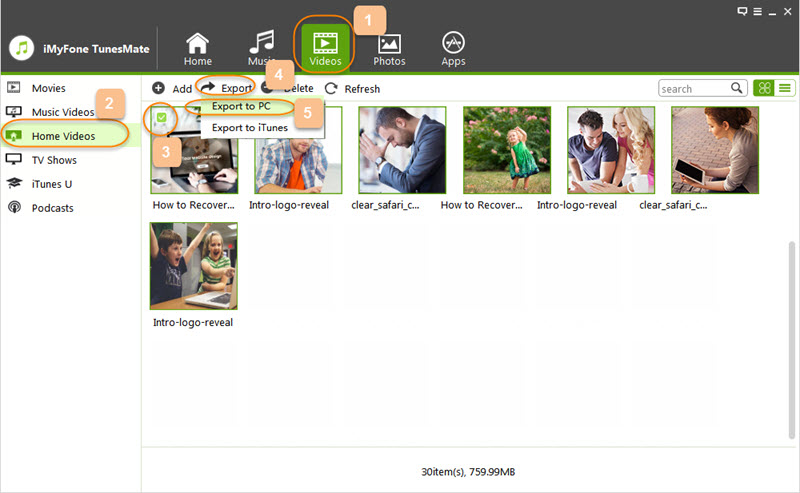 Step 4. Click on export to PC, and you will need to specify where you want to export these files. You can browse the file manager to select that location.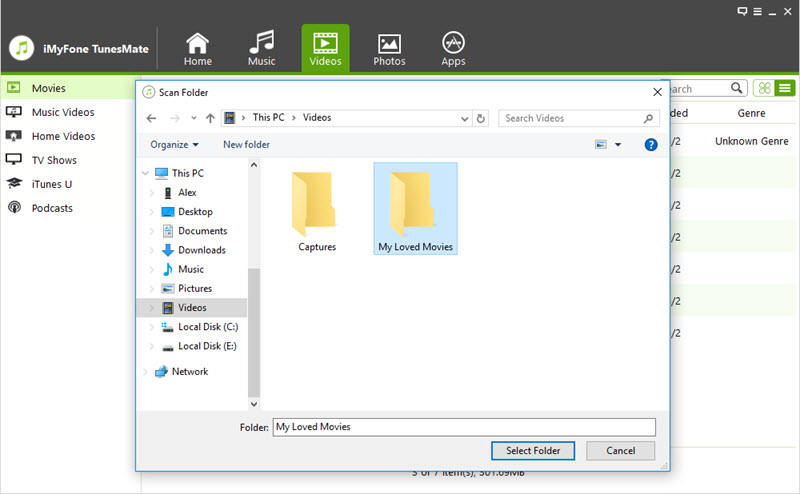 Step 5. Click on select folder, and the transfer process will begin.
With these 5 simple steps, it will be very easy for you to transfer your files from iPhone to PC.
2.3 Prices and Purchase Plan
iMyFone TunesMate comes in different price plans to make this paid platform easy to use for you. Below are the details of all the pricing plans for both the business users and individual users:
The individual Basic Plan comes for 1 PC for 1 Year, and it costs $29.95
The individual Family Plan comes for up to 5 PCs for 1 Year, and it costs $49.95
The Business Plan starts for 6-11 PCs for a lifetime subscription and costs $69.95. However, you can get a business plan for unlimited PCs for $259.95
Part 3. Tansee iPhone Transfer vs. iMyFone TunesMate
When transferring your iPhone data or exporting it to your PC, you need to be very careful about the tool you select. It is because selecting the wrong tool can make things worse for you. So, here is a comparison between these tools that can help you in selecting the right tool wisely
| Feature/Tool | Tansee | |
| --- | --- | --- |
| Safety and Reliability | No claims | 100% secure |
| Cheaper option | Starts at $19.95 | Starts at $29.95 |
| Better Experience | Different tools make the complex experience | One tool with every feature brings a better experience. |
While Tansee is cheaper, there are no reliability or safety claims, and the experience is also a bit complex. On the contrary, iMyFone TunesMate brings a unified tool for all your needs.
Final Words
Knowing how to transfer from iPhone to Computer alone is not enough because your experience depends on your tool. In this review, we discussed Tansee, which you can use to transfer data from iPhone to Computer. You can also compare and contrast how iMyFone TunesMate brings a great choice to meet your data transfer requirements as well.