When you purchased your iPhone, it came with a custom ringtone. While this ringtone has been doing its job of alerting you when someone calls, you may not like it. Maybe you have even considered changing the ringtone. What held you back is that you don't know how to change the ringtone or what to replace it with.
In this article, we will show you the 10 best premade iPhone ringtone remix mp3 you can use. If you like any of these, you can easily use your computer to download them. We will also show you how to transfer the iPhone ringtone remix song you download to your iPhone.
Top 10 iPhone Ringtone Remix Songs Recommended
1. Shape of You Remix
There is no denying that Ed Sheeran has a knack for making music hits. Shape of You is one of the best songs that he has ever made. The Shape of You Remix is a great iPhone ringtone remix 2018. If you love Ed Sheeran's music, you will love using the Shape of You Remix as your ringtone.
2. "Is That My iPhone" Remix
This is a remix of an original iPhone ringtone. Even default iPhone ringtones can be fun to use when they are spiced up a little bit. This iPhone ringtone remix download is available online.
3. Rihanna's iPhone Ringtone Remix
If you enjoy Rihanna's music, you might enjoy this iPhone ringtone remix song. The iPhone ringtone remix mp3 is made up of Rihanna's voice and Apple's default ringtone.
4. iPhone Ringtone – Trap Remix
This iPhone ringtone remix 2018 will be great to anyone who loves Trap music. The ringtone will be much better when compared to your current iPhone default ringtone.
5. Alone by Marshmello (Marimba Remix)
Alone is a song released back in 2016 by Marshmello. This has been tactically cropped to make an iPhone ringtone download remix that you can use on your iPhone. If you love Marshmello Music, this should be an awesome ringtone for you.
6. iPhone Ringtone Remix That Features Siri
This is an improved version of the iPhone default ringtone. It features Siri in it. This could be a cool ringtone for you.
7. Closer by Chainsmokers (Marimba Remix)
Chainsmokers is one of the most popular pop bands. The band is known for its great music. One of their top songs, Closer, is available as an iPhone ringtone remix download.
8. Fifth Harmony's Work from Home (Marimba Remix)
Work from home is one of the songs that made the Fifth Harmony pop group extremely popular. It could be a perfect iPhone ringtone remix song for you.
9. Cold Water (Marimba Remix)
Back in 2016, Cold Water is one of the songs that topped the charts. You can get its iPhone ringtone download remix online.
10. Let Me Love You (Marimba Remix)
This song combines DJ Snake's beats with Justin Bieber's voice. If you love these artists, the iPhone ringtone remix mp3 may sound great on your device.
How to Make Ringtones for Your iPhone
Custom made ringtones may not work for you. If none of the custom-made ringtones we have mentioned above appeal to you, you can make your own ringtone. All you need to do this is a tool called iMyFone TunesMate. The features offered by TunesMate include:
Key Features:
You can make custom ringtones from songs in various formats including MP3, M4A, AAC, WMA, WAV, etc.
You can choose the exact part of the song you want to make the ringtone from.
You can make the ringtones sound smoother using the "Fade in and Fade out" feature.
You can use both the songs on your iOS device and on your PC to make your custom ringtones.
You can directly save the customized ringtones to your iPhone.
Steps to Make a Custom iPhone Ringtone Remix Song
Step 1: Connect your iPhone to your PC using your USB cable and launch TunesMate. Click Music on the top bar. Click Ringtones and then select Ringtone Maker.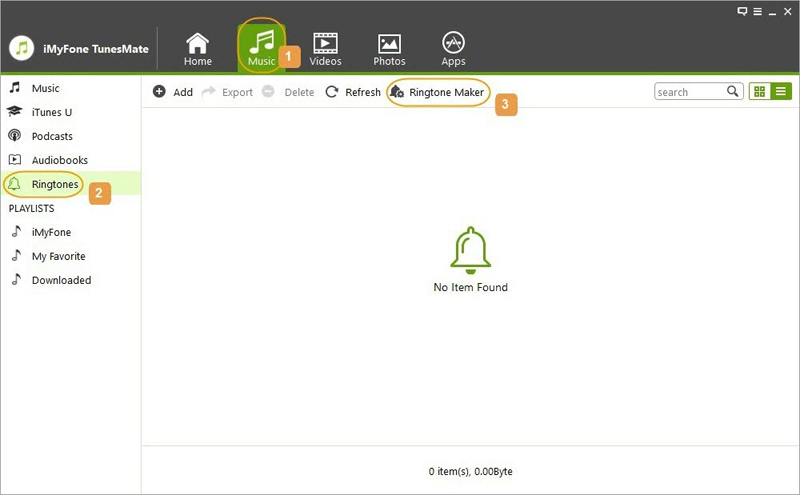 Step 2: Select a song from your computer by clicking Local Music or from your iPhone by clicking Device Music.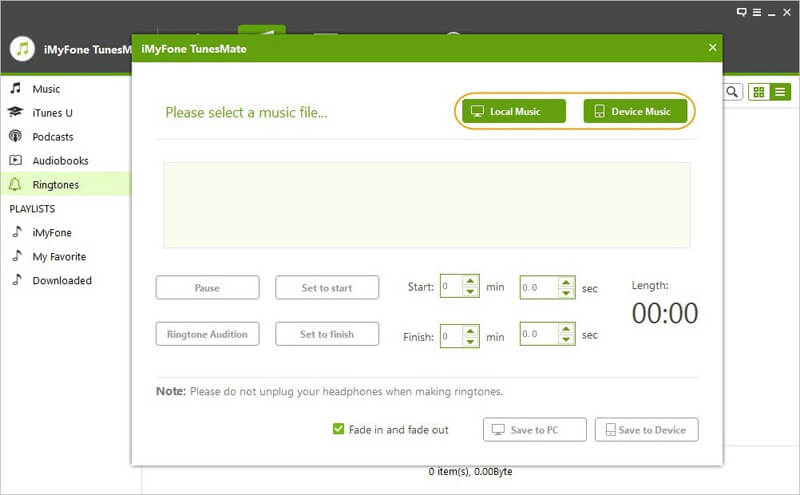 Step 3: After choosing a song, control its playback using the Play/Pause buttons. Set the Start and finish time either by highlighting the preferred section of the song or using the Set to start/finish buttons.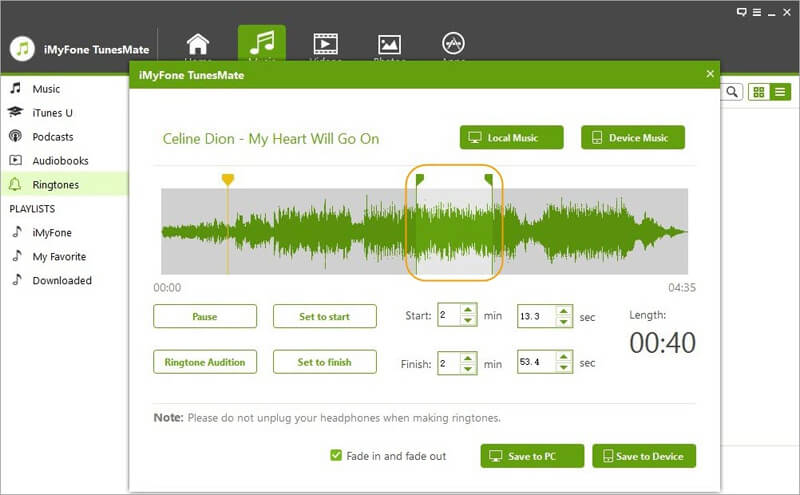 Step 4: Use the Ringtone Audition button to make sure you have selected the right section before saving the ringtone to your PC by clicking Save to PC or your iPhone by clicking Save to Device.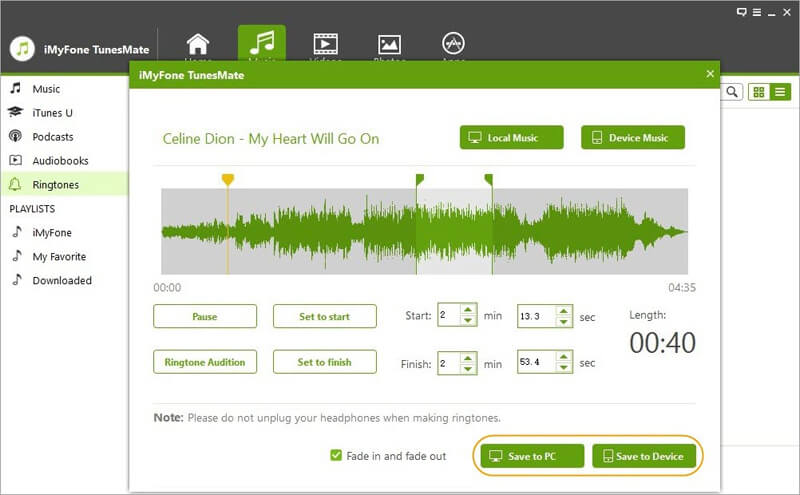 How to Transfer Ringtones Remix to iPhone
If you downloaded an iPhone ringtone remix 2018 on your computer, you will need to transfer it to your iPhone. You can do this using TunesMate. All you need to do is follow the steps below:
Step 1: Launch TunesMate and use a USB cable to connect your iPhone to the computer.
Step 2: Click Music on the top bar and then select Ringtones on the Sidebar.
Step 3: Click Add and then select Add File. Locate the Ringtone you would like to transfer on your computer and click Open. This will transfer the ringtone to your iPhone.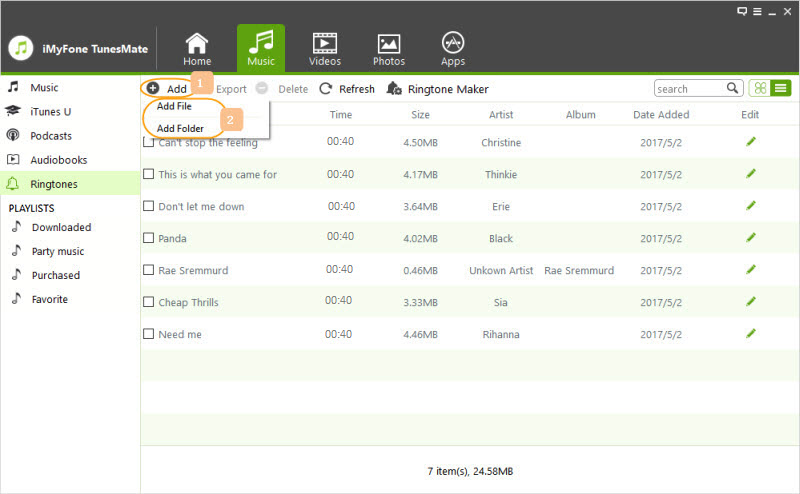 Conclusion:
If you are tired of having a default ringtone on your iPhone, this article shows you the best iPhone ringtone remix mp3 you can use to replace the default ringtone. If none of the custom-made iPhone ringtone remix downloads are appealing to you, you can make your own custom ringtone from your favorite song. This article shows you how to do that too. All you will need is a tool known as iMyFone TunesMate. TunesMate has a free trial version. You can try it to make sure it works before you pay for it.