iTunes file sharing refers to software that allows users to listen to music stored on other computers on your office or home network. iTunes is one of the most important apps every user using iOS devices must have. You can use iTunes for the purpose of free file transfer from iOS device/PC to PC/iOS device.
If you have more than one computer in your office or home, networking them together allows you to share files, internet connection, and printers. If your computers are well equipped with iTunes, a network will enable you to stream music from one computer to another. The iTunes File Sharing interface can be used to transfer an individual and multiple files or share files through the USB cable connecting your Apple device and PC.
How to Use iTunes File Sharing to Transfer Files
You can use iTunes to transfer files between your computer and iOS 13 device that supports file sharing. You don't need to sync your device to transfer files, but your device needs to be connected to your computer.
1

Transfer Files from PC to iOS App
Step 1: Download and install the iTunes software and run it on your computer.s
Step 2: Connect your iOS 13 device to your computer via a USB cable.
Step 3: Select the file you want to transfer from your computer to iOS 13 device. If you want to transfer music choose the add file to import the songs from your computer to iOS 13 device. The file is saved to the selected destination on your computer.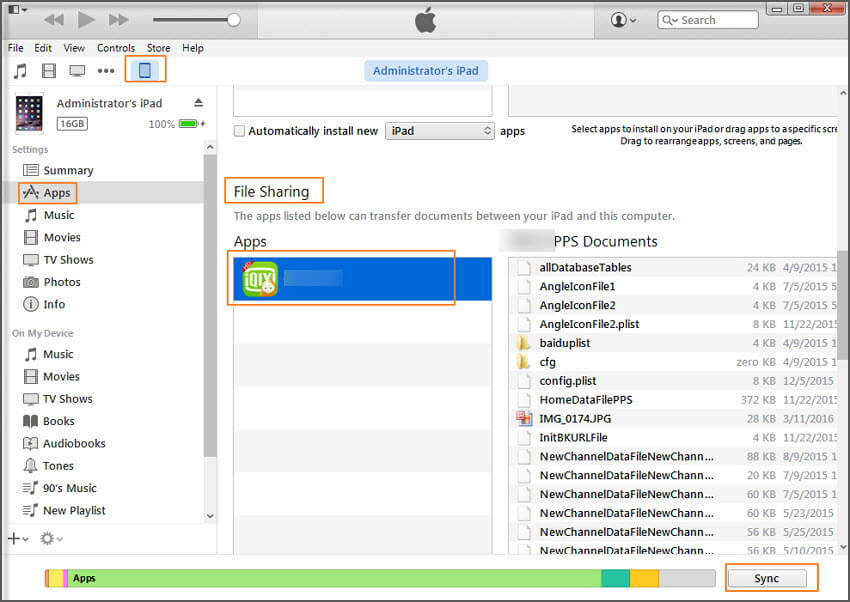 2

Transfer Files from iOS 13 to PC
Step 1: Download and install the iTunes app on your iOS 13 device, connect your iOS 13 device to your computer and select device to be used.
Step 2: Click the Apps.
Step 3: Below the file sharing, select an app from the list and click on the file.
Step 4: Select the file you want to transfer via your PC and sync your iTunes.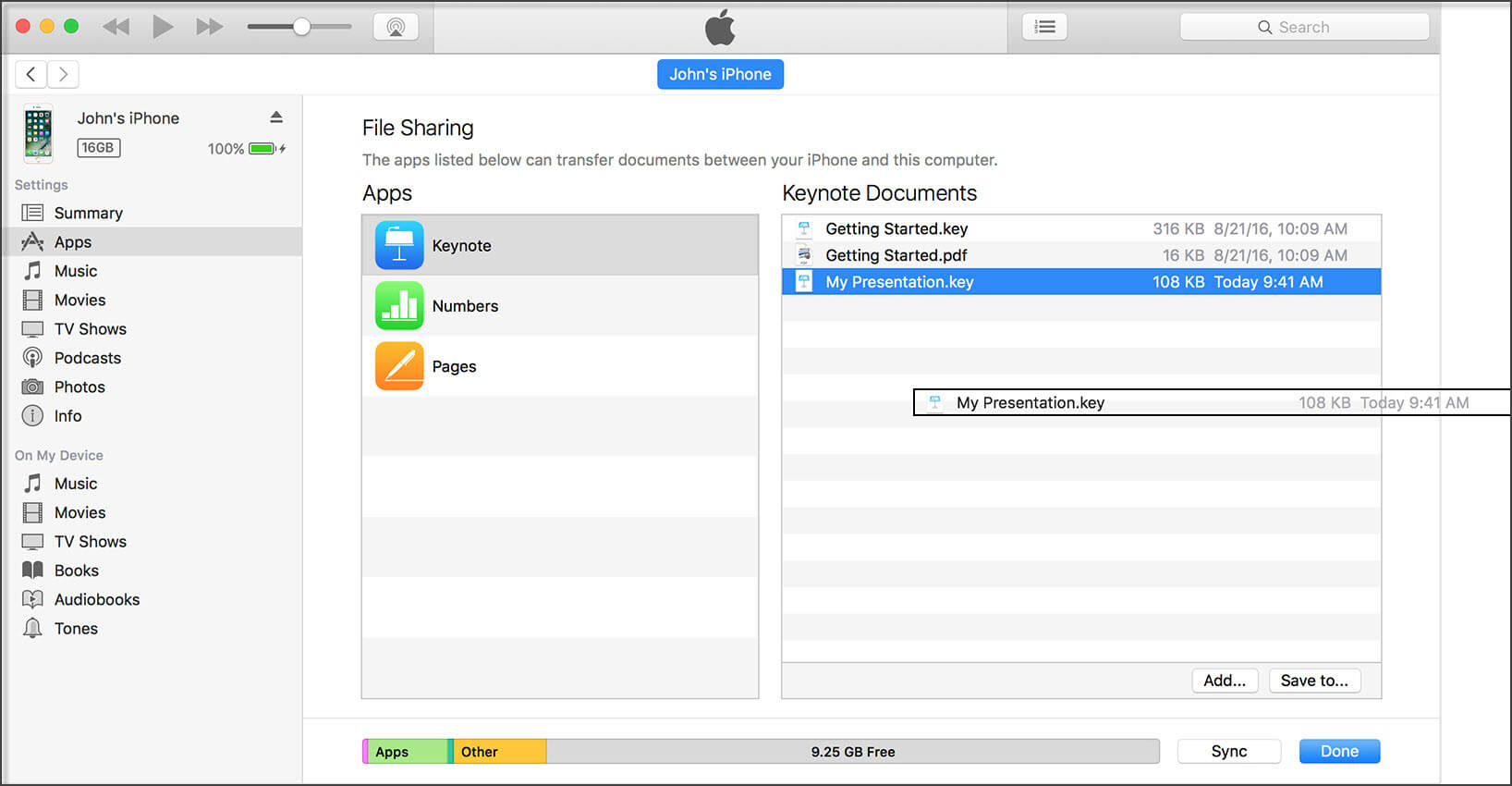 Advantages of iTunes file sharing:
iTunes file sharing permit users to maintain uniformity of shared data files
It allows a lot of users to access a program quickly
iTunes file sharing enables users to back up their files.
Disadvantages of iTunes file sharing:
iTunes file sharing can expose your computer to security problems or viruses.
Some of the files transfer can be reduced to chunks or data duplication
Transferring files via iTunes can break the copyright laws.
How to Share Files with Free Software (iOS 13 Supported)
iMyFone TunesMate is one of the best alternatives for both Mac and windows users with iOS devices. It is designed by iMyFone. The software will sync your iOS devices and PC to transfer videos, music, files without any damage to the iTunes library. You just need to drag your preferred files and drop them to your local library. It provides free file transfer for user to have a try.
The features of TunesMate:
Two-Way Transfer iOS Files (from/to PC; from/to iTunes), TunesMate help to transfer files, videos, photos, Apps, and music between the iOS device and PC without harming the iTunes library.
TunesMate as a file transfer app features a "one click builder" that will restore your iTunes library. While it is easy to transfer music and files between iOS devices and PC, sometimes you end up transferring chunks or corrupted files.
You can transfer media from other libraries without sync your device to each of the PCs. TunesMate will convert your iOS device into an external storage device to transfer data from PC to iOS device whenever you like.
You can share music purchased from Amazon and other freely downloaded music to different iOS devices with TunesMate.
The application can transfer many type of files both to and from your PC to iOS device. It can also transfer data among unlimited devices, and preview the files before you transfer them.
The steps to share video from idevice to PC:
Step 1: Install the software, connect your iOS 13 device to the PC.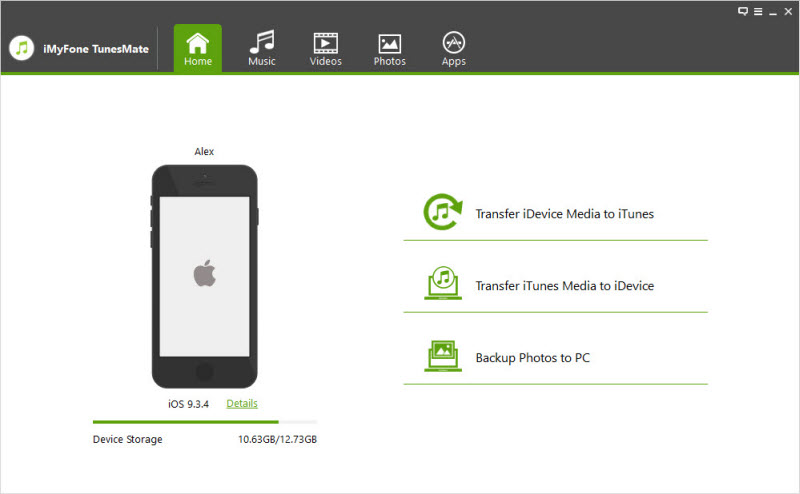 Step 2: Click on the "Videos" icon at the top of interface. Select from the options "Movies/Music Videos/Home Videos/TV Shows/iTunes U/Podcasts" at the left sidebar to transfer.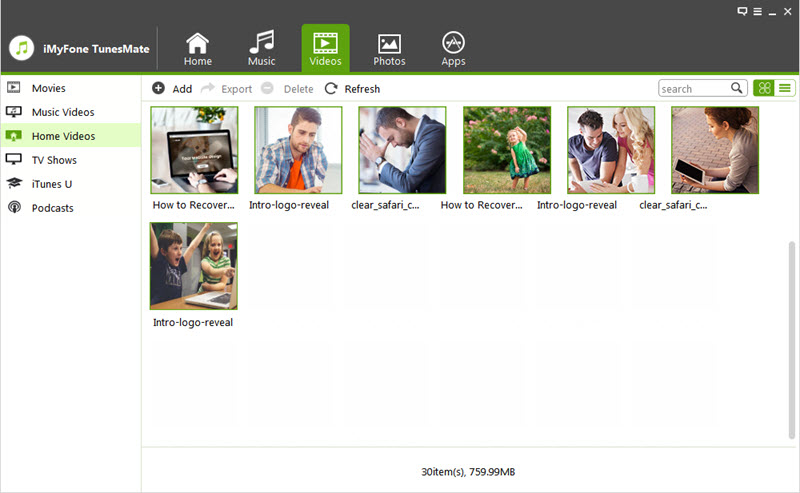 Step 3: Check the videos you want to transfer and click "Export > Export to PC" from the top menu to transfer your videos.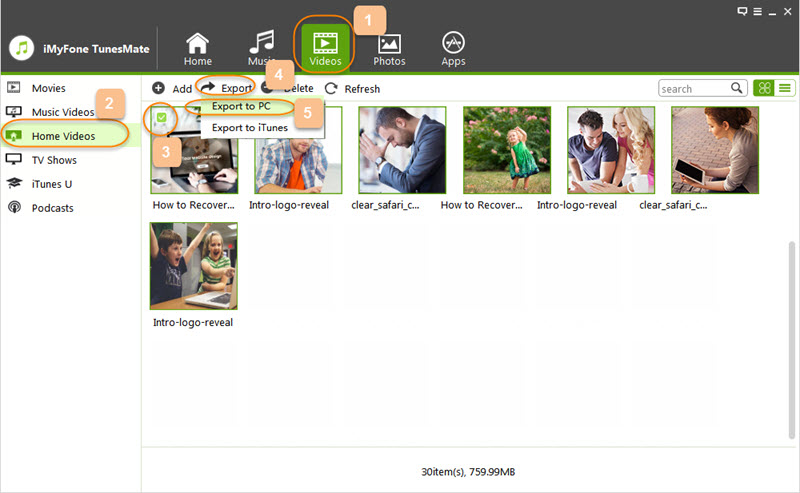 Step 4: Browse and choose the target folder on the computer from the pop-up window. Click "Select Folder" to confirm and start the transfer process.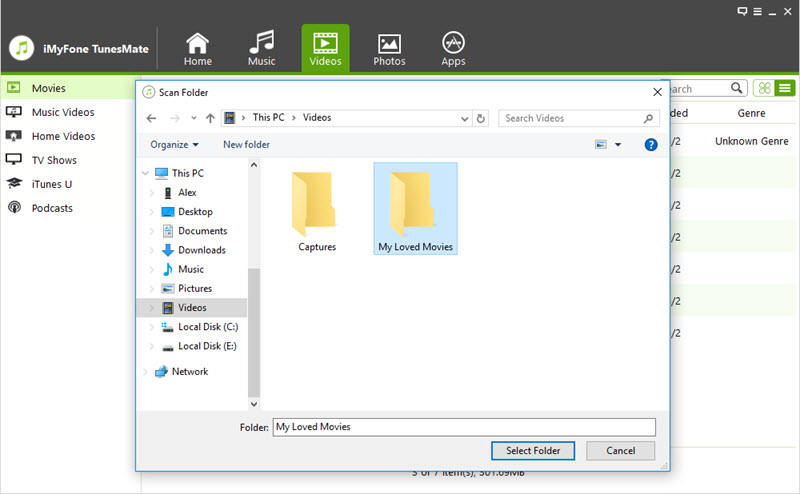 The differences between TunesMate and iTunes software are as follows:
TunesMate supports all kinds of files, while iTunes file sharing doesn't support all files.
TunesMate allows users to transfer purchased and non-purchased music.
iTunes is restricted to transfer files to five numbers of devices, but TunesMate can transfer files to an unlimited number of devices.
TunesMate allow users to preview their files before they transfer them to other devices, while iTunes doesn't have the preview option.
When you sync your files, TunesMate doesn't wipe away your existing data.