Since the launch of a new iOS this year i.e. iOS 13, there has been questions of how to backup iTunes for the new version. However, the solution lies with an iTunes backup manager like iBackupBot iOS 12/13. Although, iBackupBot iOS 12/13 is not the only solution available, there is a better alternative which would be explained later in this article.
The purpose of getting an iTunes backup manager cannot be overemphasized, especially when there is a new version of iOS which is different from previous ones.
iBackupBot -iTunes Backup Manager for iPhone iOS 12/13
IBackupBot iOS 12/13 is simply a tool used by iTunes that allows you to browse, export, view, as well as edit certain files that have been backed up to iTunes. It is an iTunes backup manager that gives you access to certain files not on your iPhone but that are available or backed up on iTunes.
Asides doing those above, iBackupBot support all iDevices such as iPhone, iPad, iPod, etc. and can work with private data such as text messages, call history, voicemails, etc. It removes a single call history as well as an email address which has been recently used from your iPhone.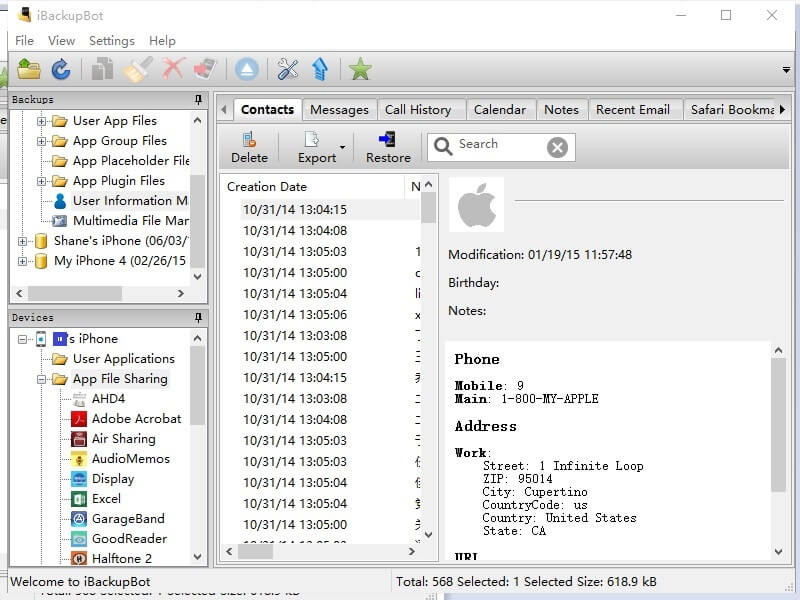 Pros
iBackupBot iOS 12/13 backs up useful data from your iPhone to iTunes and then to your PC.
It allows you to perform certain operations on your PC like editing address book.
It supports transferring data which is iOS-based from one device to another, e.g. from one iPhone to another.
Cons
IBackupBot collapses when connecting iPhone 7 with the new iOS version (iOS 12/13).
Steps on how to use iBackupBot iOS 12/13:
Step 1: Firstly, you have to download iBackupBot to your Windows or Mac-supported PC, then install and run the program.
Step 2: Connect your iOS device like your iPhone to the PC, ensuring automatic synchronization of iTunes has been disabled before making this connection. It is very important.
Step 3: There is a backup at the left side on the screen of the PC, click on it to view files on the device. These files will be shown on the right side of the screen.
Step 4: Click on the main menu and navigate to "Plugin", then "messages or notes or contacts", depending on what you want to view. To save this information or data as a text or Excel file, click on "Export".
Step 5: Lastly after exporting and saving this information, click on "Backup" on the left side of the screen and select "main menu", then "File" and finally "Restore". When you click on "Restore", information saved as text or Excel file becomes backed up to your device (iPhone).
Better Alternative Backup Manager for iPhone iOS 12/13
iMyFone TunesMate is an alternative tool for iBackupBot iOS 12/13 as an iTunes backup manager. This backup tool has 6 modules either as Windows or Mac version for your PC which can be selected from the main interface. With the help of TunesMate, you can freely transfer your media files to and from your iPhone, iTunes and your computer. It supports a two-way transfer to make it easier for you to manage your music, videos, playlist, ringtones and even your apps. It would be easier for you if you want to back up your music or videos to iTunes or computer, or transfer some new music to your iPhone.
Key Features(iOS 12 Supported):
Manage your media files including; music, photos, videos, applications, etc.
Transfer between iTunes and iOS, as well as iOS and computer.
It can overcome iTunes limitations and bugs and make the transfer and backup process easier.
It can even help you make your own ringtones and manage your third-party apps.
What can iMyFone TunesMate do for you?
1-Click Transfer:

This is possible on the home interface. IMyFone TunesMate ensures you make a connection between your device and your PC via a USB cable. Once this connection has been made successfully, three 1-Click functions come up. These three 1-Clicks allow you to; transfer iDevice media to iTunes, transfer iTunes media to iDevice and Backup photos to computer. Hence, with just one click, transfer is made possible through any of the 3 ways.

 

Transfer & Manage Music:

All audio contents like Podcasts, Music, etc. on your iPhone for example will be managed under a "Playlist". With the aid of the music module on the main interface, you can transfer this playlist to your iTunes library or iPhone, iPad, etc.

Transfer & Manage Photos:

All photo contents like camera roll on your device can be managed and backed up to your computer ensuring that you manage device storage by having them deleted but stored somewhere else.

Transfer & Videos:

All video contents of all sorts on your iDevice can be transferred successfully to iTunes. This allows you to manage videos on your device and at the same time have them backed up on iTunes or even your pc.
---
In conclusion, the most popular iTunes backup manager; iBackupBot iOS 12/13 has been explained above but a better alternative like iMyFone TunesMate is everything you need for the new version of iOS (iOS 12/13). The tool makes it easy for you to backup data through easy navigation and allows you to transfer data as well as manage space simultaneously.