Get impatient and frustrated when you can not get into your phone?  Passwords can easily be forgotten, or be set by children or on accident. Sometimes, on the purchase of second-hand phones, the screen might be locked. A locked phone to you is what glasses are to a blind person. With the help of an excellent Android unlocker, you can bypass a lock screen get into your phone  in no time.
1. iMyFone LockWiper (Android) – Instantly Remove Android Screen Lock
iMyFone LockWiper (Android) Phone Unlock Tool is a third party Android unlocker which can unlock Android phones and tablets without the use of any specific knowledge of technology. This application can bypass any format of password including PIN, pattern, password, fingerprint or even face recognition, which is ordinarily hard to decipher or decrypt. This is best for devices which are bought locked already, and no key or password is known.
Priorities of iMyFone LockWiper (Android):
Supports to unlock PIN, passwords, pattern locks, fingerprint scanning technology as well as face identification and scanning.
Provides specific fixes to different Android phone models from Samsung, Huawei, LG, Motorola, etc.
Works on Android operating systems from Android 2.3 to Android 9.0.
98% success rate for Android devices.
No techniques involved - easy and friendly to use.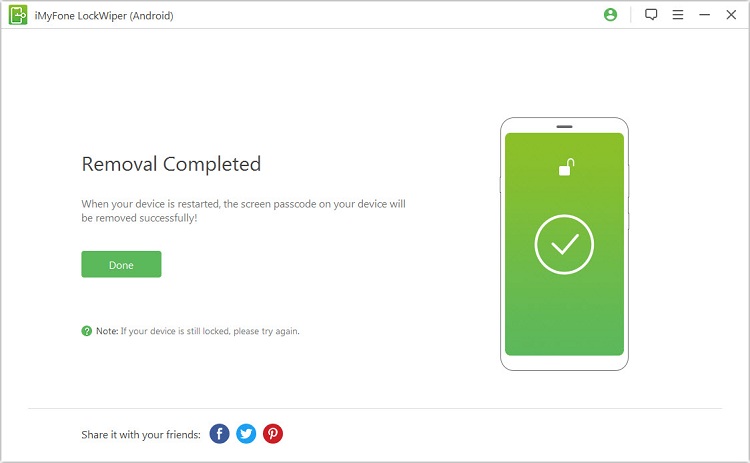 2. Dr.Fone - Unlock (Android) – Remove Android Lock Screen in 5 Minutes
The unique selling point of the Dr.Fone Android unlocker system is that it causes no data loss whatsoever. It is a system of bypassing the need for using a password on a phone that you have been locked out of. It is helpful in situations where no extra memory space is available to store the existing data and information. In emergent situations as well, this application can prove to be a boon.
Features of Dr.Fone:
Removes your Android screen lock without losing data.
It can bypass 4 screen lock types - pattern, PIN, password & fingerprints.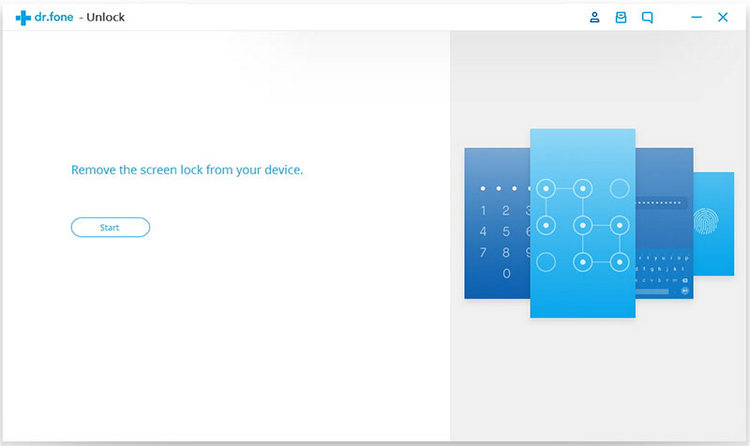 Limitations of Dr.Fone:
Dr.Fone - Unlock (Android) only supports some Samsung and LG products currently.
The device verification and unlocking process may take longer than required to unlock your Android phone.
The Android device is at the risk of bricking if the unlock process failed.
Requires at least 1GB free space to download and run this software normally.
3. Comparison of Top 2 Android Unlockers
According to the features and limitations of the 2 software introduced above, a table is made to show you the comparison distinctly.
| Software and Metrics | iMyFone LockWiper | Dr.fone Unlock |
| --- | --- | --- |
| Unlock various locks | | |
| Support  Android brands | 4 | 2 |
| Specific  fixes to specific Android devices | | |
| Hard disk storage required | 200MB | 1GB |
| Money back guarantee | 30-day | 7-day |
Leaving your phone unattended around children or changing passwords on accident can happen to anyone. This simple problem also should have a simple fix, and this is why third party Android unlockers  mentioned in this guide are so convenient to use. As you can see from the table, iMyFone LockWiper Android Lock Screen Removal is practically simple and can be used to cover a wider range of Android brands and phone models. If you are in need of unlocking your Android screen, do not hesitate to free download LockWiper trial. It is worth trying!
4. How to Remove Android Screen Lock without Password
The following are steps of using iMyFone LockWiper (Android) to remove Android password:
Step 1: Free download the LockWiper onto the computer system and launch the application. Connect your phone to the device with a USB cable and then click "Start" to proceed with unlocking.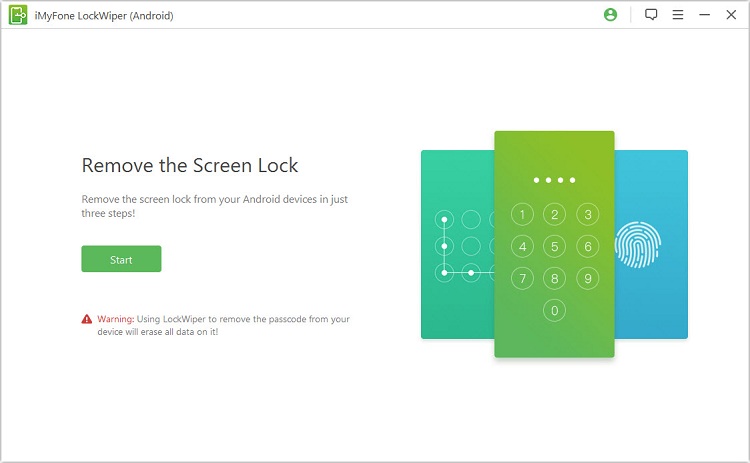 Step 2: LockWiper will then ask you to verify the phone brand and model detected and if it is not, manual correction is available. Click "Start Unlock" to continue.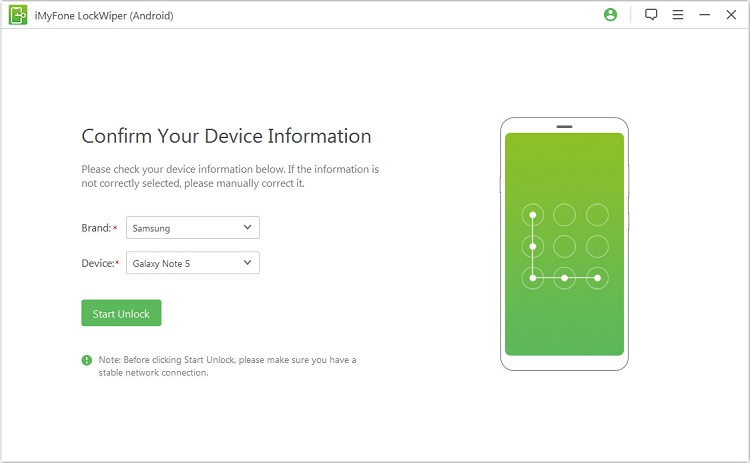 Step 3: iMyFone LockWiper (Android) will prepare the specific data package for your device. Now follow the instructions on the software screen to put your phone in recovery mode.
Step 4: Pressing the "Next" button will help you recover control of your phone and then apply a factory reset.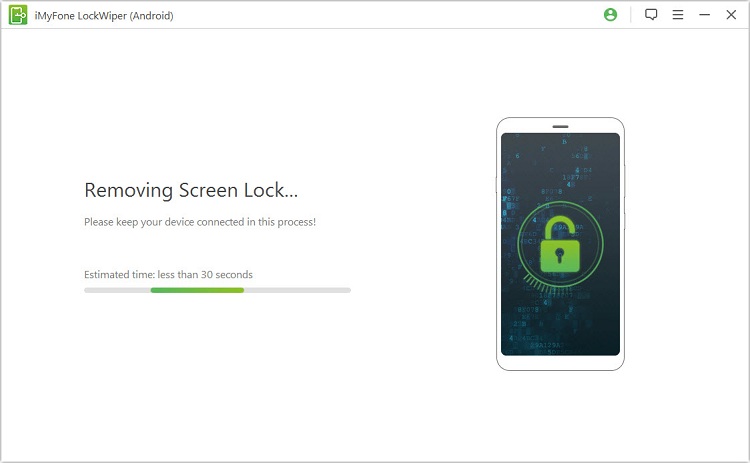 Now, wait for the app to remove the passcode from your phone, and enjoy a device which is good as new!
Conclusion
If you are looking for a powerful software that removes Android screen lock without requesting for a password, then iMyFone LockWiper (Android) Phone Unlock Tool is the right tool to use. Even though we have highlighted the features above, LockWiper (Android) unlocks all Android locks, supports all Android devices, unlocks your device without bricking it and supports all Windows OS.