Android Phone security relies on the Factory Reset Protection (FPR) login details, also known as Google account. Sometimes we may forget our Google account details or we may want to factory reset our Android devices. Sometimes we bought a secondhand Android device with Google's "Verify your Account". The above situations will cause lots of trouble.
Luckily, in this article, we will bring you two ways to access your locked Android devices without logging in to your Google Account. You can download quick shortcut maker tech eligible, or use iMyFoneLockWipe to bypass the FPR on your phones. We'll compare both of these options to make the decision much easier for you! Let's move on!
Part 1. Download Quick Shortcut Maker APK to Remove Google Account
Quick shortcut maker APK  is an application that assists you in bypassing Google account verification. It works on some Android devices and quickly overcomes FPR verification process without any unreasonable delay. Before you rush and download quick shortcut maker techeligible, you should view the key features of this application to make you understand it better:
Support to remove Google account/FRP lock without password.

Work on Android devices above 5.0 Versions.

Require a minimum space of 2MB in your Android devices.
It is easy to download and use. And here are six simple steps on how to use quick shortcut maker APK to remove Google account on your devices.
Step 1. Download quick shortcut maker techeligible APK on your PC. Add the downloaded file to a flash drive, or a pendrive.
Step 2. Connect your phone to the pendrive through the OTG cable once your phone asks for Google verification account.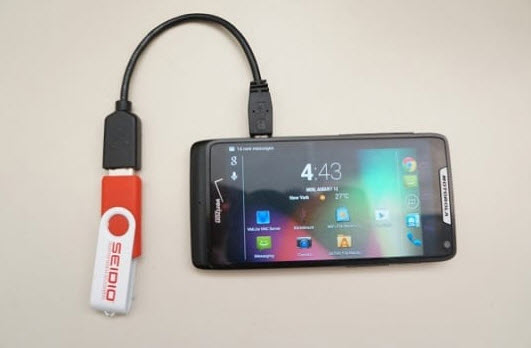 Step 3. Find the "FPR Bypass Apk" file in your file manager on your phone and install it.
Step 4. Click on settings and mark check on "Unknown Sources" after viewing the "Unknown Sources" messages.
Step 5. After installation, click on the launch, and you will be directed to your phone's settings.
Step 6. Choose the "Perform Factory Data Reset"from your settings.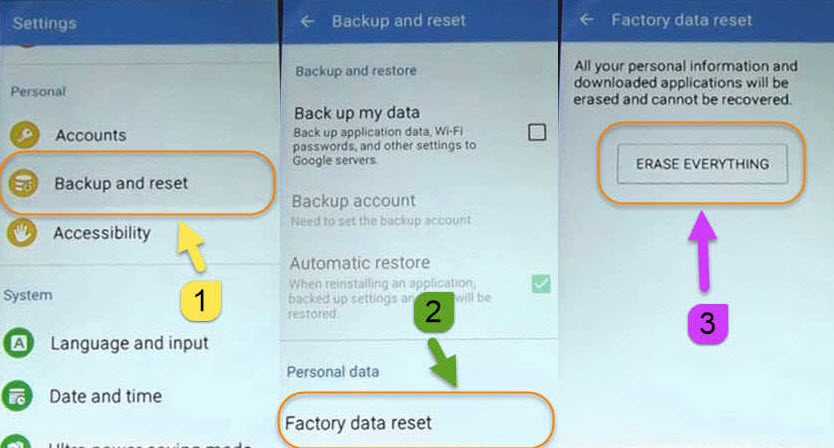 Wait a moment, the Google account will be removed from your phone.
Part 2. Download iMyFone LocKWiper (Android) to Bypass Google Account
iMyFone LocKWiper (Android) also allows you to bypass Google account/ FRP on your devices and use your phones without any problem. Gone are the days when you needed Google Account login details to access your phone. Thanks to this software, you can now bypass that stage!
Features of iMyFone LockWiper (Android)
Completely Bypass Google account/FRP lock without password.

Create a new Google account and get access to all functions of your phones .

Support most Samsung devices to unlock FRP.

Also support to remove all types of screen lock, including passcode, PIN, pattern, fingerprint, and facial recognition.
Here's how to use iMyFone LockWiper (Android) to bypass Google account:
Step 1. Install iMyFone LockWiper (Android) on your PC and launch it. Then, choose the "Remove Google Lock (FRP)" mode on the software.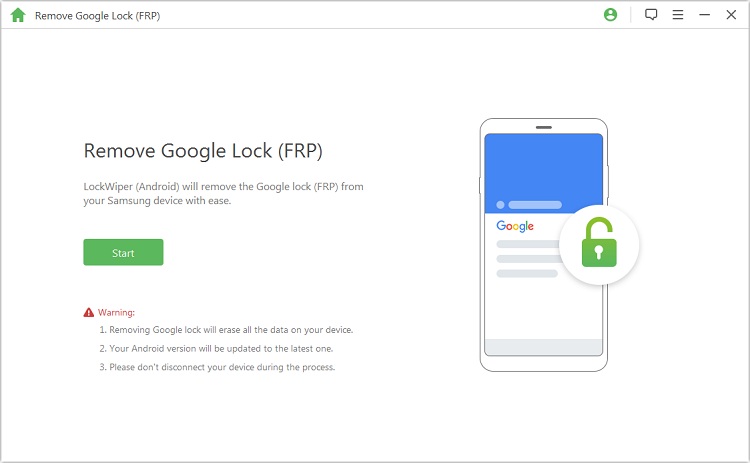 Step 2. Connect your device to the PC and select the device information on the software. Then click "Next".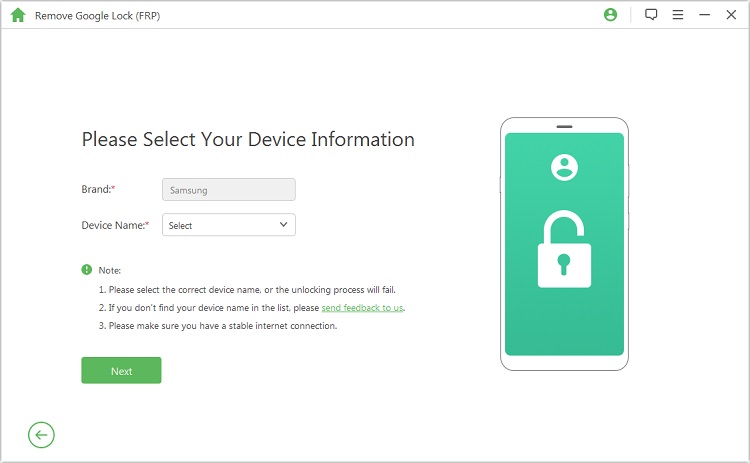 Step 3. Let the software download the data package on your device, and then choose "Start to Extract" to unpack the data package.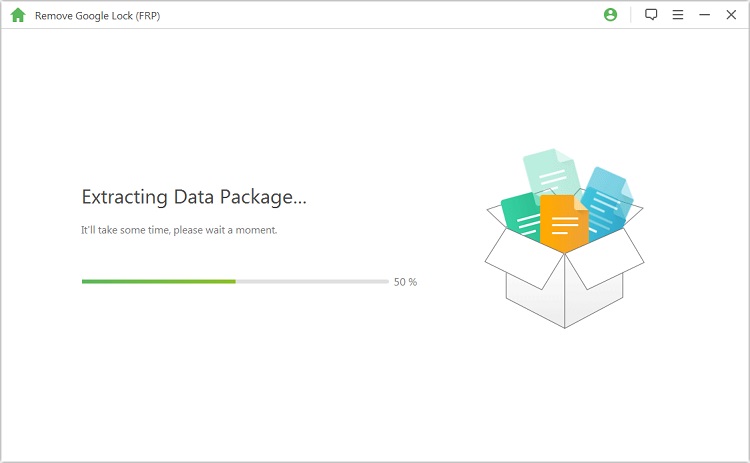 Step 4. Follow the steps on the screen, and after your device is in Downloading Mode, choose "Start". Next enter "000000" to confirm and start data installation.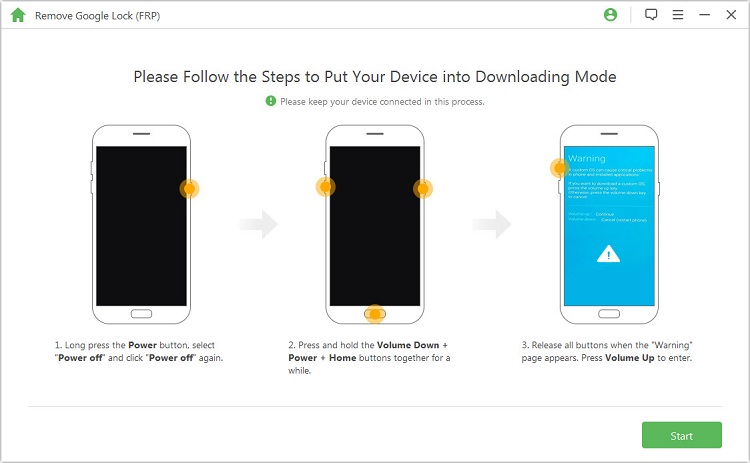 Step 5. Follow the instructions and enable the "USB Debugging" and "OEM unlock" on your phone. Then confirm the OEM unlock again.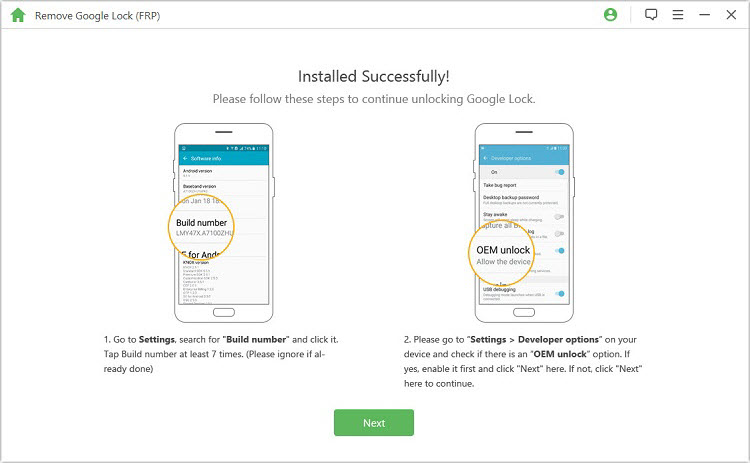 Step 6. Reset your device to put it into Downloading Mode and download the firmware package. Then, click on "Start to Extract". The software will start to extract.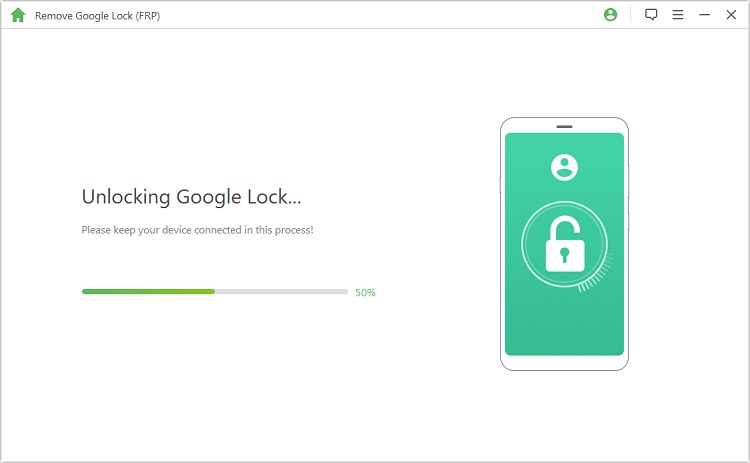 Once the process is finished, the FRP lock will be removed. Enjoy using your device without any Google account verification!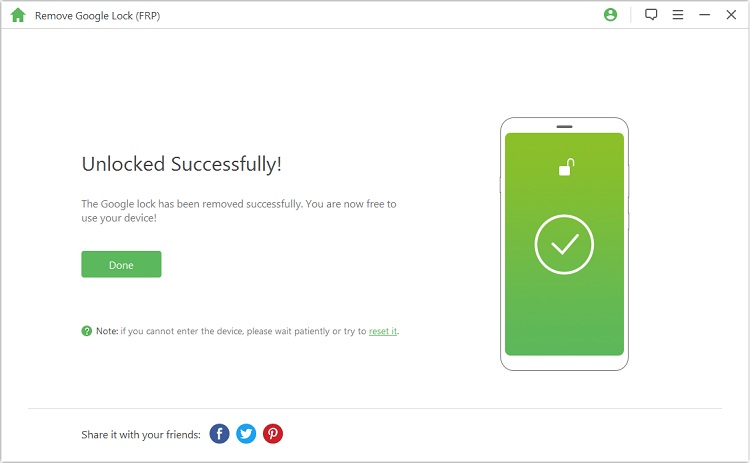 Part 3. The Comparison of Two Methods
To make things easier for you, we have made comparsion about both removal tools for you.
Why do we choose iMyFone LockWiper (Android)?        
Safe, quick, and easy to use.        
Compatible with most Android devices.       
Specific fixes for specific devices according to your needs.        
High success rate.         
User-Friendly.        
Why don't we choose Quick Shortcut Maker Techeligible?        
It only supports smartphones with Android version 5.0 or above.        
Play store users cannot use this tool.
No direct access to the application through any resources or local market.         
The process can be very lengthy and time-consuming.         
---
In conclusion, iMyFone LockWiper (Android) surpasses all the expectations for software that can bypass Google account verification. And LockWiper (Android) provides you with an efficient and direct solution to your problem without any delay. So, download this exceptional software today and never worry about getting out of your phone ever again!