You are resetting your mobile device and it gets locked by FRP after the reset. It asks for the previously used Google account and password to get into the locked device. Unlockily, you happen to forgot the Google account information. What are you going to do? Is it possible to remvove the Google account verification lock without using a Google account?
This article is going to introduce basic knowledge of FRP, how it works, and how to unlock FRP on Samsung devices without previously used Google account.
Part 1. What Is FRP and How Does FRP Work?
What is FRP?
Factory Reset Protection (FRP) is a default  security feature in  Android Devices (with Lollipop 5.1 and higher) that protect your Android device's important information including data encryption and locks in case of unusual activities. It activates automatically after you set up your Google account on your device. FRP will further prevent misuse of your device after a factory reset until you log in from previously set Google account on the same device.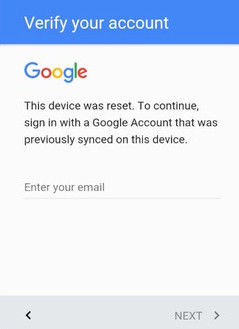 How Does FRP work?
After performing a factory reset, your device will return to the default setting and everything including apps and downloaded files will be lost. From the above-mentioned scenario, if you have Google account logged in then you can get access to your data after reset by using it. If an unauthorized person tries to unlock your device, he will still need to provide Google username and password signed in on the device.
Remembering your Google account's username and password is very essential as it will help you save your device in an emergency situation. At the end of the factory reset, you will always need your Google account to access your device easily without any help from professional technicians of tools.
Part 2. Pros and Cons of Google FRP on Samsung Devices
Pros of Google FRP on Samsung Devices
The chief advantage of Google FRP is that nobody will misuse your private data if you accidentally lost your device.
You can always set your device to default settings and then access it by simply logging in from your Google account.
Cons of Google FRP on Samsung Devices
Google FRP may your device because of any reasons.
If you are unable to provide details of your same Google account, you might not get access to your device ever.
If someone passed away and his phone is left with FRP lock, it could cost others much time and energy to break into his phone and find clues.
Part 3. Latest Samsung FRP Unlock Software in 2019
Generally, to perform FRP unlock on Samsung Devices, you need to login into your Google account logged in your device. However,  iMyFone LockWiper (Android) FRP unlock software supports to remove FRP lock from Samsung devices without Google Verification or any passwords. For those who lost their Google account information or bought a second-hand FRP locked Samsung device, this software could be a powerful savior.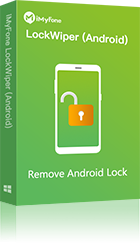 120,000,000 Downloads
Features of iMyFone LockWiper (Android)
Allow you to reach your FRP locked device completely without using a Google account.

Support to use a different Google account if you have lost the password.

Remove your device from previously linked Google accounts.

Enjoy the full access to your Android device.

Also support to remove PIN, passcodes, passwords, face and finger lock of any Android device.
Part 4. How to Unlock Samsung FRP Easily and Effectively without Google Account
iMyFone LockWiper (Android) works quickly and requires not technical knowledge to unlock FRP locks from Samsung devices without Google account. Follow the basic steps below to unlock FRP on Samsung devices.
Step 1. Connect Your Device
First, download iMyFone LockWiper (Android) and then install it on your PC. Select the "Remove Google Lock (FRP)" mode on the software screen.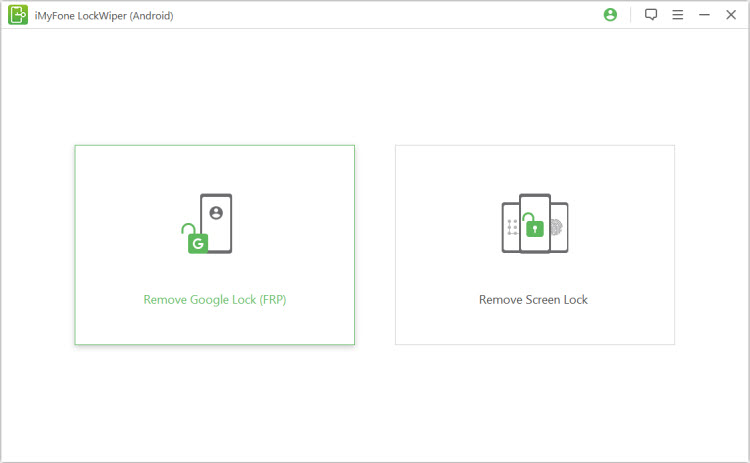 Click the "Start" button and then link your Samsung device to the computer by a USB cable.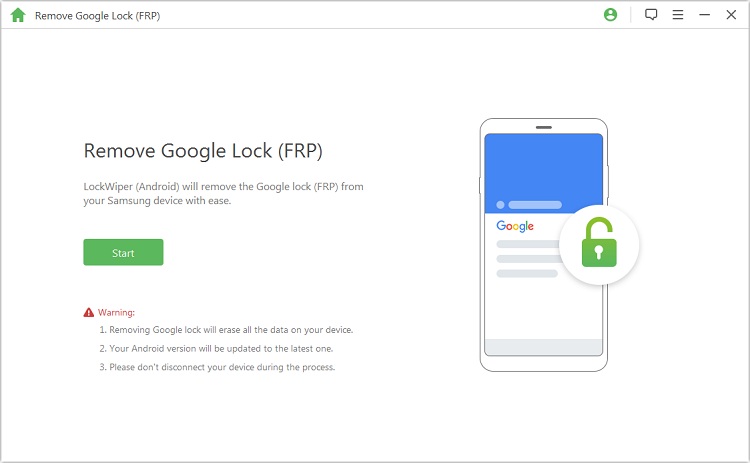 Step 2. Select Your Device and Confirm its Information
Once your Android device is connected to the PC, the device information will be detected automatically. Make sure that the device's name is correct, if not, then correct it and click on the "Next" button.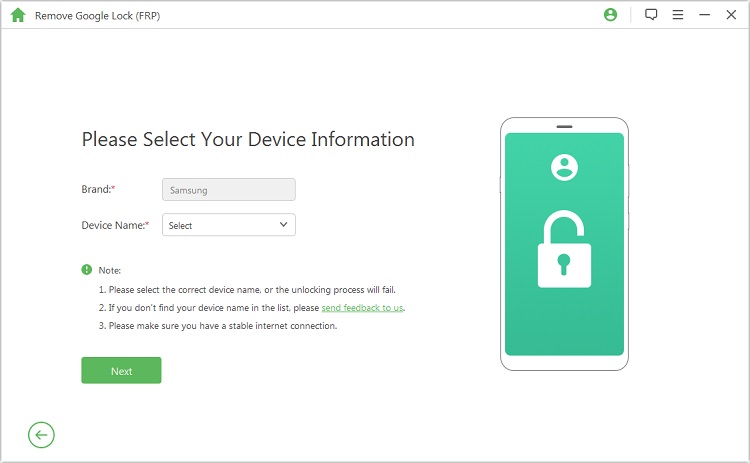 Keep following the onscreen instructions to put your device in recovery mode. Click on the "Next" button and elect PDA of your device. If it is not available in the list, then add it manually. Select the correct Country and carrier. Now, click on the "Download" button to continue.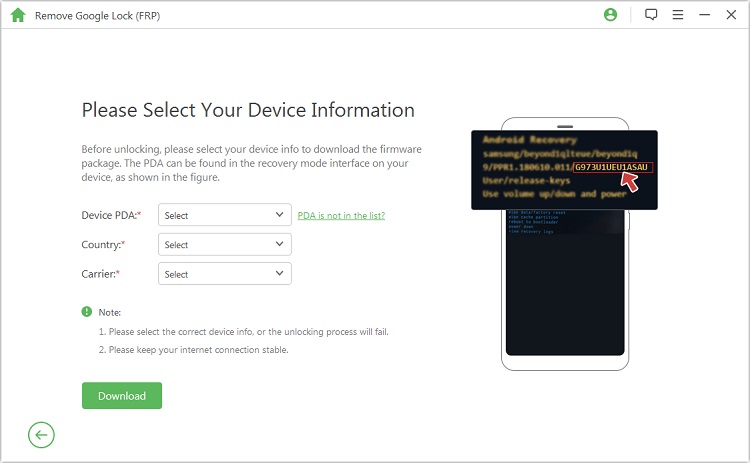 Step 3. Prepare Data Package for Your Device
After confirming PDA information, iMyFone LockWiper (Android) will start searching and downloading a unique data package for your Android Device.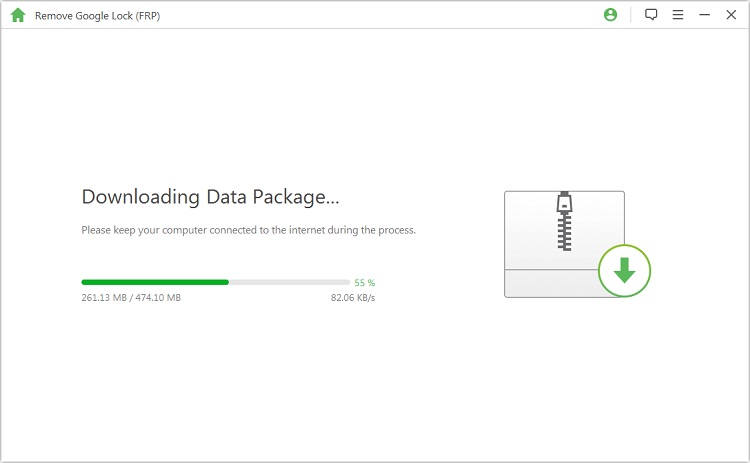 The downloading process will complete in a while. After that, click on the "Start to Extract" option to check the package. After extraction of the data package, you can follow the onscreen steps to  put your FRP locked device into downloading mode. Click on the "Start" button and enter "000000" to confirm the steps and start the installation process.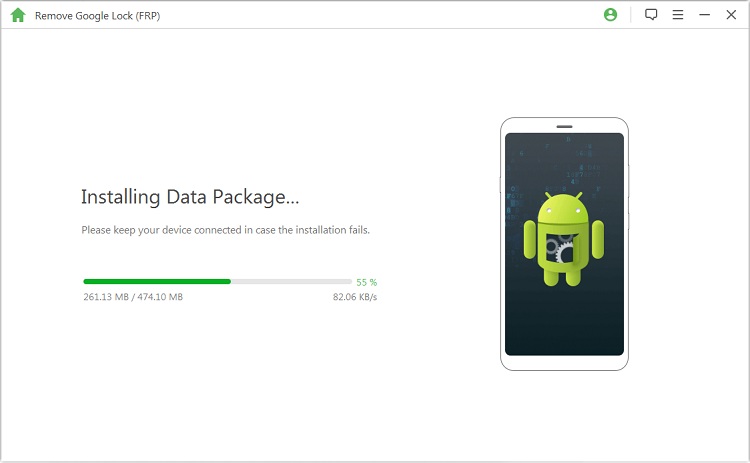 After installation, follow the instructions to permit "OEM unlock" and "USB debugging" on your Samsung device.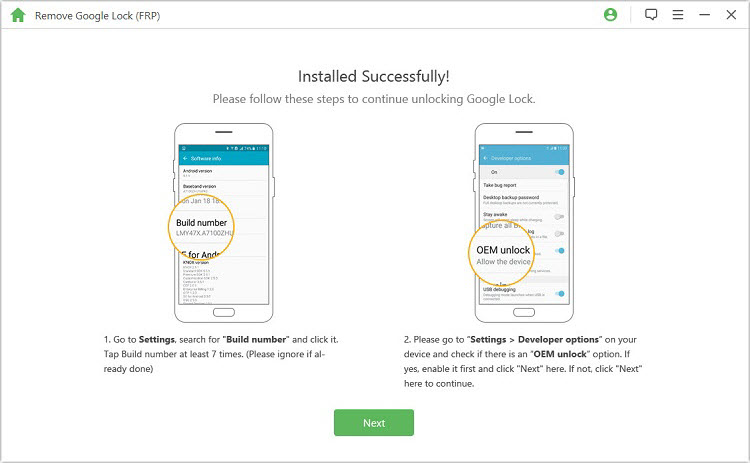 Step 4. Prepare Firmware Package for Your Device
Take the steps to reset your Android device and put it into downloading mode. It will automatically start downloading the firmware package. Click on the "Start to Extract" button.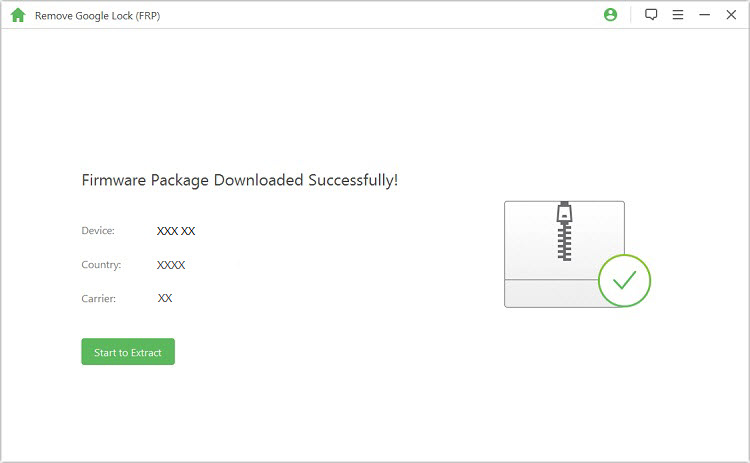 Step 5. Unlocking the Google Lock
The software will start unlocking your FRP locked Samsung device by removing Google FRP. It will take some time, so please wait and let the process finish. Finally, your FRP lock on Samsung device will be removed. You can use your device without verifying previously logged in Google account.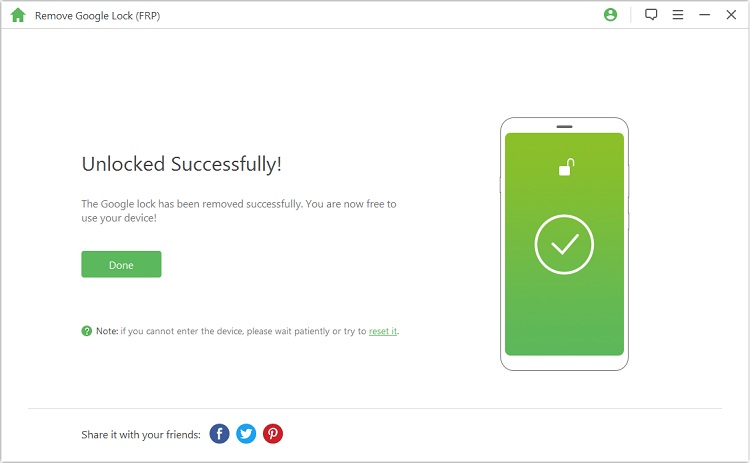 Conclusion
Your Samsung device will get locked by Google FRP after a factory reset and can only be retrieved by using Google account verification. For those who couldn't unlock FRP through Google verification, iMyFone LockWiper (Android) might be the best solution that will unlock FRP lock on Samsung devices without Google account and password. You can download the trial version to check if your devce is supported to unlock Samsung FRP.