I want to look for my Google calendar or reminders even when my Mobile is locked. Also, I want to hear the name of the caller even when my cell is locked. Is there any assistant in mobile devices that can perform various functions on a lock screen?
Does this sound familiar or do you want to have such a facility as well? Well, don't worry, in this informative article, you are going to lean a lot about what Google assistant lock screen is. What are its important functions and how to unlock the screen without a password when the Google assistant lock doesn't work?
1. What is Google Assistant Lock Screen?
Google Assistant Lock Screen assists you in communications, helping you in to-do-list, giving information about the local area's weather or maybe events. Via Google assistant lock screen, you can control the info that will be shown while the device is locked.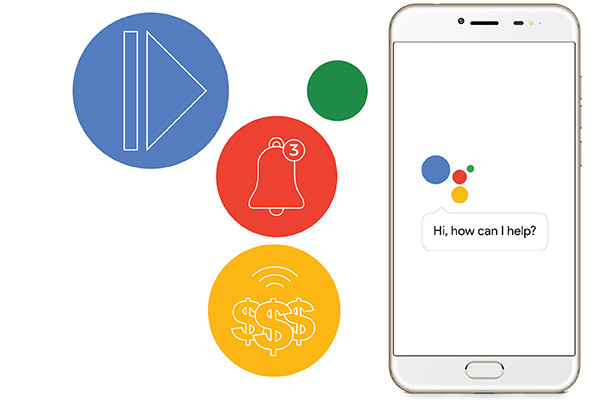 You can enable personal screen results on Google assistant to help in:
Naming your contacts
Reminders
Categorized Emails
Grocery List
Google Calendar
Memory Aids
So, basically, Google assistant lock screen helps you in organizing your information and easy access to various functions even when the screen is locked. You can enable and disable it from the settings of your device.
2. How to Turn On or Off Google Assistant Lock Screen Personal Results?
The Google Assistant Lock Screen is in no doubt providing a digitalized assistance in numerous ways. Sometimes, it is just a mere annoyance when Google Assistance pops up in the middle of a high-tech meeting where concentration is crucial. Sometimes even saying a word in your meeting can make Google Assistant draw up of nowhere as it identifies your voice. To disable Google Assistant Lock Screen from emerging on its own you need to follow these simple steps.
Step 1. Press "Home" button or use your voice to launch Google Assistant, then in the bottom left corner there appears a box icon. Click that icon.
Step 2. An assistant window opens, click on your profile picture on the top right, leading you to another window, click the "Assistant" tab in that.
Step 3. In the Assistant tab move way deep down and select Phone option from devices listed there.
Step 4. On the next page, under the Voice Match Options, click the "Access with Match Voice" to turn it off and press "OK" in the next popped up window.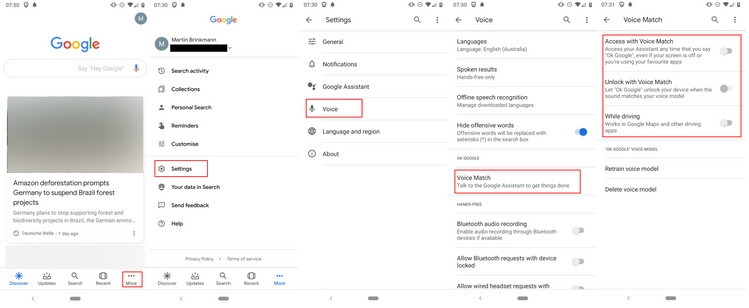 Now you are good to go, Google Assistant Lock Screen will not hinder any way. One more advanced feature is to disable this completely is to click on the Voice Model Option and delete it on the following page.
To turn on Google assistant lock screen, follow these steps:
Step 1. Go to  "Settings".
Step 2. Then click on "Assistant".
Step 3. Pick your device under Assistant devices.
Step 4. Under the personalization corner, turn on the "Personal results".
Step 5. Then select "Lock screen personal results".
Step 6. It will enable Google's assistant screen lock.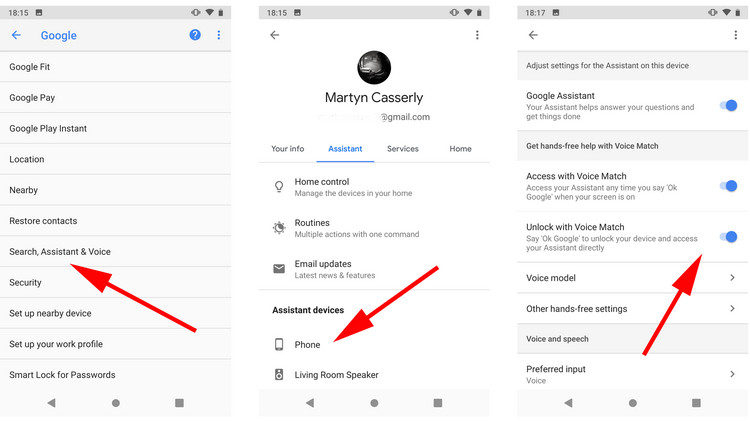 3. What Issues You May Encounter When Using Google Assistant Lock Screen?
Technology needs some foolproof security, hence we need to deploy fingerprint pattern, Face ID or PIN. You might face some trouble to unlock your Google Assistant Lock Screen as it will only turn your phone on but can't jump over the security.
To avoid it, you can just remove the security screen but that is not advisable. You can add a delay timer that may help your device screen to get a lock at once when the screen sleeps. This means that your phone or any android device will only lock and requires a security method if it stays inactive for some time.
To change this go to "Settings> Security & Location", Click the Gear Icon in front of Screen Lock, opt for "Delay under Automatically Lock".
You can also use the option of "Setting up Google Smart Lock" in your trusted location to enable the Google Assistant Lock Screen even when it is locked.
4. How to Remove Lock Screen without Password when Google Assistant Does Not Work?
To unlock LG phones, iMyFone LockWiper (Android) lock screen removal is one of the most effective and best methods. The success rate of the software to get unlocked LG phones for sale is higher than any other tool in the market. With advanced unlocking algorithms, iMyFone LockWiper (Android) stands at the top of all SIM and screen unlocking tools. Apart from LG devices, LockWiper (Android) supports to unlock 6,000+ Android devices such as Xiaomi, Samsung, Huawei, ZTE, etc.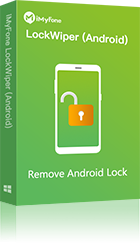 1,000,000 Downloads
Top Features of iMyFone LockWiper (Android)
Easily remove all scren locks from Android devices when Google assistant does not work.

Unlock PIN, pattern, password and fingerprint without passwords in just minutes.

Support devices in various conditions even phones with faulty keys and broken screens.

Support to remove screen lock from some Samsung devices without data loss.
How to Unlock Android Screen Lock with LockWiper (Android)
Here are the steps to remove Android screen lock without password under the help of iMyFone LockWiper (Android).
Step 1.Launch the software and choose "Remove Screen Lock" mode from the Home interface, then click "Start".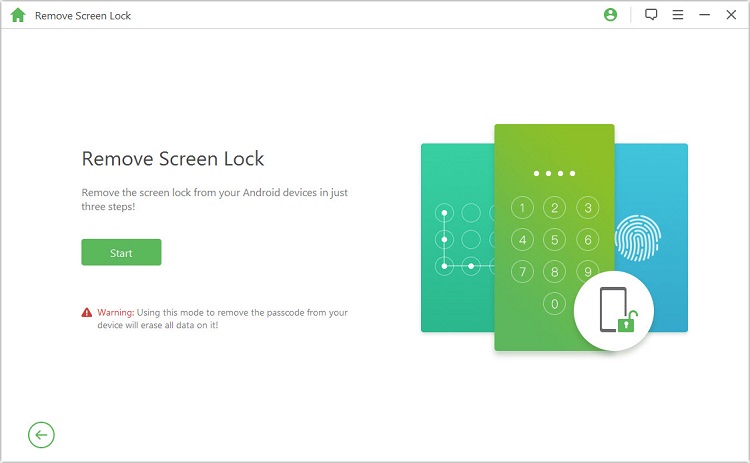 Step 2.  The program will detect the information about your connected device. Go through the details of your Android device and make sure thet are correct, then click "Start to Unlock" button.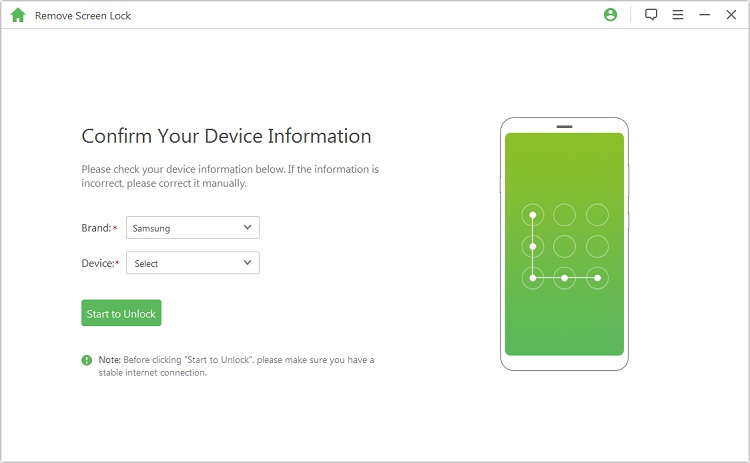 Step 3. The software will download a custom data package for your device. Click "Next" when downloading is finished.
Step 4. Foollow the instruction to put your device into  downloading mode and click "Start to Unlock" Option. iMyFone LockWiper (Android) will start removing the screen lock. Wait till it finishes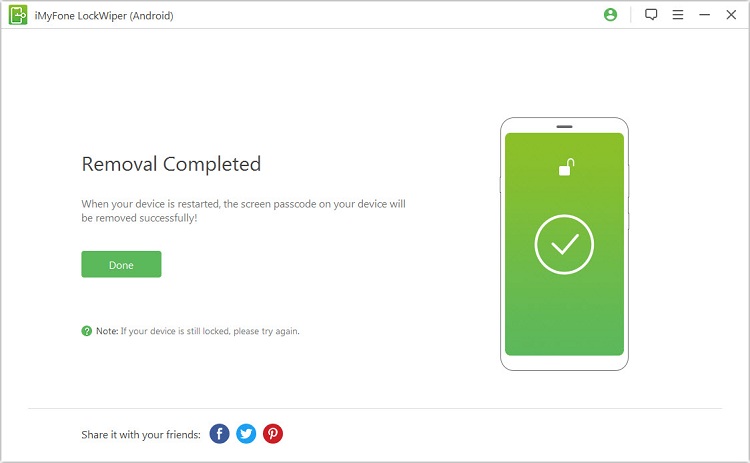 Conclusion
You have read the information related to the Google assistant lock screen and how to unlock it if you get stuck. iMyFone LockWiper Android lock screen removal is one of the best software to unlock the locked screen on any Android devices. You will find it way too easy to use and it will save your data as well. Free download iMyFone LockWiper (Android) to remove screen lock on Android devices when locked out of it.