Apple mobile device management is an essential part of for IT teams to distribute phones. But not everyone wants to keep device management on their iPhone after they leave a company or inherit the phone. Thankfully, you can get easy way to remove iOS device management from this article.
Part 1. What is Apple Mobile Device Management?
Businesses and organizations that distribute iDevices to their employees can choose to add mobile device management to those devices before handing them out. It is an easy and quick way for an IT team to monitor the iDevices in their network and keep all devices safe from malware.
1. What is Mobile Device Management on iDevice?
Mobile device management, also known simply as MDM, is a program included on iDevices that allows a company or organization to impose restrictions on a device. MDM is commonly on iDevices given to employees so that the company can restrict access to various apps and programs, send commands to the device from a central server, and remotely wipe data.
MDM protects a company's investment from misuse and mishandling, but MDM can be a pain for users. Apple mobile device management allows administrators to manage the device's profiles and send instructions to the iDevice without physically having the iPhone or iPad.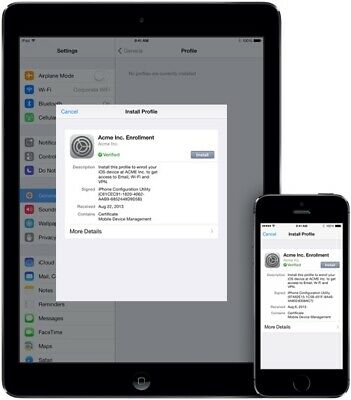 While there are benefits to having mobile device management iOS, some users might end up owning or inheriting a phone that no longer needs MDM. If this is the case, it is possible to remove iOS device management.
2. How does Mobile Device Management Work on iDevice?
MDM is a way for administrators and organizations to distribute data and restricted settings to an iPhone, iPad, or iPod Touch. If you are placing MDM on an iDevice, you can send emails, security settings, applications, and new content to the connected iDevices.
Organizations can implement MDM through Apple Business Manager, which is how Apple allows IT teams to automate device deployment and content distribution. Apple Business Manager is designed to work with Mobile Device Management solutions.
With MDM, an organization can download specific apps to all devices and then remove the apps and associated data when they are no longer needed, or the employee is no longer with the company. Mobile device management also lets the IT team set up new users quickly, opening their mail and other accounts automatically.
3. Why is Mobile Device Management So Important?
MDM gives organizations the freedom and flexibility to set up devices quickly for new users and push further information to current users. The ability to access and update or wipe clean all connected iDevices gives an IT team total control over the iPhones and iPads owned by the company.
Mobile device management comes with a host of benefits for employers and organizations. The benefits include:
Quick set up for new users.
Central management of all iDevices.
Remote app and settings management.
Security patch and update management.
Monitor malware and other security threats.
Secure mail applications.
4. Is It Possible to Remove MDM from Your iOS Device?
While overall mobile device management is essential to an organization because of the degree of control and security they can add to the devices they give employees, the restrictions imposed by MDM programs can get frustrating for iDevice users.
Is it possible to remove MDM from your iOS Device?
Definitely, yes!
Either if your device is locked by the MDM screen, or if the device usage is blocked by the MDM restriction from settings, or if some app on your device imposes the MDM restriction to your device, these issues can be sloved at once! Below is the how-to guide for you.
Part 2. How to Remove Mobile Device Management from iDevice?
If you find yourself locked out of your phone by the MDM screen, have usage restriction because of the MDM, get monitored by the company/school/organization/military because of the MDM, or if you are troubled by some downloaded apps that come with MDM restriction, you can use a program like iMyFone LockWiper that can remove the MDM immediately at once.
LockWiper has high success rate in bypassing the MDM, and it can bypass in seconds, with no need of technological knowledge.
Key Features of LockWiper:
Easily bypass the MDM with no need of credentials.
Help you enjoy all features of your iOS device.
Your device won't be managed or monitired by MDM again.
LockWiper can also unlock screen lock, remove iCloud and restricion password.
Here's the step-by-step process on bypass Apple Mobile Device Management using iMyFone LockWiper.
Watch Video Tutorial to Remove Apple Mobile Device Management Step by Step
[Video Transcript]

Step 1. Download and open the iMyFone LockWiper program on your computer.

Step 2. Select the "Bypass MDM" mode.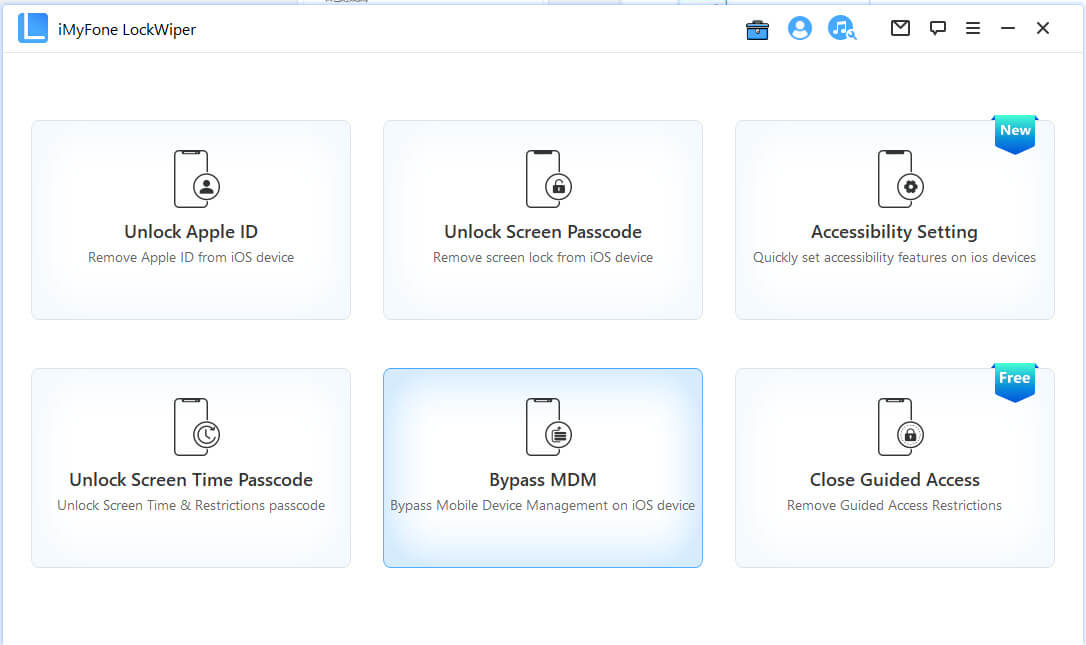 Step 3. Connect your iDevice to the computer.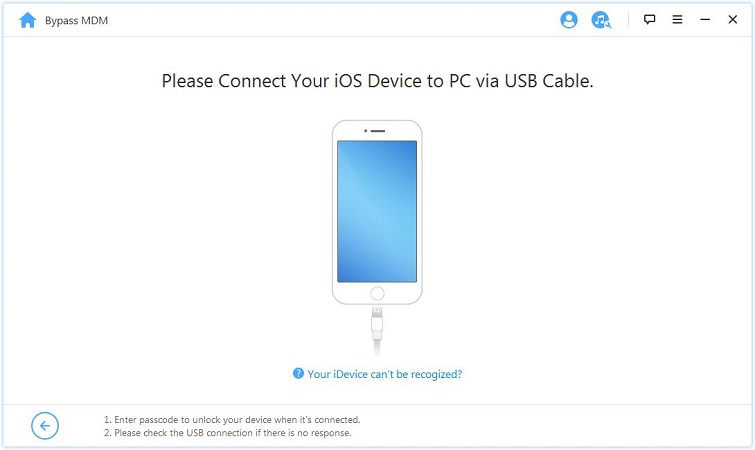 Step 4. Click "Start to Bypass" button to start the MDM bypass. If you want to remove the MDM restriction, please reset your device first by the following steps "Settings > General > Reset > Erase All Content and Settings". Then click "Start to Bypass".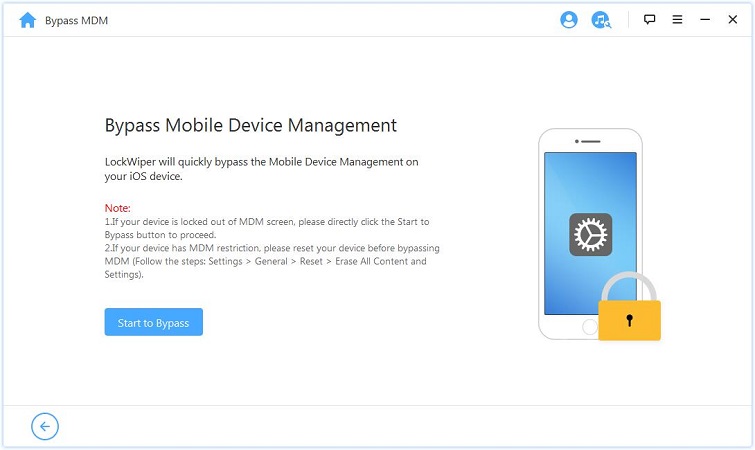 Note:
Before starting theMDM bypassing process, please make sure your iOS device is on the MDM Remote Management screen.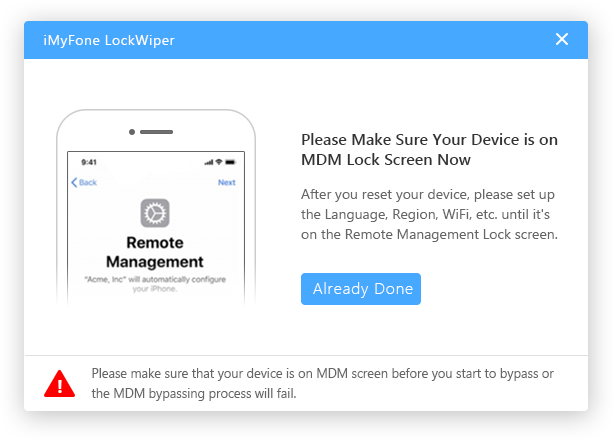 Step 5. Wait a few seconds until the process completes. Then the MDM will be bypassed from your device!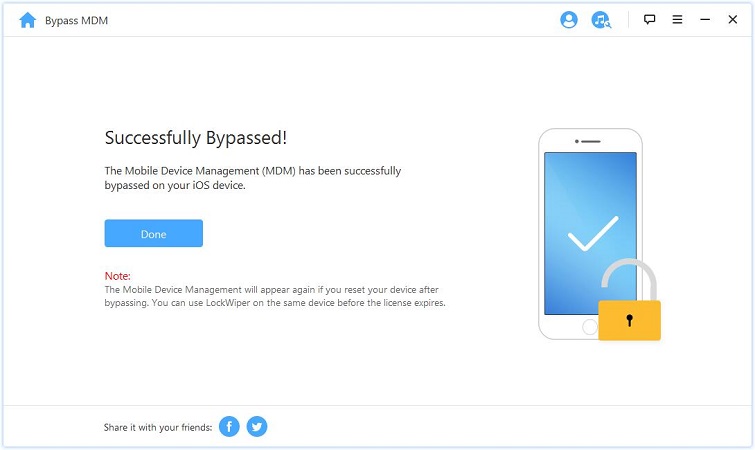 Check more details about the program and user guide here.
Part 3. Solution to MDM Restriction Imposed by Some App
Plenty of people now download some app that comes with mobile device management restriction. If you downloaded some app that has MDM restrictions, you can easily remove mobile device management on Apple products.
Solution 1. Remove MDM of Some App by Using DFU Mode
One option for removing mobile device management restriction imposed by some app is to use Device Firmware Update (DFU). DFU is how you allow your device to communicate with iTunes without activating a boot loader or iPhone OS. DFU is different from Recovery Mode and does require some advanced knowledge of iDevices. Please note that the DFU process changes for different generations of iDevices.
Note: The computer should with a Mac OS 10.9.5 (and above) or Windows 7 (and above) system.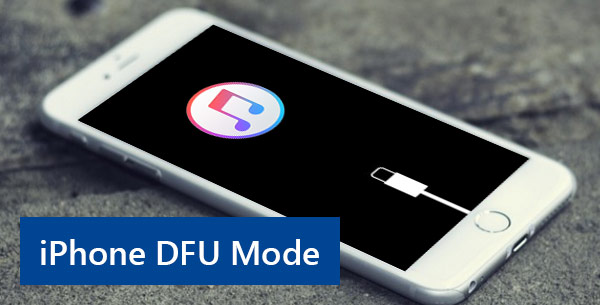 Steps to remove MDM of some app from your device by using DFU mode:
Step 1. Install and launch the latest iTunes version on your computer.
Step 2. Connect a USB port to your computer. (NOT iDevice YET)
Step 3. Turn off your iDevice and do as follow according to your iDevice generations.
For iPhone 8 and later: Press the Volume Up button then the Volume Down button quickly. Hold down the Side button till the screen goes black. Then hold down both the side button and Volume Down button for 5 seconds. Then release the Side button while continuing to hold down the Volume Down button.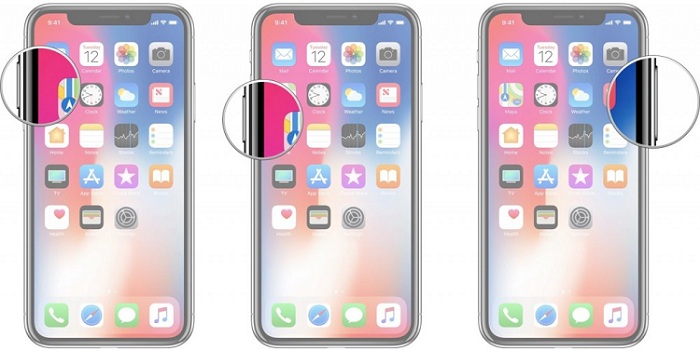 For iPhone 7 and iPhone 7 Plus: Hold down both the Side button and Volume Down button. After 8 seconds, release the Side button while continuing to hold down the Volume Down button.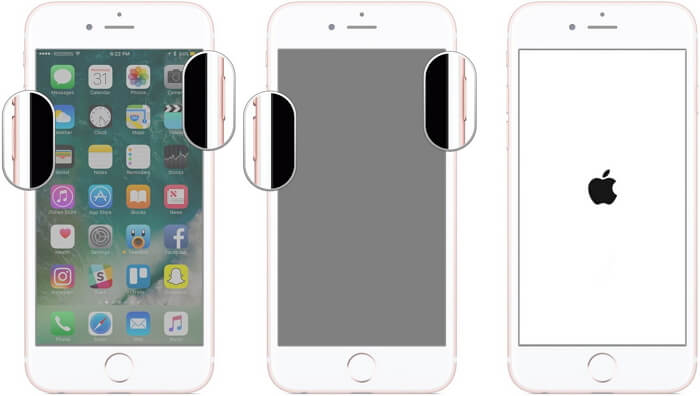 For iPad, iPhone 6s and below, iPhone SE: Hold down both the Home button and Lock button for 8 seconds. Then release the Lock button while continuing to hold down the Home button.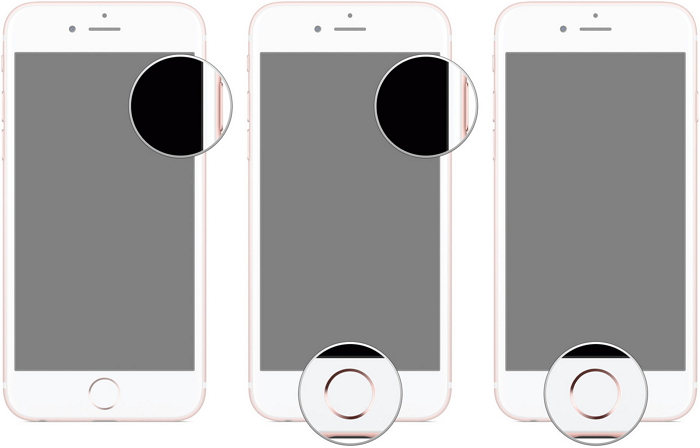 (Note: Nothing will be displayed on the screen when the device is in DFU mode. If the Apple logo shows while holding both buttons, start from step 6 again because you held it too long).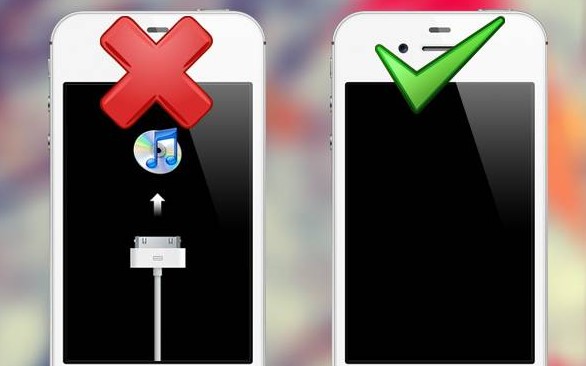 Step 4. Connect your device to the USB. "A phone in Recovery mode has been detected" a prompt from iTune and shows for 60 seconds.

Step 5. Release the button to restore the device when you see the message. Select "DO NOT RESTORE A BACKUP; set up as new phone" if asked.
The MDM should be removed by the above steps if the device's ownership isn't stored in Apple's activation database.
Solution 2. Remove MDM of Some App by Settings
For beginners and users looking for an easier option, you can remove MDM through the settings menu. This choice is best for MDM profiles that are locked by a passcode.
Just simply follow the steps below:
Step 1. Open "Settings" and click "General Settings". Find "Device Management" settings.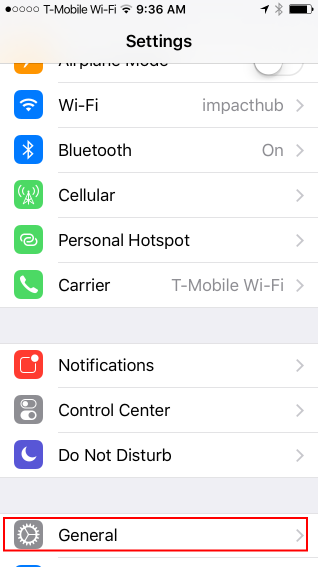 Step 2. Click on "Device Management" and then choose the correct profile under "Mobile Device Management".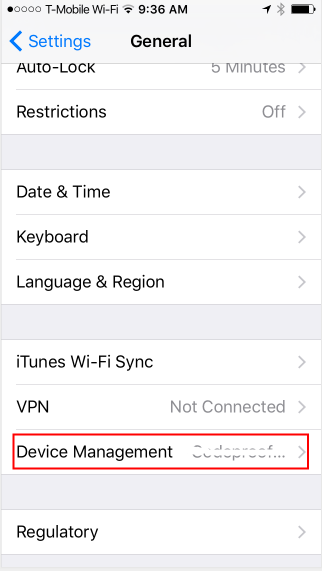 Step 3. On the new page, you'll see the MDM profile and the restrictions imposed.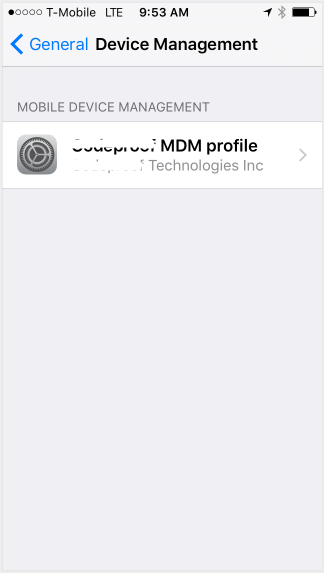 Step 4. Click on "Remove Management" at the bottom of the screen.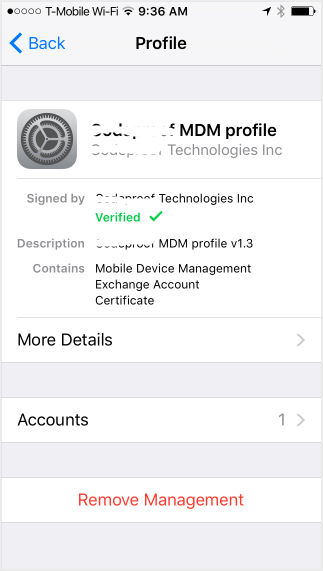 Step 5. Enter the passcode if prompted. Click "Remove Management" again.
Step 6. Verify your decision is prompted. You're finished and the MDM is removed!
---
Conclusion
Are you looking to remove iOS device management from your iPhone or iPad? You're not alone. If you have an iPhone, iPad, or iPod Touch that is stuck under heavy restrictions from mobile device management, you need a quick and efficient way to remove the program from your iDevice.
When you're locked out of the MDM, or get restricted by it, you can use iMyFone LockWiper software. It has an easy-to-use and streamlined interface that makes bypassing MDM a breeze.