[2023 Updated] How to Remove MDM from iPad or iPhone
Category: Unlock iPhone
4 mins read
Mobile Device Management (MDM) profiles are essential for organizations to manage and control iPhones and iPads used within their networks. However, there may be instances where you need to remove MDM from your iPhone or iPad. Whether you want to use your device for personal purposes or encounter other reasons, this comprehensive guide will walk you through various methods to remove MDM and regain control of your device. Read on to discover how to remove MDM from iPhone and iPad securely and efficiently.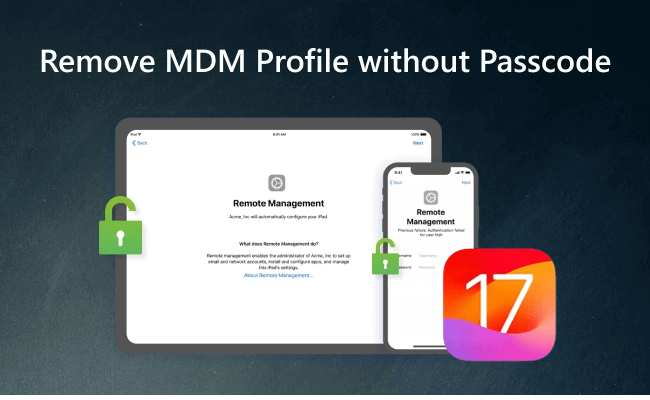 Now download LockWiper to easily bypass MDM remote management on iPhone/iPad which limits the functions and features.
Part 1. What is MDM on iPhone or iPad?
MDM, or Mobile Device Management, is a protocol used by IT administrators to remotely manage iOS devices such as iPhones and iPads from a central server. With MDM, administrators can perform tasks like inspecting devices, adding or removing profiles and apps, resetting passcodes, and even erasing devices.
One key tool in MDM is the use of configuration profiles, which allow central management of device settings like WiFi, email, and passwords. These profiles are typically installed via the web, email, or Apple's configuration utility.
In other words, MDM provides a way to control iOS devices remotely without requiring user intervention. So, when encountering common MDM issues, like restrictions preventing app installations or MDM lock screens that require a username and password to unlock, there are some solutions available. Now, let's explore how to remove MDM from iPad or iPhone with the following questions.
Note: To remove MDM locks, a factory reset of the device may be necessary, but it's crucial to back up your data first.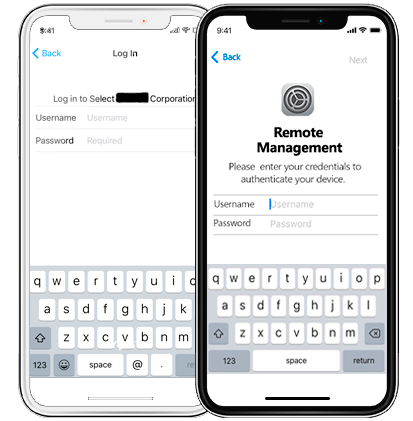 Part 2. How to Remove MDM from iPhone or iPad
01

remove MDM on iPhone or iPad via Settings

If your iPhone or iPad has a MDM profile installed, here are the steps to remove it through the Settings. It also applies to your iPhone and iPad.
Open the "Settings".
Scroll down to the "General" section and tap on it.
Then scroll through to the "Device Management" option and click on it.
Next, tap on the "MDM Profile".
Tap the "Remove Management" option. You may be asked for a passcode at this stage. Please key in the correct password. Your company manager is successfully removed from your iPhone.
02

remov MDM locks from iPhones and iPads using iMyFone LockWiper

If you have an iPhone or iPad that is locked by MDM remote management activation screen or has installed MDM configuration profile, then you can try iMyFone LockWiper MDM lock removal tool. Having MDM remote management on your device limits the functions and features. So let LockWiper help you to bypass MDM without password and you can enjoy your device like a new one. Even the latest iOS verison iOS 16 is supported.
Watch Video Tutorial to Remove MDM Profile from iPhone/iPad without password
Step 1: Choose the Bypass MDM mode from the first page.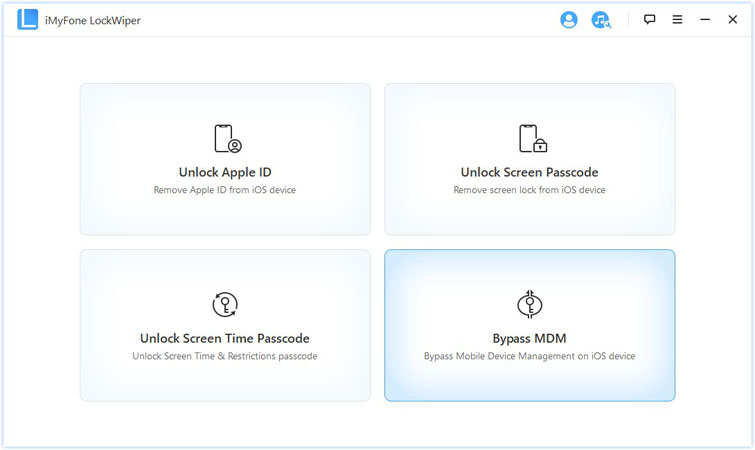 Step 2: Connect your device via a USB cable.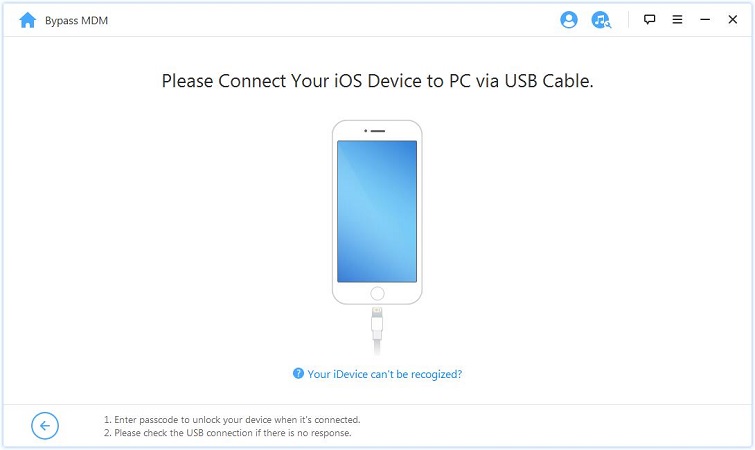 Step 3: It will guide you to follow the instruction to start the process or you may need to reset your device first.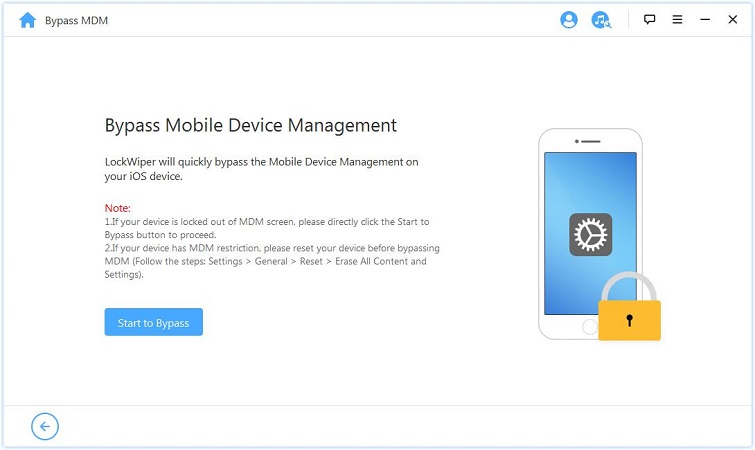 Note:
Please make sure the iPhone is on MDM Remote Management screen before you start to bypass MDM on LockWiper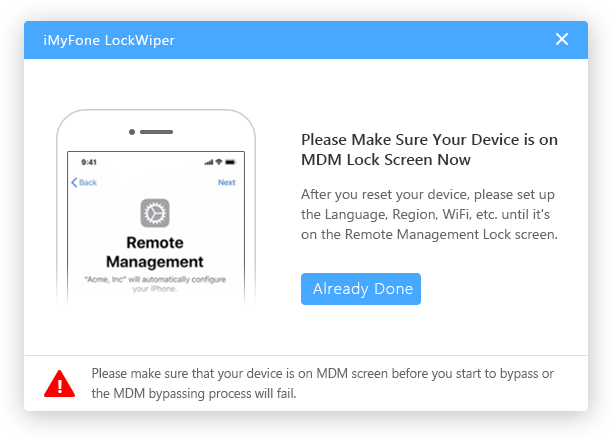 Step 4: It will now start the bypassing process. Just wait a few seconds. Your iPhone/iPad MDM profile will be successfully bypassed. Start enjoy your device now!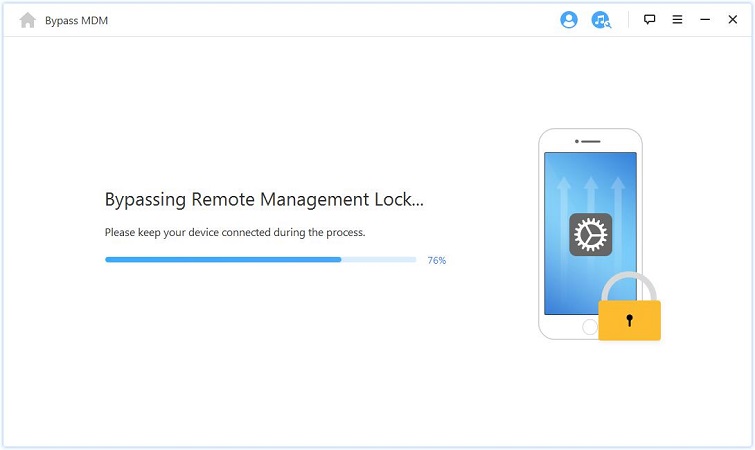 Part 3. FAQ about Remove MDM from iPhone or iPad
Got plenty of questions about MDM removal and can't get the right answer? Or wondering if you should remove MDM from your device? Check the FAQs here.
1

How do I uninstall MDM?

You can remove MDM from the managed Android from the "Settings" option.

Go to the managed mobile phone and click on the "Settings" option.

Then navigate to "Security".

Select the "Device Administrator" and disable it.

Next, check under "Settings" and scroll down to "Applications".

Choose the "ManageEngine Mobile Device Manager Plus" and Uninstall the MDM agent.
---
2

Can I delete MDM from iPhone/iPad?

Yes, you can. Check out how to remove MDM from iPhone/iPad after restore.

Open "Settings" app then scroll down to the "General" section > "Device Management" to open the enrolled management profile.

Then tap on the "MDM" profile. Tap the "Remove Management" button. That's the button to remove MDM profile.

Enter your passcode if prompted. Your device is now free from MDM.
---
3

How do I bypass MDM lock on iPhone?

You can remove iPhone MDM lock with "iActivate" tool. You should have your mobile device management profile that need to be bypassed. Then look out for your iPhone IMEI number and order the MDM unlock. Next, download the "iActivate" tool from https://iactivate.host.

Connect your iPhone to a computer via a cable and then launch the "iActivate" app. Then click on the "iActivate" Server button and wait for a while as your "MDM" profile is bypassed. You can now use your phone without further MDM restrictions.
---
4

How do I factory reset my iPhone/iPad using MDM?

If you don't want any more mobile device management protocols, just remove iPhone MDM. If your device is enrolled into MDM, you can execute the necessary management commands on the target iPhone. You can wipe, restore, or erase your device via those commands. To factory reset your iPhone, send a "Device Erase" command and it will be a done deal.
---
5

Can I use my device as normal after removing MDM?

Yes, after removing MDM, your device will function normally without any restrictions imposed by the MDM profile.
---
6

Can I bypass MDM without jailbreak?

Yes, you can use a tool like LockWiper to remove MDM from iPhone or iPad without jailbreaking.
---
7

What happens when I remove MDM?

Removing MDM will disconnect your device from your company's management server. You'll lose access to any corporate apps, emails, WiFi/VPN configurations set by your IT admin.
So in summary, if you have left the organization, removing MDM is necessary to regain full control of your personal iPhone or iPad.
Conclusion
Whether you need to use your device for personal purposes or face other reasons, this guide has provided you with various methods of how to remove MDM from iPad or iPhone. For a safe and effective solution, using iMyFone LockWiper MDM lock removal, you can bypass MDM restrictions and regain complete control over your device in a simple and user-friendly manner. By following the above steps, you can successfully remove MDM from your iPhone or iPad, ensuring enhanced data security and improved device functionality. Take charge of your device today and unlock its full potential with the help of LockWiper!