How to Remove Meraki MDM from iPad with/without Passwords
Category: Unlock iPhone
5 mins read
"Unable to remove Meraki MDM from mobile devices. What to do?"
The Meraki Mobile Device Management system offers a way to control mobiles and computers remotely. Mostly, this cloud-based system is used for devices owned by businesses or schools. Using such devices will be risky as they can't be under your full control.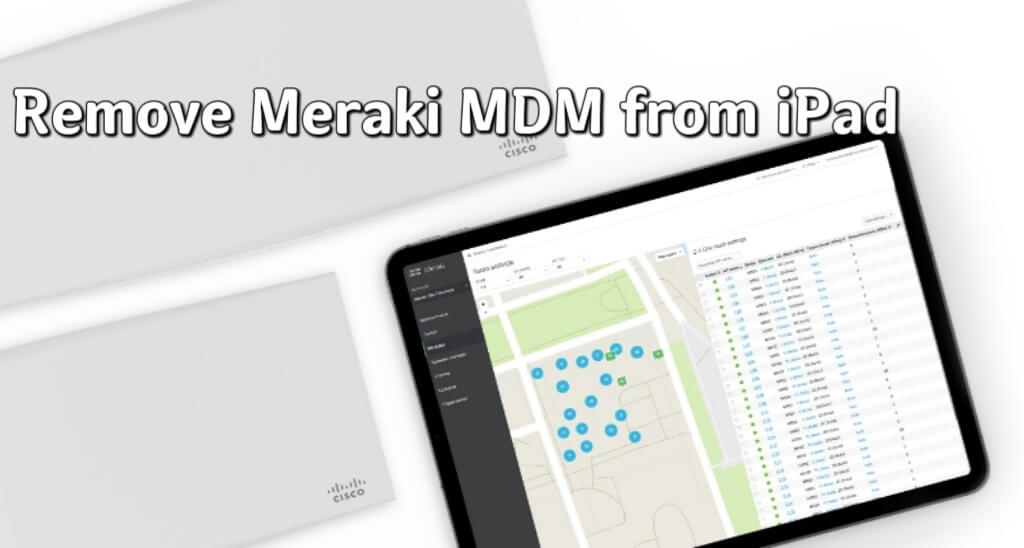 If you by chance have an iPad with an MDM system active, just don't worry! We know removing Meraki MDM from your iPad can be a great deal of struggle for you so we will walk you through some simple steps to remove meraki MDM from iPad.
Now download LockWiper to bypass/remove any form of MDM enrolled from iPhone/iPad fast and easily.
Part 1: What is Meraki Management?
Meraki Mobile Device Management is a centralized system for diagnosing, monitoring, and controlling a mobile device remotely. It's a protocol that allows system administrators to send commands from a central server to iOS devices.
MDM is also used for enforcing organization policies, updating software, locking the device, setting up some restrictions, and many other purposes. Once set up, the control of your device goes completely to an administrator who handles everything from a centralized web-based dashboard.
An administrator has the power of changing and removing your iPad passcode, delete email accounts, and so on. That's the reason why one shouldn't have an MDM-enabled phone. If you have then it will be impossible to install the apps of your wish. Hence, it's necessary to remove Meraki management iPad so that you can use it normally.
Part 2: When Do You Need to Remove Meraki MDM?
MDM locks come with passwords and usernames for security reasons. If you are aware of the username and password then it's possible to remove MDM from iPad directly.
But when you have none of them, there will be many restrictions while using your iPad like not being able to change passwords, remove a configuration profile, or install a new app. This is when removing MDM from your device becomes a necessity so that you can make full-fledged use of iOS devices. Let's move on to knowing how to remove the Meraki profile from iPad.
Part 3: How to Remove Meraki Profile from iPad without Password
MDM locks can't be removed easily unless and until you are in touch with the administrator or have a security username and password. But to make that easy for you, iMyFone has designed a robust app called iMyFone LockWiper. It's a professional and effective MDM bypassing software.With just a few clicks, you can quickly and easily remove the management profile, giving you back control of your device. It is compatible with the iOS 16 versions too.
Step-by-Step Video and Tutorial to Remove MDM
Step 1: Run iMyFone LockWiper
Install iMyFone LockWiper from its official website on your computer and launch it. Wait for the setup to finish. Choose "Bypass MDM" mode from the home interface.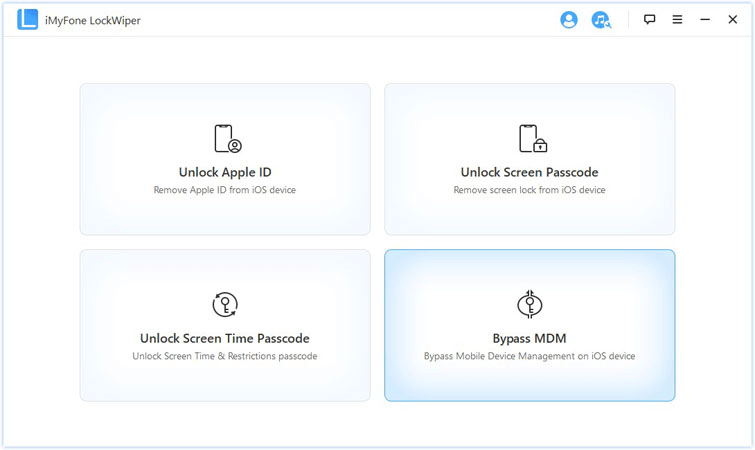 Step 2: Connect Your Device
Using a USB cable, connect your iPad to the computer and allow it to trust.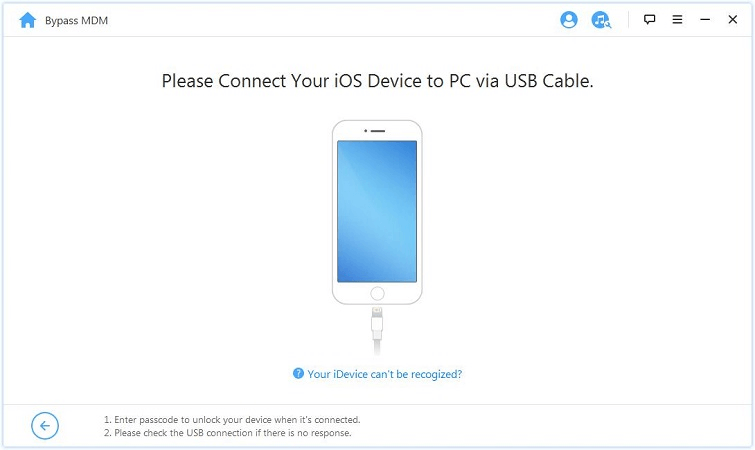 Step 3: Start to Bypass MDM Lock
Now, you will get two options. Either you can select "Bypass MDM'' when the device is stuck to the remote management system or "Remove MDM restrictions" in case the device simply has MDM restrictions. When the device is locked out of the MDM screen, continue with the "Bypass MDM" option.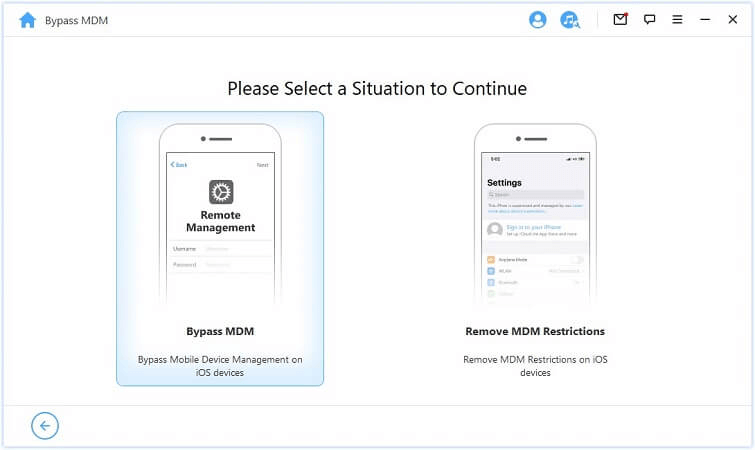 After that, hit the "Start to Bypass" button to start MDM unlocking, and make sure to stay on the MDM lock screen. Now, wait for your device to automatically bypass MDM.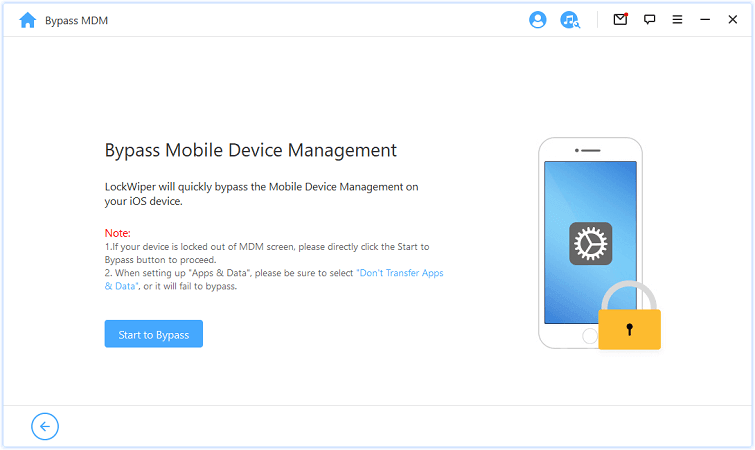 Part 4. How to Uninstall Meraki MDM from iPad with Password
If you are fortunate enough to have the Meraki MDM username and password, you can uninstall it from the iPad either with "Settings" or "System Manager".
1

By Settings

The most appropriate option to uninstall Meraki MDM is by entering the passcode in Settings. Otherwise, you can also remove Meraki MDM by accessing the MDM password from the administrator. Follow the steps given below for removing the MDM lock effectively:

Step 1: On your iPad, go to "Settings" > "General"

Step 2: Tap on the "Profiles & Device Management" option and choose "Meraki Management"

Step 3: Press the "Remove Management" and provide your passcode to eliminate Meraki MDM.
2

By System Manager

Another way to remove Meraki MDM is through the system manager on your iOS device. To do so, the following steps will help:

Step 1: Log in to the Meraki dashboard and pick the right SM network

Step 2: Go to "System Manager" > "Monitor" > now get into "Devices" list. Then you will have the complete list of devices on your screen.

Step 3: Choose the devices that you wish to remove and just hit "Delete" > "Remove from Network".
Part 5. FAQs about Removing Meraki MDM Profile
1

Will a factory reset remove Meraki MDM?

Yes, a factory reset can help you in removing Meraki MDM. But in MDM-enrolled devices, it's not even possible to perform a factory reset. Only the administrator has the power to factory reset the device.
2

Does erasing all content and settings remove Meraki MDM from iPhone/iPad?

Yes, it does but you may need administrator access to do so because a lot of actions are restricted in MDM-enrolled devices. So don't think that it will work for you unless you are the administrator.
3

Can jailbreak remove Meraki MDM?

Although prohibited by Apple, you can still use the jailbreaking process for gaining root access and removing Meraki MDM. However, it involves a complicated process. In addition, there is some risk like losing your device warranty or making your device vulnerable to hacking. The device can misbehave too so be prepared to face all these.
Conclusion
So now you know what to do when the Meraki MDM is unknown. The best solution is to get the iMyFone LockWiper to get rid of the MDM lock.
More than 10 million people have already used it for removing screen lock passwords or unlocking MDM security. It's most helpful when you buy a secondhand device because companies or schools always forget to remove administrator access. And even iPhone owners who trade their old devices, they forget to remove personal details. For all these situations, iMyFone LockWiper is an ideal solution.