Remove Apple ID from iPad without Password [2023 Update]
Category: Unlock iPhone
3 mins read
I bought this iPad from a second-hand iOS device dealer for half the market price. It felt like an awesome deal until I realized that I would have to be stuck with an Apple ID. Does anyone know how to remove an Apple ID from an iPad without a password? -- Martha, Quora
Martha's situation is common. There so many people want to remove Apple ID from iPad without password. So how to achieve it? Not much to say. Let's go down the list!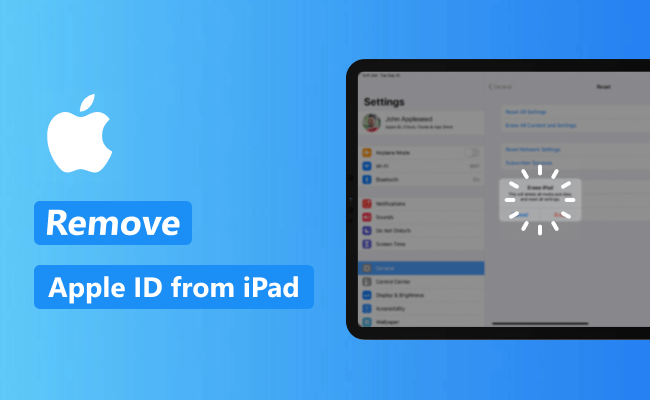 Now download LockWiper to remove Apple ID, all screen locks, MDM & Screen Time restructions without passwords!
Part 1: Why Removing Apple ID from iPad without Password
Apple ID is very important, it is equivalent to your pass when you login to iCloud, download apps from Apple Store and enjoy any features and programs of iOS. We need to remove an Apple ID/iCloud account without a password in the following cases.
You bought a used iPad from someone else.
You want to sell your iPad.
You forget your iCloud password.
Part 2: 3 Steps to Remove Apple ID from iPad without Password
The go-to solution when you are stuck in an Apple ID on your iPad without its password is iMyFone LockWiper. It is capable of removing Apple ID without a password on all iOS devices. Since the tool is extremely easy to use, you won't have to waste your time trying to figure out how it works. You will be able to remove Apple ID without any help in a few minutes.
LockWiper is not only capable of removing Apple ID without a password, but also removing the screen lock, MDM remote management lock and screen time passcode.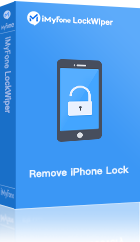 Remove Apple ID and iCloud account from any activated iPad/iPhone without password.
Remove Apple ID easily whether "Find My iPhone" is enabled or not.
Switch to another Apple ID and enjoy all iOS features, like make the purchase, download or update apps, etc.
Won't be tracked or blocked by the previous Apple ID user.
Compatible with the latest iOS verison, including iOS 16.
Check on this video to see how to remove Apple ID without passwords from iPad:
3 Steps to Remove iPad Apple ID without Password
Step 1: Make sure iMyFone LockWiper is launched on your computer, then use a USB cable to connect your iOS device to the computer.
Step 2: On LockWiper, select Unlock Apple ID. Click Start to Unlock.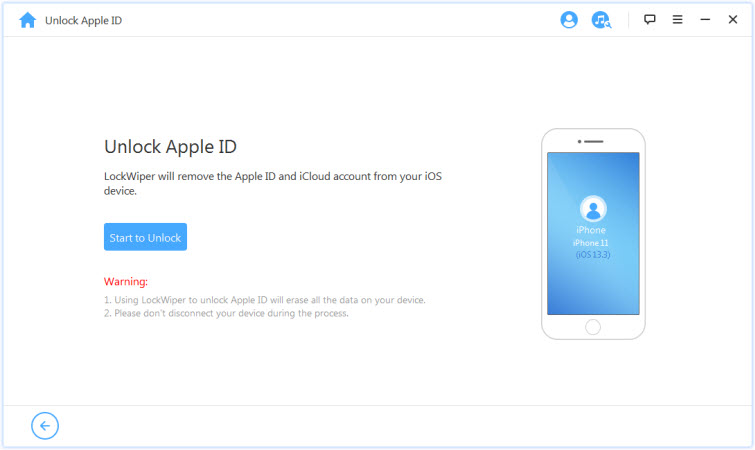 Step 3: If your FMI is disabled, the program will now start removing Apple ID from your iPad.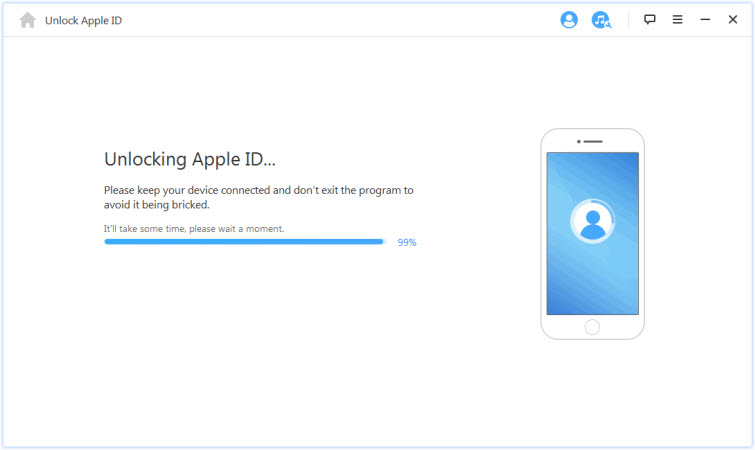 You just need to wait for a moment for it to finish. When it's done, your iPad won't be linked to any Apple ID. You can enter a different Apple ID on it.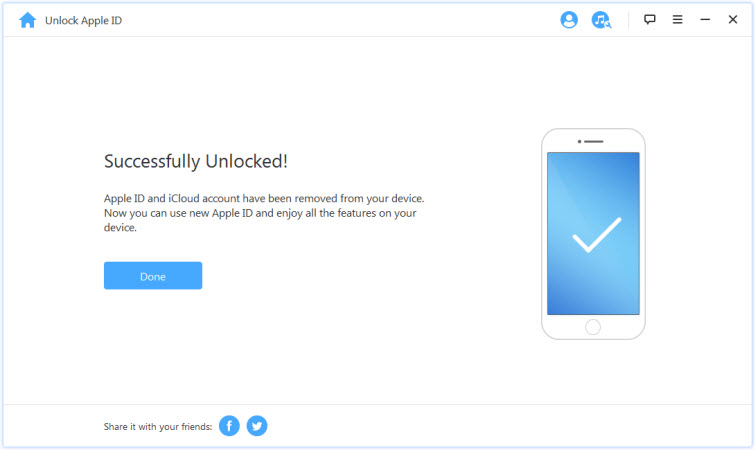 Look! It's so simple right? Use LockWiper to remove iPad/iPhone Apple ID without password is just a piece of cake. So take the free trial now!
Part 3: Use iTunes to Delete Apple ID from iPad
Step 1: Launch iTunes and connect your iPad to the computer using a USB cable.
Step 2: Your iPad will then sync with iTunes. Once it is synced, click on the device icon on the top of the window.
Step 3: From the menu on the left, click on the Summary option.
Step 4: You will now be shown some basic information about your device and some of the backup features. For this method, click on the Restore iPad button on the right side.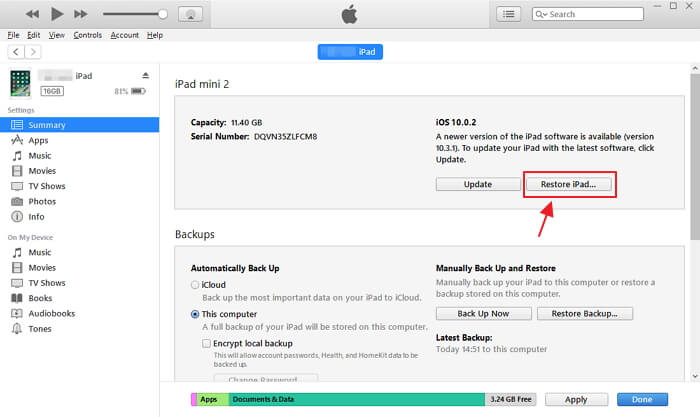 Step 5: A popup box will then appear to verify the process. Simply click on the Restore button to proceed.
Step 6: After a few minutes, your iPad will be completely wiped and the Apple ID will have been removed from the device too.
Please note that your iPad should be first synced to iTunes. Otherwise this method is not applicable.
Part 4: Via iPad Setting to Remove iCloud Account without Password
The following are the steps to remove an iCloud account on your iPhone/iPad.
Step 1: First, open the Settings, then open iCloud. Locate the iCloud option and click on it. Next, you may be required supply a password. Since you cannot recollect the password you used, just input any digits and click the Done option.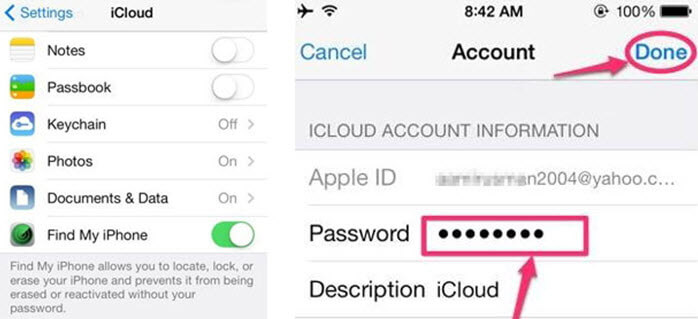 Step 2: You will get a message on your device saying that the details entered by you are wrong. Disregard the warning message and click OK. Next, click Cancel. Navigate back to the main iCloud page and click Account. Remove everything in the description box and click Done.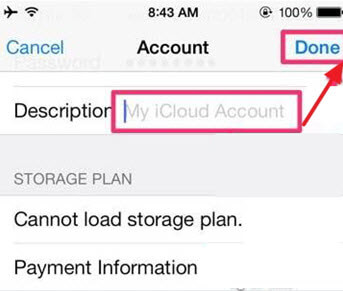 Step 3: You will be taken to a different iCloud page where you can see Find My iPhone has turned off automatically. Good! Now, just scroll down and tap on Delete. You'll be prompted click on Delete once again.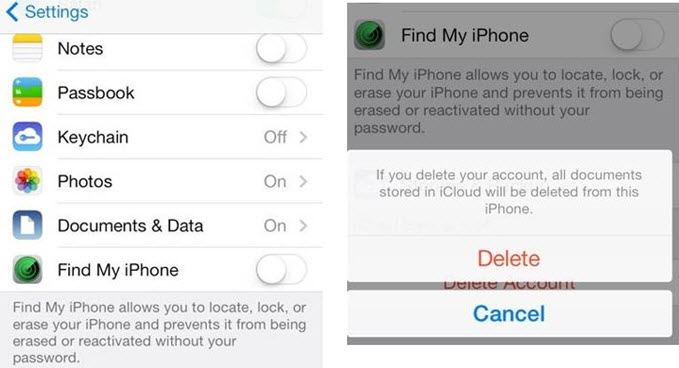 Once done, the iCloud account will be removed from your iOS device.
This is a temporary method. And the latest iOS version, like iOS 16 may not be available.
Part 5: Use Recovery Mode to Reset the Password
If you have not forgotten the answers to your security questions for your iCloud account, that means you can reset your iCloud password which will make it easy for you to delete the iCloud account from your device.
If you want to do this, go to iCloud website and click on Forgot Apple ID or password link. You will see the available recovery options for you and you can go ahead with that.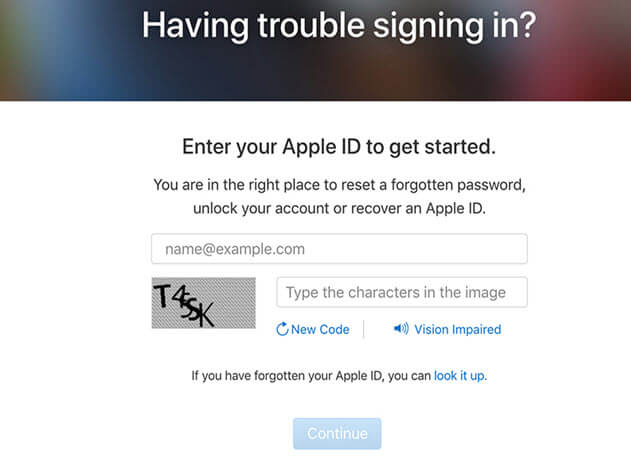 When you finish resetting your password, you can now use new Apple ID to delete previous iCloud account from your device.
Part 6: Change Apple ID Password into a New One
If the Apple ID is your own, save time by recovering your password rather than wiping the device. This prevents you from losing data. If you don't know the Apple ID passcode, then check here to know how to change your Apple ID passcode.
Step 1: Go to appleid.apple.com page and sign it with your account.
Step 2: Go to Security and tap on Change Password.
Step 3: Type your current Apple ID password and enter the new password. Confirm it.
Step 4: Tap Change Password to save the setup.
Wrap Up
If your iPad has an Apple ID whose password you don't know, you can still remove the Apple ID. This article shows you how to do it. The best tool to use is LockWiper. iMyFone LockWiper iOS unlocker is both easy to use and secure. The tool will work irrespective of whether the Find My iPhone feature is on or off. You can use the free trial version now. Don't hesitate to try it!