It is a never-ending debate to compare Android and iOS devices. As technology is advancing, both operating systems are going neck and neck with each other. This competition will never be over. However, there is still no solution to transfer WhatsApp data from one device to another. This is the reason we have come up with a few tools to make it easier for users to switch phones without worrying about data transfer.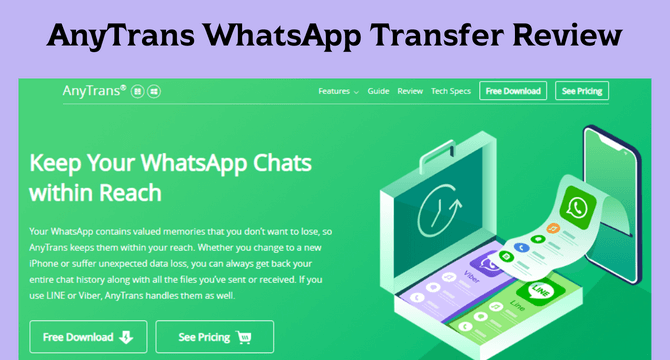 Part 1. AnyTrans WhatsApp Transfer Review
1.1 What Does AnyTrans WhatsApp Transfer Do?
If you are going to buy an iOS phone and currently you are using an Android, then the thought of WhatsApp data might give you a second thought. Don't worry; with AnyTrans, you can easily transfer your WhatsApp chats along with media files to your phone without any problem. This tool works in both ways if you transfer WhatsApp from Android to iPhone or vice versa. Moreover, AnyTrans also supports data transfer of LINE and Viber applications.
AnyTrans is a tool that allows the user to transfer data from iPhone to iPhone, iPhone to iCloud, iPhone to iTunes, iPhone to computer, and as well as from iCloud to iTunes and vice versa. Furthermore, it can also transfer data from Android to iTunes. Just download the tool and check out its features and what it is capable of.
1.2 How to Transfer WhatsApp to iOS with AnyTrans
As we have discussed the features of AnyTrans, this part is specifically about transferring WhatsApp data to iOS. You can transfer WhatsApp data from Android or your old iPhone to your new iPhone. Just follow the steps below to do so.
Step 1. Firstly, download AnyTrans on your computer and open the tool. As we want to transfer WhatsApp data, click on Social Messages Manager and connect your Android and iOS devices to the computer.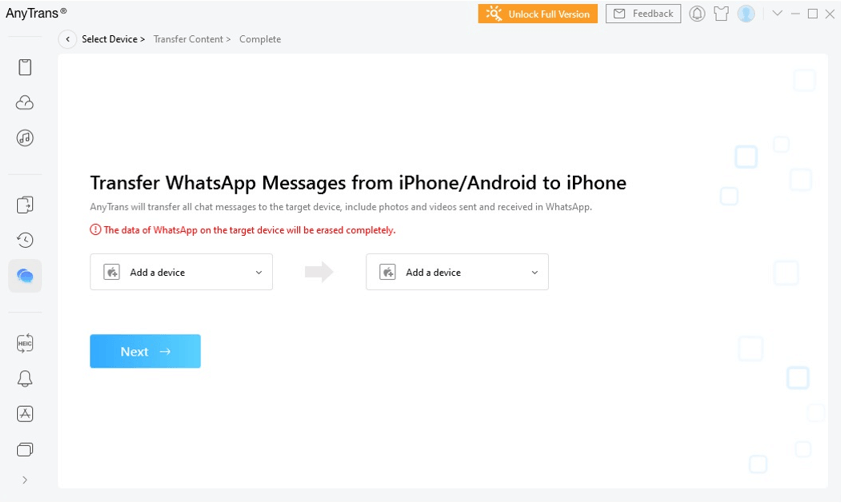 Step 2. You need to carefully decide the source device and target device to avoid any confusion during the transfer. Click on Next.
Step 3. On your Android, make sure to back up the WhatsApp data. Then you will see the instructions to install an enhanced version of WhatsApp on your device. Enhanced WhatsApp will help AnyTrans to transfer data easily.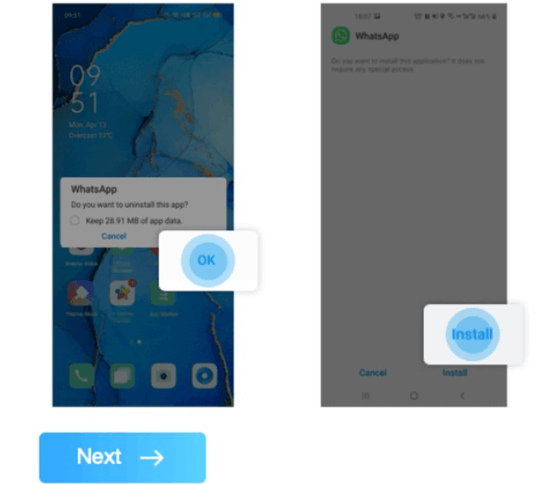 Step 4. Allow WhatsApp to access phone storage. The transfer will start between the phones. The time on transfer depends on the size of WhatsApp data. After the transfer, you can see your previous WhatsApp data on your new iPhone.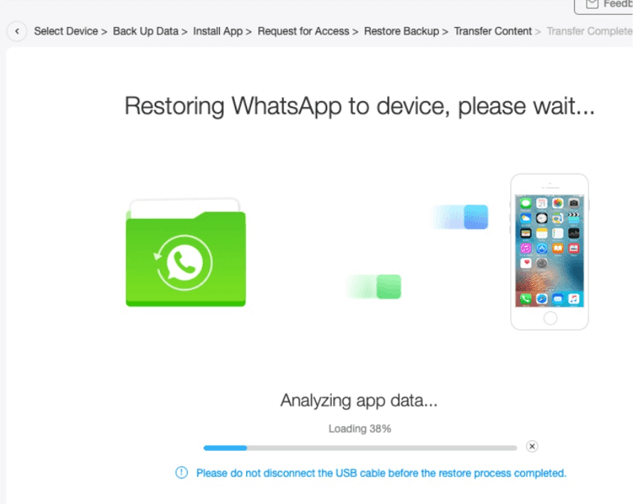 1.3 Is AnyTrans WhatsApp Transfer Free?
No. You can only transfer limited WhatsApp data using AnyTrans for free. If you want to transfer WhatsApp data, then you can only transfer 30 items within three days, no more than that.
If you want to enjoy the full features of AnyTrans, then you can buy the tool. It will cost about $39.99 for one year, which will work for unlimited devices but only 1 PC. The lifetime plan will cost about $59.99 and will work on 1 PC as well. The family plan works on 5 PCs and costs around $79.99 for a lifetime. The charges include lifetime free updates and 24/7 customer support.
Part 2: Dedicated Alternative to Transfer WhatsApp to iOS/Android Devices
If you want a better alternative to AnyTrans, then you can go for iMyTrans. It is a professional data transfer tool between phones and between phone to PC. It allows the user to transfer data at a 100% success rate and security. Let us find out more about iMyTrans.
2.1 What Can iMyTrans Do?
Not only iMyTrans can transfer WhatsApp data from one phone to another, but it serves as a direct medium between them. If you are using the program, then there is no need for you to use any other tool or software; it is enough for it.
With iMyTrans, you can also download WhatsApp backup from Google Drive as well as from iTunes. It offers free storage so that you can store your WhatsApp data on your computer and transfer it whenever you want. The user can preview the data first and then transfer it according to requirements. The best thing about iTransor is that it is completely safe, and not a single part of data is exploited.

2.2 How to Transfer WhatsApp to iOS/Android Devices
For transferring WhatsApp data to iOS/Android devices, the best tool is iMyTrans. It is very easy to operate and allows you to preview data before backup. You can follow the below steps to transfer WhatsApp to iOS/Android devices.
Step 1. Download iMyTrans and install it on your PC. Open the tool, and click on Transfer WhatsApp between Devices. Connect your phone from which you transfer data to another.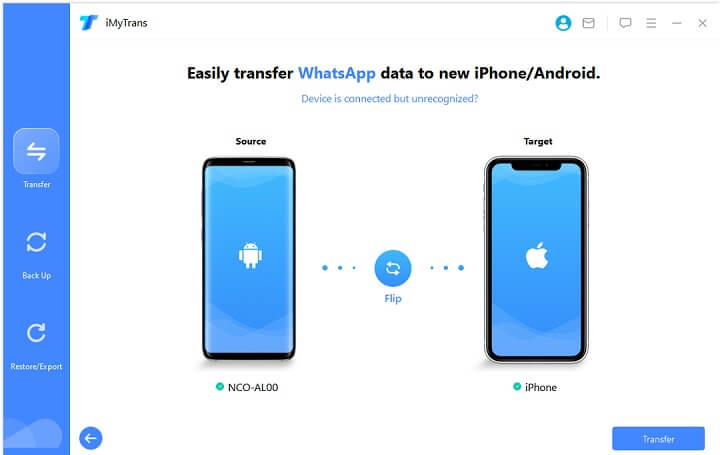 Note
If you are transferring data to your iPhone, then you need to turn off Find my iPhone. Select the source and target phone on iTransor. iTransor will install a customized or enhanced WhatsApp because it will help to transfer the data.
Step 2. Click on Transfer and the process will start. Keep devices well connected and follow any instruction appear on the interface.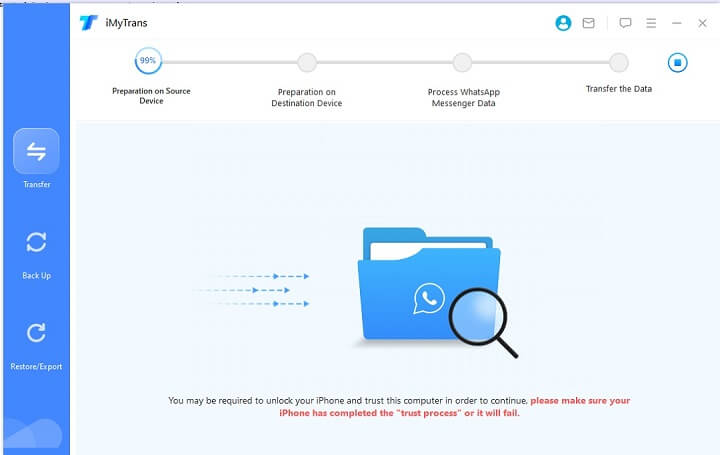 Step 3. You can then follow the instructions, which are pretty easy, and finish your WhatsApp transfer. The time of transfer will once again depend on the size of WhatsApp data. Once the transfer is done, it will show a message, and you can then click on Done to finish the process.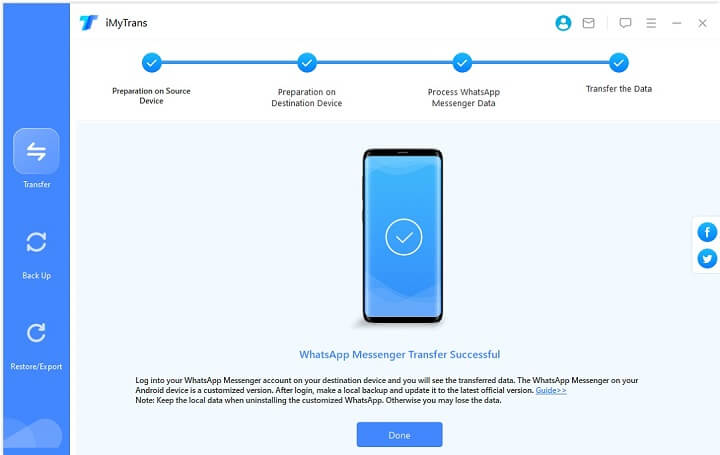 2.3 Prices and Purchase Plan
With the free version of iTransor, you cannot transfer WhatsApp data from one phone to another. It cannot restore WhatsApp backup data to iOS or Android, and export WhatsApp chats, images, videos, etc. You can only back up WhatsApp data on Android and iOS, and you can view WhatsApp backup. If you want to transfer WhatsApp data, then you can buy the full version. The 1-month plan of iTransor costs around $29.95, the 1-year plan costs around $39.95, and the lifetime plan will cost around $49.95. All these plans include the use of 5 devices.
Part 3: BackupTrans Android WhatsApp Transfer vs. iMyTrans
Dr.Fone and iTransor are both amazing when transferring WhatsApp chats and data across different devices. There are many overlapping features with some unique ones as well. Here, you can look at the features both of these bring for you.
| Features | AnyTrans | |
| --- | --- | --- |
| WhatsApp Transfer across devices | Yes | Yes |
| Free Version | Transfer 30 items within 3 days | Backup and view backup data |
| Backup and Restore | Available | Available |
| Success Rate | High | Very High |
| Price Plan | 1-Month plan - $39.99 (1 PC) | 1-Month plan - $29.95 (5 PC) |
Conclusion
For transferring WhatsApp data from Android to iOS and vice versa, there is no direct method. You need a third-party data transfer tool to transfer your WhatsApp data. We have discussed two tools that can easily help the user to transfer WhatsApp data. These are AnyTrans and iMyTrans. iTransor is much simpler and cheaper than AnyTrans. It also has a backup and restore feature that works tremendously. Both of these data transfer tools are very safe, and no data is exploited. You can download the free tool to check for compatibility.