There are several ways to restore WhatsApp messages on an Android device from another android device and as we shall see in this article, the process is relatively simple. It is when you cross-OS platforms that the process becomes complex. Yet, even then there is a solution to help you restore WhatsApp messages on Android to an iPhone device.
1. The Official Way to Restore Android WhatsApp Messages to Android
It is however important to note that you should primarily backup WhatsApp to your Google Drive by using this method. WhatsApp allows you to backup WhatsApp messages on Google Drive so that the chats and media can be transferrable at a later date. Here's how to backup WhatsApp on Google Drive;
Step 1: Open WhatsApp on your Android device and tap on the Options button (three dots).
Step 2: Tap on Chats > Chat Backup and then either choose "Back up" or "Back up to Google Drive" to set up an automatic backup schedule.
Step 3: Select the Google Account you would like to use or tap "Add Account" to create one if you don't already have one.
Step 4: Tap "Back up over" to choose whether you want to use "Cellular" or "Wi-Fi" networks.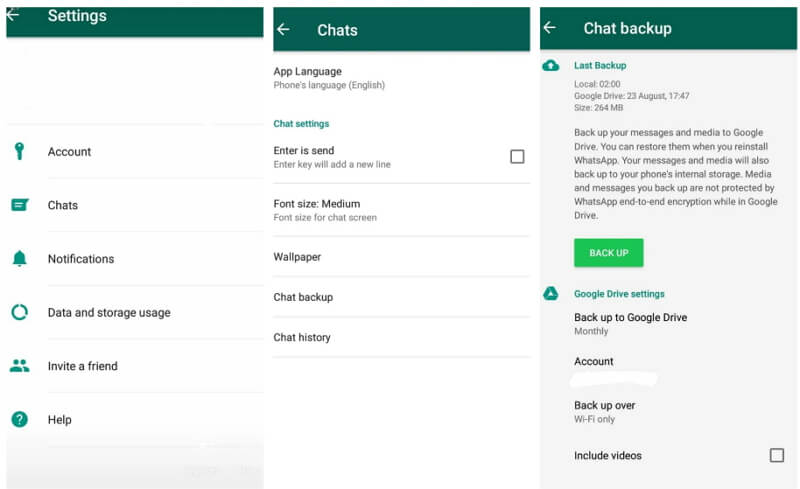 To restore the backup to your device or another Android device, follow these simple steps;
Step 1: Uninstall WhatsApp from your device and then reinstall it from the Play Store
Step 2: Once you have verified your phone number, follow the on-screen instructions to restore the chat backup.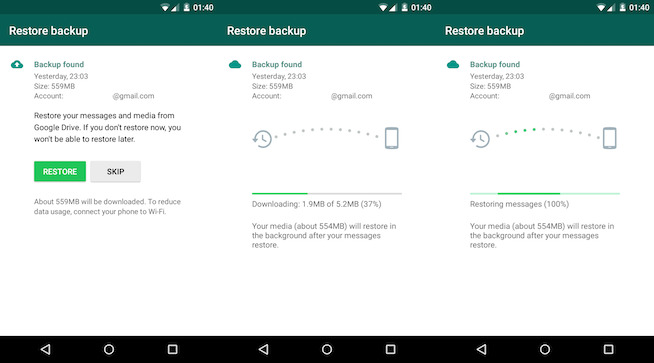 You can also go to WhatsApp offical page to know more details.
2. Use iTransor to Restore Android WhatsApp Message to Android
If you want to restore WhatsApp messages without having to uninstall the app, our software iTransor for WhatsApp can help you do that. First, you need to download and install iTransor for WhatsApp to your computer. Launch the program, then follow the steps below:
Step 1: On the main window, choose "Transfer WhatsApp between devices " on the main Window. Connect both Android devices to the computer and wait for the program to detect the devices.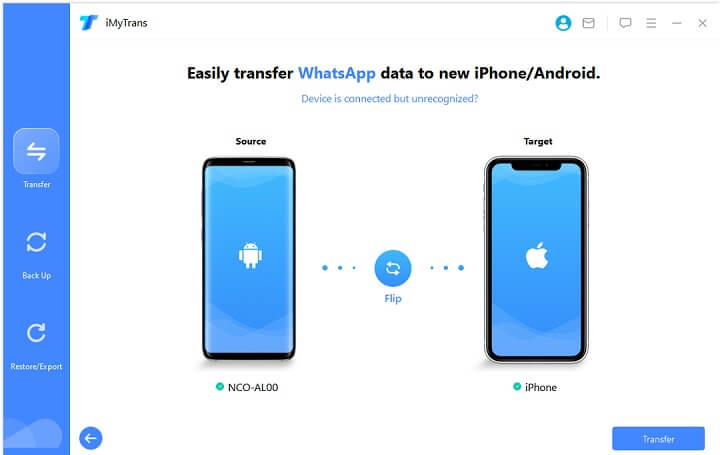 Step 2: Once the program detects the devices, click on "Transfer" to begin the transfer process. The transfer process will begin immediately and continue until all the WhatsApp messages have been transferred to the destination device. All you have to do is ensure that both devices remain connected to the computer until the process is complete.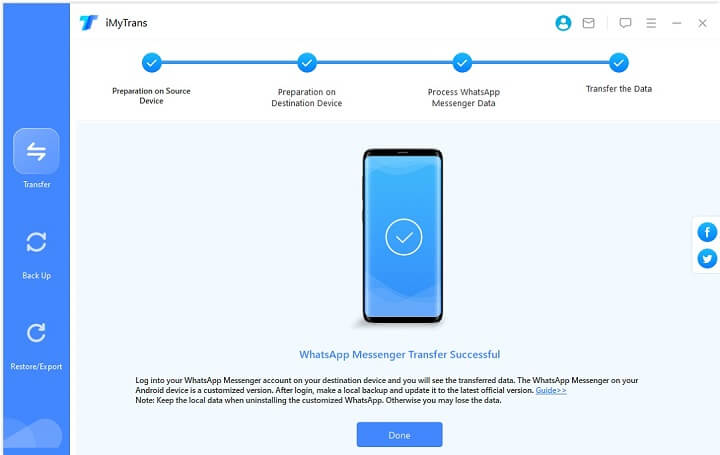 3. Use iTransor to Restore Android WhatsApp Messages to iPhone
iTransor for WhatsApp can also help you transfer WhatsApp messages between Android and iPhone device without the restrictions between Android and Apple operation systems. All you have to do is connect both the iPhone and Android device to the computer using USB cables. When the program detects the devices, follow the steps on screen to transfer the messages from Android to iPhone.