WhatsApp has become the ultimate communication platform. Many people these days share their important documents and files on WhatsApp because of its ease of sharing. When someone wants a hard copy of those files, they can be in a little trouble. Here we will discuss how to print a document from WhatsApp.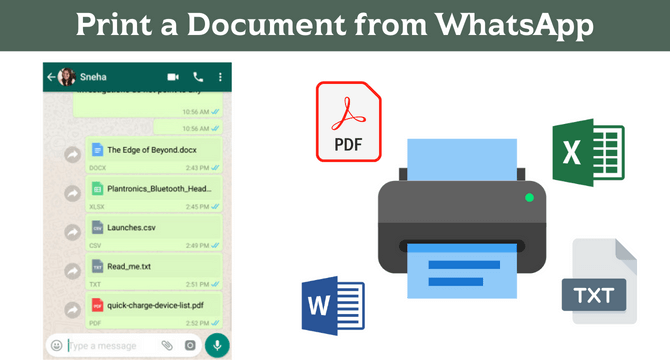 Part 1. Export and Print WhatsApp Document Files with Simple Clicks
The first and the most reliable solution to how can I print from WhatsApp with a few simple clicks is by using iMyTrans. You may think of using the direct methods but keep in mind that those methods will take a long time if you print a lot of files. They are feasible for a single file, but if you have to download files regularly, then iMyTrans is your best choice.
Features of iMyTrans
iMyTrans is much more than just a file-sharing tool. It can solve all of your WhatsApp document printing needs and many other features. Below are some features that you can enjoy while using it:
Step-by-step Guide
1. Connect Devices and Backup WhatsApp
First, connect your device to PC. Use a USB data cable to connect your device. Once the tool connects with your device, you need to start making the WhatsApp backup. It will start with one click on Back Up. Once the backup is complete, you can move to the next step.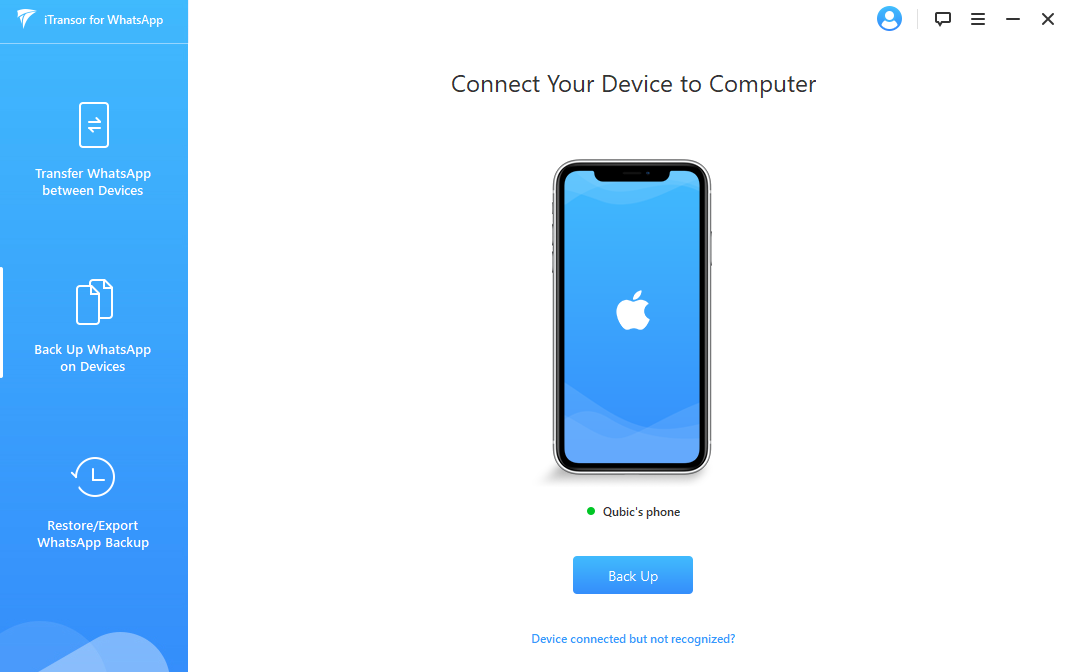 2. Choose Backup to Export
Go to the Restore/Export WhatsApp Backup option, and you will see a list of backup options available. Select the backup you want to export to your PC for printing the PDF document. Preview stuff according to your requirements.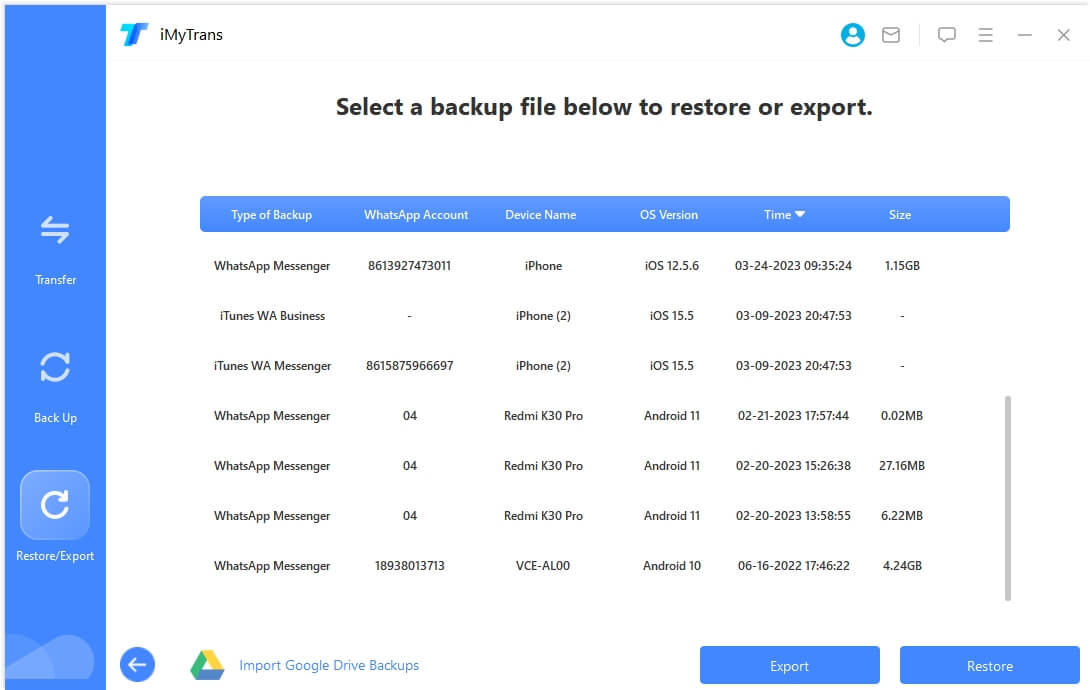 3. Preview and Export to Computer
Now you can preview and choose the document to export to any desired location on your computer. The only thing left is to open and print that PDF document file.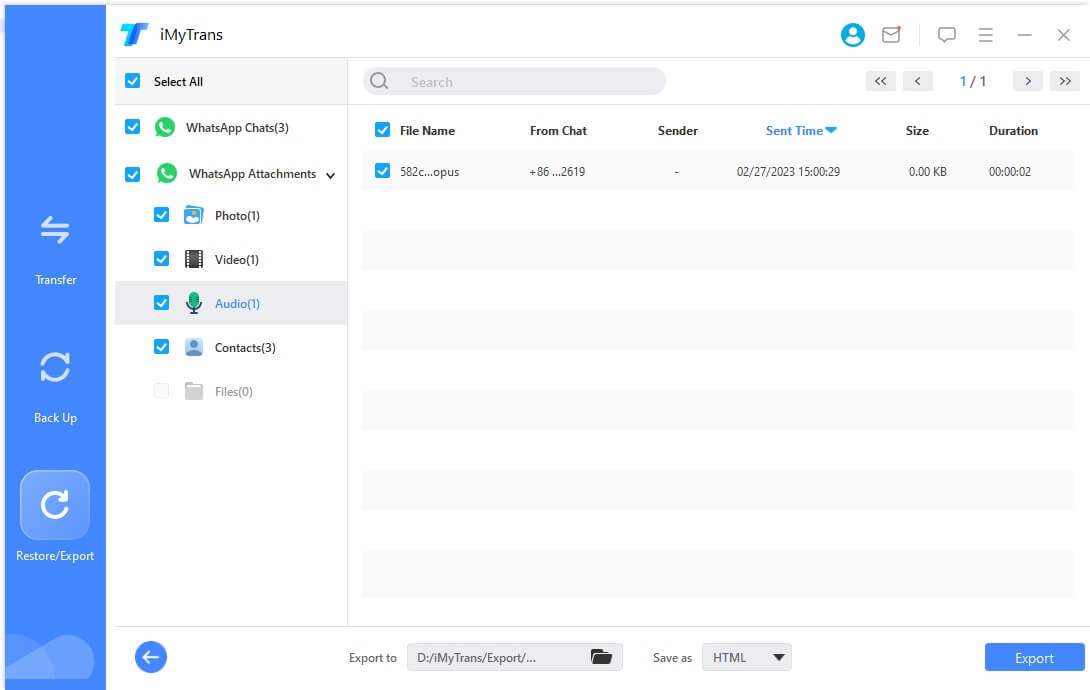 Part 2. Print a Document or PDF from WhatsApp on Android/iPhone
If you do not have a computer but still need to download that WhatsApp document from your Android or iPhone devices, then you can try this method. For this method to work, you need a wireless printer that works with your Smartphone, and then you can go with the steps below.
Step 1. Open file
The first thing that you need to do is open the file. There are 2 ways to do this. On the iPhones, you can go to WhatsApp and open the chat where that file is saved. If you have saved that file to the Files app, you can also open that. On your Android devices, you can find that file in chat and the file manager. So, the first step is the same for both devices.
Step 2. Share file
Next, you will need to click on the sharing option. Once you share the file, you will see many different options, including file-sharing destinations. You will need to scroll and look for the printer option. Select that file and move ahead.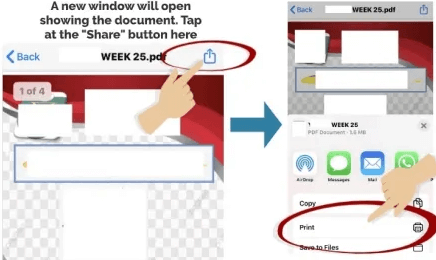 Step 3. Print file
Now you will set the print preferences, and within a few seconds, you will have a print of that file.
Part 3. Download and Print WhatsApp Document/PDF from WhatsApp Web
The process can be easier for people with a printer and a PC with WhatsApp web. For this process to work, you must need a good internet connection to download the file on your PC.
Step 1. Download to PC
The first step is to download that file to a PC. You will start by opening the WhatsApp web app on any browser on your PC. You will search for the chat and open the message containing that file. There will be a download icon on the file that you need to click, and you will see the download begin. Make sure that you know where the downloaded file is going, or you can set the download preferences before downloading the file.

Step 2. Print file
Once the file download is complete, you can open the file and go for the print option. The PC may prompt printing preferences that you will need to set according to the way you want the print to be. Once you set everything, just start printing, and you will be done within a few minutes.
Conclusion
Knowing how to print a document from WhatsApp can save a lot of time you would spend getting that document on different devices. So, stop wasting time and download your important documents and files directly from WhatsApp. Once you learn the process, it will become so easy for you that you will never look back at any other method.