Question
Can old WhatsApp messages be recovered? How to recover old WhatsApp messages without backup? How to recover old WhatsApp messages on new phone?
A lot of such questions pop up in the mind of WhatsApp users when they have lost their data or want to change their mobile phones. All such questions are going to be discussed in this article. We will share a complete guide on how to retrieve old WhatsApp messages in new phone, old phone number and without backup. We will also show the simple steps to use the best software for restoring old WhatsApp messages on old phone.
Part 1: Can Old WhatsApp Messages be Recovered on old phone?
The question, "Can you recover old deleted WhatsApp messages on your mobile?", is frequently asked by people who do not know about restoring WhatsApp data. The answer is Yes. Anyone can easily restore old WhatsApp messages on their mobile phone through different methods and techniques.
Some of the most important methods are:
Through local backups.
Through Google drive backups.
Through restoring mobile applications.
Through data restoring computer-based software.
Through sending and saving chat before deletion.
Part 2: How to Retrieve Old WhatsApp Messages in New Phone from Old Phone without Backup
We have listed the possible and most used methods of restoring data from WhatsApp. Now, we are going to introduce the best WhatsApp restoring software for iOS and Android devices. iMyFone ChatsBack WhatsApp Recovery is the best desktop-based online software for getting old WhatsApp messages without any hassle. It is beginner-friendly and easy to use.
Features:
Restores messages directly from mobiles.
Restores WhatsApp messages directly from Google Drive backup or iTunes.
Restores and transfers WhatsApp chat from mobile to computer.
Restores deleted data for both WhatsApp and WhatsApp Business.
Retrieves WhatsApp data in various formats, including HTML, PDF, CVS, and Excel files.
Works for almost eight scenarios of data loss like; System crash, factory reset, and water damage.
Allows users to use the free trial version before buying the package.
Step 1: Download and install the software on your computer and open it. Do not forget to have a good internet connection during the restoring process. Open the software and select the first option, "Device Storage". It will help you to restore WhatsApp messages from your device or old phone.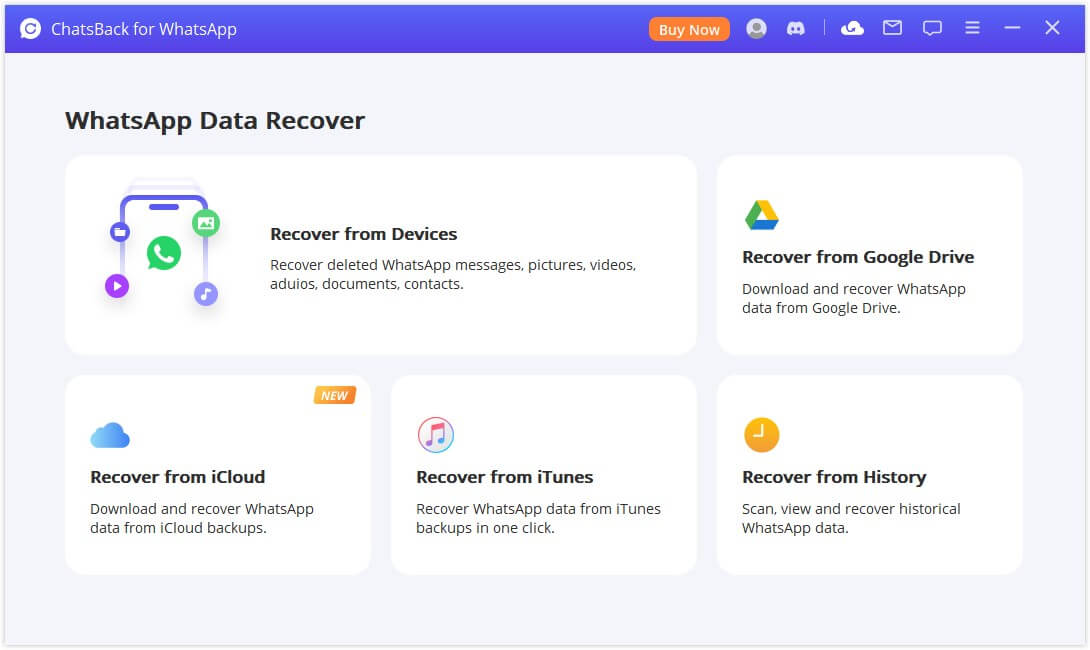 Step 2: Connect your device to your computer and allow all permissions. You need to turn on USB debugging on Andriod; the software will show the steps. In iPhones, you need to trust this computer. Click on the Start button. This will start scanning your device.
Step 3: After scanning, your WhatsApp data, including chat, audio, videos, and images, will be displayed on the screen. Select which you want to recover and click on the "Recover to PC" or "Recover to Device", according to your preference. The software will direct you to choose the location of restored data.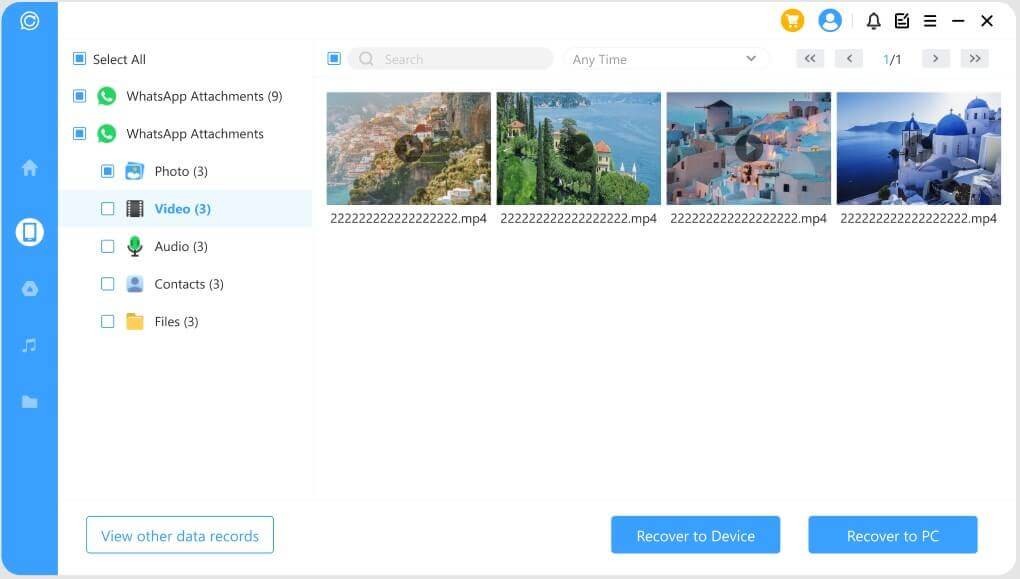 Part 3: FAQs about Recover Old WhatsApp Messages
1: How to Recover 1 Year Old WhatsApp Messages without Backup?
You can restore 1-year-old WhatsApp messages through any WhatsApp restoring application or software. iMyFone ChatsBack – WhatsApp Recovery is recommended software that can recover old WhatsApp data with easy steps.
The other way is to uninstall your WhatsApp application and reinstall it. Use the same mobile number of the previous account and log in. If you created a backup file before uninstalling, the WhatsApp application would show you the option to restore old data to your mobile. Tap on the Restore button, and you can easily get your Old data back in a few minutes.
2: Can You Recover Old Deleted WhatsApp Messages?
Yes, it is possible to restore old deleted WhatsApp messages. You can use a number of different methods for this purpose. All the methods are listed above in this article. Select the method that suits your situation best and start restoring your old lost WhatsApp data/messages.
3: How to Recover Old WhatsApp Messages from Old Number?
Follow these simple steps to recover old WhatsApp messages from old number:
1: Uninstall WhatsApp and reinstall the WhatsApp application.
2: Use the same previous number and log in to your WhatsApp account.
3: If you have a Backup file, you will be given the option to restore your old data.
4: Select that option, and you will have all the deleted messages of that account on your mobile.
4: How to Recover Old WhatsApp Messages on a New Phone?
You can restore WhatsApp message through old phone number as mentioned above. You can use Google Drive backup, iTunes backup, and local backup for retrieving data on your new mobile.
Conclusion
There are many methods and solutions to recover old WhatsApp. The simple ways on how to recover old WhatsApp messages from the old phones and can you recover old deleted WhatsApp messages are listed in the above sections.
However, the best option is using iMyFone ChatsBack because it is convenient, reliable, and fast to accomplish. It will not only restore the old data but also allow users to change the format and data type. Moreover, you can also restore old WhatsApp from the same phone number on a new mobile/device using the software.