WhatsApp provides an option to automatically back up the conversations on the device, which you can access from WhatsApp Settings> Chats> Chat Backup. You can't see the conversations that have been backed up until you restore them.
If you accidentally deleted or lost your chats, this tutorial would help you retrieve data in WhatsApp backup after installation from either Google Drive or iCloud. It is important to note that if WhatsApp Backup from Google Drive or iCloud is lost or overwritten, there is no way to get it back.
However, now you can recover the lost data without a backup and store your WhatsApp backup without overwriting the old backup afterward. Read on to find how to make it.
One-Click to Retrieve WhatsApp Data without Backup [Android and iPhone]
As earlier stated, it is possible to retrieve your WhatsApp data without a backup. But you must make use of professional software, like iMyFone ChatsBack. It has the below features which make it stand out.
Access and retrieve data in WhatsApp backup from google drive and iTunes.
Store you WhatsApp backup without overwritten the old backup.
Selectively recover WhatsApp messages, images, videos, Audios, contacts, and files in Android phone and iPhone with/without backup.
Get back deleted/lost data instantly with only 3 steps, and by yourself.
It's safe and very easy to use as long as you follow the steps below.
Step 1. After installation, launch the program on your computer device. Select the mode of Recover from Device Storage.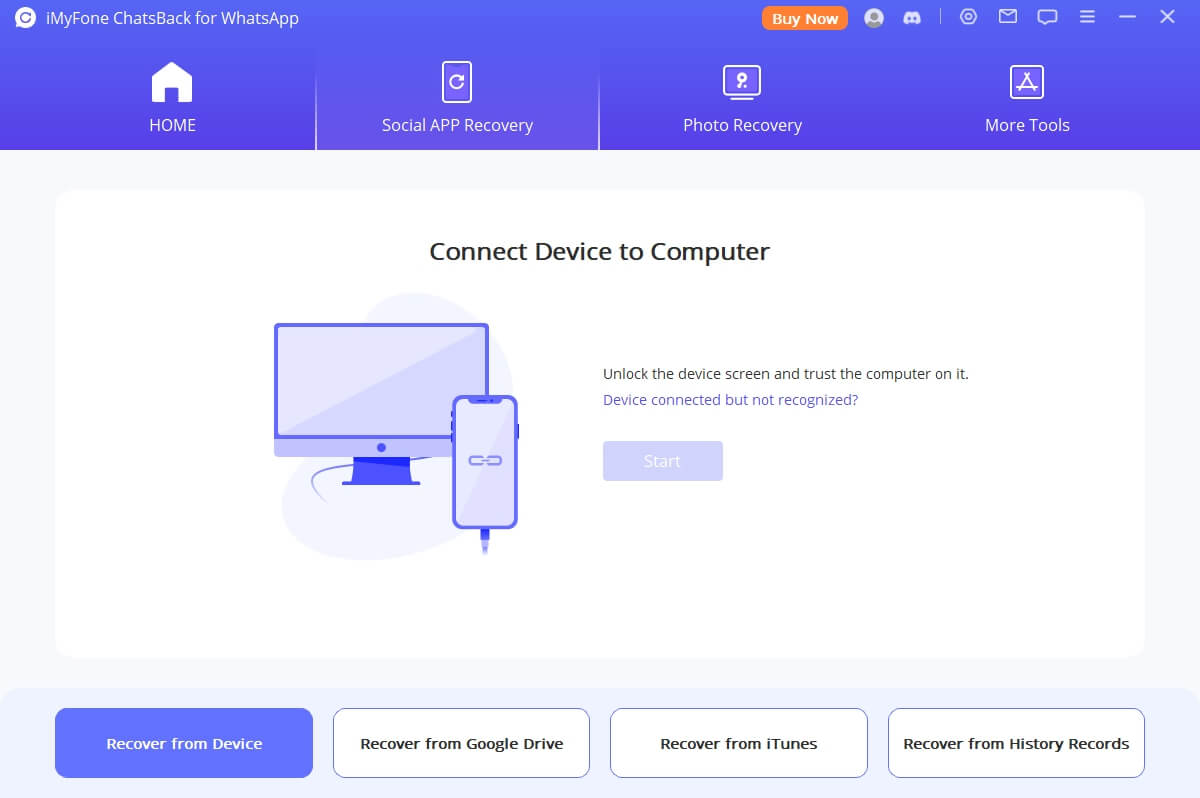 Step 2. Click the Start button to scan and fetch your WhatsApp data.
* If you are using an Android mobile, You need to enter your phone number after scaning. Then a verification SMS will be sent to you. Now, you can continue with the next step to analyze.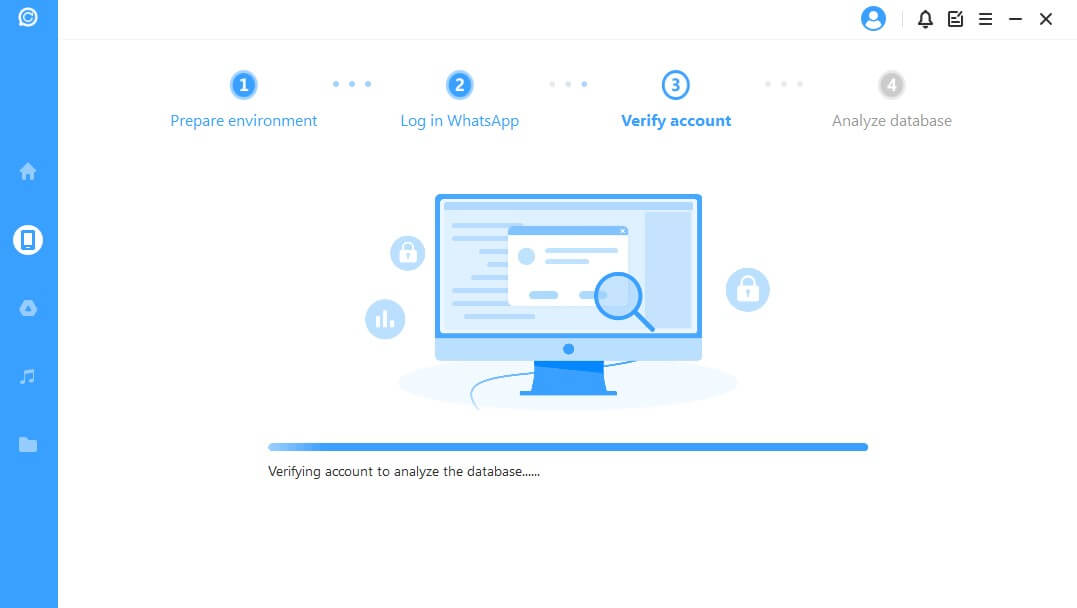 * If you are using iPhone, choose WhatsApp Messager / WhatsApp Business and click Start to scan your iPhone.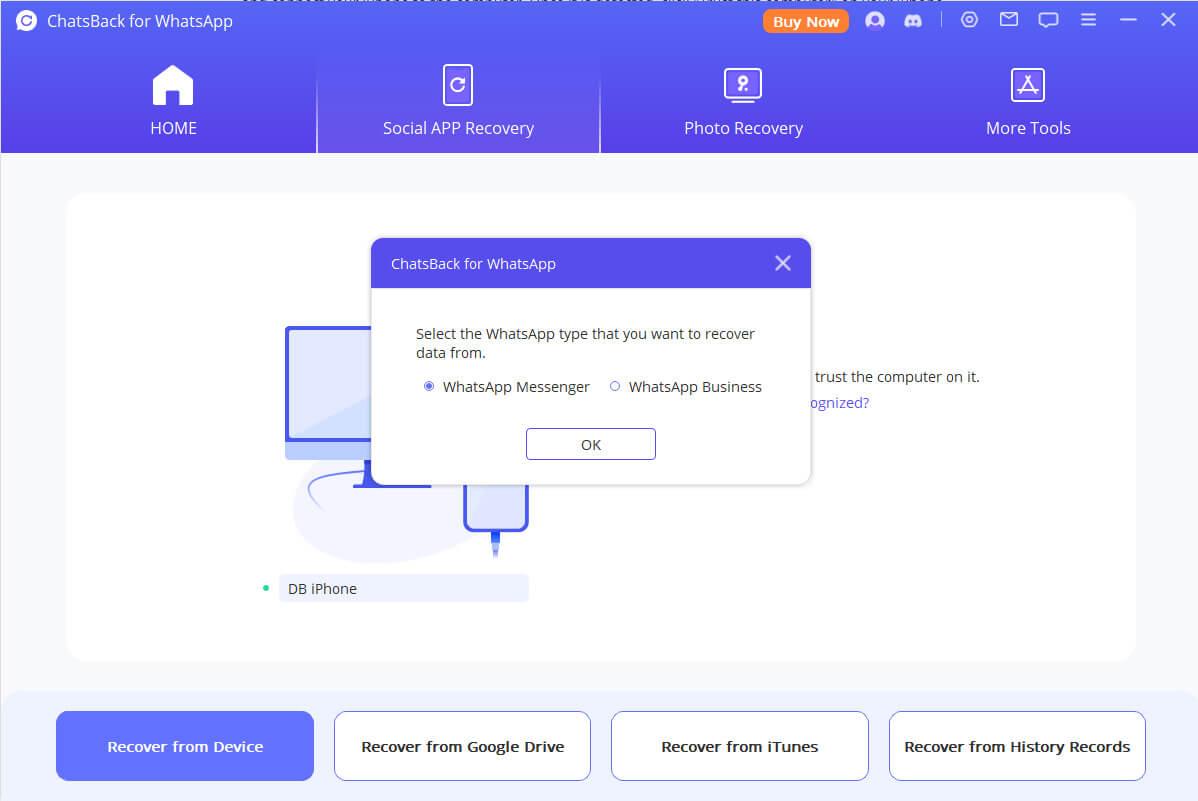 Step 3. You can also review the WhatsApp backup data after the scanning is complete. Click Recover to recover data to your phone or computer.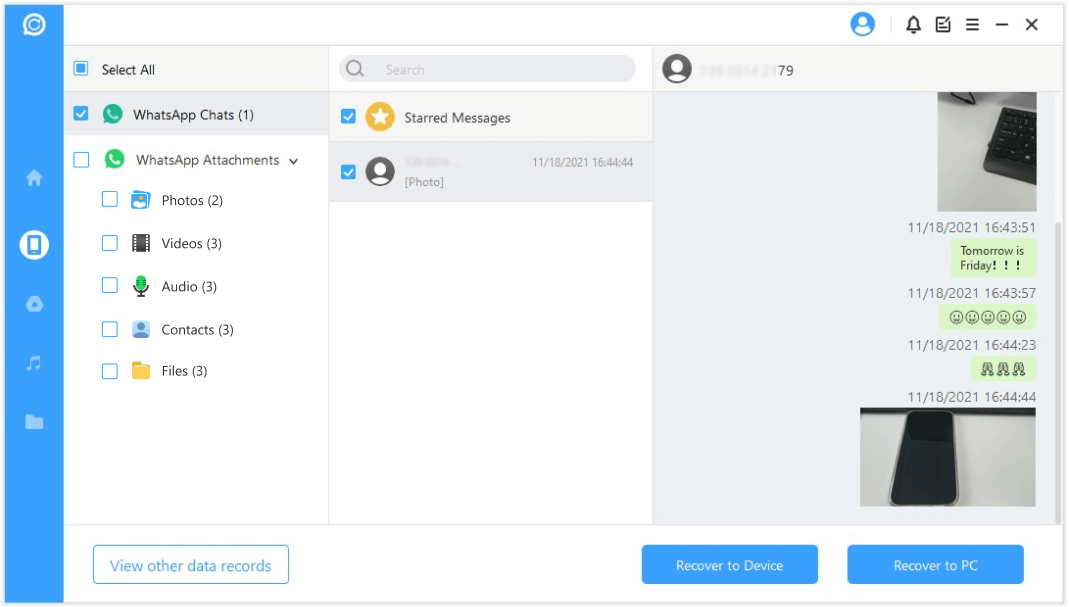 Restore WhatsApp Backup via Google Drive or Local Backup After Installation [Android]
You can choose a frequency to back up your WhatsApp data via Google Drive. You may also back up your Google Drive when you are free. The process of restoring WhatsApp chats from Google Drive is so easy and will usually take just a few minutes.
To restore your chats, you need to use the same phone number and Google account as that are used to create the backup. Then follow the prompt below;
Step 1. Reinstall the WhatsApp app on your phone. This will enable you restore chats via Google Drive. Open the app and verify your phone number.
Step 2. Then click the "Restore" button to restore your chats and media from Google Drive.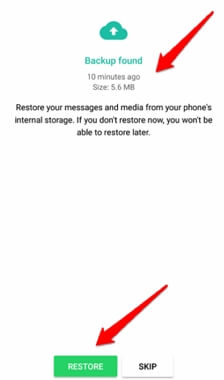 Step 3. After this process is complete, just click on Next. Your chats will now be displayed once the initialization is complete.
Note
1. WhatsApp begins to restore your media files after your chats have already been restored. If you install WhatsApp on your device without any prior backups from your Google Drive, WhatsApp will automatically restore data from your local backup file only.
2. WhatsApp only stores and recovers up to the last seven days worth of local backup files, as per. Thus, backing up your files in Google Drive or iMyFone ChatsBack would be a better option.
Retrieve WhatsApp Backup via iCloud After Installation [iPhone]
iCloud can also back up your WhatsApp data automatically or manually. Here are the steps to restore WhatsApp data via iCloud Backup.
Step 1. Open your WhatsApp Settings > go to Chat Setting > open Chat Backup to verify that there is an iCloud backup for your WhatsApp chat history.
Step 2. Then, you want to delete and reinstall your WhatsApp from the App Store.
Step 3. Verify your Mobile number > follow the Prompts to restore WhatsApp Chat history.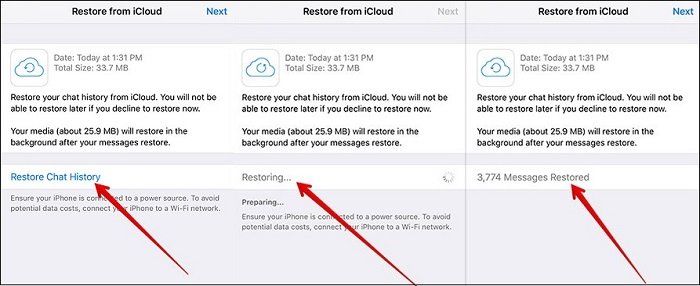 FAQ: Where to Find WhatsApp Backup in Google Drive?
There are two options. The first option is to click on your photo library in your Google Drive account and then you can find all of your documents. The second option is to go directly into folder called Drive, which contains a folder for each service that you use. If you have a free Google account, then it's just named Drive while paid accounts have a little cloud logo next to it.
Conclusion
Most people have no idea how to get back lost WhatsApp messages with or without backup. We hope this article has given you accurate information on what to do once you lose access to your WhatsApp data.
Besides this information, you can also store new WhatsApp backup without overwriting the old backup and retrieve your WhatsApp backup After Installation on iPad and more iOS/Android devices.