WhatsApp has become an indispensable communication tool, we have a lot of important data in it. When we need to transfer the data from the old phone to a new one. WhatsApp, without a doubt, is one of the data that we hope to keep the most.
Transfer the data of WhatsApp is not as easy, the most common way is to use cloud drive to backup the old phone and then restore it to the new phone. However, this only works when your new phone using the same operating system as the old one.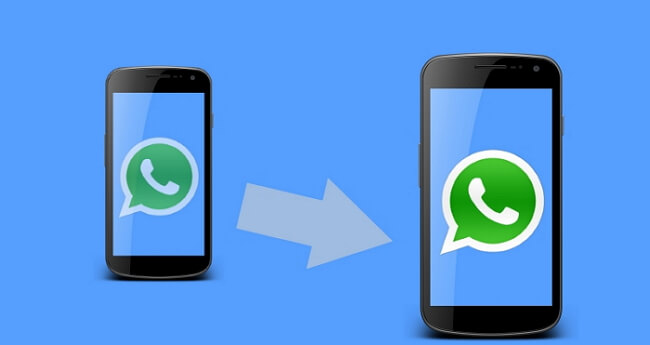 So, how can we transfer WhatsApp message/data to new phone? Can we restore all our WhatsApp message?
In this article, I will introduce several ways to transfer WhatsApp messages to a new phone, which works even you are moving from Android to iPhone or iPhone to Android. Let's get started now!
Transfer WhatsApp to New Phone Without OS Restrictions
To transfer WhatsApp data without OS restrictions, we suggest iMyTrans be your first choice! No matter you are transferring from Android to iPhone, iPhone to Android, iPhone to iPhone, or Android to Android, it will save you a lot of time in the process and the process fast.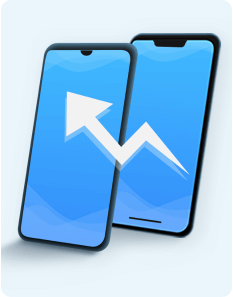 iMyFone iMyTrans - Phone to Phone Transfer Directly
Transfer/Backup/Restore/Export WhatsApp on iPhone/Android.
Support backup, restore, transfer WhatsApp data.
Supports all iPhone and Android models.
No need for Wi-Fi or cellular data
It is trusted by many reputable review sites including Make Use Of, Macworld and etc.
Here's how to use iMyTrans to transfer WhatsApp messages to a new phone.
Step 1 Install and launch iMyTrans on your computer. Then click on "Transfer WhatsApp between Devices", and connect both of the old and new devices to the computer.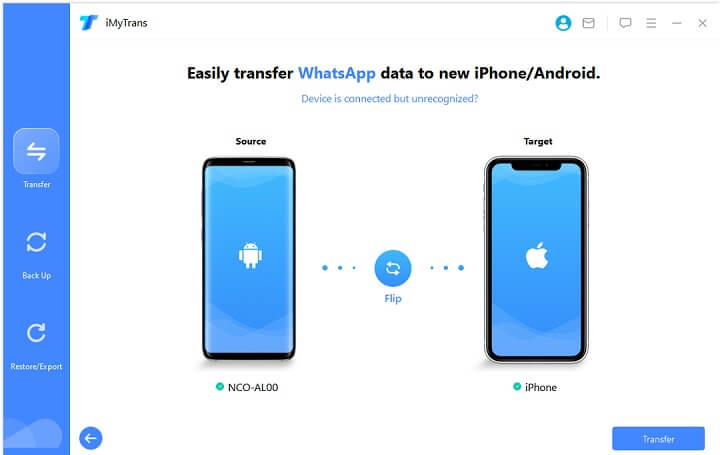 Step 2 Click on "Transfer" to initiate the process then click on "OK" when prompted to confirm the existing WhatsApp data on the destination device will erase.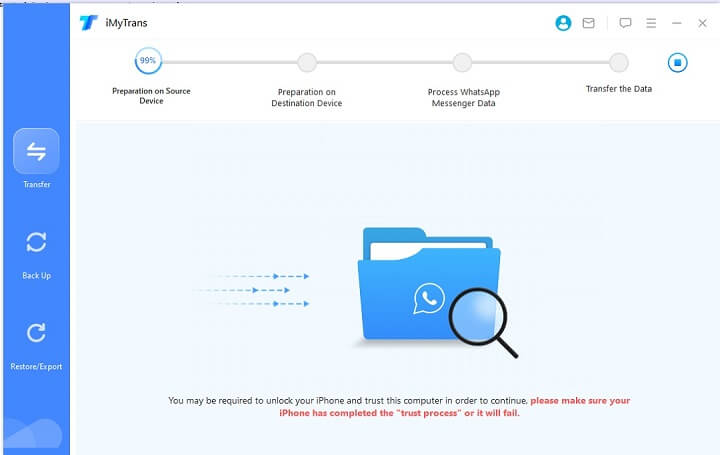 Note
It is better to back up WhatsApp messages with iMyTrans in advance. The backup feature is totally free.
Step 3 The transferring process will work automatically. When it is done, you will be able to see the transferred WhatsApp messages on the new phone.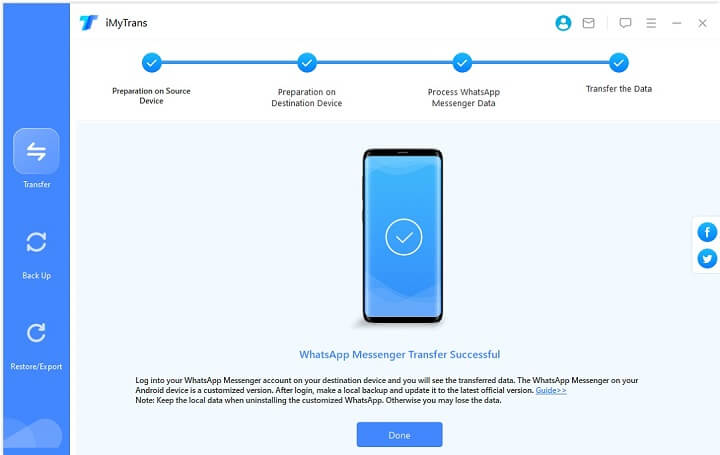 Note
Ensure that the two devices remain connected through the entire process.
Transfer WhatsApp from Android to Android
Google Drive is one of the backup solution WhatsApp Company suggest to use. When switching to a new Android phone, it can help you transfer your WhatsApp messages.
Here's how to do it:
Step 1:Launch WhatsApp on your old device, and then go to Menu > Settings > Chats > Chat Backup. Tap on "Account" below Google Drive settings and then enter your Google Drive account.
Step 2 Click "Back up" to back up all the WhatsApp data on the device.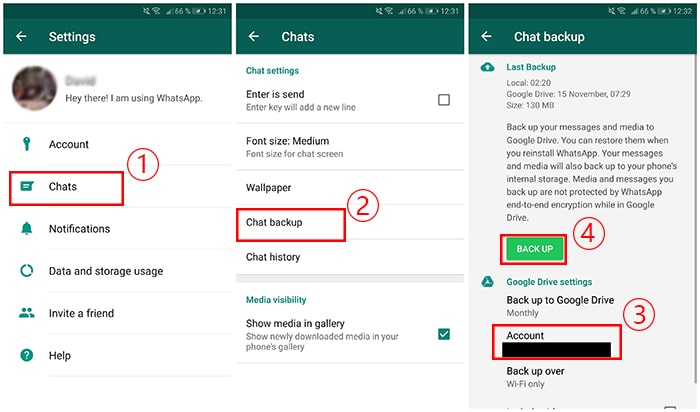 Step 3On the new Android device, download WhatsApp and sign in. You will get a promotion to Restore the chats from Google Drive after verifying your phone number. After chats restore, WhatsApp will begin restoring your media files.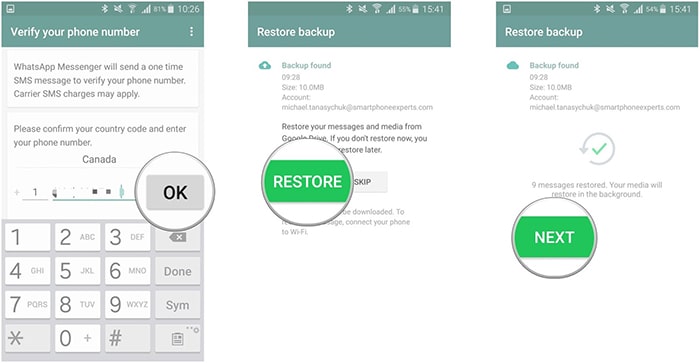 Transfer WhatsApp from iPhone to iPhone
For iPhone users, use iCloud to transfer WhatsApp data is the official way. We need to make a backup to iCloud first.
Let's see how we can back up our WhatsApp to iCloud:
Step 1 Open "Settings" on your old device, and then click "Apple ID". Tap on "iCloud" > "iCloud Drive", turn it on. Scroll down and find WhatsApp, ensure that WhatsApp backup to iCloud function is also turn on.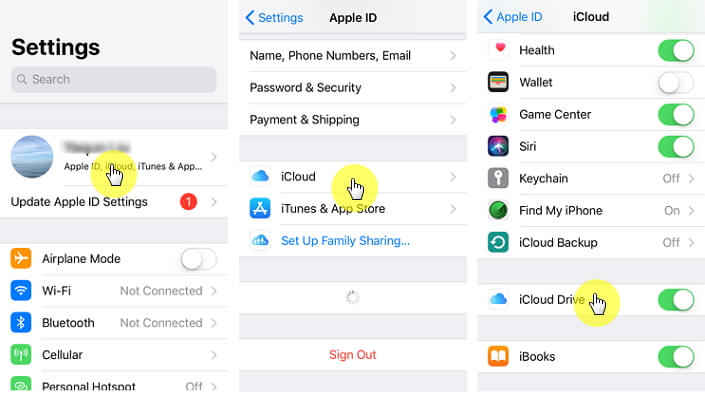 Step 2Open WhatsApp, click Settings > Chats > Chat Backup > Back up Now. It will back up all the chats on the iPhone to your iCloud. Check the "Last Backup" to make sure the backup success.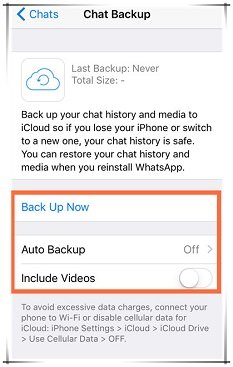 Step 3Access Apple ID and iCloud on your new iPhone, launch the WhatsApp app, and open it. After verifying your phone number, click ,"Restore Chat History". After the restore success, click "Next" to read the restored messages.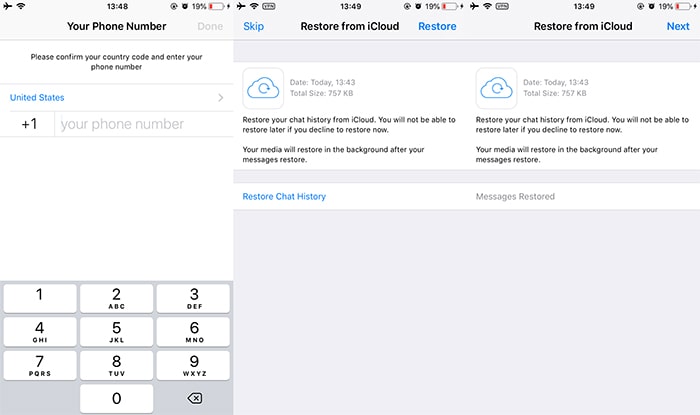 Transfer WhatsApp to New Phone Manually - Not Recommended
Email accounts can access all phones, so it's a solution to transfer WhatsApp to a new phone. The limit of this method is that you can't read the chats directly from WhatsApp on your new phone. The media files of your WhatsApp chats also be sent but separate from the texts.
If you still want to try, follow the steps below:
Step 1 Open WhatsApp on your iPhone. Select the WhatsApp history you would like to transfer. Click on "Export Chat" in the list that appears.
Step 2Then choose "Without media" or "Attach Media" depending on what you want.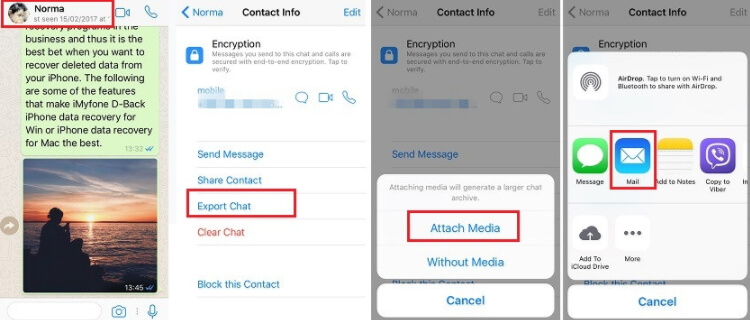 Step 3Apps that you can use to export WhatsApp chat will appear, select on the "Mail" icon. Type in your email address and tap on "Send".
Step 4Then log in to your email account. You will be able to read the WhatsApp messages in a text file.
Note
You can only transfer one (group) chat each time, so if you want to transfer all your WhatsApp chats, you have to do a lot of manual work. That's why I put this method at the end.
FAQs about Transfer WhatsApp to New Phone
In this part, I will share with you how to change your WhatsApp account after transferring WhatsApp messages to a new phone, and if your contacts will be notified or not.
1

What Happens When You Change Your Number on WhatsApp?
It will delete all the WhatsApp settings linked with your old phone number. Your contacts will see your new phone number rather than the old one in the chat or your profile.
---
2

How to Change WhatsApp Phone Number?
The process is simple, see how it going below.
Open the WhatsApp app, and log in to the old account.
Go to Settings > Account > Change phone number, you'll see a notice that the change cannot be restored. Click "Next" and enter both your old and new phone numbers.
Tap "Next", you can choose to notify all or some of your contacts.
After clicking "Done", you can verify the new phone number.
---
3

Will Your Contacts be Notified After Changing Your WhatsApp Number?
WhatsApp will offer you 3 choices if you choose to "Notify Contacts", you can choose to notify all contacts, notify contacts you have chat with, or custom. If you choose custom, you will be prompted to select the contacts that you want to send the notification.
---
4

Can a Blocked Person See Your Newly Changed Number on WhatsApp?
The answer to this question will be a NO. If you have blocked this person, he is not able to see any of your profile or updates include your last seen, your status, whether you are online or not. And the messages, calls and status updates sent by him will not be delivered to you.
Conclusion
To wrap it up, if you're looking for some method to help to transfer WhatsApp messages, this article will do a great job! The most efficient way is to use iMyTrans, it will transfer all data you need on WhatsApp easily! Download it and have a try now!