One of the things you have to do when you get a new phone is to transfer data from the old device to the new phone. Depending on the type of data, this process can be daunting. WhatsApp, with no doubt, is one of the data that we hope to keep the most. We run business, talk with our family, friends and the loved one on the app.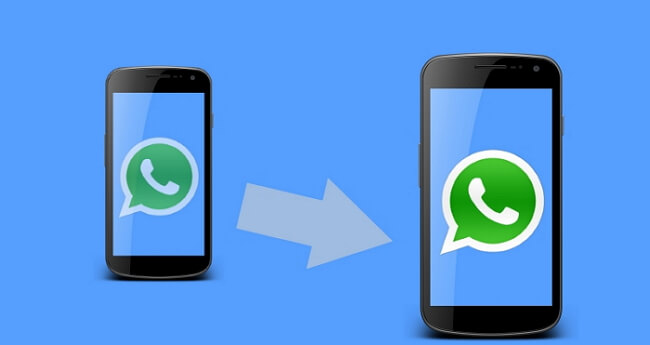 However, transfer WhatsApp to new phone is not as easy, the most common way is to make a WhatsApp backup of the old phone and then restore the backup to the new phone through cloud drive. But this only works when your new phone using the same operating system as your old one.
In this article, we will introduce several ways to transfer WhatsApp messages to new phone, which even works if you are moving from Android to iPhone or iPhone to Android.
Part 1: Transfer WhatsApp to New Phone Directly (Without OS Restrictions) - Recommended
The best, easiest and most effective way to transfer WhatsApp to new phone is to use iTransor for WhatsApp. This third-party software is designed to make WhatsApp data transfer much easier. This tool allows users to transfer WhatsApp data without OS restrictions, no matter you are transfer from Android to iPhone, iPhone to Android, iPhone to iPhone or Android to Android, it will save you a lot of time on the process. The following are some of the other features of iTransor for WhatsApp:
Supports not only WhatsApp transfer, but also WhatsApp Business transfer, as well as backup, restore and export these two apps.
Supports all iPhone and Android models including iPhone 11, XR, XS, Samsung Galaxy S10, S9, Pixel 3, 4.
It is trusted by many reputable review sites including Make Use Of, Macworld and etc.

Here's how to use iTransor for WhatsApp to transfer WhatsApp messages to a new phone.
Step 1 Install and launch iTransor for WhatsApp on your computer. On the main window, click on "Transfer WhatsApp between Devices" and then connect both of the old and new devices to the computer. Once the program detects the devices, it will display information about them on the next window.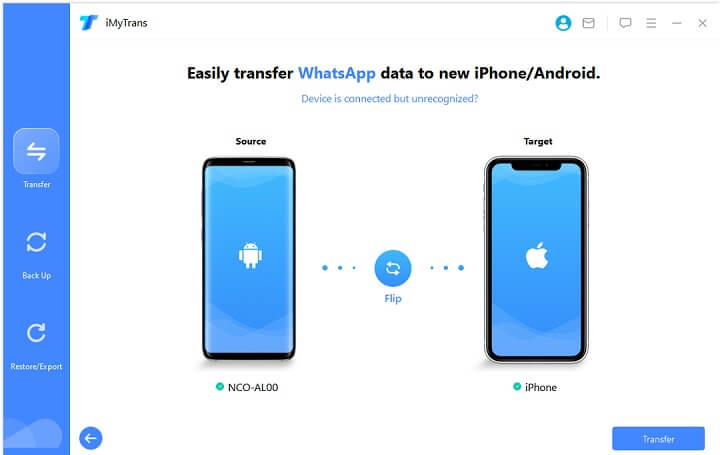 Step 2 Click on "Transfer" to initiate the process and then click on "OK" when prompted to confirm that the existing WhatsApp data on the destination device will be erased. (Thus it is better to back up WhatsApp messages with iTransor for WhatsApp in advance. The backup feature is totally free.)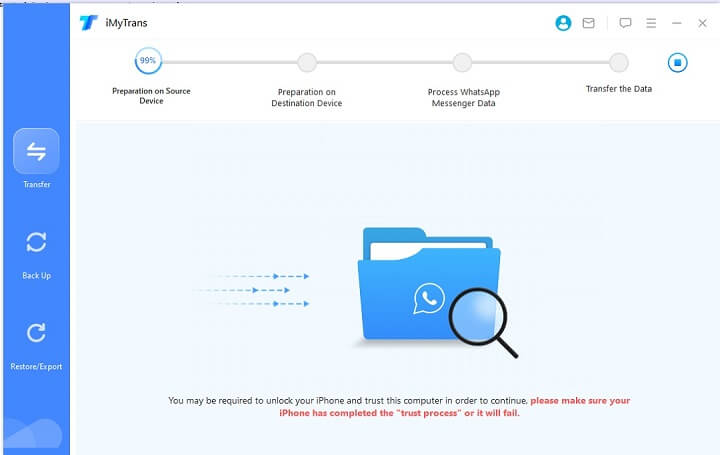 Step 3 The transferring process will work automatically, just ensure that the two devices remain connected through the entire process. When it is done, you will be able to see the transferred WhatsApp messages on the new phone.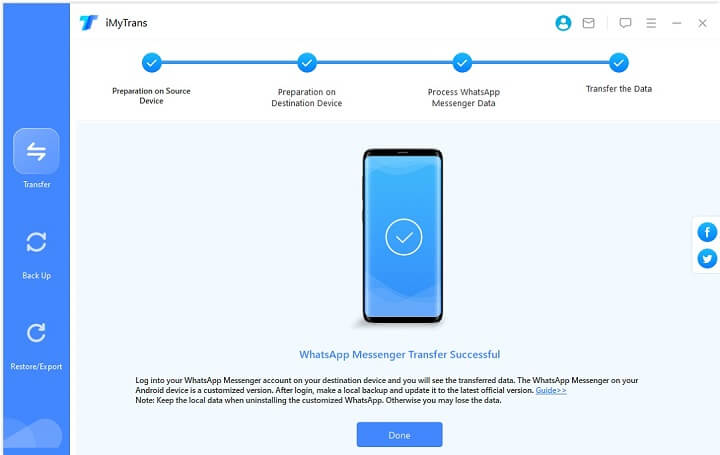 Part 2: Transfer WhatsApp from Android to New Android
Google Drive is one of the backup solution WhatsApp Company suggest to use. When you are switching to a new Android phone, Google Drive is a great way to help you transfer your WhatsApp messages to your new Android. Here's how to do it:
Step 1 On the old Android device, launch WhatsApp and then go to Menu > Settings > Chats > Chat Backup. Tap on "Account" below Google Drive settings and then enter your Google Drive account.
Step 2 Click "Back up" to back up all the WhatsApp data on the device.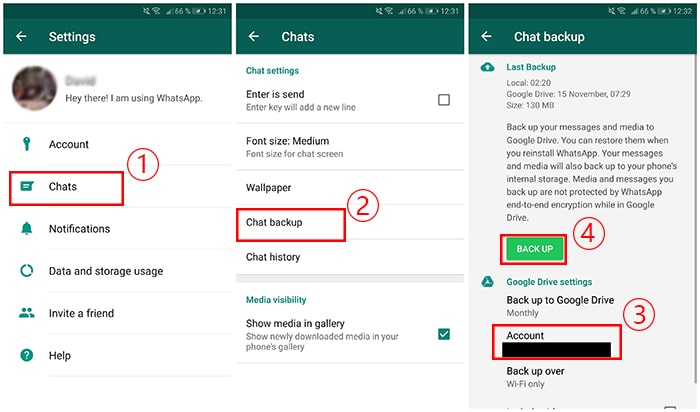 Step 3 On the new Android device, download WhatsApp and sign in. Once you have verified your phone number, you will be prompted to restore the chats from the Google Drive. Once the chats are restored, WhatsApp will begin restoring your media files.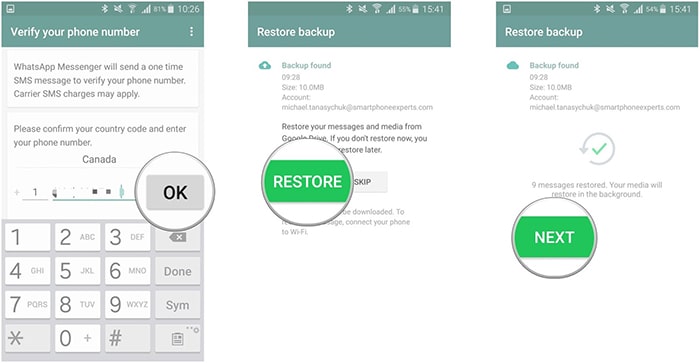 Part 3: Transfer WhatsApp from iPhone to New iPhone
iCloud is the official way WhatsApp offers for iPhone users to backup and transfer WhatsApp from iPhone to New iPhone. We need to make a WhatsApp backup for the old iPhone to iCloud and then restore it to the new iPhone. Here's the step by step guide:
Step 1 On your old iPhone, open "Settings" and then tap on your Apple ID at the top of the page. Tap on "iCloud" and then select "iCloud Drive" to turn it on. Scroll down and find WhatsApp, ensure that WhatsApp backup to iCloud function is also turned on.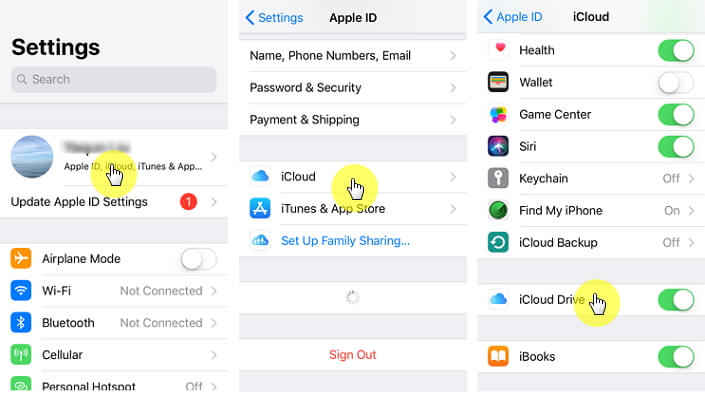 Step 2 Now open WhatsApp and go to "Settings > Chats > Chat Backup". Turn on "Include Videos" if you want to transfer your media files. Select "Back up Now". This will back up all the chats on the iPhone to your iCloud. Check the "Last Backup" to make sure the backup success.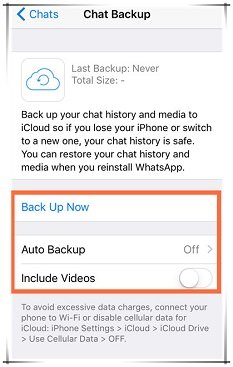 Step 3 Delete your WhatsApp app on the old iPhone. Access Apple ID and iCloud on your new iPhone, launch WhatsApp app and open it. After verifying your phone number, click "Restore Chat History". After the restore success, click "Next" to read the restored messages.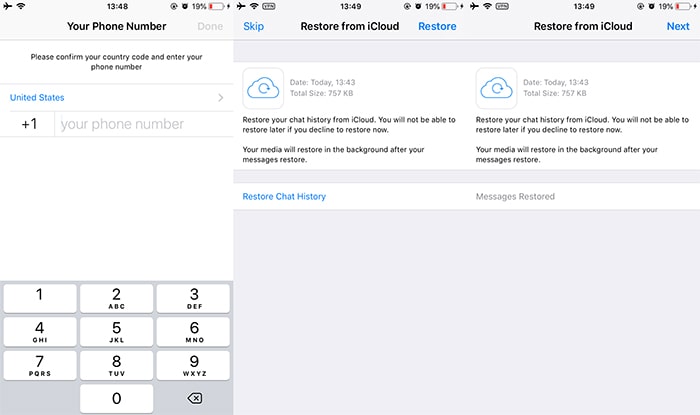 Part 4: Transfer WhatsApp to New Phone Manually - Not Recommended
Because email accounts can be accessed on all phones, email WhatsApp chats is also one of the ways to transfer WhatsApp to new phone. The limit of this method is that you are not able to read the chats directly from WhatsApp of your new phone. The media files of your WhatsApp chats will also be sent but separate from the texts. What's more, you can only transfer one (group) chat each time, so if you want to transfer all your WhatsApp chats, you have to do a lot of manual work. That's why I put this method at the end. The following is a guide to transfer messages between Android and iPhone via Email:
Step 1 Open WhatsApp on your iPhone. Select the WhatsApp history you would like to transfer. Click on "Export Chat" in the list that appears.
Step 2 A popup will appear saying "Attaching Media will generate a larger email message", choose "Without media" or "Attach media" depending on what you want.
Step 3 Apps that you can use to export WhatsApp chat will appear, tap the "Mail" app. Type in your email address and tap on "Send".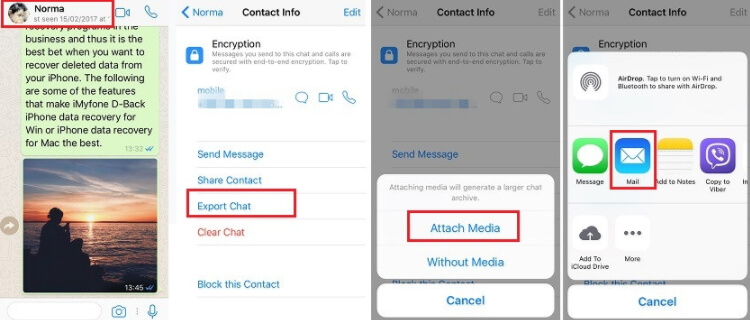 Step 4 On the Android device, log in to your email account. You will be able to read the WhatsApp messages in a text file. The photos and videos are attached separately in the same zip file.
Part 5: FAQs about Transfer WhatsApp to New Phone
In this part, you are going to learn about how to change your WhatsApp account after transferring WhatsApp messages to a new phone, and if your contacts will be notified or not.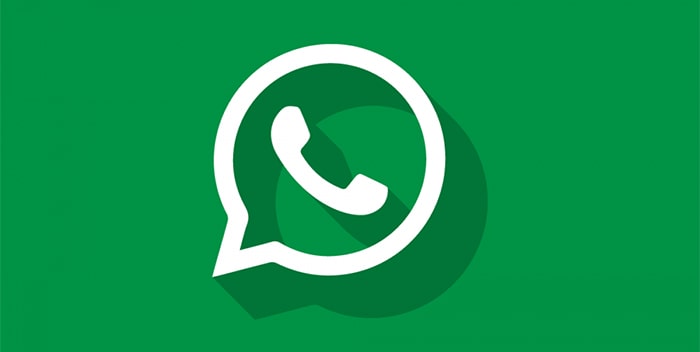 1. What Happens When You Change Your Number on WhatsApp?
Choose to change your number on WhatsApp will help you to migrate your profile information, groups and settings from your old phone number to your new number. The process cannot be undo. It will delete all the WhatsApp settings linked with your old phone number. Your contacts will see your new phone number rather than the old one in the chat or your profile.
2. How to Change WhatsApp Phone Number?
If you plan to change WhatsApp account, you can do it before or after migrating WhatsApp messages to new phone. The process is simple.
Confirm both your old and new phone number can receive SMS or calls and have connect to the internet.
On your WhatsApp app, make sure you have loged in the old account.
Go to Settings > Account > Change phone number, you will see a notification that the change cannot be restored. Click "Next", follow the prompts to enter your both your old and new phone numbers.
Tap "Next", you can choose notify all or some of your contacts.
After clicking "Done", you will be prompted to verify the new phone number.
3. Will Your Contacts be Notified After Changing Your WhatsApp Number?
WhatsApp will offer you 3 choices if you choose to "Notify Contacts", you can choose to notify all contacts, notify contacts you have chat with, or custom. If you choose custom, you will be prompted to select the contacts that you want to send the notification.
4. Can a Blocked Person See Your Newly Changed Number on WhatsApp?
The answer to this question will be a NO. If you have blocked this person, he is not able to see any of your profile or updates include your last seen, your status, whether you are online or not. And the messages, calls and status updates sent by him will not be delivered to you.