WhatsApp messages are important to you, which is why you back them up. But for some people the process of restoring the WhatsApp data back on to their device can be quite problematic. One of the most common problems that you can face when restoring a backup is a complete failure of the process or the restore getting stuck halfway through.
In this article, we are going to be looking at some of the solutions you can try when WhatsApp restore failed on Android.
What to Do When WhatsApp Restore Failed on Android
1. Check Android Network Connection
To restore WhatsApp backup on your Android device, your device needs to be connected to the internet. This is obvious to most people, but while you may think your connection is stable enough, it may not be. To test your device's connection, try the following troubleshooting steps;
Check the router to ensure that it is working correctly.
Try opening a webpage on any browser on the device. If the webpage opens easily, the problem may not be the connection.
Turn on Airplane mode for a few seconds and then turn it off again.
You should also reset network settings. To do that, go to Settings > General Management > Reset > Reset Network Settings > Reset Settings.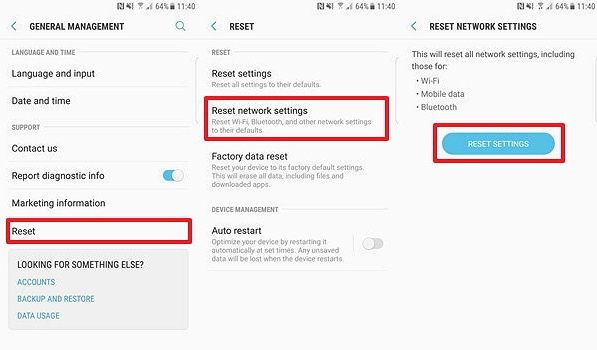 2. Check Android Storage
You also need to be connected to your Google account and make sure that you have adequate storage on your device to restore the chats. If you don't have adequate space on the device, you should first of all delete some of the data on the device to make room for the WhatsApp backup. Without adequate storage on your device, you may not be able to restore the chats.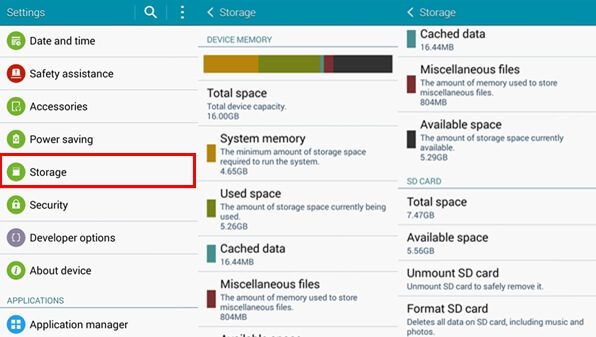 3. Update WhatsApp Version
Updating WhatsApp to the latest version is another way to fix this WhatsApp restore failed on Android problem and other WhatsApp issues you could face. The updated version will come with bug fixes that are designed to fix problems like this one.
To update the app, go to Google Play Store and navigate to the Installed apps. Find WhatsApp and tap "Update" to update the app.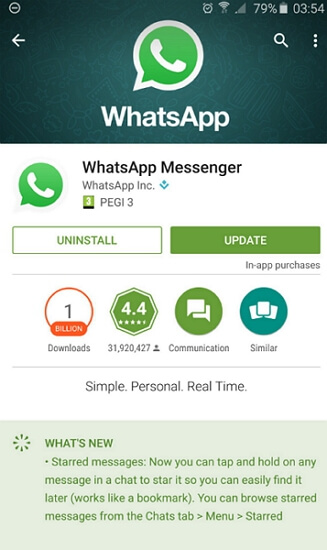 4. Restore WhatsApp from Local Backup on Android
If the Google Backup is not working, you can try to restore WhatsApp from the local backup file. Follow these simple steps to do it;
Step 1: Connect your device to the computer and then locate the WhatsApp folder and copy the file named "msgstore.db.cryt12" to your computer.
Step 2: Now Uninstall WhatsApp from your device.
Step 3: Install WhatsApp and then copy the file back on to the "WhatsApp > Databases" folder on your device.
Note: Disable the internet connection on your device to allow the device to restore from this backup file and not Google Drive.
Step 4: Now set-up WhatsApp and verify your phone number. WhatsApp will detect the backup and ask you to restore the chats from this backup. Simply click "Restore" and the process will begin.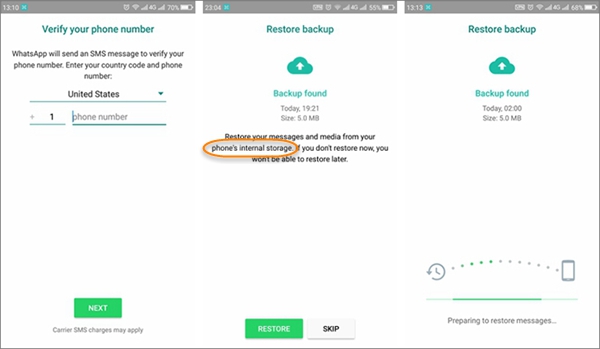 Tip: Restore WhatsApp on Android to Another Device
If you are switching to another Android or OS device and you are unable to restore WhatsApp to the new device, you can use iMyTrans to easily transfer the WhatsApp data from the old device to the new one. This tool is ideal because it is very easy to use and allows you to easily bypass any problematic files and directly transfer WhatsApp data between devices.
Directly transfer WhatsApp chats, images, videos, contacts, call logs, and all other attachments between Android device and iPhone.
Fast and easy to back up all WhatsApp contents on Android/iPhone for free. Each backup file will be saved on your computer.
Restore each WhatsApp backup to an Android or iPhone regardless of the OS restrictions.
Compatible with 8000+ Android devices.
To use iMyTrans to transfer WhatsApp to another device, follow these simple steps;
Step 1: Install the program on your computer and then launch it. On the main window, click "Transfer WhatsApp between Devices".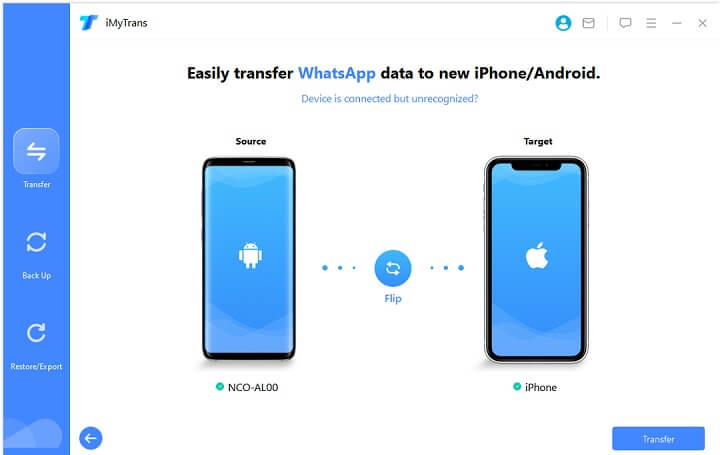 Step 2: Connect both devices to the computer and allow USB debugging on both devices to allow the program to access the data on the devices.
Step 3: As soon as both device are connected, click "Transfer" and the program will begin transferring WhatsApp data to the destination device. Keep the devices connected until the process is complete.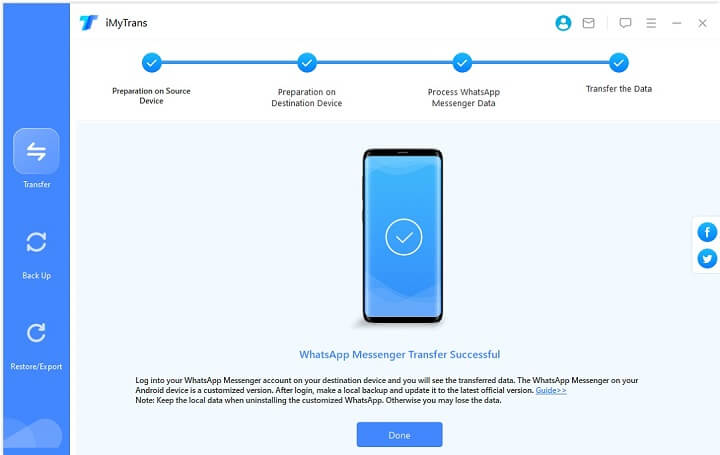 The time it takes to complete the transfer depends on the size of the WhatsApp data on your device.
WhatsApp restore will fail on android device if the Google Drive Backup you intend to restore is corrupt in some way. The solutions above should help you determine why the restore fails and help fix the problem. Post your questions, thoughts and comments in the comment section below and we will be glad to help anyway we can.