In today's world, WhatsApp Status is the new silent communication method. Using this feature of WhatsApp, people can express themselves in great detail about their thoughts and emotions. The addition of this feature transforms WhatsApp into a full-fledged social networking platform rather than simply a messaging software.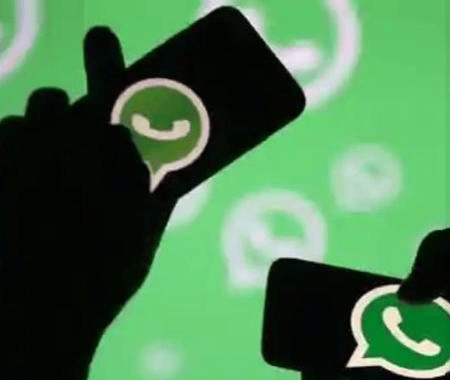 But people wonder why their WhatsApp status not showing even if they've stored their friends' phone numbers. This issue arises for a variety of causes. We've come up with some amazing solutions to this problem through our research. Our editor recommends iMyFone WhatsApp data management solutions ChatsBack for WhatsApp recovery and iTransor for WhatsApp transfer. You can try it free now.
Why Is WhatsApp Status Not Showing to Me
Does your WhatsApp status not showing up problem bother you? Your answer is yes, and this is why you are searching for why my status not showing in WhatsApp. This section will examine all of the possible reasons for this issue.
For your convenience, here is a little content for you to have a quick scan:
Contact List Problem
It's possible that the person whose status you're attempting to view doesn't have your phone number in their contacts. You won't be able to read the status updates of anybody who doesn't have your phone number saved.
Outdate WhatsApp
There are a lot of issues if you haven't updated your WhatsApp application recently. WhatsApp's development staff continuously solves issues and releases new software versions to attract new users.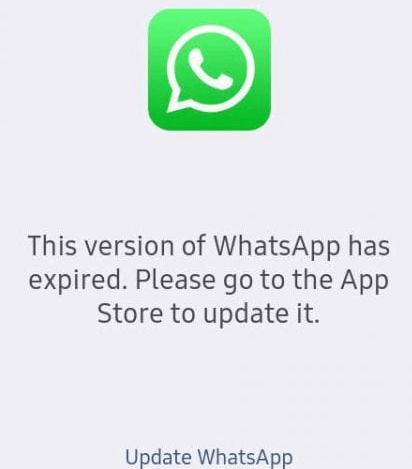 Privacy Settings
Your friend may not have saved your phone number in their contact list. Only those we know may see our status updates on WhatsApp because of privacy settings.
Connection Problem
If your network connection isn't working, then something is wrong with it. Low signal strength, a broken router, or other factors could cause. In this case, your WhatsApp status won't be displayed because the poor network connections prevent statuses from loading.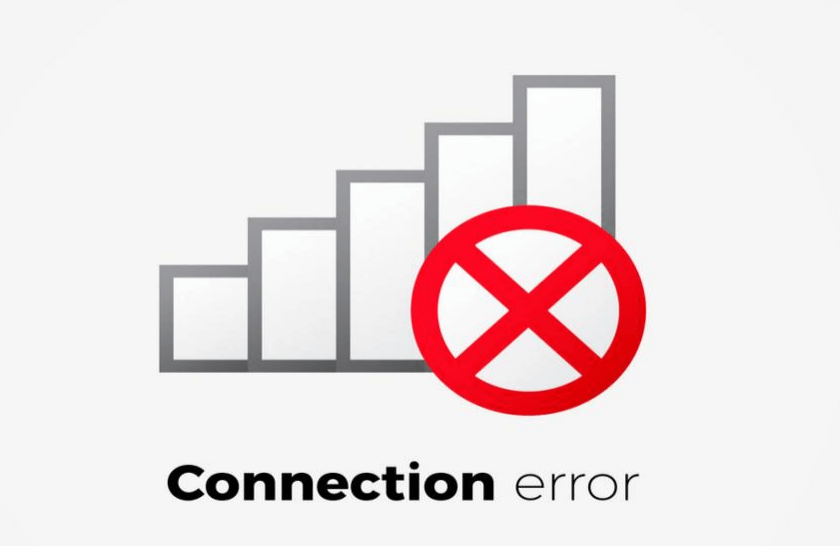 Blocked by the Contact
Are you thinking about why my status not showing in WhatsApp? Possibly, the person whose status you are attempting to read has blocked you from seeing their updates.
Your Contact Hasn't Set a Profile Photo
If the DP/Profile picture doesn't show, there is nothing to do with the status. But most likely, it's about privacy. There's a chance the DP won't show up for that specific contact. Contact sync problems might potentially cause this.
How to Fix WhatsApp Status Not Showing to Me
I've come up with a list of fixes. If your status not showing in WhatsApp for all contacts, this solution will help you with your problem:
For your convenience, here is a little content for you to have a quick scan:
Check the Contact List
As you may know, WhatsApp requires that you have a list of people you'd want to speak with. You may begin a conversation with one stored contact, but you won't be able to view their profile image or their current status.
To view their display photo or any status updates they have made, you must first have them save your contact to their phone. In cases when both parties have saved the contact information on their phones, their statuses and profile pictures should be shown to the other person.
Please double-check your phones' stored contacts to ensure that both you and your buddy have the contact information you need.
Update WhatsApp
The WhatsApp app must be updated immediately if your app is out-of-date. As soon as you repair the problem, it will display anyone's status updates on your phone.
To get the most current version of WhatsApp:
Just visit the Google Play store
Search for "WhatsApp"
Then click the "update" option.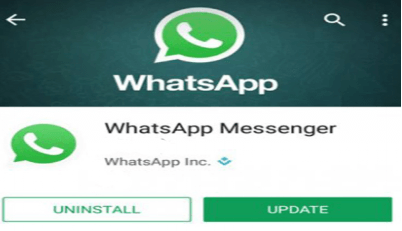 Privacy Settings
Open WhatsApp and click on the menu in order to see your privacy options. Go to settings >> accounts >> privacy >> status), and you'll only see three choices there.
My Contacts
My contacts expect
Only share with
By choosing the first option, you'll make your status visible to everyone in your contact list who uses WhatsApp.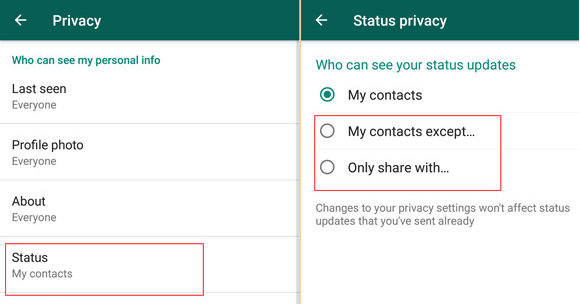 If you pick the second option, it will be viewable to everyone in your contact list except those you specify.
To keep your status secret, you may pick the third option, which is usually some kind of private mode.
Check the Connection
Check to determine whether you're using your mobile data or Wi-Fi. It's a good idea to restart the Wi-Fi router if you're experiencing problems. Call your network provider if the above doesn't work. So, before making any changes to your WhatsApp app's settings, double-check that you have a working network connection.
Ask Your Contact
The absence of other people's WhatsApp status updates may be due to many factors. Firstly, they didn't save your WhatsApp phone number. Second, they hadn't told you anything about their status. The explanation for this may be found out by speaking with them directly.
Bonus Tip: The Best Tool to Recover Deleted WhatsApp Messages: iMyFone ChatsBack
iMyfone ChatsBack is the best WhatsApp data recovery solution. Also, ChatsBack can recover lost or deleted WhatsApp messages, images, videos, music, contacts, and files. Open ChatsBack on your PC to get started. The primary interface has four modes. Adapt your mode selection to the current scenario.
Key Features of iMyFone ChatsBack :
It can directly recover lost/deleted WhatsApp messages and attachments from iOS/Android device, Google Drive backup or iTunes backup.
It offers you preview recoverable WhatsApp data before performing the final recovery.
Get deleted WhatsApp & WhatsApp Business data to iPhone/Android device.
It provides you HTML/PDF/Excel/CSV files to view the recovery data on PC.
What are you waiting for? Please free download the app to have a try and help you get the deleted WhatsApp data back.
Here are the steps that you can follow by using iMyFone ChatsBack to recover WhatsApp data from Google Drive:
Step 1. Log in Google Drive and Access Data
When asked, choose "Recover WhatsApp Data from Google Drive" and sign in with your Google Account credentials.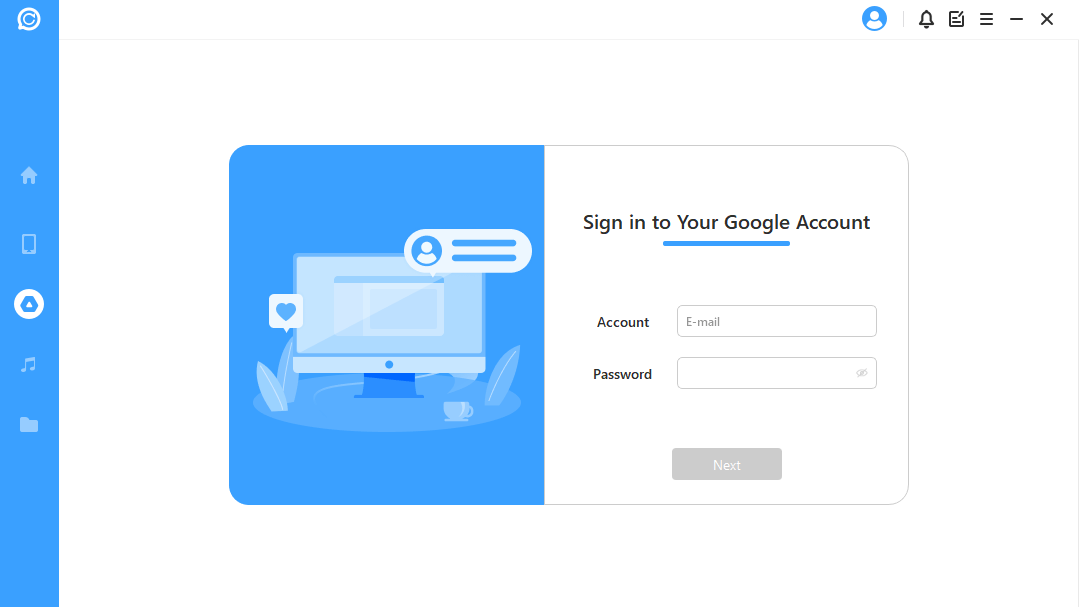 To allow this software to access your Google Drive data, you must first authorize your Google account. Don't forget to turn off your two-step verification before authorizing your account.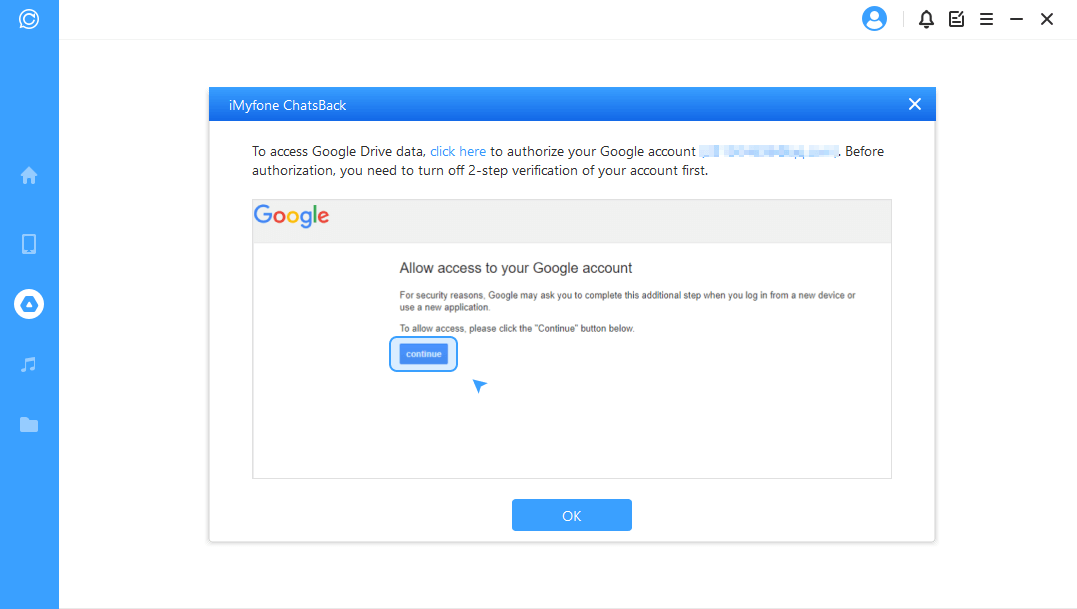 After that, your Google Drive data will be imported via ChatsBack. You may save the file to your computer by downloading it. The speed of the operation depends on the amount of the data and your Internet connection speed.
Step 2. Scan Google Drive File
ChatsBack needs your permission to access the database to do database analysis. Once the files have been downloaded, ChatsBack will begin analyzing the data.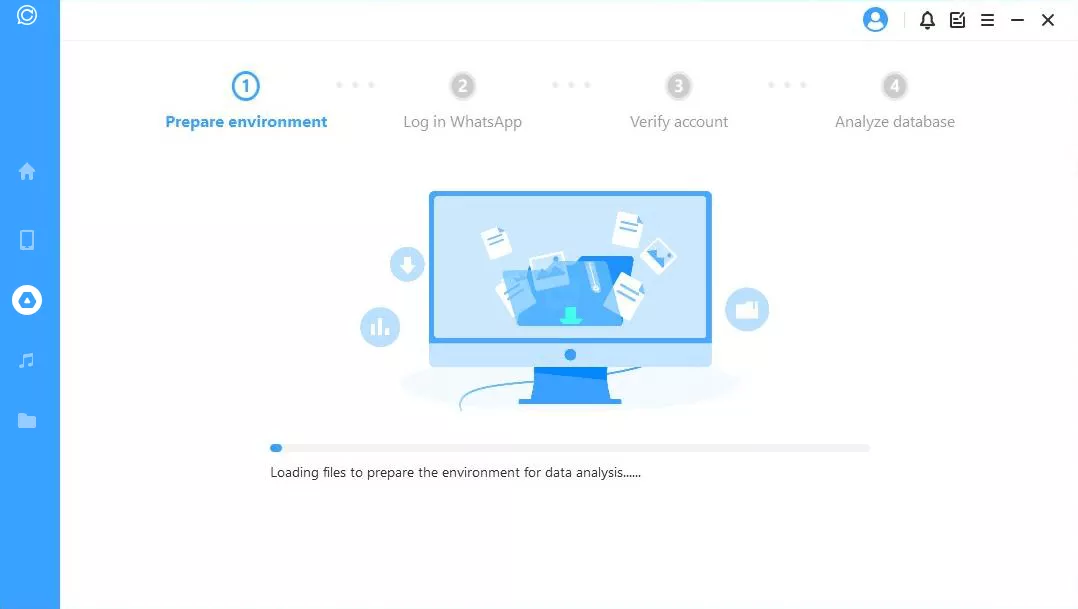 After that, you'll need to input the database's country code and phone number. WhatsApp will send you an SMS message to verify your phone number.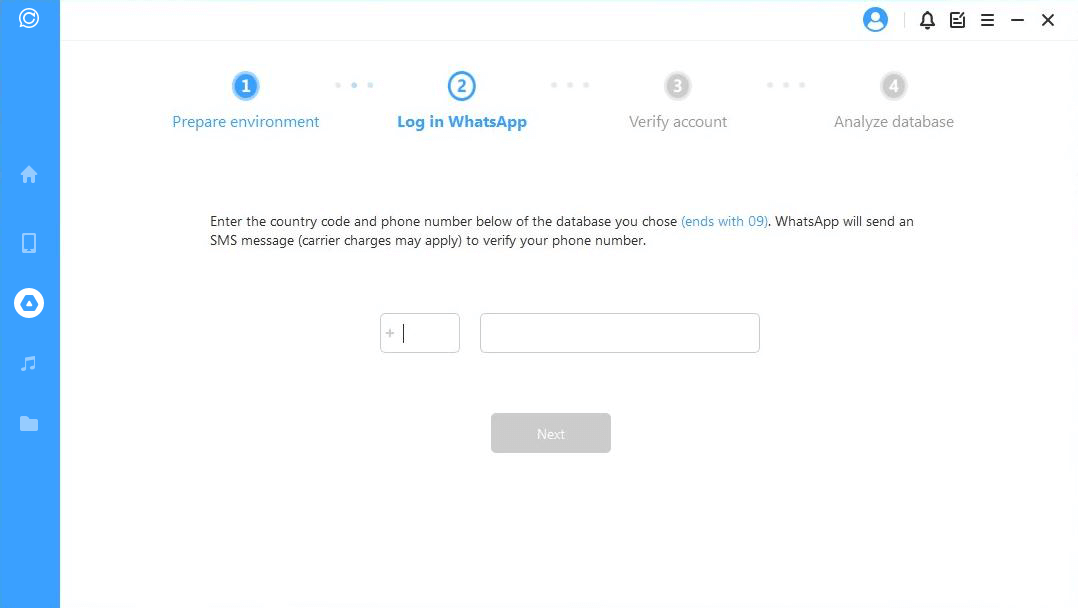 Following verification, ChatsBack will compute the relevant keys to perform database analysis.
Step 3. Preview and Recover Data
Images of all the data that can be recovered are given below. These files may be recovered from your phone or PC.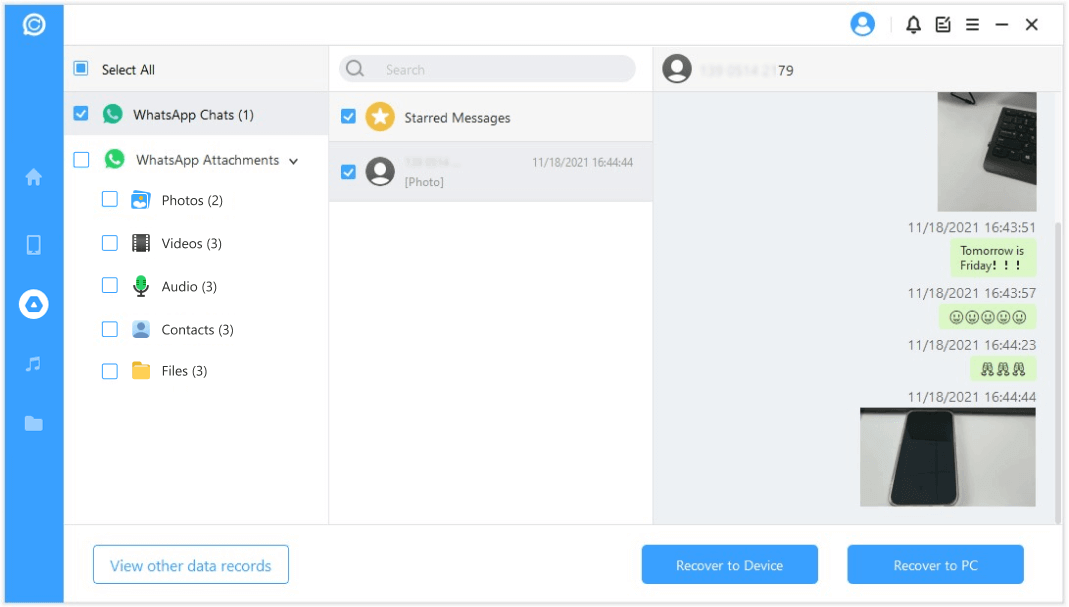 After selecting the option to "Recover to PC," you'll be prompted to choose a file type and a location for saving the recovered data. ChatsBack will then export the file to the place you choose. Time varies depending on how large a file is and how fast a network is. The tool would also help if WhatsApp status not showing for one contact!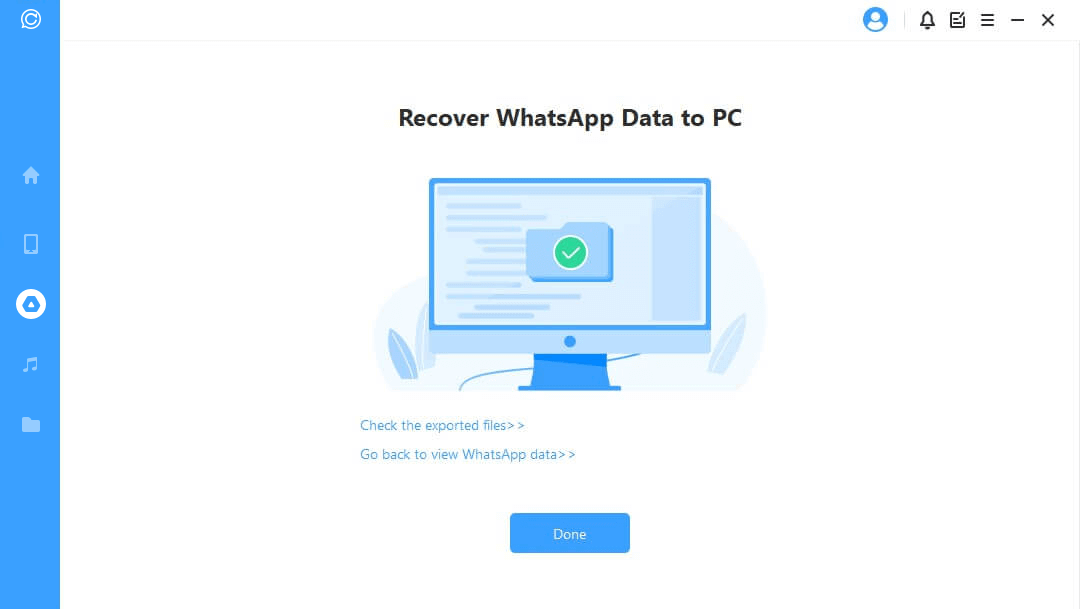 Conclusion
Hopefully you would have found the best solution for fixing an issue with status not showing in WhatsApp for all contacts on your phone. And learn how to recover deleted WhatsApp data by using iMyFone ChatsBack.You can click the botton below to have a free try to recover your deleted WhatsApp data. If you find the article is helpful, you can share it with your friends also.