Have you lost your SIM card anywhere? Or do you have removed SIM and now you are unable to find your iPhone anywhere? Well in this blog you will know that how you Find My iPhone can work even if SIM card is removed.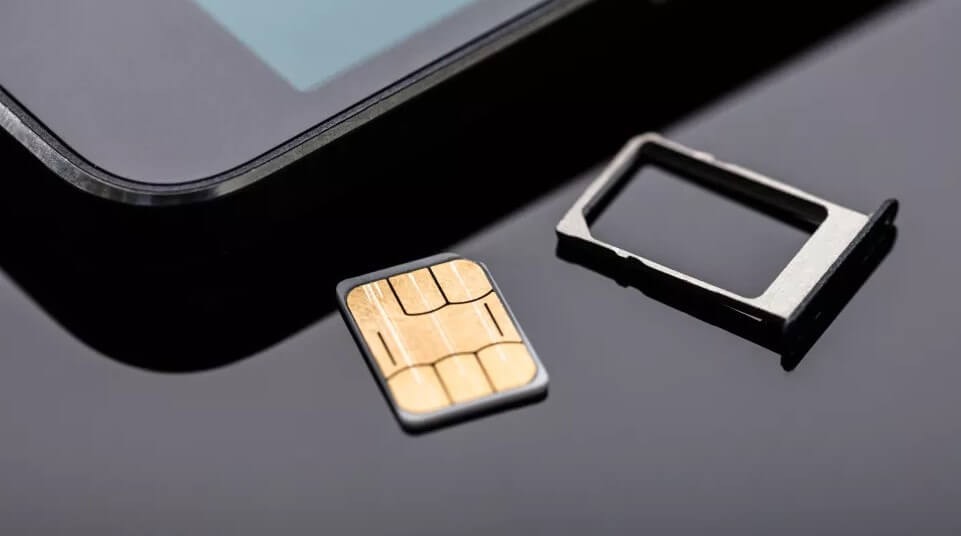 There are certain conditions under which you have to remove the SIM cards or sometimes the SIM is locked and it doesn't work in an iPhone. For this purpose, you must know how to track your phone just in case if it is lost or misplaced or even stolen. Access to internet have made this process simple and easy, you are just few steps away to find a missing device.
Part 1: Does Find My iPhone Work If SIM Card is Removed?
There are a lot of people who have lost the phone and do not know whether Find my Phone works without SIM card or not! The main question of every second person having an iPhone is that are they able to find the missing phone without SIM. And does FIND MY iPhone works or not.
Yes, you can easily use this function even if there is no SIM. But there are certain conditions under this term. For keeping a constant track to your phone, you must enable the feature of Find My Phone. Go to Settings of the phone and then there is an option of Find My Phone, make sure to enable it.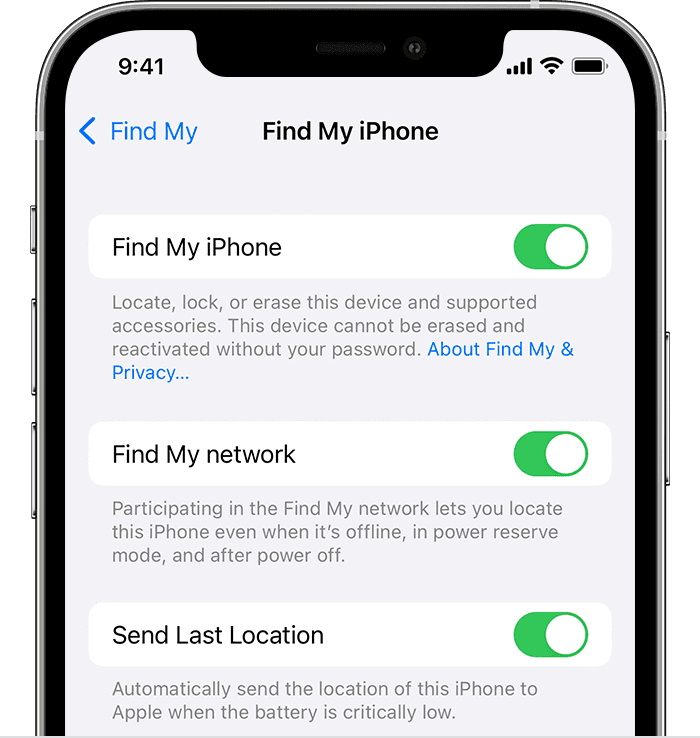 Part 2: Can You Track An iPhone If SIM Card is Removed?
Many people are stuck with the question in mind that whether they can track the iPhone without SIM service or not! Suppose that there is no SIM Card in the phone and mobile data is also switched off, then you can get your stolen phone when it connects to Wi-Fi. If your phone does not connect with Wi-fi then there are no chances that you are getting it back!
You can track it through FMI. The best part is that any unauthorised user will not be able to disable FMI.
When they try, they will be prompted to access the internet and enter their Apple ID. Once connected, the gadget can be followed until it disconnects. They will not be able to reset theiPhone. Even if they successfully reset the smartphone without turning off Find My and signing out of iCloud, the phone will remain trackable.
During the setup procedure, they will also see the activation lock screen and be prompted to enter their Apple ID. To get activation authorisation from Apple Servers, the device must be connected to the internet.
Part 3: What Should I Do If My iPhone is Lost or Stolen?
It is no doubt a clear thing that losing your phone is one of the worst things that might happen. If your phone has SIM card and data or Wi-Fi is also turned on, you can easily use the feature of Find my iPhone.
You will need to log in to the iCloud account from any other device. Your phone GOS services and iCloud are already connected. As soon as you will log in, you can check easily the current location of phone. Follow the steps below if your phone is lost:
Open the browser from any other device

Then go to official iCloud website
You will need to Sign in to the Apple ID you have.

Tap on option of 'Find my iPhone'.
Check all of the connected devices.
Find the lost iPhone in the list.
Then you will need to enable the 'Lost Mode' on your iPhone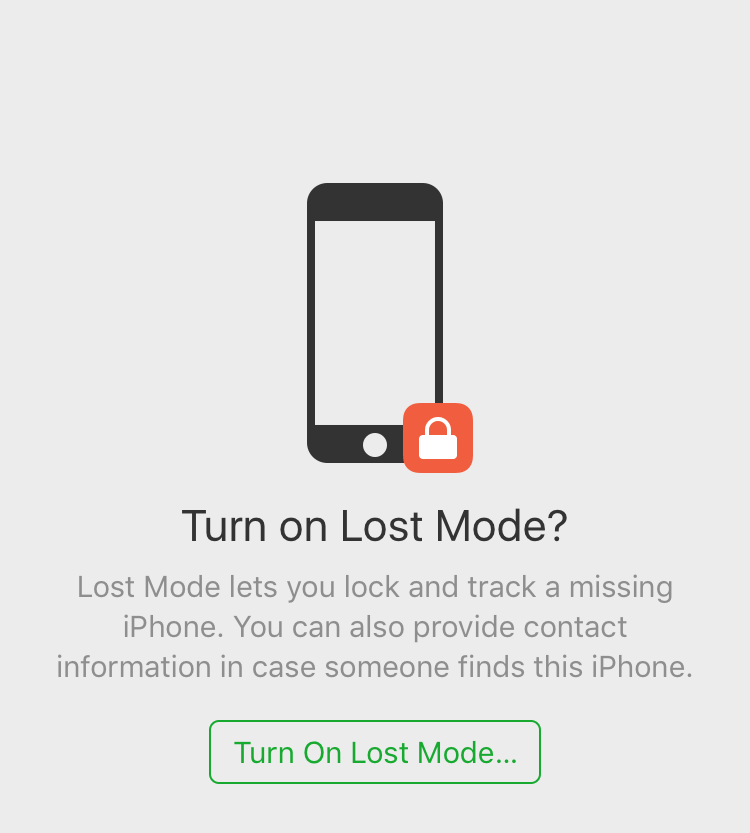 Lost Mode will help you in tracking the phone. It is no doubt an easy and simpler method to find the lost device.
Part 4: How to Prevent My iPhone from Being Maliciously Locked?
Apple's default lock is sufficient to prevent unauthorized access to your phone. However, for more security, consider turning on the following security features:
Two Factor Authentication:
Enabling 2F authentication on your iPhone can make it more secure. When somebody attempts to enter your account, even if they enter the Apple ID credential correctly, they must go through the process.
SIM Card Lock:
Whenever the SIM card lock is enabled, your iPhone will only recognise the original SIM card. Your SIM card lock can be enabled in the settings.
Security Questions:
You can also create security questions. Because you will be the only one who knows the solution, others will be unable to access the account.
FAQs about Find My iPhone & SIM Card
Many people ask questions regarding Lost phones and how to recover them. Below are the FAQs to find the lost iPhone:
1

Can a lost iPhone be tracked if the SIM card is replaced?
Yes, If the SIM card is removed from an iPhone, it is feasible to track it. All that is required is that the gadget be linked to the internet. It goes online immediately and uploads its GPS coordinates to Apple servers.
2

Can you track an iPhone without service?
Without service, you can't track the iPhone. To update its location, it must be linked to the internet. However, there are additional third-party applications and solutions available to assist iPhone owners in locating missing or lost handsets.
In short, phone can be tracked without SIM service, but you cannot track it without internet service.
3

Can thieves disable Find My iPhone?
Yes, if they have the proper method to disable it. Many thieves have devised ways to unlock phones and remove all data without getting caught. So, as soon as you lose your device, turn on the device tracker.
Additionally, a new stolen iPhone method allows crooks to disable Find My iPhone and completely delete the device. People are snatching iPhones and pretending to be Apple by sending text messages to the stolen number, tricking people into giving over their Apple ID credentials.
4

Does taking out the SIM card delete everything?
No, it does not. Only your SIM services will not be available. All other data remains the same. Everything on your phone is deleted only if you reset it.
Extra Tip: Remove Find My Activation Lock without Previous Owner
iMyFone iBypasser iCloud activation lock bypass tool is the perfect tool for you if you want to remove the activation lock. If you forget your Apple ID passcode, iBypasser can easily disable FMI without requiring you to enter any credentials. After you disable FMI, you will have access to all iOS capabilities.
iMyFone iBypasser Key Features:
Bypass Find My iPhone activation lock on iOS devices without Apple ID or password.
Support iPhone/iPad/iPod touch running iOS 13 and later versions, including the latest iOS 14.8.
Enter your iOS device and use it as brans new without limitations.
Sign in with a new Apple ID.
Here are also the detailed steps to bypass Find My activation lock with iBypasser:
Step 1. Download and launch iMyFone iBypasser on your computer. Choose the "Bypass iCloud Activation Lock Screen" mode. Click "Start" and connect your iPhone/iPad/iPod touch to the computer with a USB cable.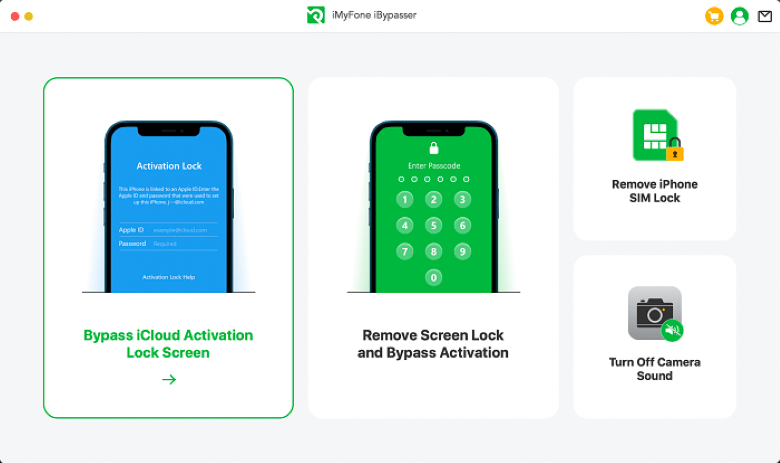 Step 2. The program will start downloading a package which helps you jailbreak your iPhone.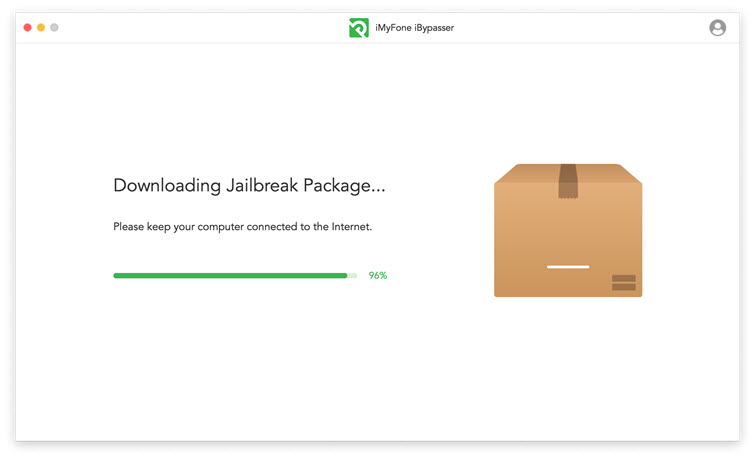 Step 3. Follow the onscreen instructions and then click "Next" after the jailbreak finished. After jailbreaking, iBypasser will start bypass activation lock screen. Please keep the computer connected to the Internet and keep your iOS device disconnected from the network. Then click "Start Bypass".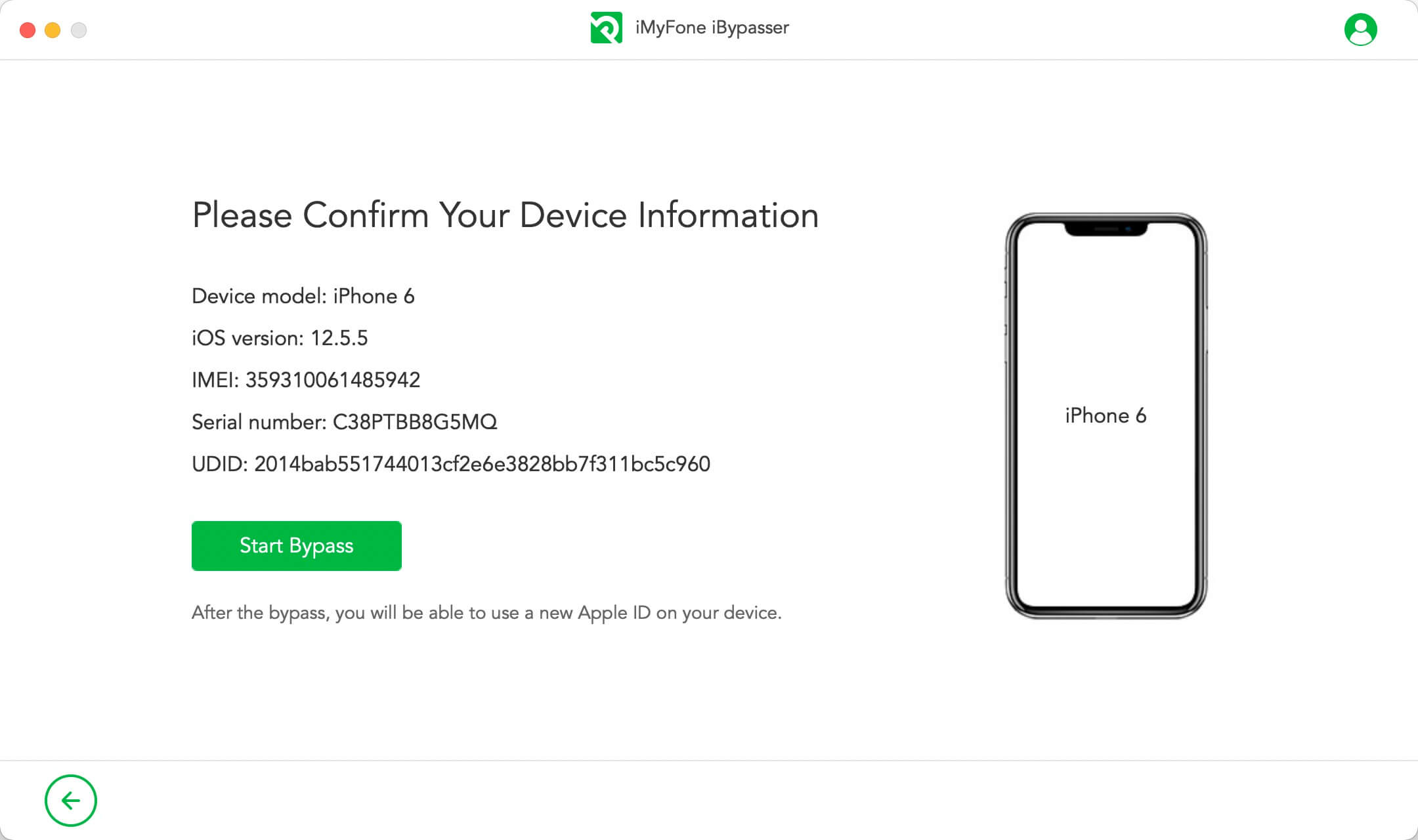 Step 4. Wait a few minutes, the Find My activation lock screen will be successfully bypassed.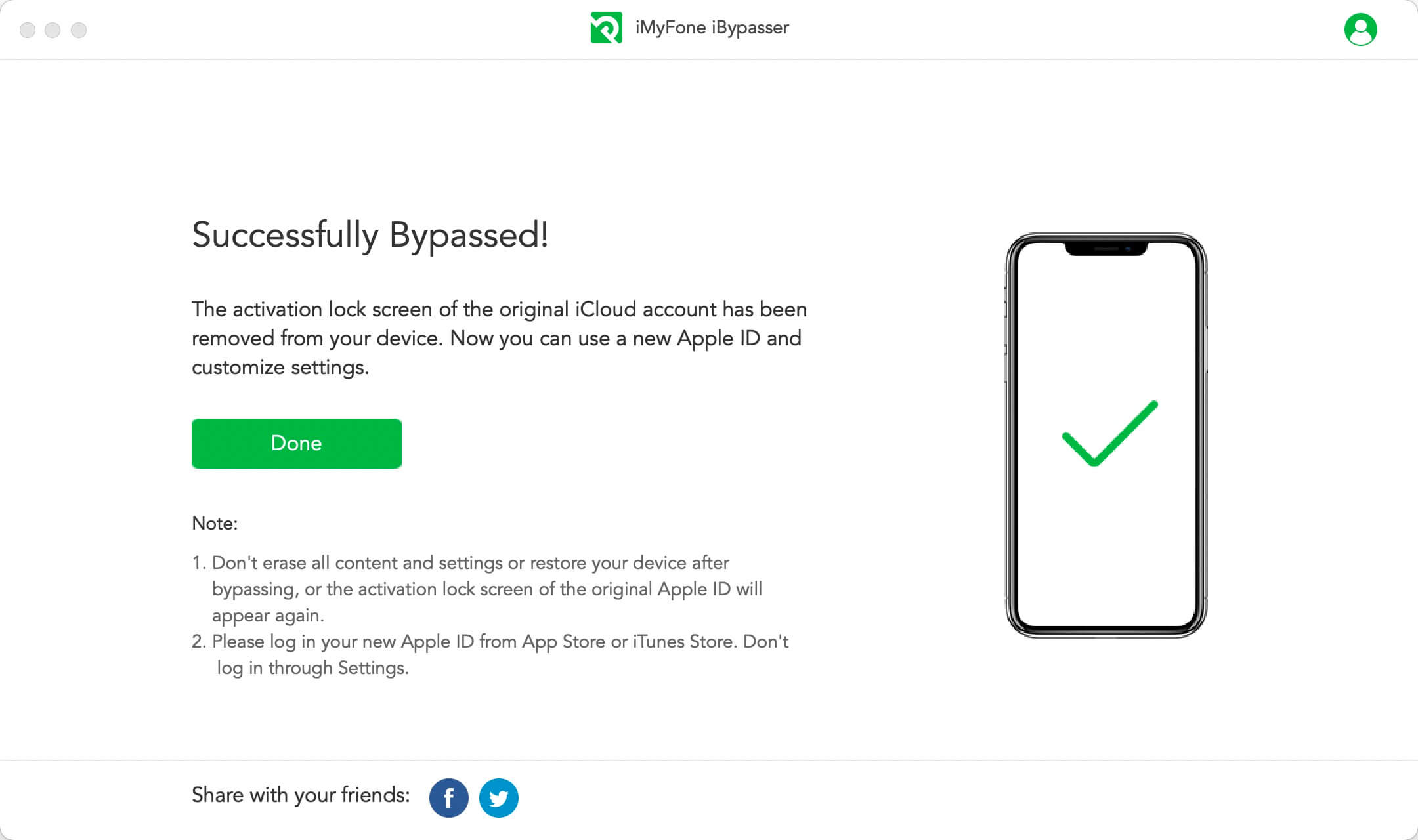 To Summary
If you have your iCloud ID, you can simply sign in from any other device and then track your lost device. The only condition is that your device must be turned on and have proper internet connection. There is no need of SIM card to be available for your device.
iMyFone iBypasser can help you remove iPhone screen locks and bypass activation lock screen when you don't know the password. This tool will help you a lot reaching out your device without any issue and you can also easily access your iCloud ID using it.