Perhaps, you were confused when you first heard about iCloud activation lock. If so, you were not alone. Many iPhone new buyers or second-hand iPhone users are usually confronted with this issue. So, what is iCloud activation lock? How to remove iCloud activation lock without password?
What is the iCloud Activation Lock?
The activation lock is a feature designed by Apple to prevent anyone else from using your iPhone in case it gets lost or stolen.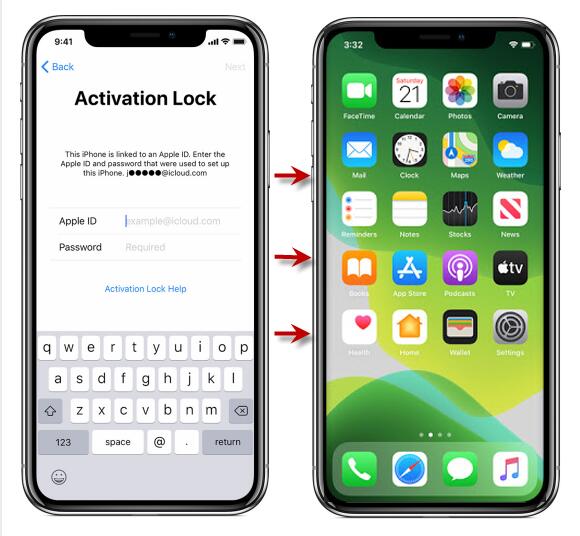 If you have set up the iCloud account and have turned on the Find My iPhone feature,the activation lock will be enabled automatically. When you have iCloud activation lock on your iPhone/iPad, you will need the Apple ID and password to activate it. So, here is the question:
"Is it possible to remove iCloud activation lock without password?"
- "Yes, please keep reading."
There are some useful ways to help you remove iCloud activation lock without password in this article, so just choose the right one that suits your situation.
Part 1: Use a Professional Program to Bypass iCloud Activation Lock without Password
It's always annoying when your second-hand iPhone that newly bought turned out to be stuck on iCloud activation lock after reset. iMyFone iBypasser iCloud activation lock bypass tool is professionally designed to bypass activation lock so that you can gain full access to the locked iPhone and use a new Apple ID.
Released in 2020 with latest technology, iBypasser has taken the leading role in iCloud activation lock removal market. Read the impressive features below to see how powerful the program is.
Top Features of iMyFone iBypasser:
Remove iCloud activation lock screen from iOS devices without Apple ID or password.
Enter your iOS device and use all functions except calls, cellular and iCloud.
Sign in with a new Apple ID to download apps from APP Store or buy movies from iTunes Store.
No worries of being tracked or erased by previous Apple ID.
Support iPhone 6s to iPhone X running iOS 12.0 and later versions.
How to Remove iCloud Activation Lock without Password?
Now, watch the video to learn how to remove/bypass icloud activation lock on iPhone/iPad/iPod Touch.
Here are also the detailed steps to remove iCloud activation lock screen with iBypasser:
Step 1. Download and launch iMyFone iBypasser on your computer. Click "Start" and connect your iPhone/iPad/iPod touch to the computer with a USB cable.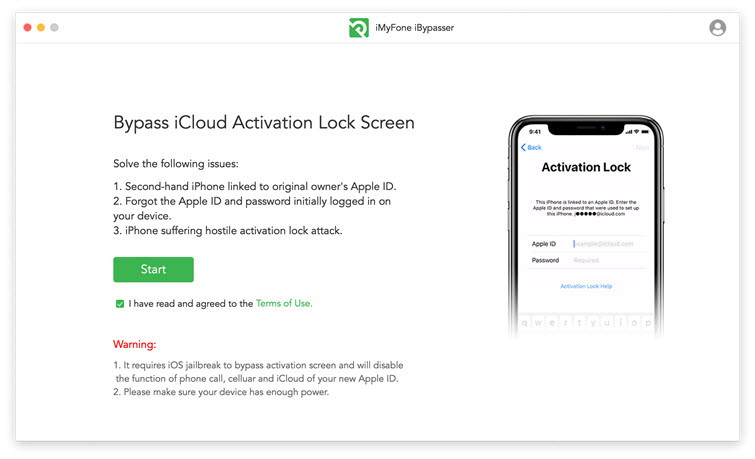 Step 2. The program will start downloading a package which helps you jailbreak your iPhone.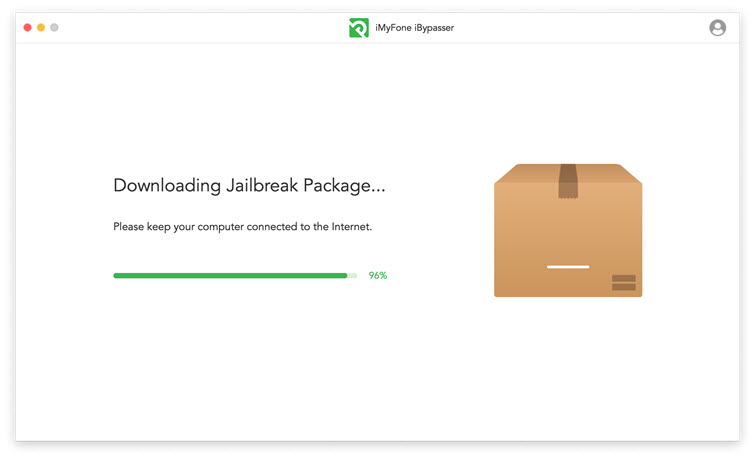 Step 3. Follow the onscreen instructions and then click "Next" after the jailbreak finished.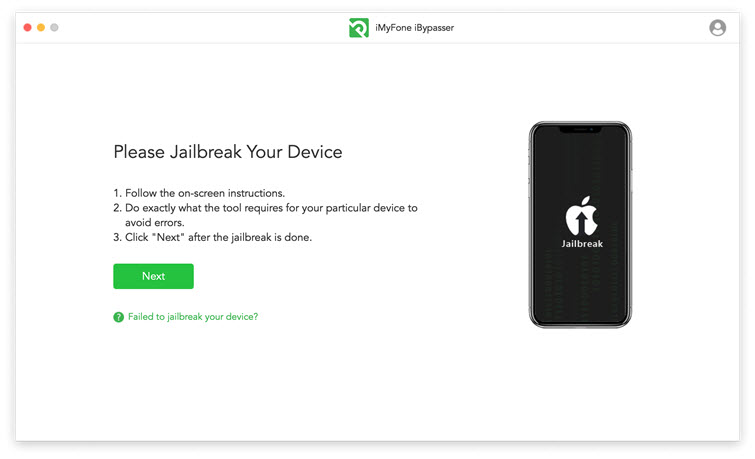 Step 4. Click "Start Bypass". iBypasser will instantly start to bypass the iPhone activation lock screen. The bypassing process only lasts seconds.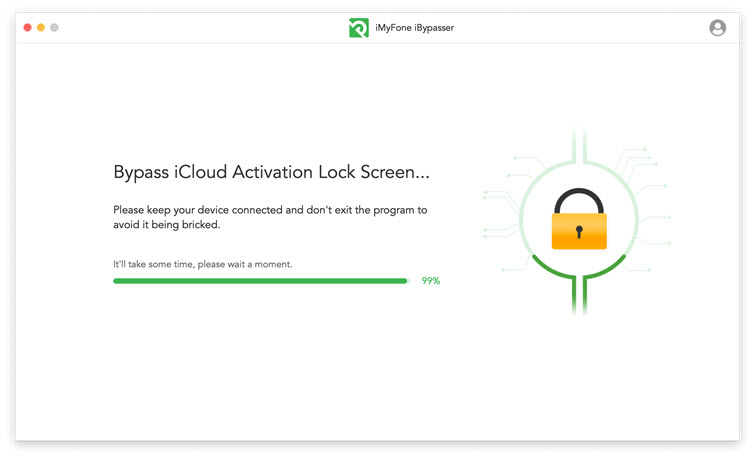 Wait a minute, the iCloud activation lock will be successfully bypassed.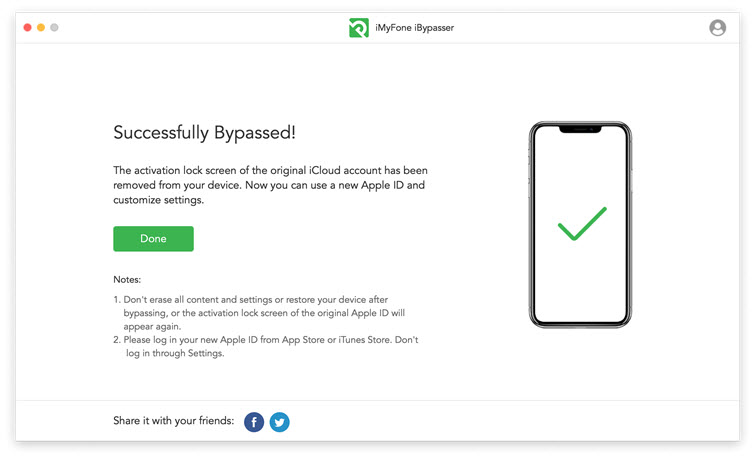 Supported iOS versions: iOS 12.0 and above versions, including iOS 14.8.
Supported iOS devices
iPhone: iPhone X, iPhone 8 Plus, iPhone 8, iPhone 7 Plus, iPhone 7, iPhone SE, iPhone 6s Plus, iPhone 6s, iPhone 6 Plus, iPhone 6,;
iPad: 5th Generation iPad (2017), 6th Generation iPad (2018), 7th Generation iPad (2019), iPad mini 2 (2013), iPad mini 3 (2014), iPad mini 4 (2015), iPad Air (2013), iPad Air 2 (2014), 12.9-inch 1st Generation iPad Pro (2015), 12.9-inch 2nd Generation iPad Pro (2017), 9.7-inch iPad Pro (2016), 10.5-inch iPad Pro (2017);
iPod touch: iPod Touch 6, iPod Touch 7.
Don't Miss:
Part 2: Official Ways to Remove iCloud Activation Lock
1. Ask Apple to Help If You are the Owner
If you are the owner of the device that is locked by iCloud activation lock, you can use this way to solve the issue. Apple will unlock iCloud activation lock without passwords for you under the specific circumstance:
Show your purchasing proof and packaging box to Apple that you are the owner of the iPhone. You can show your receipt.
During the checks, Apple will also see if the iPhone has been reported as stolen or missing. If it has, Apple won't help. If you cannot prove you are the rightful owner, Apple will also refuse to unlock it. Therefore, as possible as you can, show all the proof that you are the owner and have the full right of the iPhone. After that, you'd better make an appointment before going to App store.
Usually, Apple would help you remove activation lock for free if you bought iPhone from the official way. But if you bought a used iPhone from online, asking Apple may not help.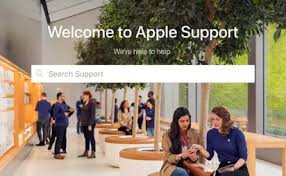 2. Remove iCloud Activation Lock If The Owner Is Nearby
So what to do if you just have a second hand iPhone with activation lock? Well, you can still remove iCloud activation lock by asking the previous owner for help directly.
If the owner knows the password, it will be very easy to remove iCloud activation lock. On the activation lock screen, enter Apple ID and pasword to remove device from the account.
If there is a password on the iPhone screen, ask the owner to unlock the device and reset your iPhone. You can go to Settings > General > Reset > Erase All Content and Settings. After that, set up your device again. Your device will not be linked to the previous owner.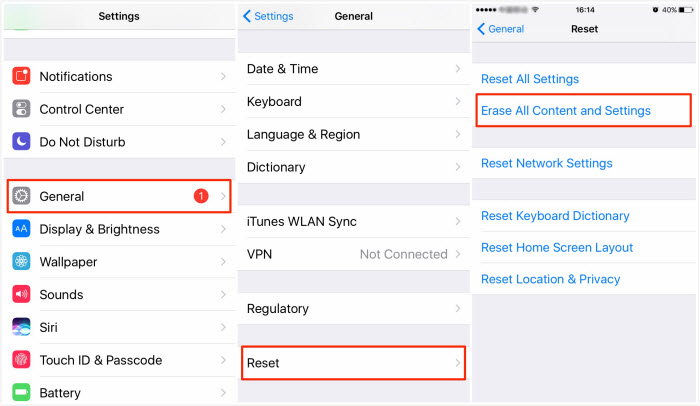 3. Remotely Remove iCloud Activation Lock by Find My Feature
But what if the owner is not with you? How to remove iCloud activation lock for free? Luckily, you can ask the previous owner to remove iCloud activation lock by deleting the iPhone from the current iCloud account remotely.
Contact the previous owner and ask he/she to follow these steps:
Step 1: Start by going to icloud.com.
Step 2: Sign in to the site with your Apple ID and passcode.
Step 3: Click "Find iPhone".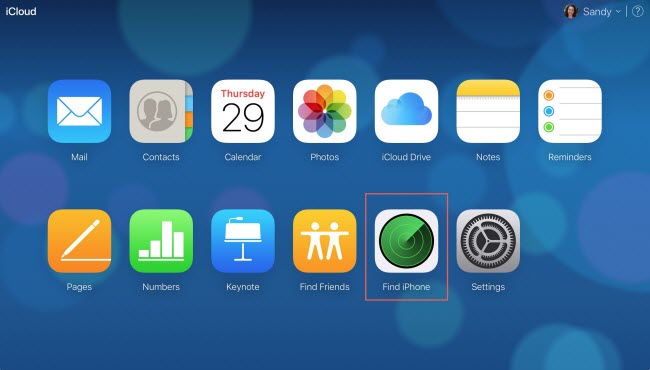 Step 4: Tap "All Devices" located at the top.
Step 5: Choose which device you want to remove from the iCloud account.
Step 6: If necessary, tap "Erase iPhone".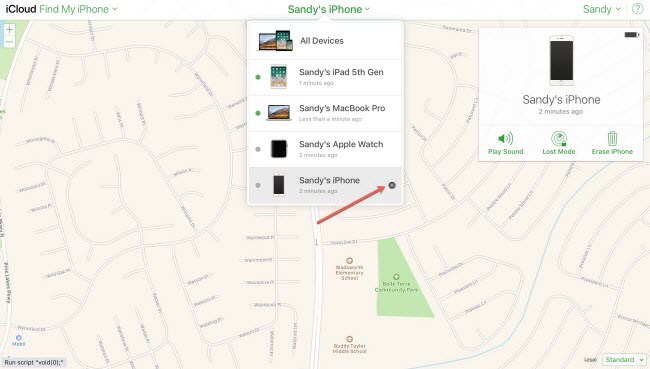 Step 7: Once the device has been deleted, click on "Remove".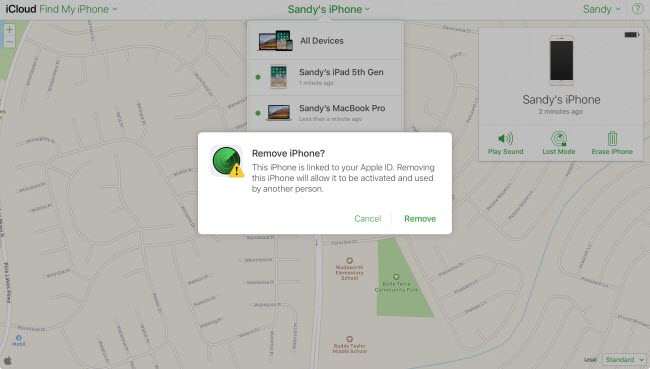 There is also a chance that the owner or the seller forget the password. Then what should you do? Don't worry. Here is simple method to recover the password.
Step 1: Go to official Apple website, and choose "Forgot Apple ID or password".
Step 2: input your Apple ID. Then choose to reset your password and click "Continue".
Step 3: Reset your password according to your situation.
If your account set up with security questions, tap "Answer security questions" to recover the password.
If you use two-factor authentication, you can tap "Reset My Password", and enter the single-use numeric code that Apple sends you instead.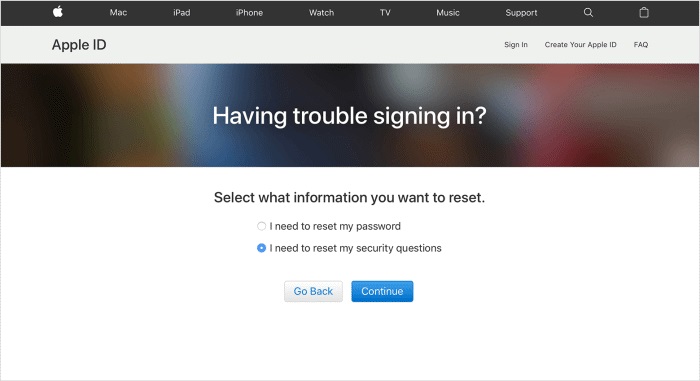 Part 3: Online Service for iCloud Activation Lock Removal
If you cannot use the free ways mentioned in part 2. There are also online PAID service that you can try to remove activation lock without password. When you are searching how to remove iCloud activation lock from iPhone using Google, you may see bunch of results showing websites that can help. In this case, you just have to offer your iOS device model and IMEI number. Then you can wait for the news after you paid the service.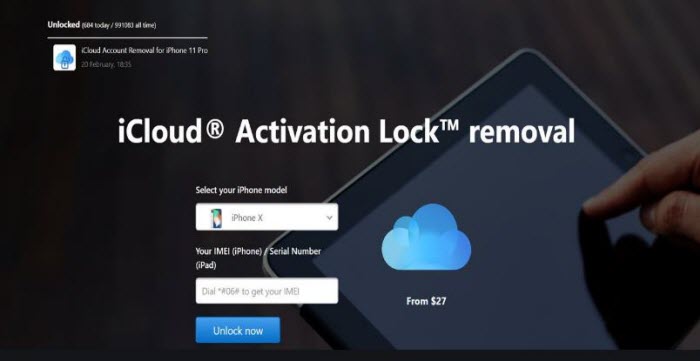 However, there is somthing you should be aware of before using online service.
1. Though you may see thousands of positive posts or comments for those iCloud lock removal tools, you should still be cautious. Be careful of using any paid services from untrustworthy websites like OfficialiPhoneUnlock, iPhoneIMEI.net which are proven to be ineffective. The worst part is not that you will not only lose your money, but your personal data.
2. There is no free trial for you to test whether your activation locked device is supported before you buy the online service.
3. Use trusted tools like iMyFone iBypasser iCloud activation lock bypass software which has a true R&D team and a 7/24 support team that can help any time. Besides, you can download it for free to see whether the software supports your device or not.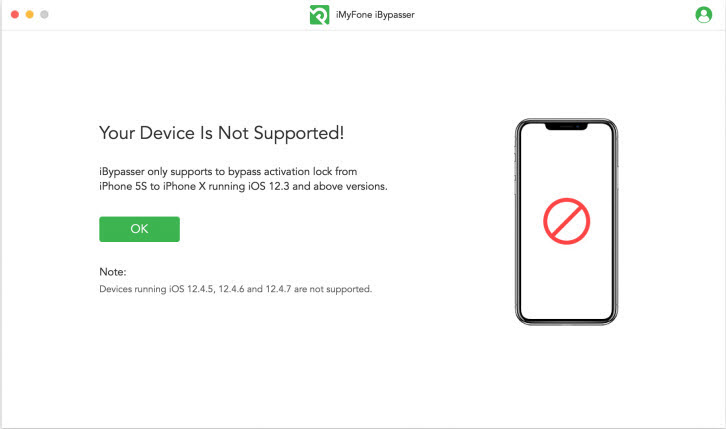 Part 4: A Trick That May Help to Remove iCloud Activation Lock
DNS method is basically an online server or HTML method through which you may reclaim some of the features of your iPhone. You may not always need to bypass or remove iCloud lock, but there will be a time you need to bypass or remove it and knowing how to do that will help. The following steps may help. Primarily, websurfing and galleries. This method is completely free of cost.
Note
This method is not always working, especially for those new iOS versions, like iOS 14 and later. What's more, DNS method only works within several minutes.
Step 1: Turn on or restart your iPhone or iPad.
Step 2: Complete the Setup process until you get to the "Choose Wi-Fi network".
Step 3: Press the Home button. Click "More Wifi Settings".
Step 4: Tap on the "i" symbol next to the WiFi network.
Step 5: Tap "Configure DNS". Tap "Manual".
Step 6: Click "+Add Server" and a blank will come up.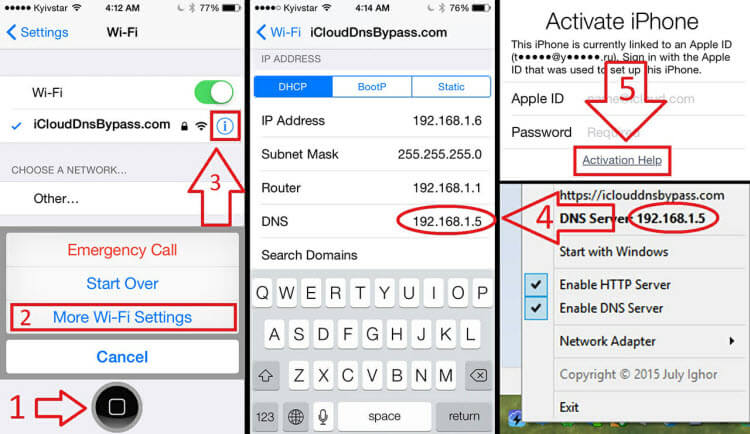 Step 7: Enter the server address of your location. Here are some of the exmaples:
USA: 104.154.51.7
Europe: 104.155.28.90
Asia: 104.155.220.58
Africa, Australia, and other locations: 78.109.17.60
Step 8: Click "Save".
Step 9: Click on the back option and click "Ask to Join Networks".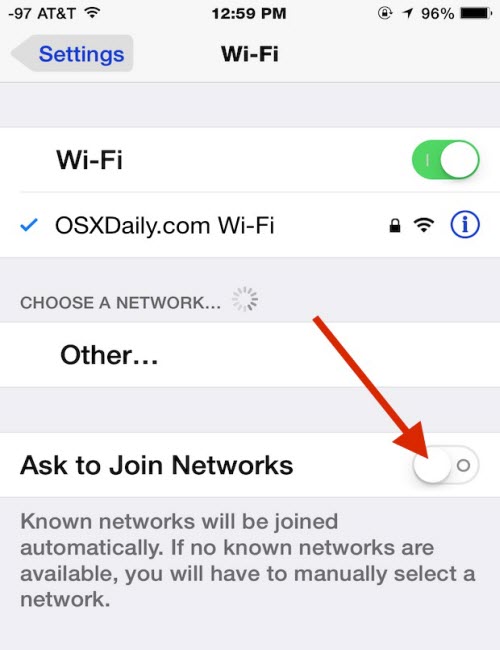 Step 10: If it requires, enter the network password and tao "Join".
Step 11: When the iPhone tries to activate, click on the back button.
Step 12: You can now continue setting up your iPhone or iPad as normal.
Tips: How to Avoid Activation Lock when Buying A Second Hand iPhone
If you are going to buy a second hand iPhone/iPad online, like Ebay. Here are some useful tips you can follow to avoid iCloud activation locked iPhone.
1. Buy used iOS devices from authorized resellers. Also get purchasing proof with your name and serial number of the device.
2. Test the contact details of previous owner so that you can contact the owner if necessary.
3. If you see "Hello" on iPhone screen when you restart iPhone. This means the device is not locked by activation lock.
4.If the device asks for a screen password, you can ask the owner to go to Settings > General > Reset > Erase All Content and Settings. This will factory reset your iPhone. You can set up the device again after that.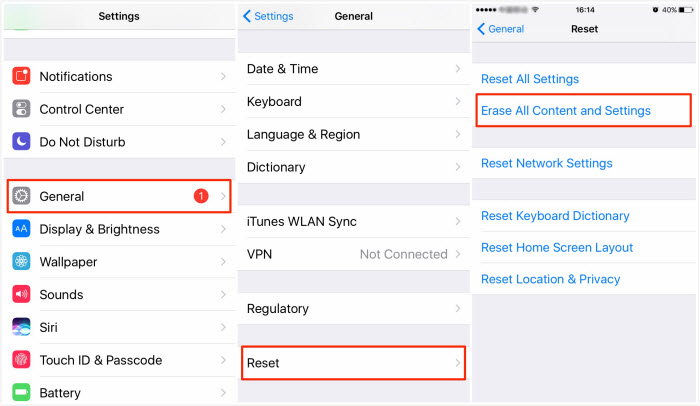 5.If the iOS device asks for Apple ID and password, it means that the device is still locked. So you have to tell the owner to login in his/her iCloud account. Then erase the iOS device mentioned in tip 4.
---
FAQ
Q: Does iMyFone LockWiper remove activation lock?
A: No, iMyFone LockWiper cannot remove activation lock. But after reading this article, you can know that iMyFone iBypasser can remove activation lock.
Final Words:
Reading through what has been discussed above, I'm sure you've clearly understood what iCloud Activation Lock is, and ways to remove or bypass it. Some ways introduced in this post may be out of date and only works for old iOS versions. And some will not work if you can't contact the previous owner.
While iMyFone iBypasser is most recommended tool to bypass iCloud activation lock screen without using the previous Apple ID or passwords from popular iOS devices. Note that the latest iOS 14.8 is supported. If you have an iPhone stuck on activation lock after erasing but you don't know the Apple ID or password, then you can remove the iCloud activation lock screen from your iPhone using iBypasser and sign in with a new Apple ID.