A lot of people face the iPhone activation lock problem. Most of the time, users forget their iPhone password and end up affecting by this issue. On the other hand, some people opt to buy second-hand iPhone devices. Those devices are usually locked up.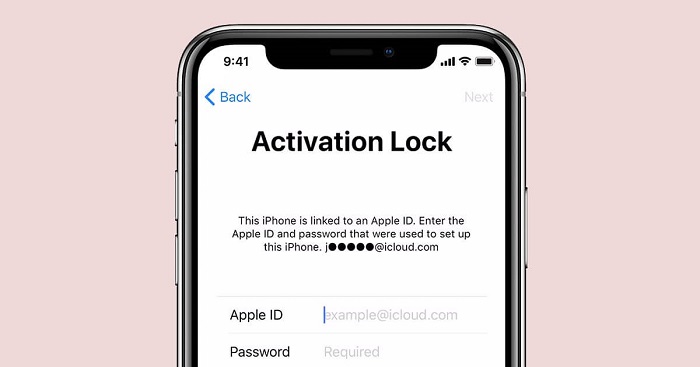 That is why a user needs to use a tool that can bypass his iCloud activation lock. There are several tools available that can assist you in unlocking your activation lock.
Out of all of them, iMyFone iBypasser is the most effective one. We will be reviewing the iMyFone iBypasser tool in this piece of writing.
Let's begin the iMyFone iBypasser review.
Basic information about iCloud Activation Lock
Phone security nowadays has become even more critical than ever before. Since it contains all the necessary information about a person, there should be an appropriate way to protect the user's personal information. Apple possesses the best security system.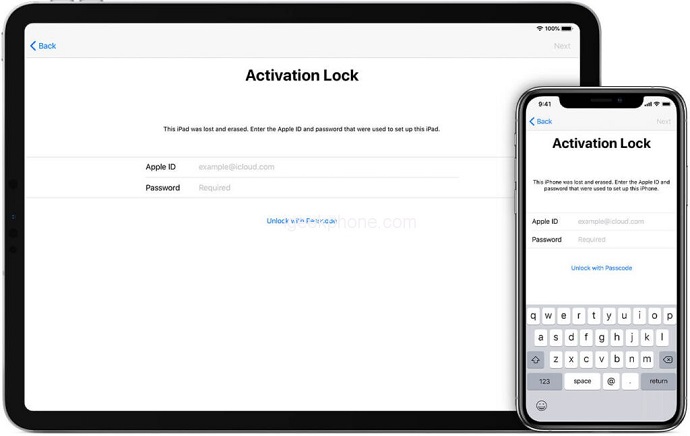 You will find iCloud activation Lock that will protect the user data from breaching. iCloud activation Lock is pretty effective at stopping others from accessing your iPhone even if you have lost your iPhone or it is being stolen.
This lock will be enabled automatically for the iOS 7 versions and above version when you switch on your iPhone. It doesn't allow others to misuse your data.
The device will ask you to unlock iCloud activation when your iPhone is turned off or reactivate your device.
What Kind of Inconvenience can It Cause to A User?
A user will need to make a new Apple ID when he first sets up and device. After doing so, you will protect secure your device.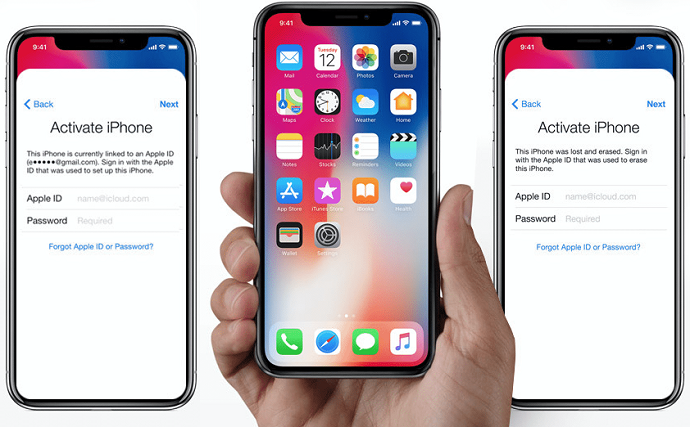 But when you want to reset the device, Apple will ask you to provide Password and original Apple ID to use it. If you have forgotten the ID and password, then your iPhone will be iCloud Locked.
What is iMyFone iBypasser?
iCloud Activation Lock is a pretty helpful security way to protect the iOS device from unwanted access. However, a user might have to face some issues when buying a second-hand iOS device. When this scenario occurs, you can use the iMyFone iBypasser tool to bypass the activation lock.
iMyFone iBypasser is a popular software that will help you bypass your iCloud Activation Lock on iPad/iPhone/iPod without ID or password.Since then, you can create a new apple id in that device. Luckily, your device will not be erased, blocked, tracked by the previous ID.
Features
iMyFone iBypsser offers some breathtaking features.Let us discuss a few of them.
1 No need for the Account's sign-in details
If you acquire the services of iMyFone iBypsser, you don't need the details of iCloud account ID and password.
2 Easy user interface
iMyFone iBypasser possesses a user-friendly interface and doesn't contain any information that the user won't understand. A user can bypass the Activation lock in simple steps.
3 Free trial version
This tool is offering its users a free trial version. After testing the devices, a user can acquire a premium version.
Pros and Cons of iMyFone iBypasser
iMyFone iBypasser is pretty new to the market. If you have any questions regarding its reliability, you can acquire its trial version to test its working.
Aside from all the aspects, this tool possesses some brilliant benefits for its user. Besides, there are a few weak points about it.
Let's discuss both positive and negative aspects of iMyFone iBypasser.
Pros
You don't need to expertise anything to get used to it.
It supports all iOS devices, and you can successfully unlock the activation lock in few steps.
If you are willing to buy a second-hand iOS, iMyFone iBypasser can assist you in bypassing the clock in case the device is being iCloud Locked.
With the help of the iMyFone iBypasser, you can bypass your activation lock and get access to your device. Afterward, you can use the opportunity to enjoy all the features of iCloud.
Cons
The customer support service is not reliable yet.
It will not unlock your lock permanently.
iMyFone iBypasser Review
A lot of people have admired iMyFone iBypasser by giving pretty positive reviews.
Let's look into some of those.
This tool was better than what I was expected. With pretty easy instructions, I managed to bypass the Activation lock. At a pretty reasonable price, this tool works unbelievably. I want to recommend this tool highly.

I had issues with my iPhone 8 plus, which was being locked up. Then I decide to acquire iBypasser for a free trial. After testing it, I finally decided to buy its premium version, and guess what, it reached my expectations wonderfully. In just a matter of seconds, it solved my problem. It is a pretty fascinating and helpful tool, and you should try it.

When I first purchased it, the experience wasn't that good, but it was my fault as I didn't read the instructions well. After few months, I tried it once again found it pretty reliable. I highly recommend iMyFone iBypresser.
How to BypassBypass iCloud Activation Lock With iBypasser
Since iBypasser is getting better day by day, everyone wants to know how to use it in iOS. There is no doubt that it will bypass your activation lock with significant effect, but you have to follow instructions to get the desired results.
You can refer to tutorial video to learn how to remove/bypass iCloud activation lock on iPhone/iPad/iPod Touch.
Let's discuss in detail how to unlock a cloud activation lock with the help of iBypasser.
Step 1.

Launch iBypasser

Run iBypasser software on your desktop after downloading and installing it. Afterward, choose the Bypass Activation Lock Screen and then click on ''Start''. In the next phase, you need to connect your iOS device to the PC using a USB cable.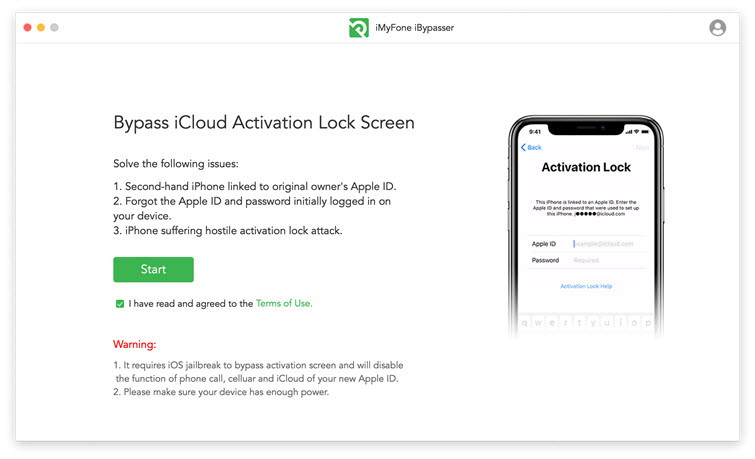 Step 2.

Jailbreak iOS Device

After connecting your device to the computer, click on ''Next''. Now iBypasser will start downloading the Jailbreak package. Click on "Start Jailbreak" after downloading it.

You need to do the instructions to put your device into DFU mode and then look for the program to jailbreaking the iPhone. After all, this, click on the Next option to continue.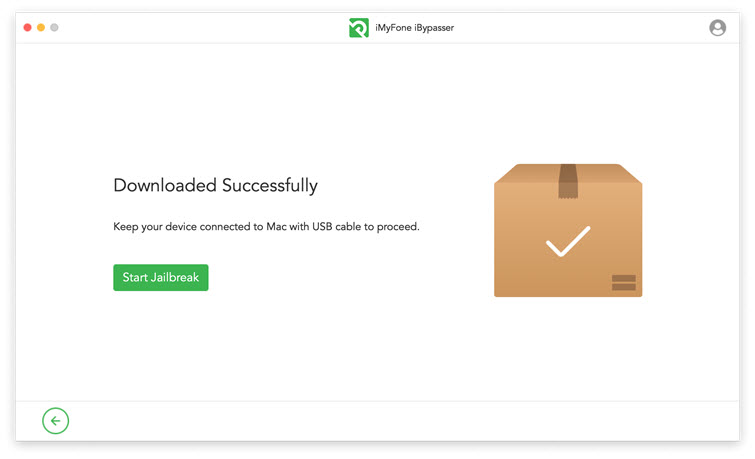 You may also like How to Jailbreak iOS Device on Windows
Step 3.

Bypass Activation Lock

The program will brief you about your device like iOS version, UDID, IMEI, serial number. Confirm it and then click on the option ''Start Bypass'' to unblock the iCloud Activation Lock.

You will have to wait for a while before the program gets completed the process of bypassing iCloud activation. After this, you can access your iOS device.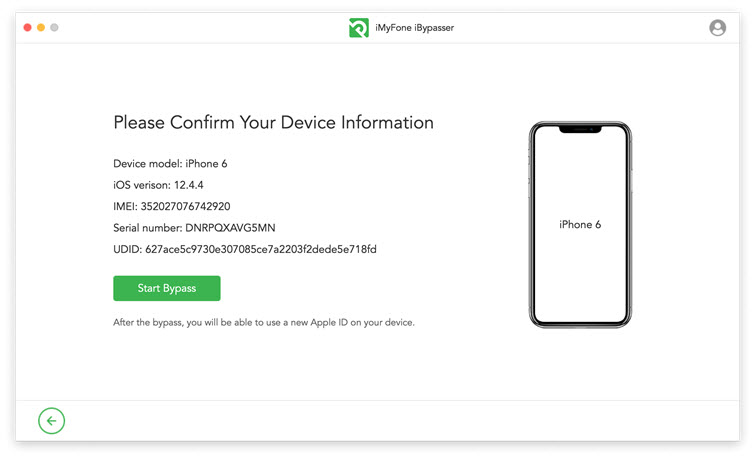 Notes for Supported Devices and iOS
Let's discuss some of the devices and iOS systems connected with iMyFone iBypasser to bypass the activation lock and screen lock.
For BypassBypass iCloud Action Screen lock:
Supported device: iPhone 6s - iPhone X
Supported iOS: iOS 12. 0 and later
For Bypass iCloud Activation and Screen Lock
Supported devices: iPhone 6 - iPhone X
Supported iOS: iOS 12.x , iOS 13.0 and later (iOS14.x for iPhone 6s - SE)
Turn Off FMI
Supported Devices: iPhone 6s - iPhone X
Supported iOS: iOS 13.0 and later
Supported Devices: iPhone XS - iPhone 11 pro - Max
Supported iOS: iOS 13.0 - 13.5
FAQs about iMyFone iBypasser
1 Is iBypasser legit?
Yes, you can bypass any iPhone lock using iBypasser because it works brilliantly. It will only bypass your activation lock when you give authentic proof about a device, either it is yours or not. It is a great tool and can be pretty helpful for accessing your iPhone.
2 Will my Apple ID can't use anymore after using the iMyFone iBypasser?
When you bypass your activation lock using the iMyFone iBypasser, the iPod/iPhone iPad touch will then be jailbroken. You can access your device for daily use.
You can create a new Apple ID and can run the iOS device according to your will. Although, the lock will appear again when you flash or upgrade your device. But iMyFone iBypasser will bypass your device anytime you want.
3 Is iBypasser Safe to Use?
iMyFone iBypasser is a trustworthy and reliable tool because it guarantees the safety of your data. However, when it Jailbreaks the iPhone device, the device is no longer safe ultimately. During this process, your system can become unstable or can be hacked pretty easily.
4 Will my laptop get wrecked up after using iMyFone iBypasser?
iMyFone iBypasser possesses a pretty heavy system load. It can jailbreak the device, which can create vulnerability to your iPhone.
However, it doesn't contain any virus. It will not affect your laptop speed and its working. This tool doesn't possess any wrong sides for the desktop or laptop.
Final Words
iMyFone iBypasser is the best possible solution for those people who want to unlock their iPhone cloud. With some exceptional features, this tool is mind-blowing at solving the problems of people.
It offers you free trial time through which you can understand its working and interface. By purchasing the premium version, you will enjoy the best possible features of it. It is undoubtedly worth your time, and you should opt to buy it to get desired results.