Losing phone numbers on your smartphones can be really frustrating. Many times the phone numbers get deleted due to our own errors. However, with new Android updates, it gets hard to figure out our way around the latest OS. Generally, many people lose their phone numbers on their devices. For instance, if you happen to factory reset your phone to set right a software malfunction without knowing the repercussions of it, you might end up losing all your phone numbers from the Android phone. But it is not the end of the world, Samsung phones are well-equipped with enough reverse-engineering settings to retrieve most of the lost data. There are some ways to retrieve deleted phone numbers on Android Samsung devices.
In this post, we will be listing step-by-step procedures to retrieve deleted numbers from Android Samsung phones.
Verify if the Phone Numbers are Really Lost
Some of the Samsung phones have an option to display certain phone numbers. Many times, due to a glitch or our own error, we disable the visibility of phone numbers. This leads us to believe that the phone numbers have been deleted. Before resetting your phone's memory, make sure that the contacts have actually been deleted but not invisible.
Follow these steps to display phone numbers if their visibility has been disabled:
Step 1 - Click on the "Contacts" icon on your device.
Step 2 - Tap on the menu button - usually on the top-right corner of the screen, and then click on the "Contacts to display" option.
Step 3 - Afterwards, select "All contacts" in the options and see if your phone numbers are visible now.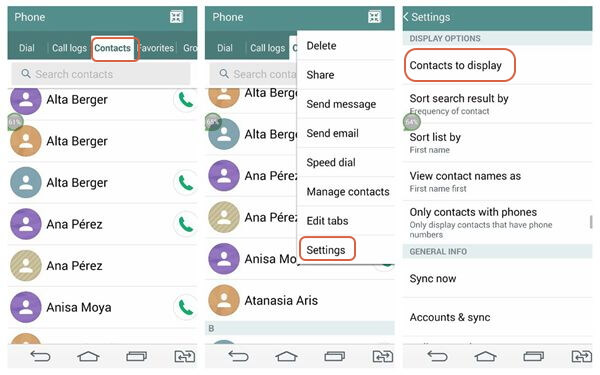 If they aren't, you might have to try the following methods to retrieve the deleted phone numbers on your Samsung.
How to Retrieve Deleted or Lost Phone Numbers on Android Samsung Phone
Method 1: Get back deleted phone numbers from Samsung Smart Switch backup
Smart Switch is the media management tool of Samsung which works like Apple's iTunes. It can synchronize your phone numbers from device to device and backup data easily. You can use Smart Switch to get back deleted or lost phone numbers in case that you have backed them up via it.
Step 1. Launch Smart Switch on your Samsung device and connect it to your PC via USB cable.
Step 2. Click on "Restore".
Step 3. If you have more than 1 backup, choose "Select your backup data".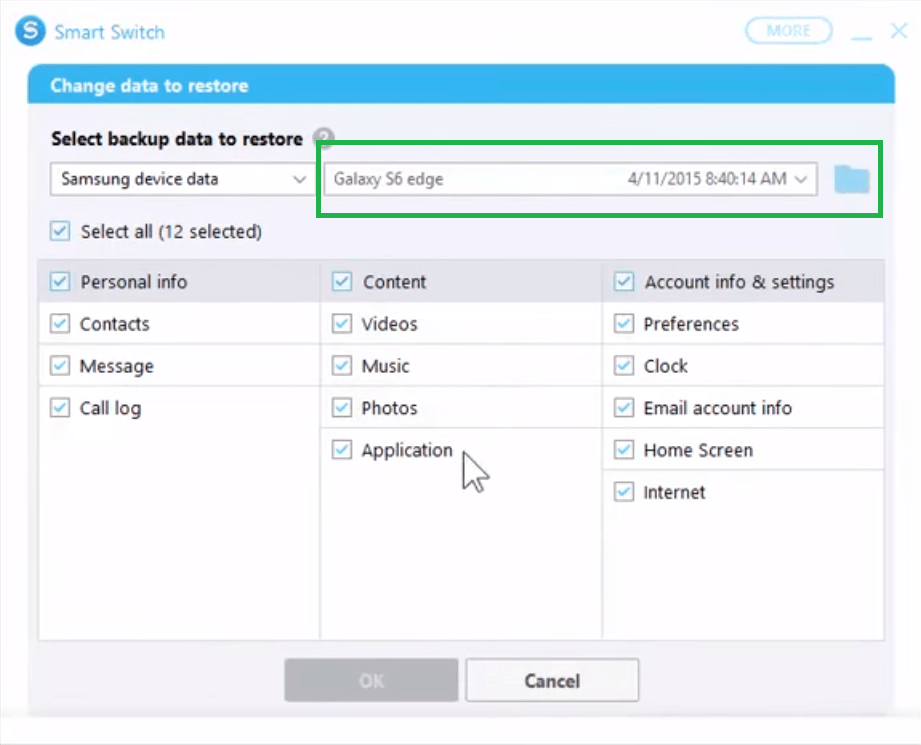 Step 4. From the Personal content, choose "Contacts" option.
Step 5. Click "OK" and then "Restore now".
Method 2: Recover phone numbers on Samsung from Google account
The first option would be to contact your service provider and inquire if they could retrieve your phone numbers. If that does not work, you could always try the Google method. When you are first setting up your Samsung phone, you are asked to link a Google Account to your device.
Note
Make sure your Google Account is synced with your device before trying this method out.
A synced Google Account backs up all the necessary data to the cloud, in the event that might lead to something similar to this one, losing all the phone numbers.
Step 1. Log in to your Google Account synced with your phone. You can use either your phone, a laptop, or a computer to log in.
Step 2. Go to the inbox of your Google Account and in the same menu, locate and tap on "Contacts".
Step 3. After entering the drop-down menu, click on "More" and then on the "Restore contacts" option.
Step 4. You will notice a pop-up window appears that will state it can recover your phone numbers you have lost within the last 30 days. There are options like "1 hour", "1 day" or "1 week", etc. Choose your desired time-frame for which you would want to restore your phone numbers.
Step 5. Click on confirm and wait for the magic to happen.
Method 3: Restore phone numbers on Samsung from Samsung cloud backup
Samsung devices come with their own built-in Samsung cloud feature. This cloud feature lets device owners back up their photos, videos, phone numbers, and other miscellaneous data on their clouds. The device is usually set to the auto-backup mode, so the cloud backs up your recent data from time to time.
Here is how you can get back your deleted numbers on Samsung through the Samsung Cloud:
Step 1. First go to the "Settings" icon and open it. Click on the "Backup and Reset" option.
Step 2. You will notice a "Restore Data" option under your "Samsung Account".
Step 3. You can choose what data you would like to restore, so in this case it is the phone numbers. Click on the "Contacts" option.
Step 4. Hit "Restore Now" option and all your selected phone numbers from the previous step will recover.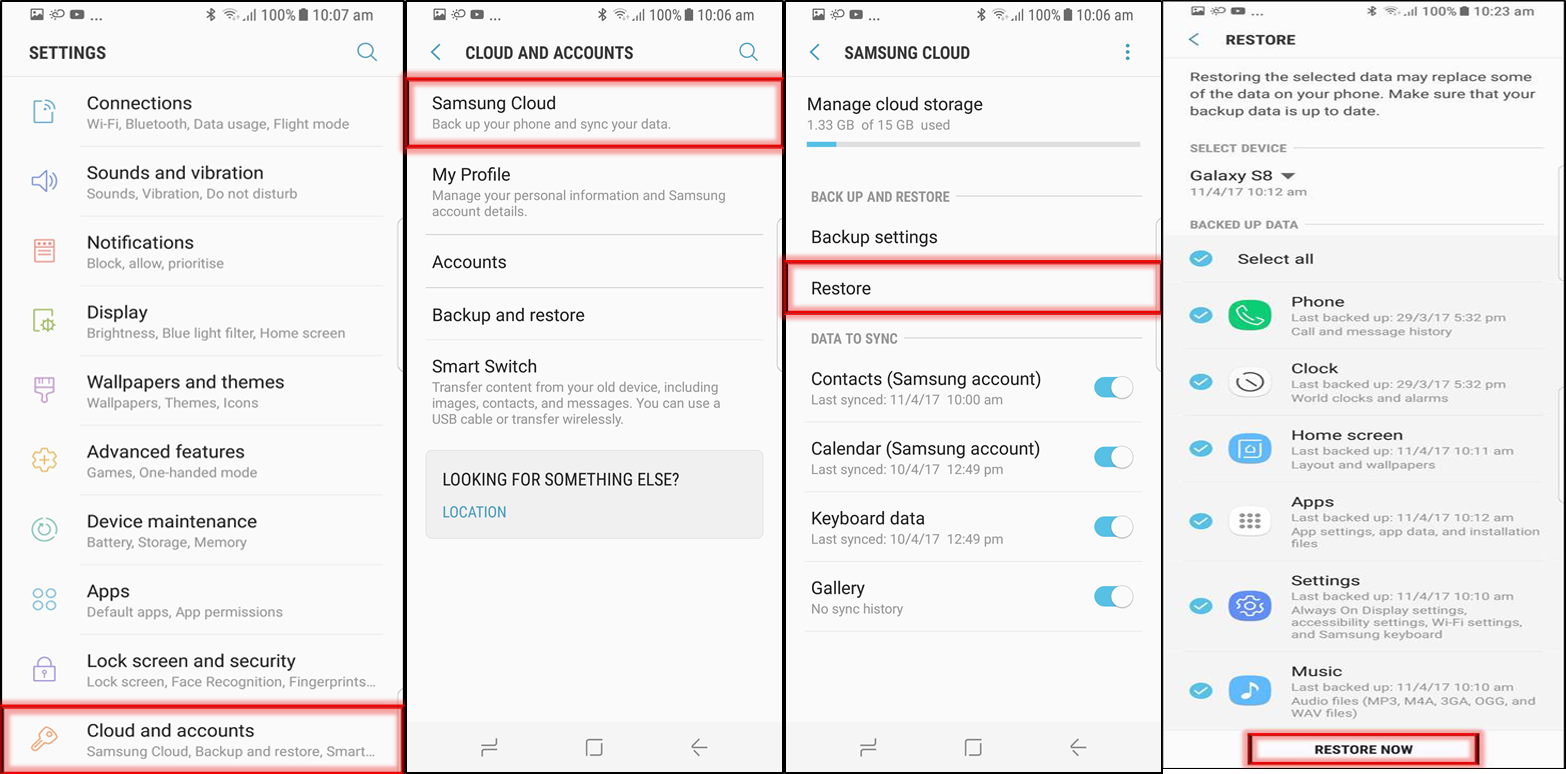 Method 4: How to retrieve deleted/lost phone numbers on Android Samsung using D-Back Android
If conventional ways do not work, there is always D-Back (Android)! D-Back is an outstanding software that scans your whole device for all your lost or deleted phone numbers and then stores them on PC. D-Back makes sure that your backed up data stays secure and ready in the event of some error deleting all your data.
D-Back is indeed one of a kind. It helps you retrieve any lost phone numbers in a matter of minutes. This software is engineered to be a fail-safe. One can easily retrieve phone numbers on a rooted and unrooted phone as well.
Key Features:
Capable of recovering deleted phone numbers without rooting your Samsung device.
It can recover phone numbers lost by accidental deletion, virus attack, system update, and so on.
It can retrieve lost phone numbers on Samsung phones and tablets.
It only takes 3 simple steps to get back all your lost phone numbers, no USB debugging required.
D-Back Android offers a free preview function, which enables you to view the recoverable phone numbers before full recovery.
You can view the phone numbers details by clicking each phone number, including the contact list, email address, personal or company name.
Supports running on Android OS 2.0 to 9.0.
Here are a set of instructions that help you retrieve deleted phone numbers from Samsung Android phone:
Step 1. Download the D-Back (Android) and install it on your PC. Once you've set it up, the software will ask you to choose three recovery methods. Select the "Android Data Recovery" option.
Step 2. You will be asked to select the correct name and model of your Samsung device from the list it offers, and then click on "Next".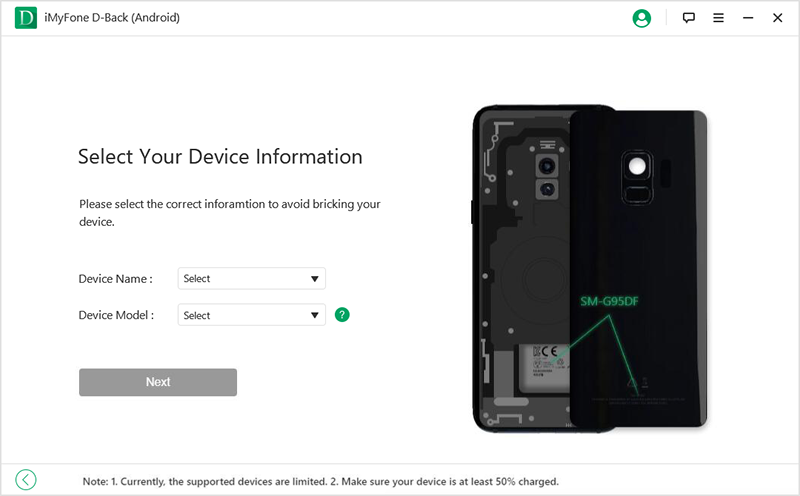 Step 3. After that, your device will directly start downloading a data pack.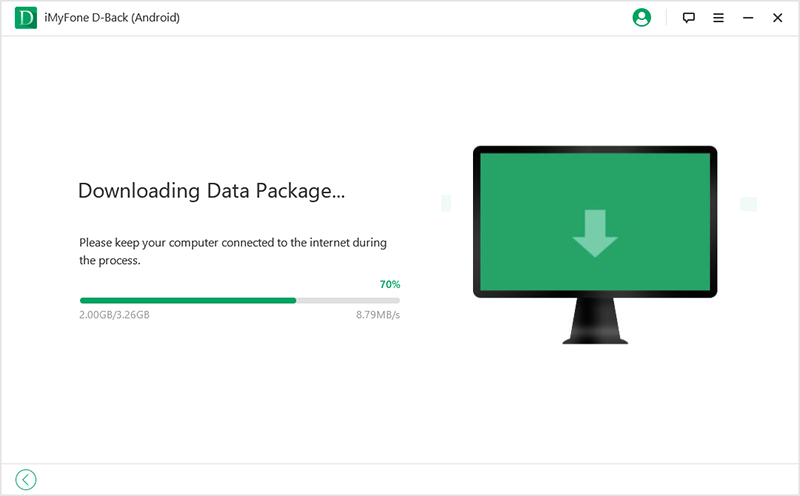 Step 4. Once the data package has been downloaded, you will be asked to connect your Samsung phone to the PC via a USB cable.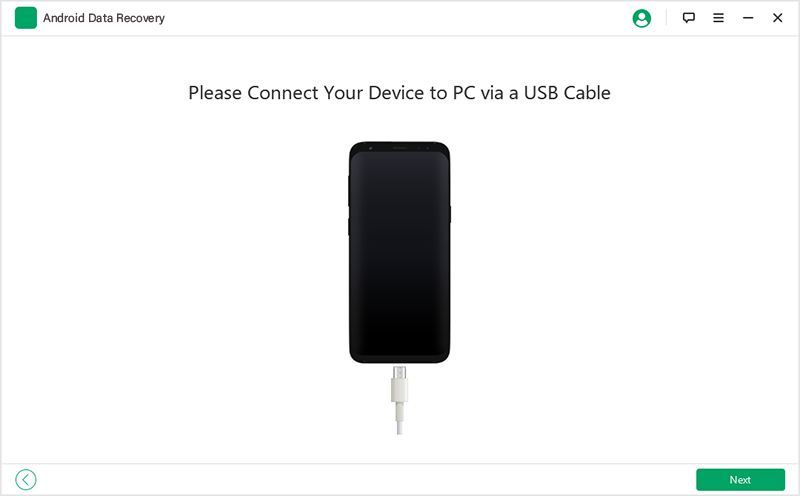 Step 5. The software will take you to a recovery interface and you will be allowed to choose the type of data files you want to recover. Click on "Next" to scan the "Contact" files you have selected.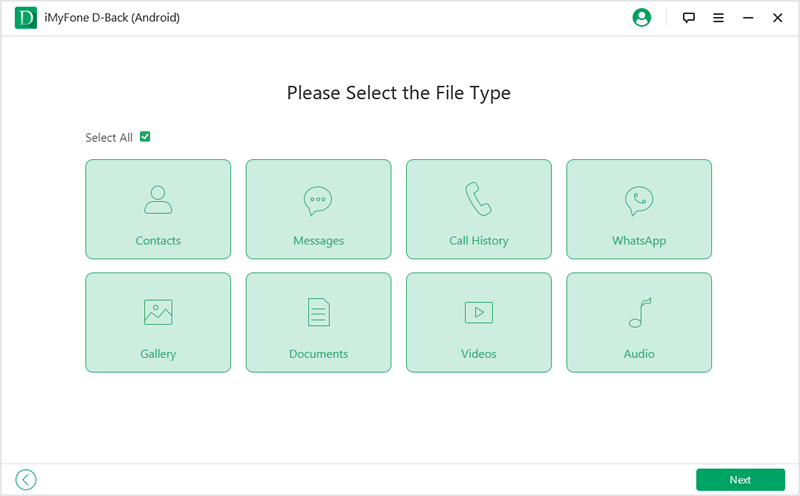 Step 6. Once the scan is done, you're able to preview and selectively recover the specific phone number. Select the phone number you want to recover and click on "Recover".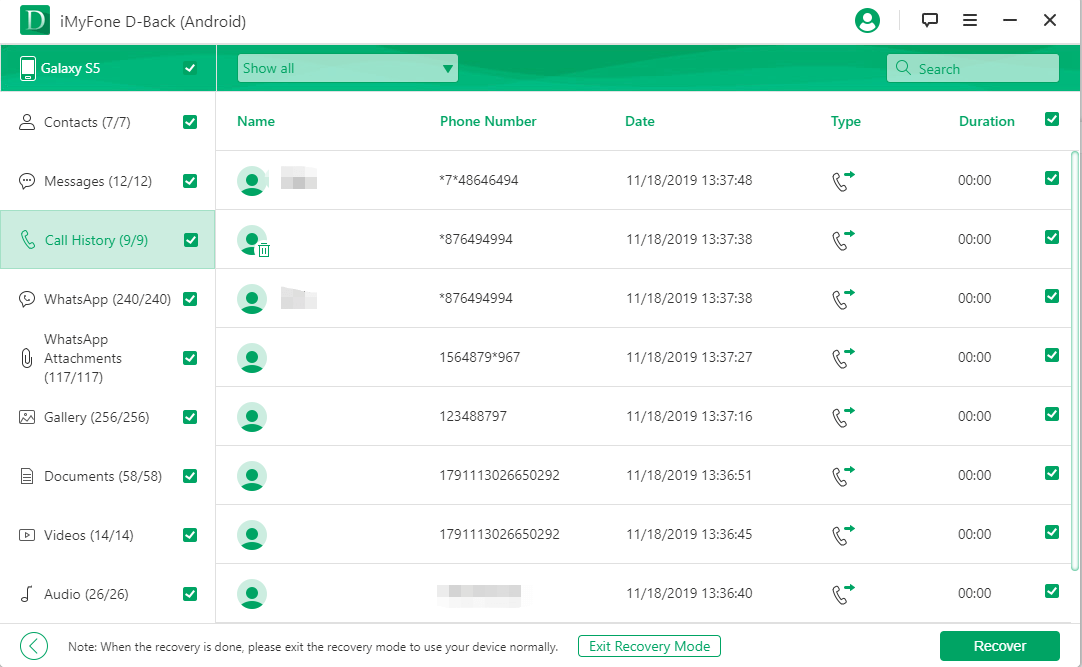 Reviews of the Above Methods
| Apps and Metrics | | Samsung Smart Switch | Google Account | Samsung Cloud |
| --- | --- | --- | --- | --- |
| Need a previous backup or not | No | Yes | Yes | Yes |
| Supports selective contact recovery | Yes | No | No | No |
| Preview phone numbers before recovery | Yes | No | No | No |
| Free Trial | | No | No | No |
Conclusion
There are a great many methods to recover deleted phone numbers and other important data on Samsung. Sometimes, the conventional methods like the Google Account method and the Samsung Backup method may fail. During times like those, when all seems lost, you can turn to D-Back (Android) and recover deleted numbers on your Samsung device.