If you're reading this article then it means that you're facing a problem with your Samsung Galaxy phone. You might have been playing a mobile game or watching some videos on Youtube and suddenly the screen went black and your phone won't turn on. First of all, don't panic! Your data is secure for the most part, however, you may have to change your phone.
Now, if you're looking for ways on how to perform data recovery on your Samsung device with a black screen of death, then you're at the right place as we'll take you to step by step on what could be the reasons for the black screen and how you can safely rescue data from your phone. Similarly, we'll also tell you how to fix this issue and make sure it doesn't happen again. Let's begin.
Common Reasons for Samsung Galaxy Black Screen of Death
Before we begin with the data recovery process on your Samsung Galaxy with a black screen of death, let's go over some of the reasons why you're getting a black screen in the first place.
Water Damage: Most Samsung Galaxy phones are water-resistant but not waterproof, which means they'll be fine if they get a few drops or tiny splashes, but any big spillage or constant contact with water can mess up the hardware. In case your phone accidentally comes in contact with water, make sure you turn it off immediately and dry it out.

Drop it to the Ground: The impact of dropping your phone to the floor can cause the black screen to appear. You can't stop it but you can be more careful the next time.

Poor Battery: If you're seeing a black screen on your Samsung device, it may because your phone simply ran out of battery. Charging it up will confirm that your phone isn't broken, just ran out of power.

Shady Third-Party Applications: Be careful while downloading applications, because sometimes apps come along with viruses that can mess up your phone. Only trust Google Play store.

Full Storage: Try deleting unwanted data from your phone regularly, as full storage can be the cause of the black screen on your Samsung Galaxy device.

System Problem: Sometimes the problem of a black screen can be more complicated and related to the inner hardware corrupting or a system error, which can only be resolved by the manufacturer in most cases.
It's frustrating when you got caught into a situation like this. If you didn't back up the data in this Samsung phone with a black screen, you may think they're gone for good. However, there's still a possibility to get them back. Let's look at ways you can apply to extract data from Samsung phone with a black screen.
How to Extract Data from Samsung with Black Screen of Death
We've got the easiest and most effective solution for the data recovery on Samsung phone with black screen of death - iMyFone D-Back for Android, this software will recover all sorts of the data from your Galaxy device. It is a simple-to-use software with only three steps through which you can recover all your data, including WhatsApp chats, photos, contacts, call history, messages, and more.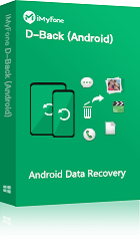 1,000,000 Downloads
Main Features of iMyFone D-Back Android
High-Speed Data Recovery: First and foremost, the speed of recovery for whatever you've lost is instant.

Filter and Preview Function: D-Back lets you preview the data you want to recover before the actual process begins to ease up data management.

Export to Computer: You can directly export all your data to your computer whether they're in CVS, HTML, or VCF formats, which avoids overwriting the current data on your phone.

Wide Application: Supports recovering data on your Samsung phone with a black screen of death, also applicable to the damaged or system-crashed devices.

Completely Safe: Using D-Back is completely safe as your information is protected and there is no breach of data post-recovery.
Now here are the simple steps to use D-Back to start the data recovery process on Samsung device with a black screen of death:
Step 1. Download D-Back on your computer, and launch the application. Select Broken Android Data Extraction mode.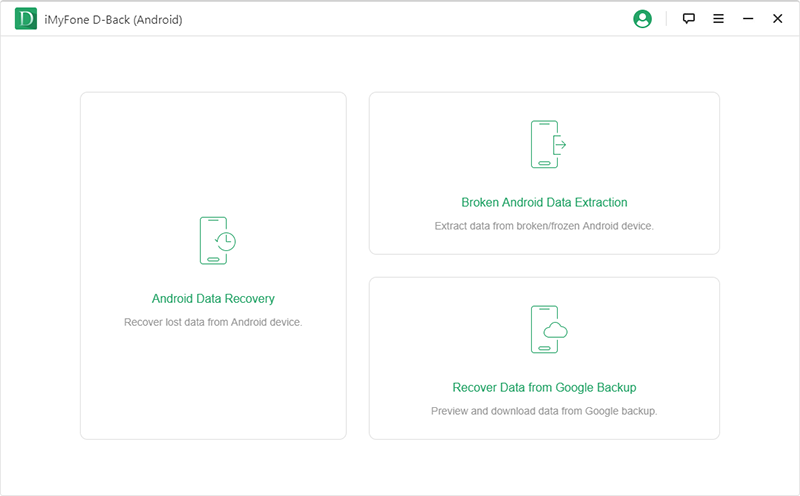 Step 2. Choose the name and model of your Samsung device from the drop-listed menu, then click "Next" button.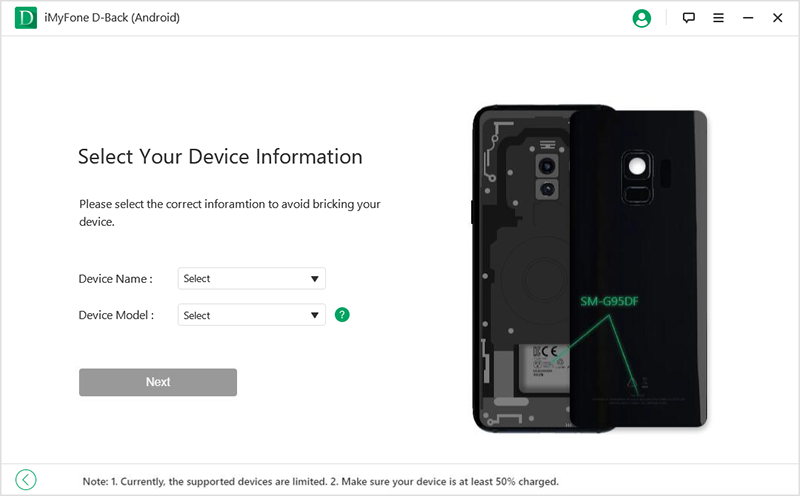 Step 3. D-Back then will download the correct data package for your device.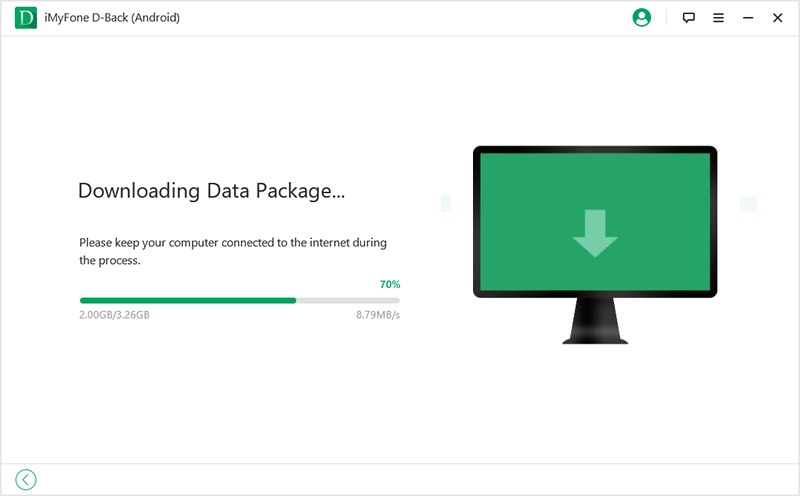 Step 4. After the required compatible firmware has been downloaded, connect your Samsung device to your computer and click the "Next" button. Follow the instruction to put your device in Download Mode.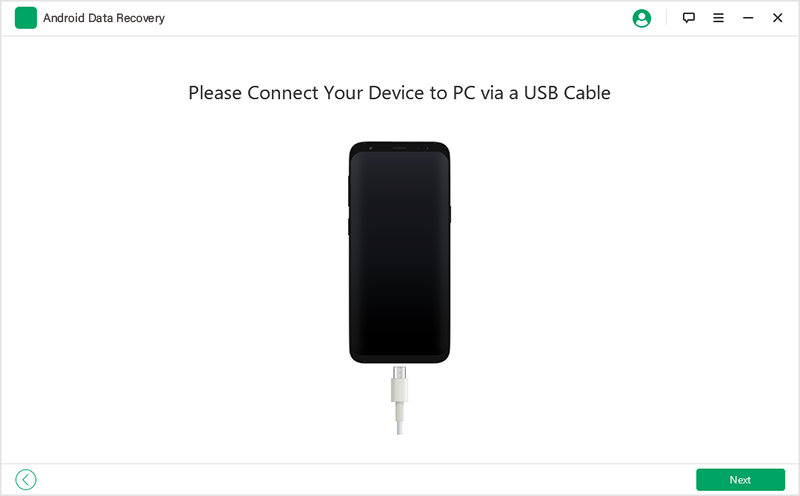 Step 5. Select the data type you wish to recover/extract from the given data types on the screen.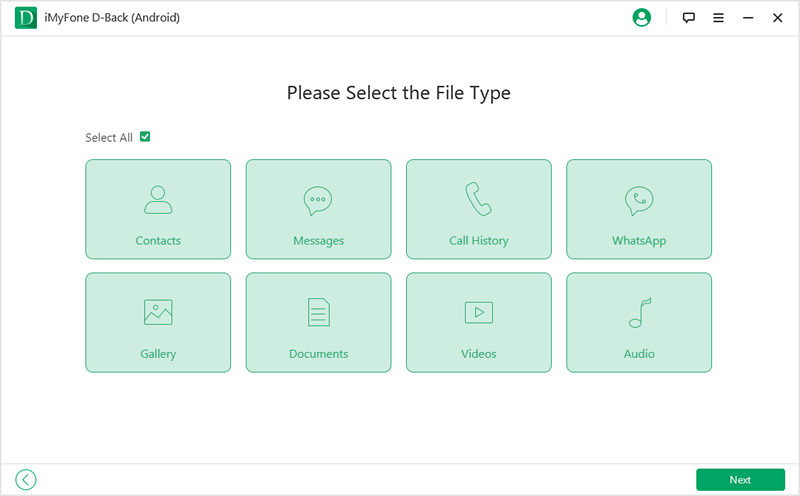 Step 6. After the scan is finished, all the discovered data will be organized and displayed, click the one you want to recover, and select the path to save on your computer.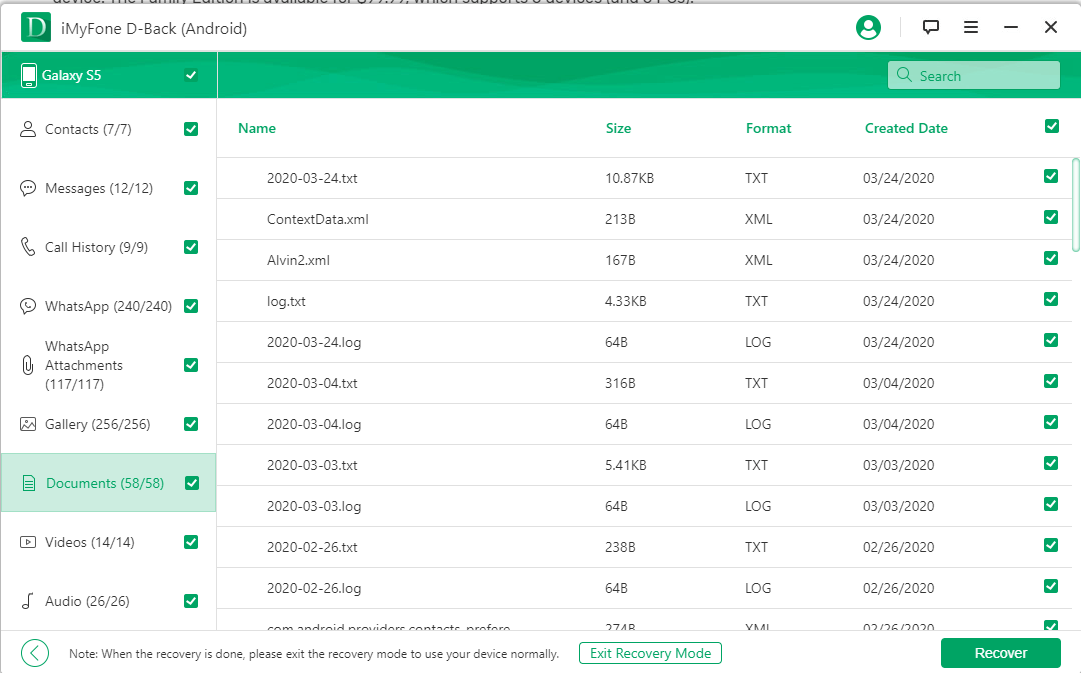 How to Fix Black Screen of Death on Samsung Galaxy
With your data recovered through the D-Back software, let's begin on fixing the black screen of death on your Samsung phone as there may be some way to save it as well. Try the below methods to resolve the black screen for your Samsung Galaxy phone:
1. Soft reset
In order to perform a soft rest on your phone, simply remove all protective cases/covers and the battery, let it rest out for at least 30 seconds. After that, place back the battery and try turning it on again.
Sometimes, a soft reset does the trick and the black screen goes away. If that isn't the case, try the next option.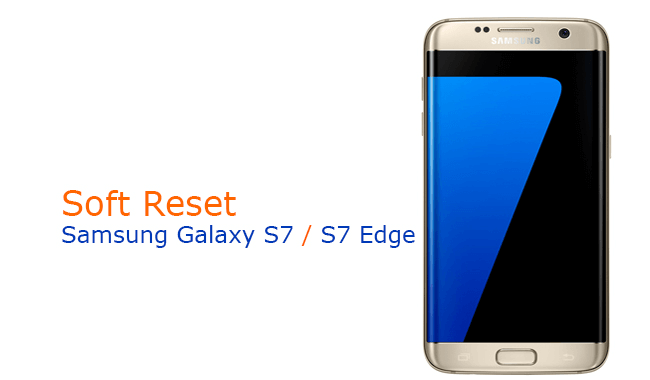 2. Take out SD card
There have been cases with Galaxy devices that the SD cards would cause the black screen. To check for that, simply take out the SD card along with the battery for at least 5-10 seconds.
Put the battery back in its place and charge your phone after that. After a while try turning it on, and hopefully, it will work. If that doesn't work, the next option will be your last resort.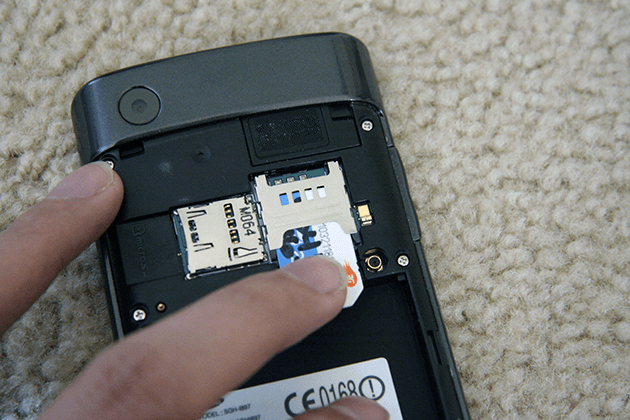 3. Hard reset
In order to complete a hard reset on your phone, remove the SD card, insert the battery back in your phone and plug it to a charger. Now, press and hold the power button, Volume Up (+), and Home button till the phone goes into recovery mode.
Once in recovery mode, perform a factory reset by using the Volume Up (+) and the Volume Down (-) keys.
Note
Please note that your data will be erased, so before doing a hard reset, make sure it is recovered through the D-Back software and saved on other devices.
Bonus Tips: How to Make your Samsung Phone Run More Smoothly
Lastly, here are some tips to make your phone run smoothly:
Enable power-saving mode which make sure that less battery is consumed while the apps running in the background.
Put your display brightness setting on low to save battery power.
Turn off all vibrations as they use up a lot of battery as well.
Disable smart gestures that you often don't need.
Background apps and notifications usually cause your phone to freeze or hang up, disable them to avoid such circumstances.
Conclusion
Sometimes fixing a Samsung Galaxy with a black screen of death is not that easy, to avoid any data loss or well protect the data on your phone with a black screen, you'll need the help of a reliable data recovery tool like D-Back Android.