Breaking or losing your phone can be troublesome in itself, but losing all of your data can be even worse. But it doesn't have to be!
While most of us are aware of this these days, text messages are items that are often not backed up. Unfortunately, depending on your settings, your phone might not automatically save images you receive via text. Thereby, when you lose or break your Samsung phone, you might lose some important items.
This guide will help you restore SMS on broken Samsung galaxy S7/S6/S5/S4 versions. These steps should work for other Samsung devices too, however, I'd also recommend looking at our general Android text message recovery guide.
Things to Do First….
Before getting started, it's important to find out what damage your phone has. If your phone is working, and you can connect it to your computer, then D-Back for Android (below) will be your best method. Alongside recovering messages, it helps recover all other files too such as images, videos, WhatsApp messages, etc.
If the issue is only a broken screen, then the Samsung Find My Phone application is a good alternative to recovering messages from your broken Samsung Galaxy. Unfortunately, it does have a number of prerequisites that you might not meet.
Part 1: Retrieve Deleted Text Messages from a Broken Samsung Phone with 1 Click
The quickest and easiest way to recover data from your Samsung phone is by using iMyFone Android Data Recovery tool. It's extremely simple to recover your SMS with this tool, and you'll just need to follow the steps below. (You will need access to a PC running Windows 7 or higher).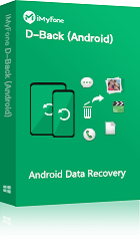 1,000,000 Downloads
What Are The Main Features of D-Back for Android?
Offer 3 smart modes to recover your lost texts.

Recover your deleted text messages without backup.

Preview and selectively recover your deleted texts.

Applicable to forgotten password, virus-attacked, crack screen, and system crash Android phones.

Regardless of whether you have a rooted or unrooted Android device, D-Back works.

Suit for anyone with its easy-to-use interface.
Steps to Extract Text Messages From Broken Samsung
Step 1. Download the D-Back (Android) software to your Windows PC. Once downloaded, follow the step-by-step instructions to install it.
Step 2. Click "Broken Android Data Extraction".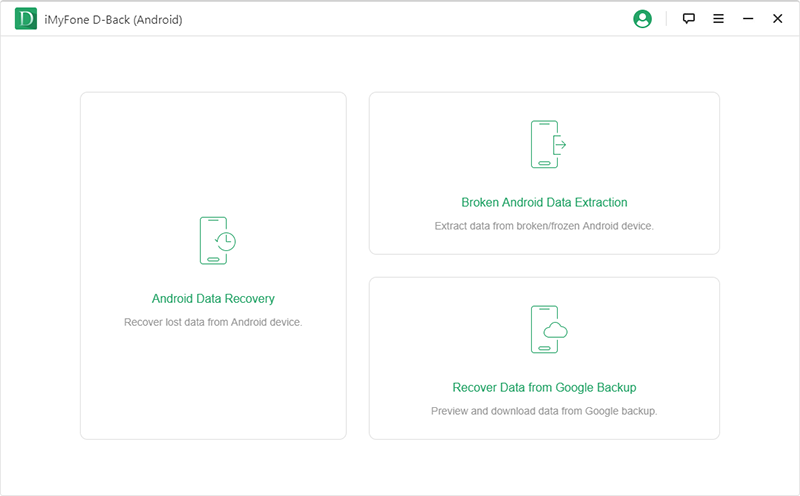 Step 3. Select the model of the Samsung Galaxy phone you're looking to extract text messages from. This will allow the software to download the data package that will help it interface correctly with your phone and recover your data.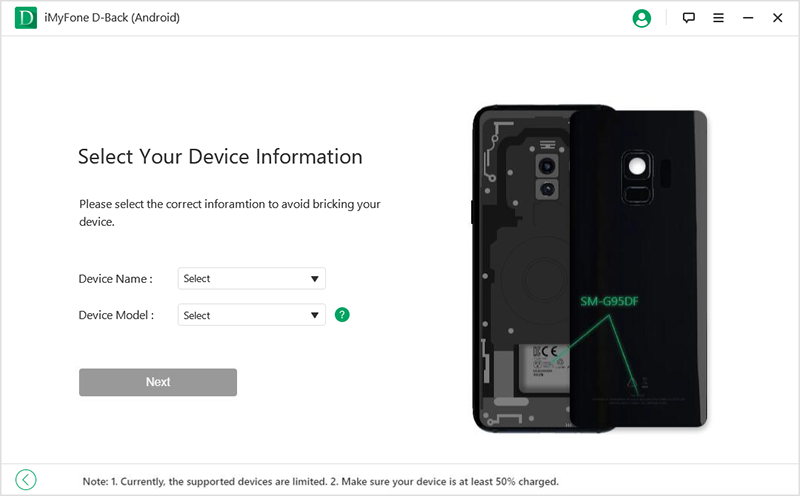 Step 4. Connect your Galaxy phone to the computer and follow the instructions to put it into downloading mode.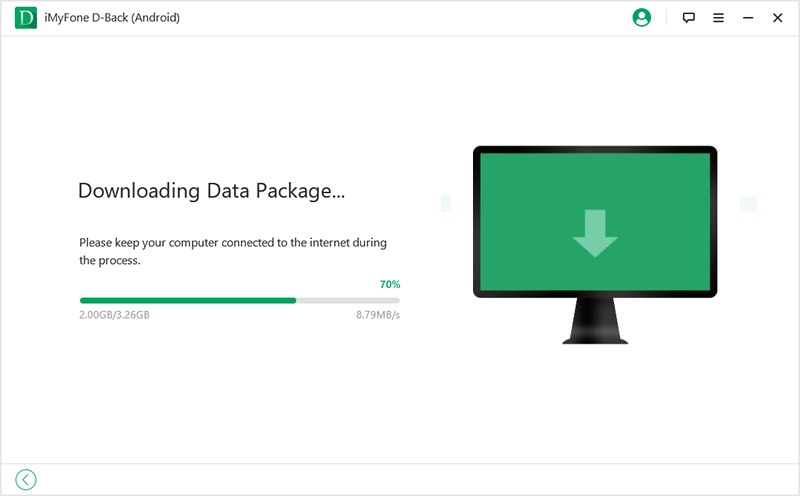 Step 5. Select "Messages" from the options on the screen and start the scan (you can, of course, select additional data types to recover if you'd like).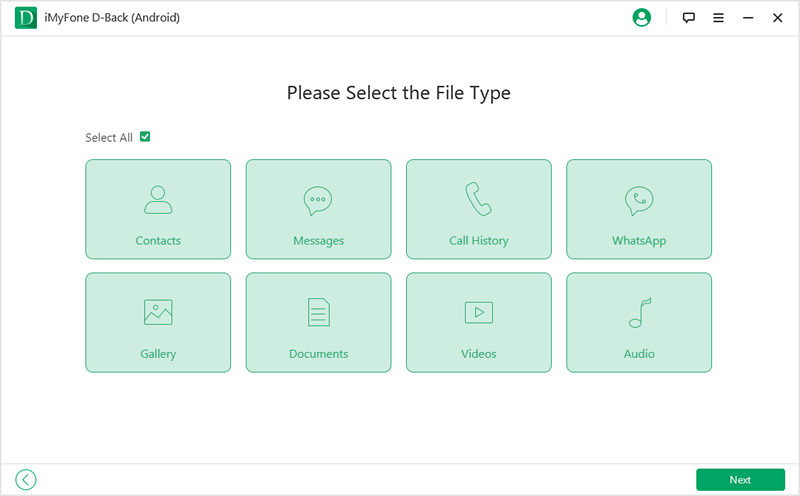 Step 6. Click "Recover" to save their information to the computer.
a. D-Back will automatically look for text messages on your phone.
b. Once it's finished, you'll be able to preview messages.
c. If you're looking for a specific message, you can use the Search option to search for the sender or content of the message, you can then recover only these messages by selecting them individually.
d. If you'd like you can also download all of the recovered messages. You'll be able to save them in CSV, HTML, or VCF format. CSV is the most user friendly, as you're able to open this in Excel (or similar).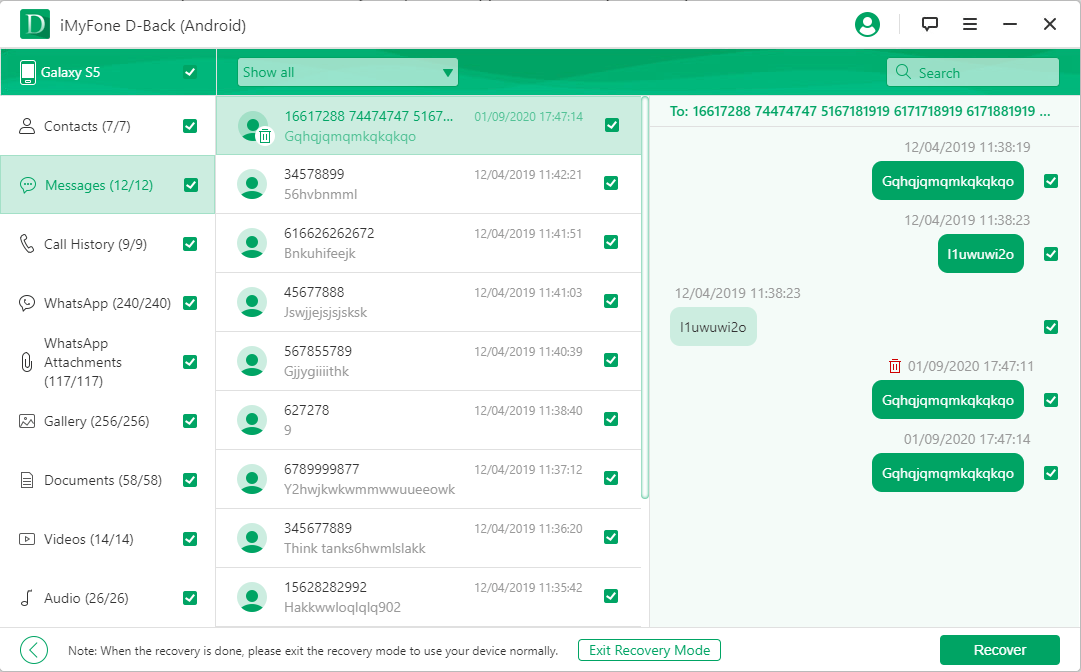 Part 2: Recover SMS from Broken Samsung Phone via "Find My Mobile"
Like all major phone makers, Samsung has its own application that can help you with a lost phone. Theirs is called "Find My Mobile", and it comes automatically installed with all new Samsung Galaxy devices.
This method is great if you have a broken screen, but your phone needs to meet all of the following criteria:
Find My Mobile is installed on your phone.

It will need to be connected to the internet.

You have a registered Samsung account.
Unfortunately, if your phone/ account doesn't meet all of the above criteria, then this method won't help you out.
To recover text messages from your Samsung using Find My Mobile, follow these easy steps:
Go to Samsung Find My Mobile, and log in using your credentials.

Once you're logged in, you'll have access to a range of actions.

Select "Unlock My Screen".

Now use your cable to connect your phone to your computer.

Once connected, you can use your File Manager to explore your device, and it's contents
While this method is easy, you do need to meet a lot of requirements, and when downloading the documents, you'll also need to know where to look on your phones internal memory (or SD card).
Alongside the Find My Phone application, you could also try the Samsung Smart Switch application. While intended as a method to transfer data to your new phone, it also backs up all of your data. Therefore, if you've made a backup using it, then you can now restore this.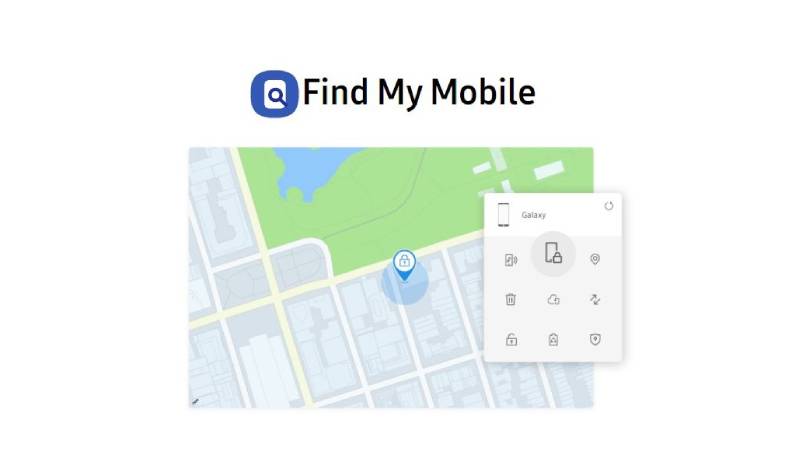 Part 3: Retrieve Broken Samsung Messages from Your Phone Carrier
You might not be aware of this scary fact, but many phone carries keep copies of your text messages (as well as your calls lists). Therefore, if what you're trying to restore is really important, and you have absolutely no access to your phone, you can contact your phone carrier.
Some phone carriers, such as AT&T have an option for this in your account overview, but with other service providers you may need to contact their customer service department. Depending on the terms and conditions of your contract they may also charge an additional fee for providing you with this data.
This method also depends on the country where you live. In some countries, due to privacy laws, keeping logs of your text messages might be illegal. However, I'd still recommend talking to your service provider, as asking a quick question is probably quicker than researching the privacy and logging laws in your country.
Part 4: DIY Tips: Repair a Broken Samsung Device
If you're reading this guide because your phone is broken, here are some simple tips that can help you repair your device. iMyFone provides this information on an as is basis and we can't be held responsible for any damages if you try to repair your device.
Use the right tools and accessories. Each device is assembled differently and needs specific tools.
Identify the issue at hand. Some parts, such as a broken screen, are easier to fix than others.
If your phone is still under warranty or you have insurance then utilise that as it's cheaper and easier. Not to mention that you'll get a brand new phone.
Know how to fix firmware/ software errors on your phone, and do a general restore if something doesn't work.
Your Android SMS, Protected for Good
Hopefully, this guide has helped you recover missing messages from your broken Samsung phone. Have a look at our related articles below to see if there are any other issues that D-Back for Android can help you with.