All of my private pictures on Android gallery were accidentally deleted by myself! My device is a Samsung Galaxy S9. Any way help me recover lost photos from my Android gallery without backup?
Images speak a thousand words. It isn't easy to recover deleted photos from galleries on Android. Unlike iPhone and computers, they have "recently deleted" folders which are often known as "recycle bin." Most times, we capture pictures of moments that can't be relived. What happens when we accidentally delete it or lose it due to a factor that is entirely out of control. Do we give up and allow the pictures to go? No. In this article, we will show you how to undelete the private photos from Android gallery app trash without backup using your phone and with a computer too.
How to Restore Permanently Deleted Photos From Android Gallery App without Backup(Recommended)
Both of the two methods above have a catch attached to it. What happens if you don't have a backup of your recently lost photos/images? Should you give up? No. With a third-party tool like iMyFone D-Back Android, it is possible to recover deleted private photos from the Android gallery app trash without any backup.
D-Back Android is a secure data recovery tool for Android phones which features a high successful recovery rate. It won't keep any of your personal data. This tool allows you to get back deleted or lost data (including images) on your Android device, not taking into consideration how you lost it. D-Back has many features, as listed below.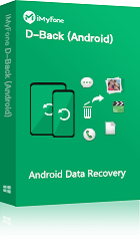 1,000,000 Downloads
Main Features
You don't need a backup to retrieve your photos from Gallery app trash on Android with D-Back.

D-Back has a 98% successful recovery rate. And your privacy is treated as a top priority.

With D-Back, you can preview your photos for free before you completely recover them.

It allows you to choose the specific gallery photos to recover and no need to restore all.

D-Back aids you in recovering folders and different data types, for example, photos, contacts, messages, call history, audio, notes, videos, and also WhatsApp data (with or without a backup).

Irrespective of how you lost the photos, D-Back effectively recovers photos lost from Gallery due to system crash, virus attack, broken screen, etc.
[Steps] How To Get Back Recently Deleted Private Photos from Android Gallery App Trash Without Backup
Step 1. Visit the iMyFone official site and download the D-Back (Android) for your computer. After installation, launch the program and go to step 2.
Step 2. D-Back offers 3 modes of recovery. Select the recovery mode that's convenient enough for you. In this case, it will be "Android Data Recovery".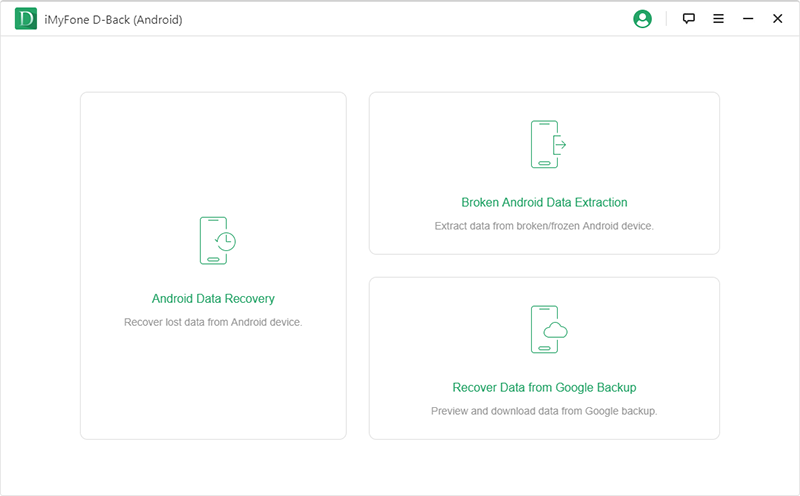 Step 3. In the next window, click "Start." From the options given, ensure you select the correct Device Name and Device Model.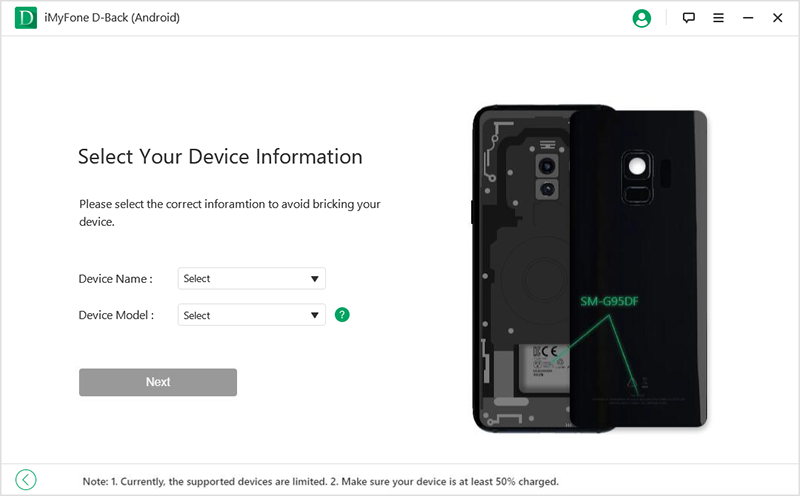 Step 4. The program will automatically download the matching package for your Android device. The download speed depends on your internet connection.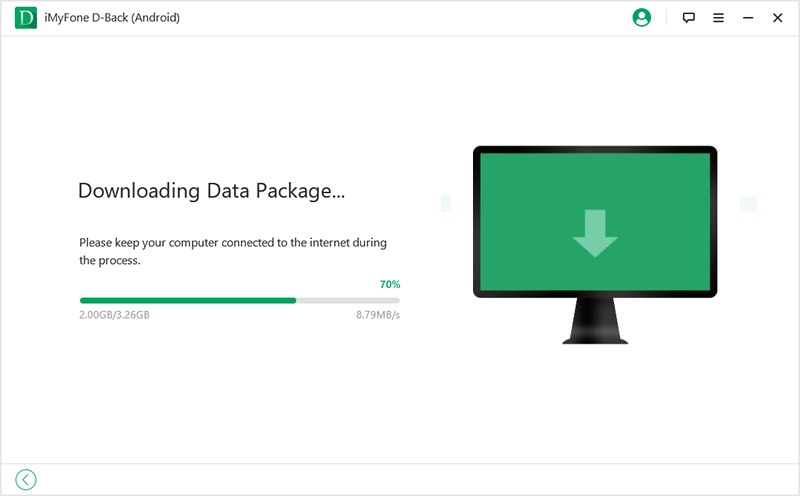 Step 5. Connect your Android device to the computer with a working USB cable. Follow the on-screen instructions to put your device in Download Mode.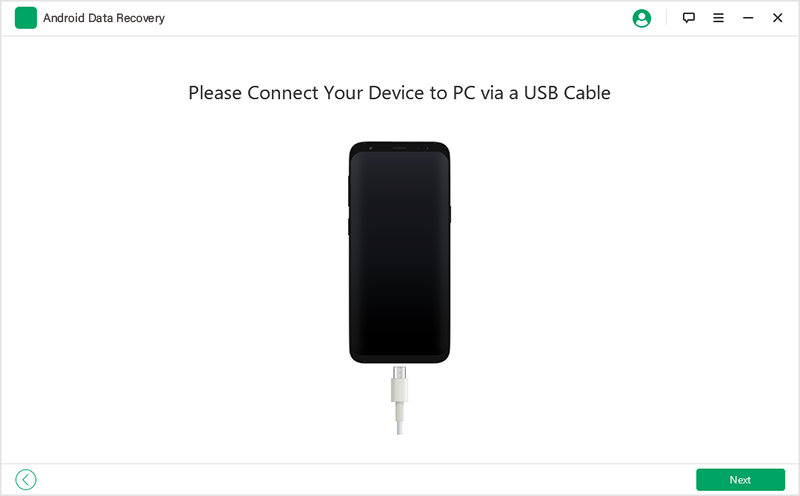 Step 6. The next window is the recovery interface. Here, select the file type you intend to recover. Then click "Next."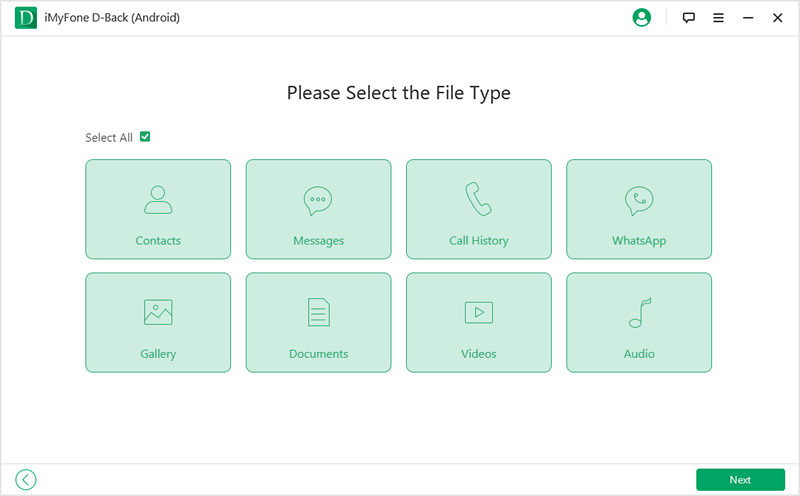 Step 7. When the scan completes, D-Back will list all the recoverable photos from Gallery for you to preview. Go through them and select the photos you want to retrieve, then click on the "Recover" button.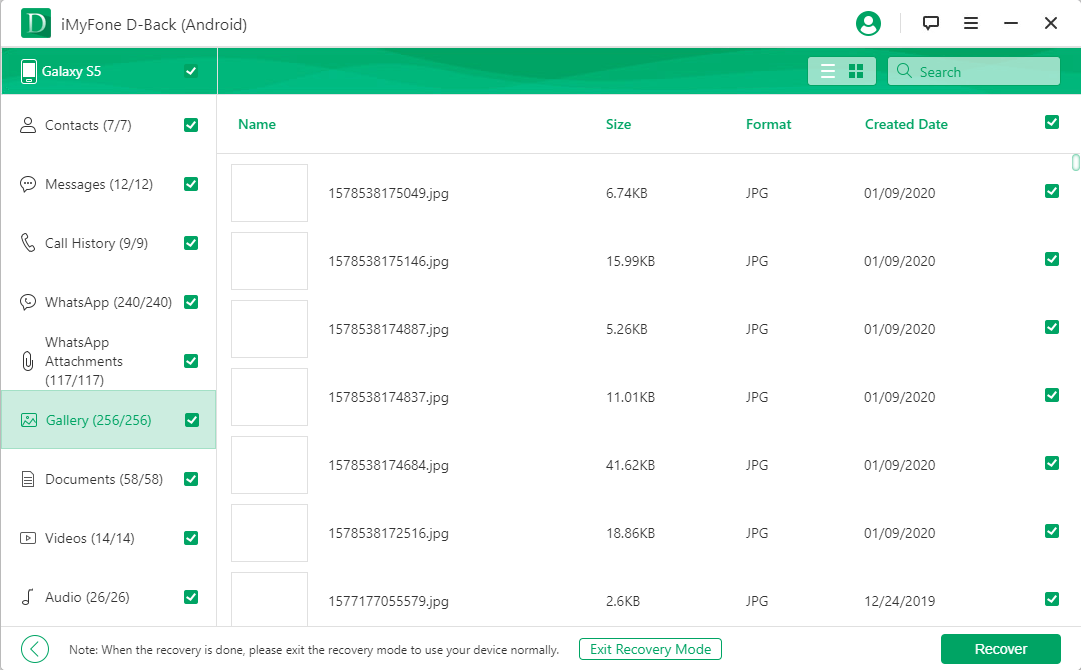 Is It Possible To Recover Recently Deleted Photos On Android Gallery App Trash/Recycle Bin?
The most straightforward answer is Yes. Nothing is completely deleted, immediately. Although it isn't visible in your Android Gallery app trash/recycle bin, the picture still exists on your device, no matter the storage medium it was on.
The space that had the picture is marked unused though the image still exists there. It's better to stop using your device immediately to avoid your phone from writing new data to that location. Any slight operation that involves creating new data on your Android could completely delete your photos, making it unrecoverable. Keep reading to see ways to undelete the gallery in Android.
How To Retrieve Deleted Photos From Android Gallery App Free With Cloud Backup
Thanks to technology advancement, it is possible to store your data both locally and in the cloud. Google, which is highly synonymous with Android, offers one such service. When you take a photo, depending on your settings, the image is stored both on your device and in one of Google's cloud services. Go down for steps and a better explanation.
Way 1. How To Undelete Gallery Photos With Google Drive Free
Using Google Drive, it is possible to undelete the gallery on Android. Google Drive is cloud storage available to all Google accounts, offering 15GB of free storage space. With Google Drive, you can recover your photos from your Android phone.
Step 1: Open Google Drive on your device. Android phones have the Google Drive app pre-installed. If you are using your computer, open the Google Drive URL.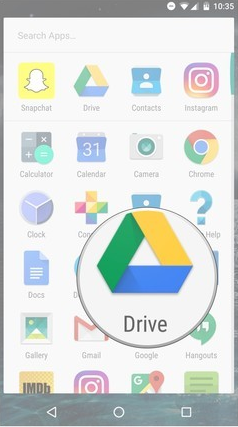 Step 2: Search for the uploaded photos you want to restore and download them to your mobile device or PC.
Pros
The awesomeness of this method is, your photos will remain on your Google Drive for as long as you want it.
Cons
The downside is, for you to be able to recover a photo from Google Drive, you need to have uploaded it to Google Drive before it was lost on your device.
Way 2. How To Recover Deleted Photos From Android Gallery With Google Cloud without Computer Free - Google Photos
The latest versions of Android OS come with the Google Photo app. To be able to recover your photos with this app, you must both have the app on your phone and have turned on the "backup & sync" feature. That feature automatically uploads your photos to Google's Photo Cloud storage as soon as it is created in your device. If you delete a photo from your Android gallery, the Google Photo stores it in the Trash folder. With Google Photos, you can access the gallery on Android.
Step 1: Locate and open the Google Photos app on your Android device.
Step 2: Tap the Menu button, which is at the top left corner (three dots), then select the "Trash" option. Everything visible in your Trash is recoverable. The data there are stored by default for a maximum of 60 days.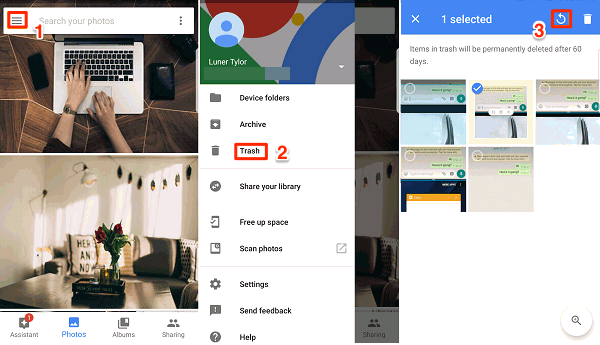 Step 3: Tap and hold on a picture to select it. Next, tap the restore button at the top left to restore it.
Note: The recently deleted photos will be stored there for only 60 days. After then, they are permanently deleted and won't be recoverable anymore.
Review of the Above 3 Ways
D-Back, with its impressive features, has proven to be the best method among all three stipulated here. Google Drive might store your photos for free, but what happens if you forgot to upload the pictures to your Drive?
Google Photos cloud storage, on the other hand, keeps your deleted photos for 60 days only, and to have the backup of these photos, you must have activated the "backup & sync" option earlier on. If you haven't done this, you can't retrieve your photos from the Android gallery.
iMyFone D-Back will work effectively with or without a backup. You can also recover photos deleted a long time ago if they haven't been overwritten, no matter how you lost them.
Wrapping Up
Unless deleted purposely, nobody fancies losing their pictures accidentally. In this article, we showed you how to recover the deleted photos from gallery on Android devices using three different methods.
Two methods here have a downside. We then introduced D-Back Android, a perfect tool to help you undelete the gallery on your Android device effectively. Thank you for reading.