Have you ever accidentally deleted a text chain with your co-workers or friends that had important information? Well, you're not alone! We've all been there at one point where our inbox had way too many text messages in it, and in order to free up some space, we accidentally hit the delete button on texts but realized that the SMS we deleted were important. Therefore, you're at the right place to know how to recover deleted text messages on Samsung Note 8.
In today's post, we'll tell you all the steps on how to retrieve lost text messages on Samsung note 8 and how to keep your phone safe. Also, we'll explain how text messages are stored on Samsung phones so that you can understand the process of retrieving those deleted texts easily.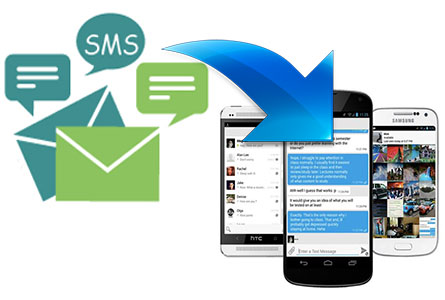 Where Are Text Messages Stored and What You Should Do After the Deletion/Loss?
Before we begin listing the process on how to recover deleted text messages on Samsung Note 8 and Note 9, you should know that all text messages are stored on the internal flash memory of your Samsung Note phone. Once you delete those text messages, they aren't removed immediately from your phone.
Instead, those texts only become invisible and inaccessible for a time before they are removed from your phone permanently. That is why you don't need to panic or lose your sleep over those deleted messages.
But what you can do once you've pressed that delete button is to immediately disconnect your phone from the WiFi and stop using your phone. This will make sure that no further damage is done to those texts you've lost, and you can recover them easily through the process mentioned below.
How to Recover Deleted Text Messages on Samsung S10/S9/S8/S7/S6/A71
Now, in order to know how to retrieve deleted text messages on Samsung Note 8 or Note 9, the following two processes can be used. We're listing down all options but that doesn't mean both are safe for your phone or the fastest.
Nonetheless, we'll guide you through each step and help you find the best solution.
1. Retrieve deleted SMS from Samsung phone without computer
You may know that Samsung Note 8 or Note 9 phones have a cloud feature installed by Samsung - if it's enabled, you can restore all your text messages. The recovery process is quite simple. This is one of the easiest methods to find and get back deleted text messages on Note 8 or Note 9.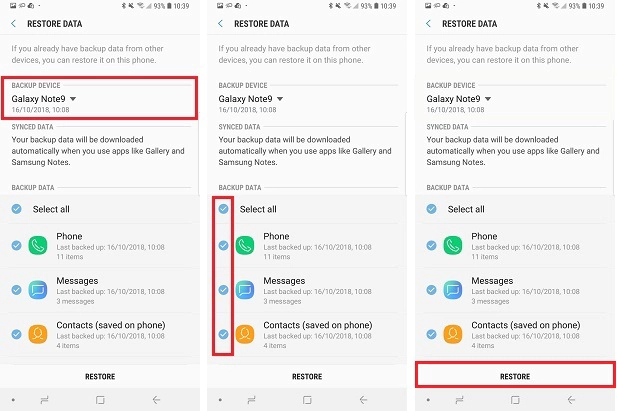 In case, you can easily download different data recovery mobile applications to get back your deleted SMS. But these applications can overwrite your existing data and can cause changes in your phone that won't be correct. Similarly, some applications can install spyware or mess with the privacy of your phone if you are careful from where you download these data recovery applications from.
Having said all that, if you want to know a method for retrieving deleted text messages - with the help of software - that isn't only safe and secure, but also fast, then move on to the next process.
2. Restore deleted text messages on Samsung Note 8 without backup by D-Back Android
If you don't want to take a risk on your phone and the privacy settings, you don't have to go with the above-mentioned options. There is a safe and fast method of retrieving lost text messages on Samsung Note 8/9 through the D-Back Samsung Text Message Recovery Software. It's a Windows application that won't keep any of your personal information. Its high recovery success rate can help restore all your deleted SMS within minutes. And here are some of its features.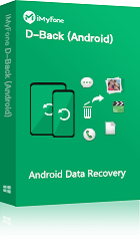 1,000,000 Downloads
Main Features
Scans every corner of your Samsung Note 8/9 to retrieve deleted or lost text messages.

Recovers different file data types, including text messages, videos, contacts, WhatsApp attachments, images, and more.

Fast recovery time without any data loss.

Directly recovers deleted or lost text messages from your Samsung Note 8 or Note 9 without any backup.

Lets you view the scanned SMS before the recovery process for easy data management.
You can use all these features to successfully and easily recover all your deleted text messages along with other files from your Samsung Note 8/9.
Now, let's see what steps to follow to get the deleted text messages recovered:
Step 1. Download the D-Back Samsung deleted text messages recovery software on your computer and install it. After installation is complete, launch the application.
Step 2. You'll see three options on its main menu. Select the Android Data Recovery.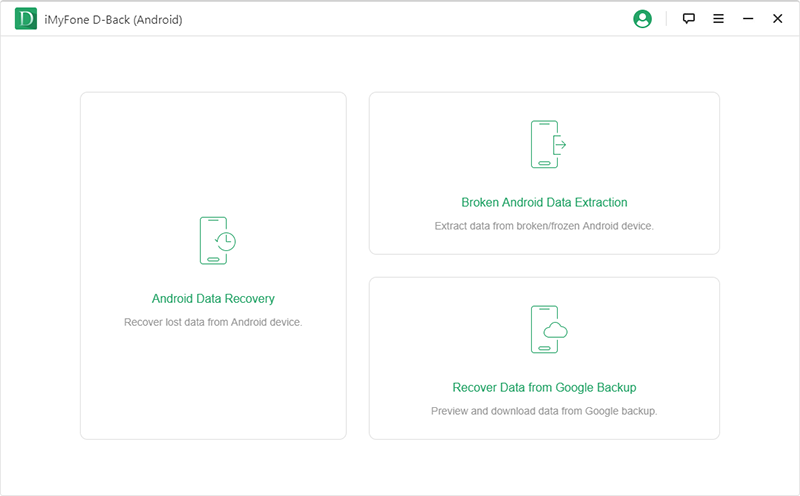 Step 3. Now on the next page, you'll have to find your Android device model and name. Select the correct options and select Next.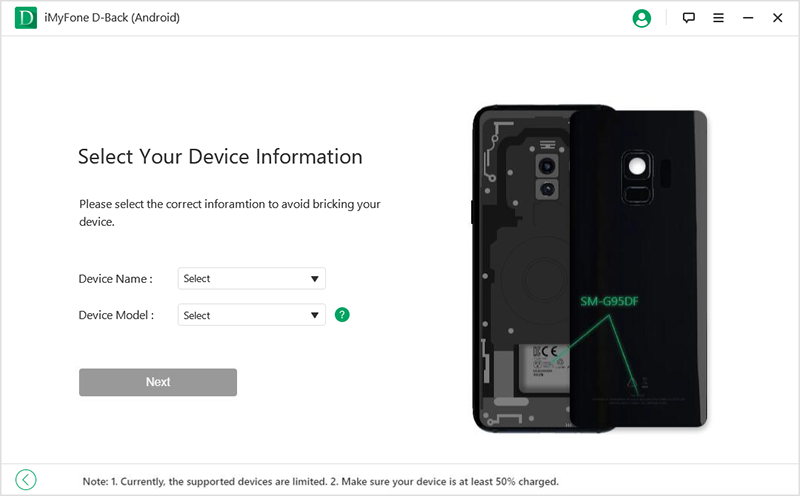 Step 4. Wait for a while for the software to download a suitable data package for your Samsung Note phone.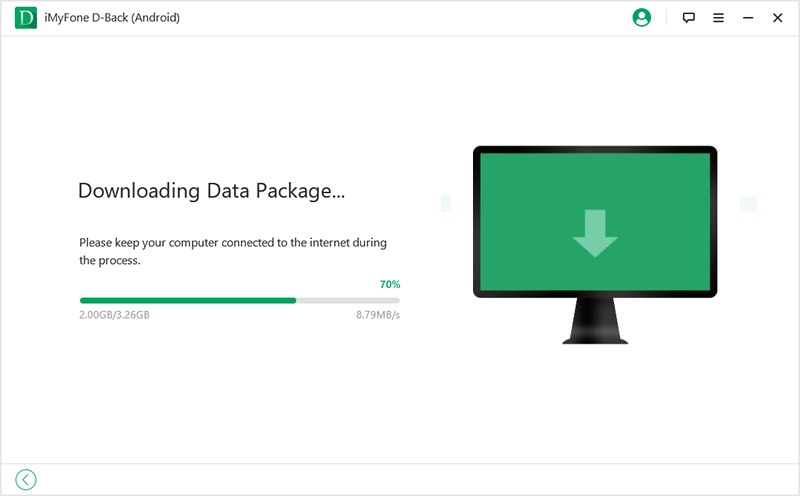 Step 5. After the download is complete, connect your device to your computer.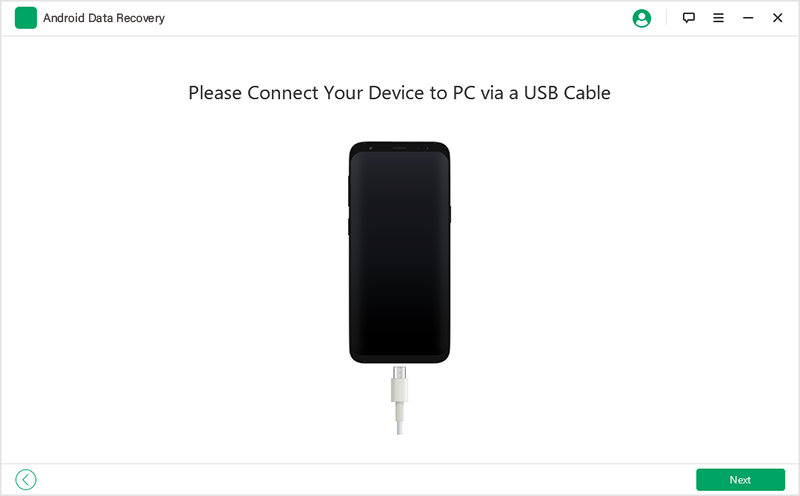 Step 6. Now you can select the file types you want to recover, in this case, Messages, select Next and the scan will begin.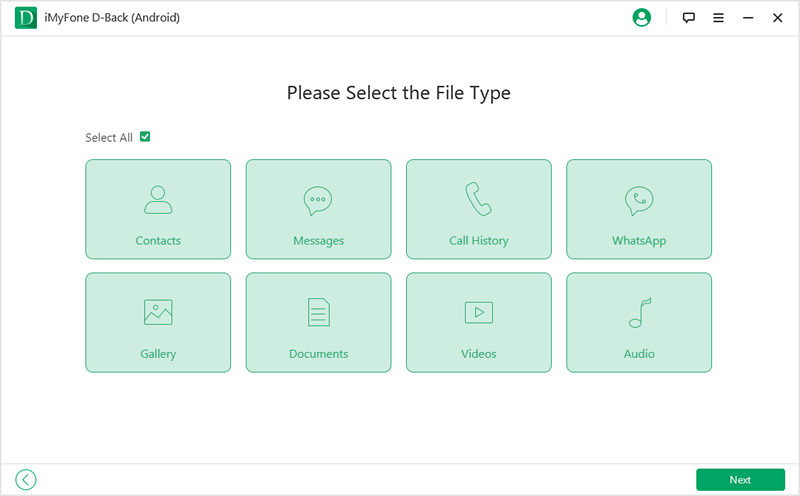 Step 7. Once the scan is complete, you'll be redirected to a preview screen where you can see all the text messages displayed. Select the ones you want to restore.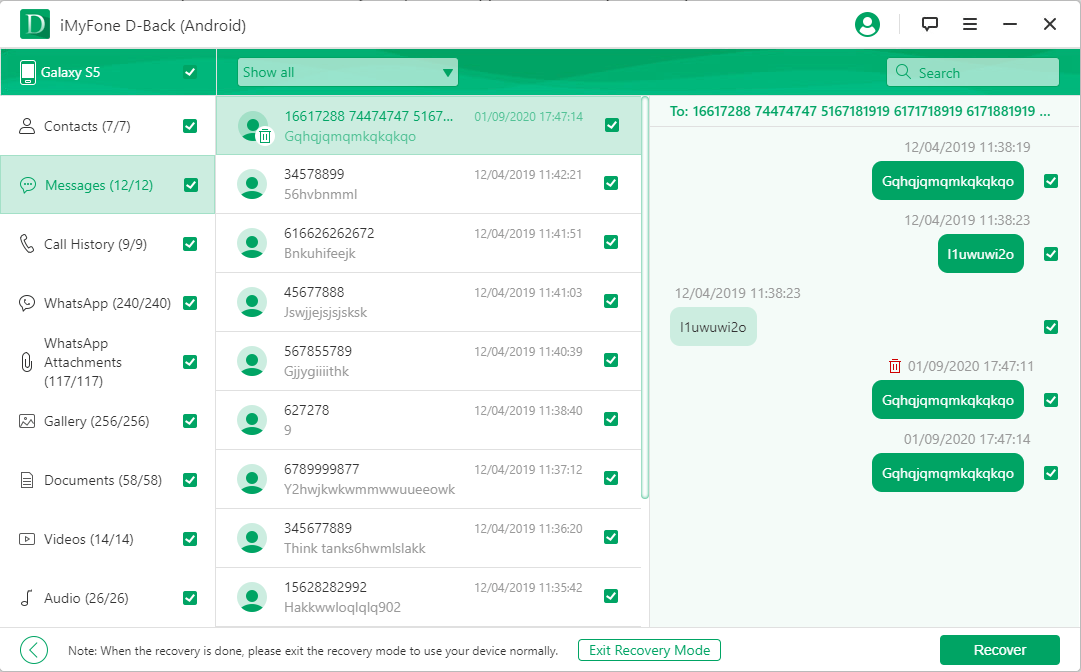 All your selected SMS will be saved on your computer.
How to Make Sure Your Texts Don't Get Lost Again?
Make sure you take the necessary steps to avoid losing texts either on purpose or by mistake:

Enable the Samsung Cloud option on your phone through the settings option. This will make sure that all your data including SMS will be regularly uploaded to the cloud for you to access whenever you lose your data.
Either way, in case you do lose your texts, you can always retrieve them through the D-Back Android SMS recovery software easily and safely.