"Some of my files have been accidentally lost from my Android phone. I have tried to recover them but I cannot find any recycle bin on my phone. I think those files have been deleted permanently. Is there any chance of recovering my deleted files from the internal memory of my phone?"
– By Brady
These days, smartphones tend to play a significant role in our lives. They not only meet the communication requirements, but also offer different tasks such as social network, taking pictures, and gaming. In general, we store private data files in a large amount on our phones such as notes, music, pictures, and contacts among other things. There are times when we accidentally delete these items and then wonder where do the deleted files go on Android. Besides, we must figure out how they can be recovered.
The loss of files is capable of leading to unhappiness and trouble. The truth is that it is quite common for people to lose files from the internal memory of their phones. Many reasons can contribute to files being lost. The good news is that you can recover your files. Our editor recommends D-Back for Android, it can get back deleted files from Android internal memory, Download D-Back for Android free now.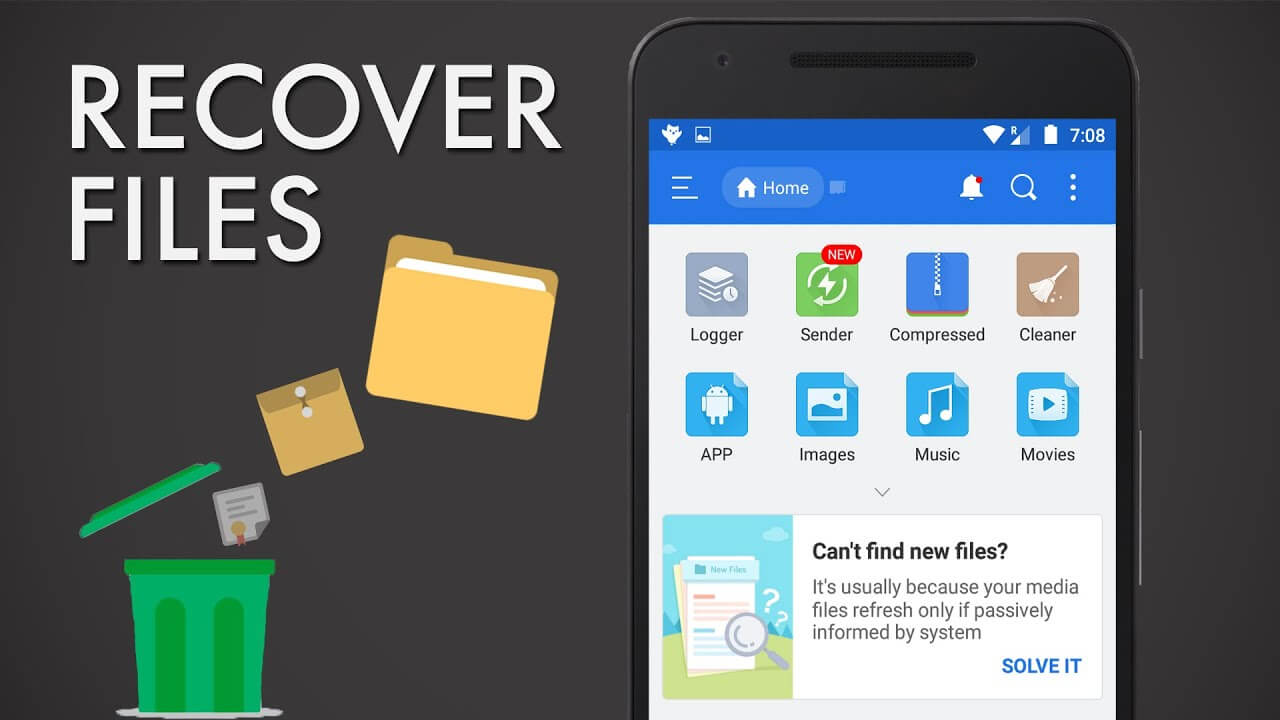 When to Recover Files/Data from the Internal Memory of Your Android Phone?
Being an Android user, you might think when to recover files from the internal memory of your Android phone.
In the past, phones used to support SD cards, which provided users with the option of storing contacts, text messages, and other files in the internal memory and storing bigger media files such as audio, videos, and pictures on the card. However, in recent times, this trend has changed. Advanced Android phones only provide you with the option of storing all the data in internal memory. If you happened to lose or delete your important files from phone memory and want to use them again, you may think that they are permanently gone.
The actual thing is, they are still stored on your Android phone before they are replaced by the newly added data. Therefore, it's better to stop using your device to avoid further data loss. Then how to recover those deleted data or files in Android phone memory? We tell 2 ways in this article.
How to Recover Deleted Files/Data on Android Phone from Internal Storage Free
Method #1. Retrieve deleted files/data from Android phone memory with Google backup free
If you want to recover files from Android internal storage free, you should use Google backup. Actually, Google backup is a service that makes the use of Google Drive for backing up your information onto the online server of Google.
It is, however, important to note you should first back up your data for restoring it later on.
Step #1. First of all, open settings from the app drawer or home screen and then go to Backup & Reset. Moving on, you need to choose Back up My Data.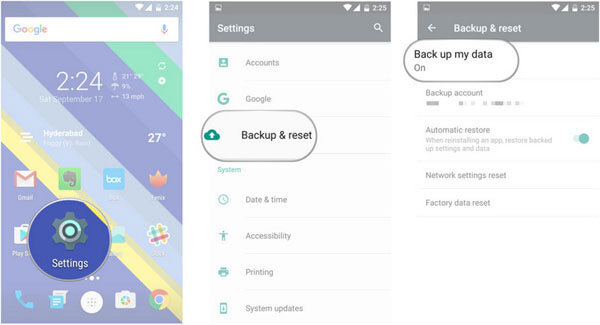 Step #2. Toggle it on. Return back to the previous option and check whether your Google account is associated in the backup option or not. You need to turn Automatic Restore on for restoring data and settings when an application is installed.
Note
This will enable you to back up your files automatically. Moreover, when you switch to a new phone, you can make the use of this service for restoring your files, applications, and settings from Google backup.
If you have backed up your data or files to Google before the deletion, then you can follow these steps to get them back:
Step #3. To recover the deleted files from Google Drive, you should re-log into your account. Select the device you're trying to recover files from, and then check all the data available for restoration.
Step #4. You need to open Google Drive from the app drawer or home screen. Now, you need to choose the hamburger option from the top left side of your phone before navigating to settings.
Step #5. When you click on Manage Backup, you will see every application that is utilizing the backup service. In addition to it, you will get the files you accidentally lost.
Actually, this method has a few drawbacks including:
It does not allow you to recover a specific file from your phone.
You need a previous backup for making this method work.
It can also overwrite the current data on the device.

Method #2. How to recover deleted files/data from Android phone storage free without root (recommended)
While recovering deleted files from Google Drive needs a previous backup of data, D-Back Android files recovery tool can help directly restoring files from the Android device. It is one of the best methods of recovering deleted files from internal memory free. It does not only help you in recovering deleted files from your phone but also enables you to access your files in case your phone is damaged.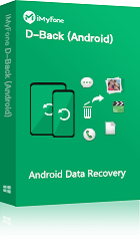 1,000,000 Downloads
Features
Featuring a high success rate or recovery, can deeply scan your Android phone for the acquisition and retrieval of deleted/lost files or data.

Getting your deleted/lost files back in only a few minutes without losing any data.

Easy to operate and fast to recover.

It provides a free preview function that gives you the ability to view the scanned files before recovering them.

Can recover your deleted files from your phone memory, or from google backup.

Compatible with all Android brands and models (only for the mode "Recover Data from Google Backup").

Supporting the recovery of different file types, including music files, WhatsApp attachments, contacts, messages, and videos, etc.
Mode 1. Recover Data from Google Backup
Follow these steps to recover deleted files/data from Android phone memory free with "Recover Data from Google Backup", make sure the backup contains the deleted files you want to recover: you have to backed those files up to Google before the deletion, and stop syncing data to Google as soon as the deletion occurs.
Step 1. There will be three options on the main menu. You need to select the option of Recover Data from Google Backup.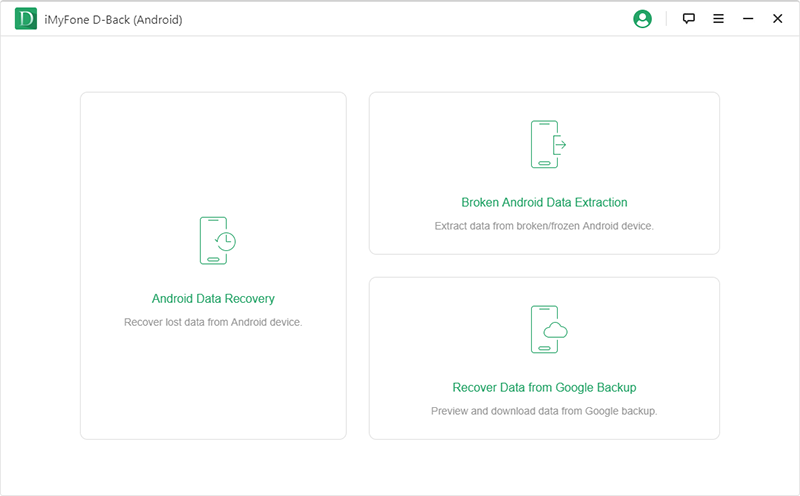 Step 2. Log in to your Google account and click "Sign in" to proceed.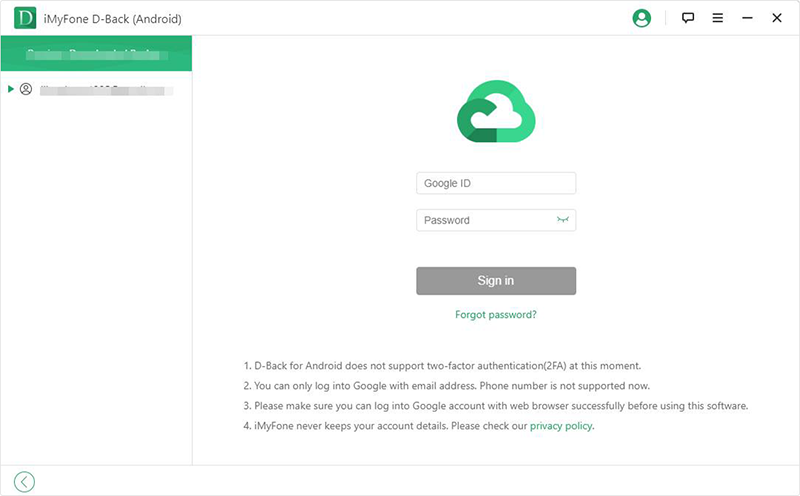 Step 3. Choose the data types you want to recover. Please note that this mode only supports the data types as it shows in the following picture.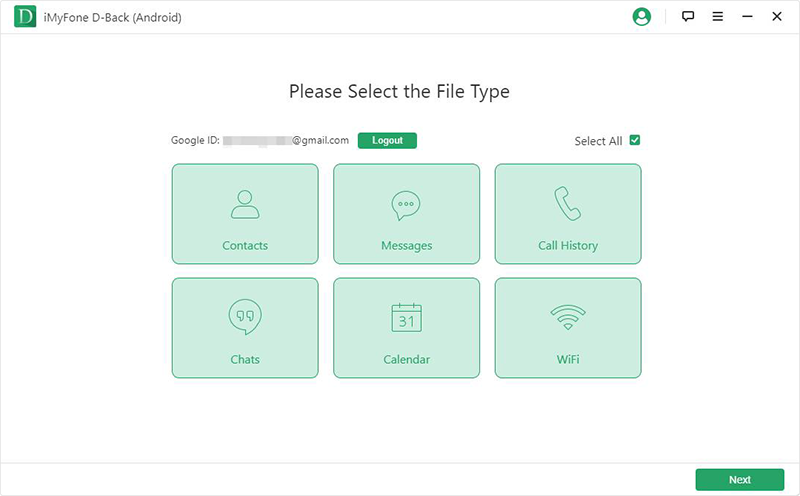 Step 4. After the scan is finished, all the scan results will be displayed on the screen. Choose the file you want to recover and select a path to store on your PC.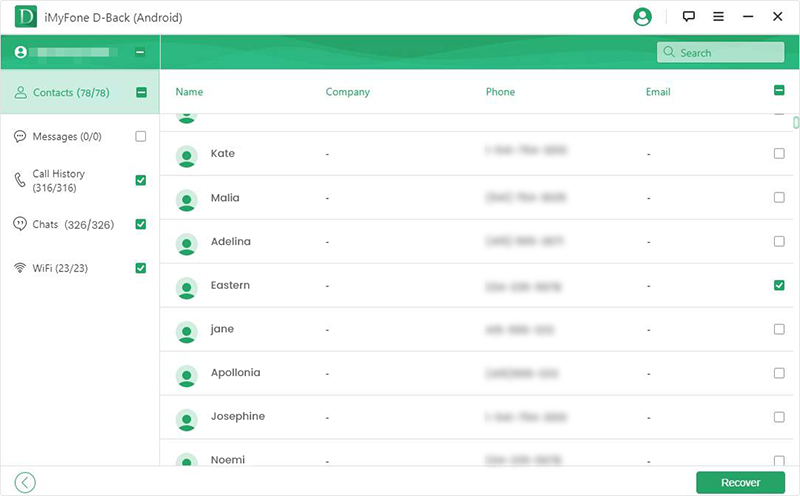 Mode 2. Android Data Recovery
The steps to recover deleted files from Android device with the mode "Android Data Recovery" is also quite simple, check the detailed steps here. Please note that this method will only work on some models of Samsung device. But this mode supports more data types, including text messages, call history, photos, videos, documents, etc.
Bonus Tip: How to Manage Your Data
Following are some tips that you should consider for managing your data better:
1. Back-up daily
You should make it a habit of backing-up your data on a daily basis. Every single day, we generate new data and it can be quite important for us, and considering the fact that we can always lose our data, backing up on a daily basis is quite important. It will make sure that even if you lose your data, you have the most recent back up for your data.
2. Use multiple back-up devices
When it comes to backing up effectively, you have several options that you can consider. For instance, you can back up your data using Google Drive or store it in an external device as well. These are some options that you can consider to store and back up your data. We suggest that you store your data both on the internet and in external storage devices. It can either be a hard drive or a USB flash drive. When you make the use of different options for backing up your data, it ensures that no matter what happens, you will be able to retrieve and restore your deleted files.
Conclusion
Overall, these are reliable ways you to retrieve your deleted files from internal storage free on your Android device. As it's explained above, our mobile phones and our data are important parts of our life. In fact, we cannot leave them behind. Therefore, we need to make sure that our data is protected and in case of an accident, this data can be retrieved easily. In order to do it, you should take some precautions such as backing up your data on a daily basis. And even if something happens and you permanently lose your data, you can make the use of D-Back Android.