Do you want to get back contact information that you didn't mean to delete? Read this guide and find out how to restore contacts from Android in 2020.
Smartphones go to all lengths when it comes to our contacts. Not only can you store your friends' phone numbers and names, but you can add their birthday and other important pieces of information to their contact files. By being able to build such detailed contacts, the contact data we store on our phones has become valuable. So, when you lose a contact or accidentally delete them, it's understandable that you'd want to restore them. That's why, in this guide, we'll be teaching you the Best Android Contacts Recovery Software/Tool without Root Free Download.
Part 1: Where is the Contact Stored on Android?
Usually, when someone asks this question, it's sufficient enough to say in the Contacts app on your phone, but this is a very broad answer. Like all Android data types, there is a specific folder where contact information is stored.
data/data/com.android.providers.contacts/databases/contacts.db
This folder location varies slightly depending on the Android smartphone model you have, but you'll always have a contacts.db file somewhere in the storage. In this database file, all of your contacts and their information are stored and made accessible through the Contacts apps.
In order to access the raw data, you'll need two things: a file manager app and an app that can open DB files. By default, you won't be able to open the contacts.db file, so having these things is essential. In some cases, you may also need to root the Android device.
Part 2: STAY ALIVE! Contacts May Just Be Hidden
Before you jump in and try a bunch of solutions to restore contacts from Android, it's worth mentioning that your contacts might not even be gone. In fact, you might have accidentally "hid" them, so unhiding them will bring them back.
Step #1 – Go to the Contacts app and tap the menu icon at the top-right of the screen.
Step #2 – Tap on Contacts to display and make sure that All contacts have been selected.
Step #3 – Go back to the Contacts list, and any hidden contacts will now be displayed.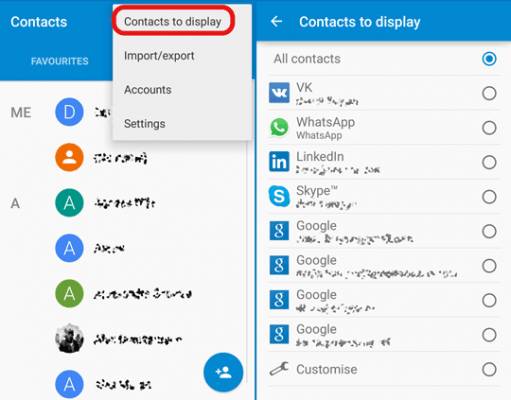 There are some cases where hiding certain contacts can be useful, such as if you only want to see contacts who you text or call regularly. But in this case, we want to make sure all contacts are available, and changing this setting is crucial for doing so.
Part 3: How to Restore Deleted Contact from Android with/without Backup
If the settings change above didn't help you get back deleted contact from Android, you're not out of luck yet. Below we've got 2 other solutions for you to try.
Option 1. Restore Deleted Contacts from Backup Using Google Contacts
The first thing you can try to recover contacts from Android is by using Google Contacts. To use this method, you must have your contacts synchronized with your Google account. Otherwise, they won't be recoverable with this solution.
Step #1 – On your computer, open an internet browser and go to the Google Contacts site.
Step #2 – Sign in to Google Contacts using the same account which you have signed into on your Android device.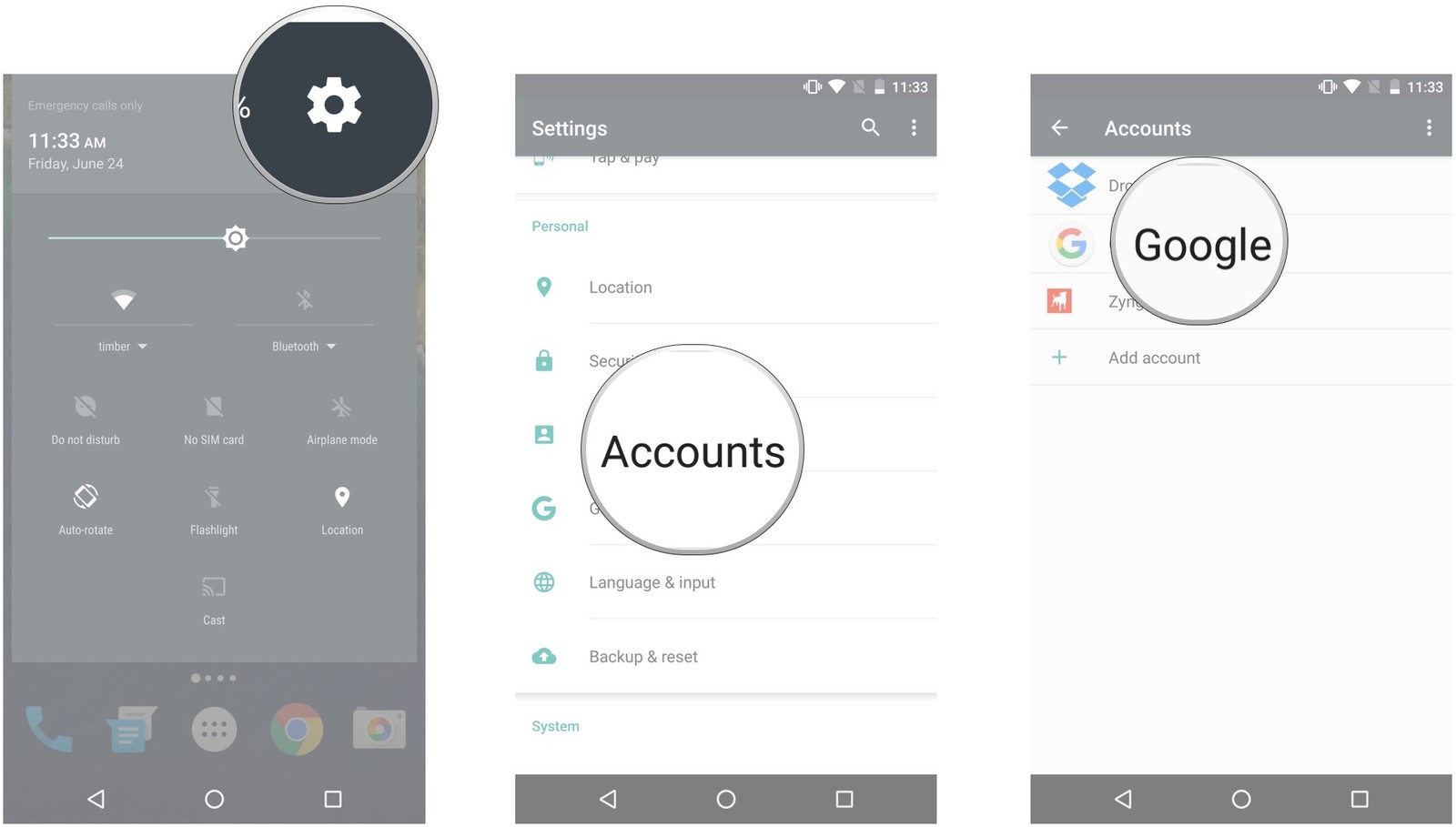 Step #3 – Click More on the sidebar menu, and click Restore Contacts.
Step #4 – Choose a suitable timeframe to recover the deleted contacts and click the Restore button.
Step #5 – The deleted contacts will now be restored to your Google account, and you will find them in the app on your Android phone.

It seems simple enough, and it is! This is just one way that enables users to restore deleted contact from Android, although there are some drawbacks to using this method.
Limitation
If your contacts are not synced, you can't restore them from Google Contacts.
Deleted contacts are not recoverable after 30 days of being deleted.
Option 2. Best Android Contacts Recovery Software/Tool without Root Free Download - D-Back for Android
The big drawback of trying to recover contacts from Android with Google's backup service is that once you've deleted the contacts from Google's trash, you can't get them back. However, when you choose to use iMyFone D-Back for Android, it is Best Android Contacts Recovery Software/Tool without Root, even if you deleted the contacts from Google's trash folder, you still have a high chance of being able to recover the contacts. Free download best android contacts recovery software now.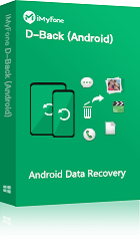 1,000,000 Downloads
Top Features Of D-Back Android
Best Android Contacts Recovery Software/Tool without Root on PC.

3 modes that can be used as per user's proficiency, you can recover contacts directly from the Android device or restore data from Google backup with one-click.

It supports to recover contacts lost due to a virus attack, accidental deltion, factory resetting and so on.

It does not overwrite current data on your device.

Selectively restore contacts from backup with your needs.(no need to restore the entire backup!)

Easy to use and available as a free trial.
To ensure you have the best chance of recovering your contacts, you need to stop using your phone immediately. Continuous use will impact the chance of recovery, so be sure to follow the steps below as soon as you notice any missing contacts.
STEP 1 Launch iMyFone D-Back and on the main menu, click Android Data Recovery.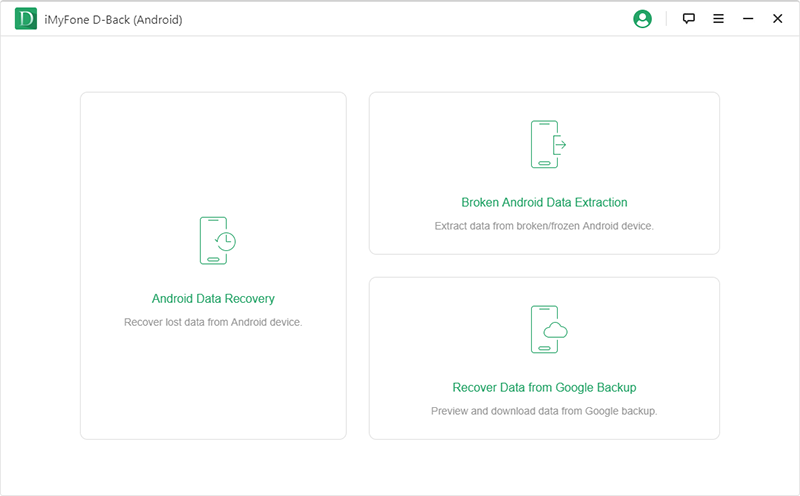 STEP 2Select your Android device's name and model from the lists, and click Next.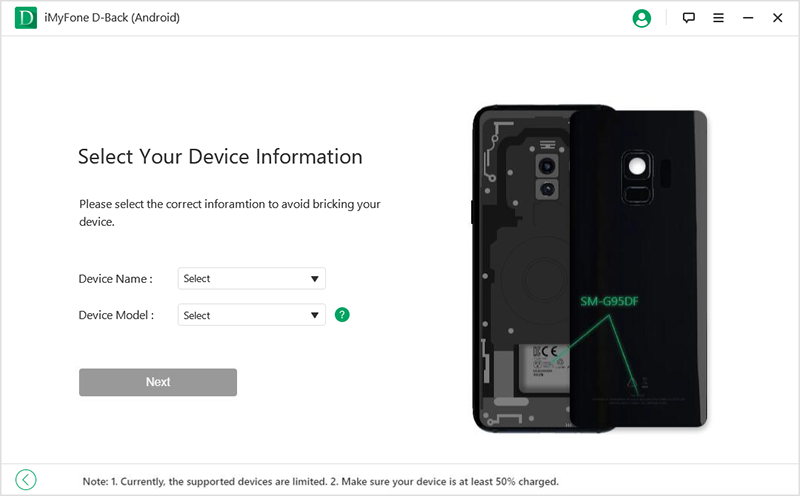 STEP 3After D-Back for Android has downloaded the necessary firmware, use a USB cable to connect your Android device and follow the instructions provided to put it into Download Mode.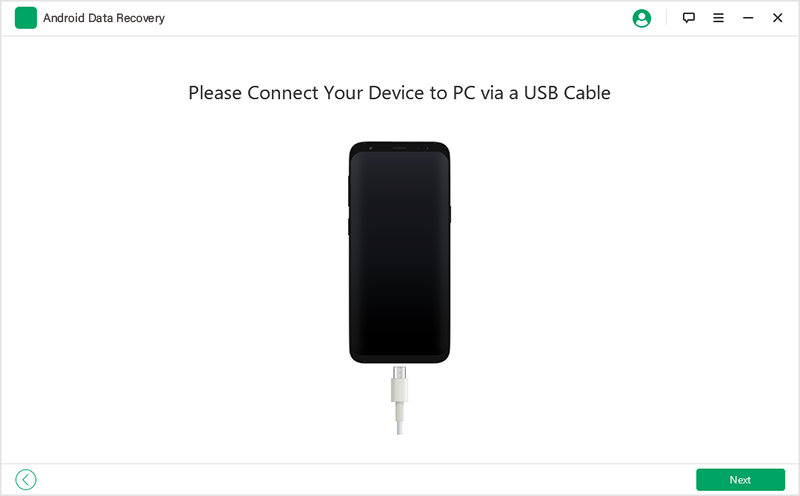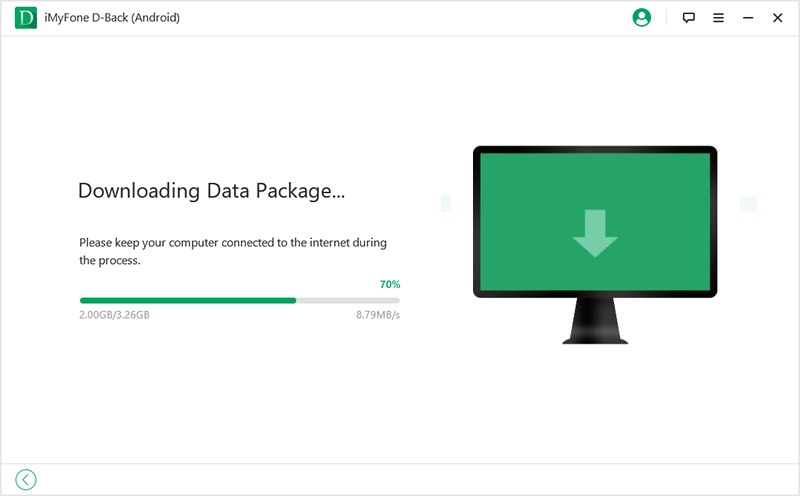 STEP 4Next, select Contacts from the file types and press Next.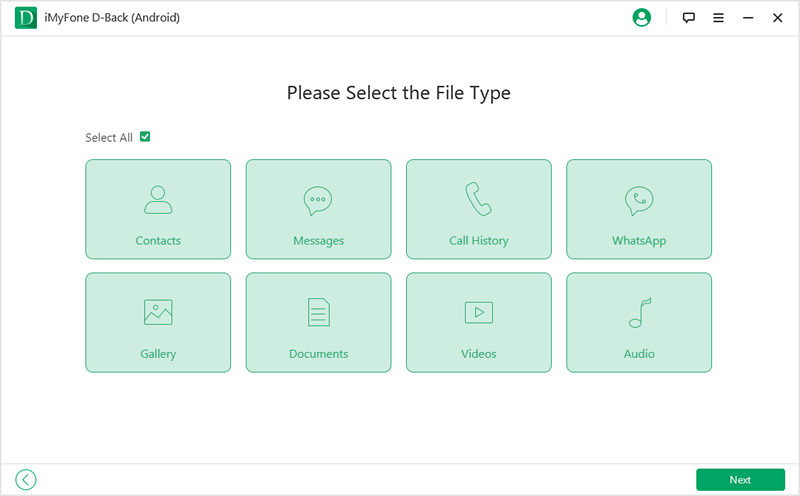 STEP 5 Once the program quickly scans your Android device, you can browse the deleted contacts and select the ones you want to recover. When you have the deleted contacts selected, click Recover to finish the recovery.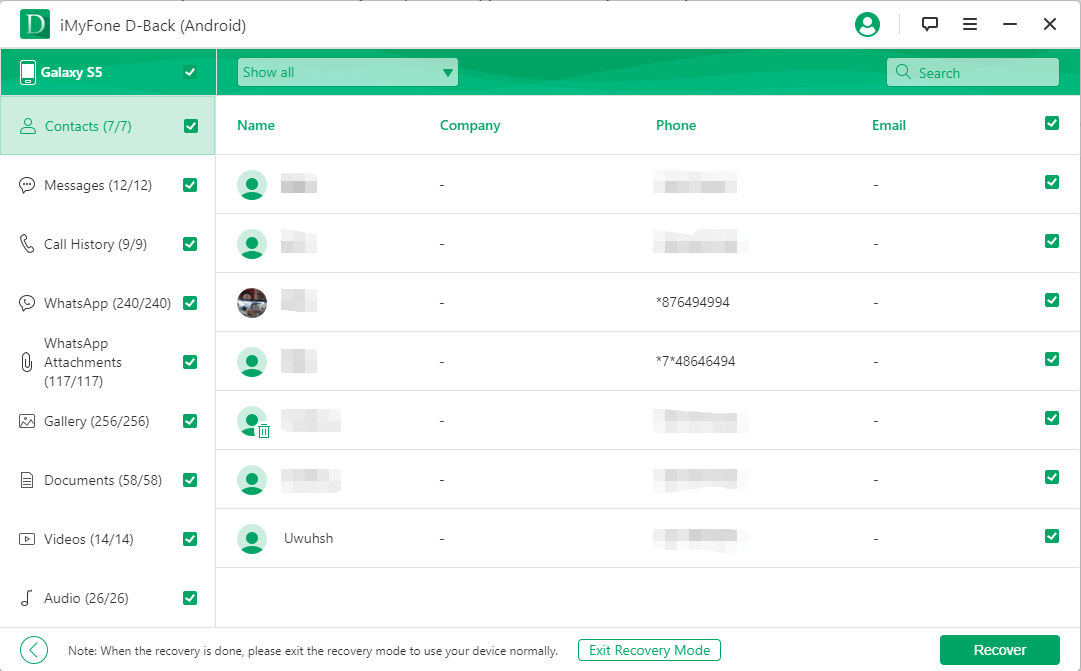 Alternatively, you can click on Recover data from Google Backup and recover your deleted contacts this way. With this feature, all you have to do is sign in with your Google account, choose a data type, and your Google data will be scanned for you to choose the contacts to recover.
This is by far the easiest and most effective way of recovering lost contact data, and D-Back for Android can also be used for other data types too!
Part 4: Best Android Contacts Recovery App Using DB (Root Required)
A more advanced method to restore deleted/lost contact from Android involves rooting your device and diving into the system files. As we mentioned before, the contacts.db file contains all of your contact (and temporarily contains deleted contacts). We need use a android contact recovery app - Root Explorer app.
Step #1 – Start by rooting your Android device using whichever root tool you prefer.
Step #2 – Download the Root Explorer app and locate the folder /data/data/android.providers.contacts/databases.
Step #3 – Copy this folder to another user folder or your SD card, then connect your phone to your computer and copy the folder to the computer.
Step #4 – Using Mozilla Firefox, install the add-on SQLite Manager and open the contacts database with the add-on.
Once you've got the database up you'll be able to locate the contacts.db file and in here, you'll see all of the contact data which is stored on your Android phone.
Part 5: Best Android Contacts Recovery App without Computer
The final method to restore contacts from Android is by using a android contact recovery app that can be used to recover lost data. These apps aren't as effective as iMyFone D-Back for Android, but they can sometimes be useful.
1. Undelete Master
Undelete Master does exactly what it says – it lets users undelete data that they might have deleted without meaning to. This includes photos and videos but extends to Wi-Fi passwords too. For a free android contact recovery app, this gives you exactly what you need to get back lost contacts.
Cons
Requires users to purchase Pro version for access to all features
Users have reported that Undelete Master doesn't work on all Android devices

2. Deleted Contacts Recovery
With this app, you can expect a similar experience to Undelete Master, except Deleted Contacts Recovery is specifically for contact data. One of the great things about this android contact recovery app is that you can actually see which contacts you can recover and selectively recover them.
Cons
Displays all of your contacts, both deleted and non-deleted
You have to recover contacts individually (no bulk recovery)

Final Thoughts
This situation highlights the importance of backing up your Android data regularly, especially when it comes to photos and contact data. If you do take backups but they, unfortunately, don't include your contacts, the best way to recover contacts from Android is with iMyFone D-Back for Android. Using this data recovery tool, you can recover virtually any data type from an Android device regardless of whether it was deleted, corrupted, or just lost. There's no doubt in our minds that it's the best tool on the market!