The contact list and phone numbers are known as one of the most critical data on your device. If you have mistakenly deleted contacts in Samsung phones or the list of numbers has vanished for any other reason, Samsung contact recovery tool becomes vital to you, as you need them to keep in touch with others. Fortunately, Samsung phones still have ways to recover missing phone numbers. Recovery can be easy or complicated, based on how you misplaced the addresses. We will talk about how to retrieve contacts from Samsung in four ways.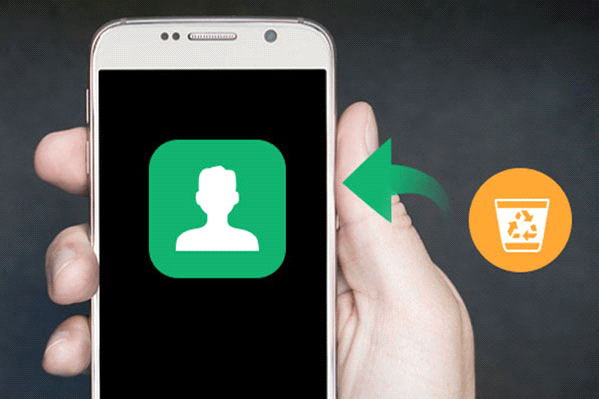 What to Do When Contacts on Samsung Devices Are Mistakenly Deleted?
If your contacts are missing, then the first thing to do is to identify the problem so that you can remedy it, and hence it would not persist anymore. The deleted contacts will not be deleted permanently at once, they'll be removed to a specific location until being replaced by the new data. Here are the things what you should do once you lost the contacts:
Stop using your phone as soon as possible.

Disconnect the network, in this way, the auto system update will be avoided.

Find a proper way to recover the lost contacts.
How to Recover Contacts from Samsung with Samsung Contacts Recovery Tool
There are numerous ways to recover the lost contacts, but you need to distinguish which is the best Samsung contacts recovery tool that suits your needs. One of the most effective ways to restore numbers from Samsung devices is by utilizing apps such as the D-Back Android data recovery tool. iMyFone D-Back (Android) is an elite Samsung contact recovery software intended to restore numbers even if you didn't have a backup.
Moreover, this software lets you extract or recover data from broken Android phones as well. It is 100% safe to use with no loss of data while recovering. You can also choose specific files/data to recover, preventing duplication of files. It also aids in the retrieval of various forms of files like images, texts, recordings, audios, WhatsApp, history of calls and records. All these features make this software one of the best and top-rated Samsung contacts recovery tools.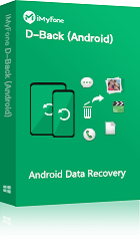 1,000,000 Downloads
Features of Android D-Back Samsung Contact Recovery App:
The application is very easy to use, suitable for everyone.

Retrieve the contacts and details in minutes instead of hours or days.

Recover contacts from Samsung without backup.

It is compatible with Samsung Galaxy Note S5 Duos/S4 Mini/S4/Note 4 Edge, etc, which runs on Android OS 2.0 to 9.0.

It supports retrieving many other data types such as texts, pictures, videos and more.
Follow these steps to get contacts back using D-Back (Android) Samsung Contact Recovery Software:
Step 1. Download and install D-Back (Android) on your PC.
Step 2. Run the application and choose "Android Data Recovery" option.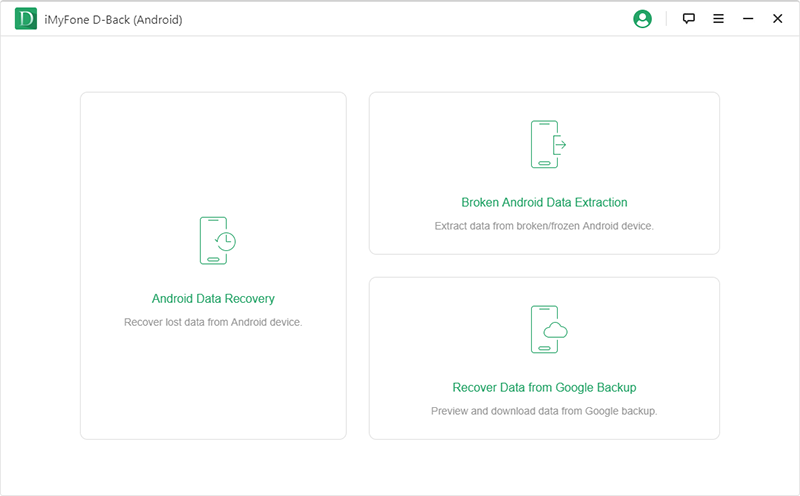 Step 3. Select your "Device Name" and "Device Model"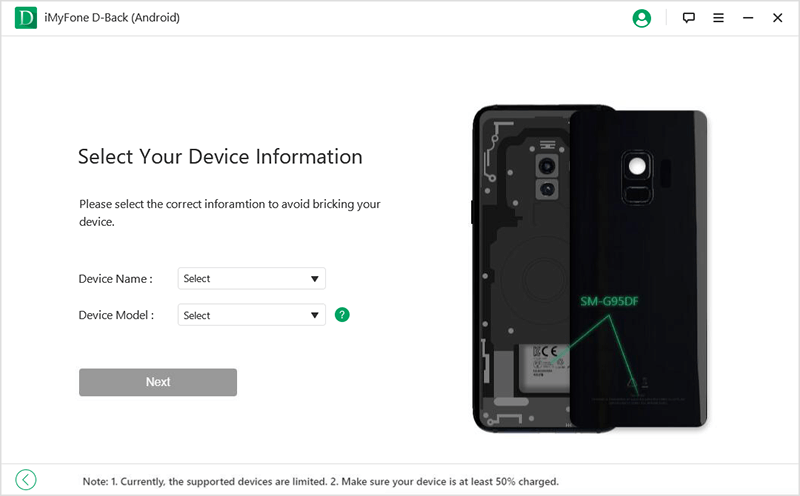 Step 4. Wait for the software to download the required data package.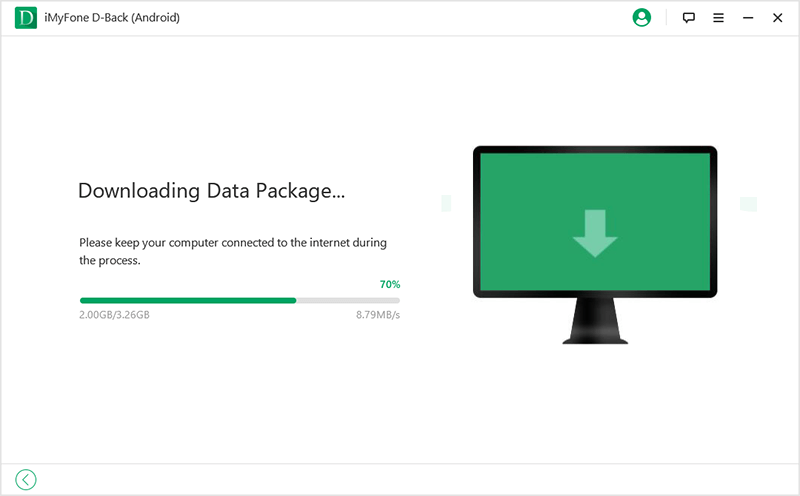 Step 5. Connect the device to your PC and then follow the directions on how to configure your device into Download Mode.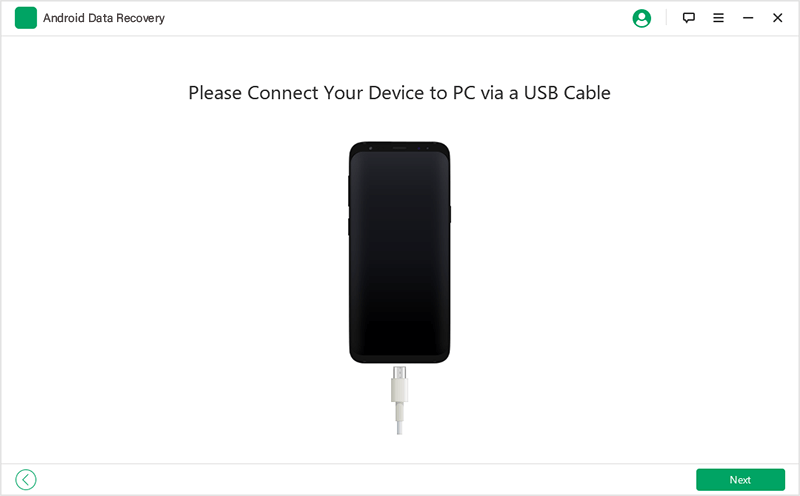 Step 6. Select the data you want to restore, in this case, select "Contacts".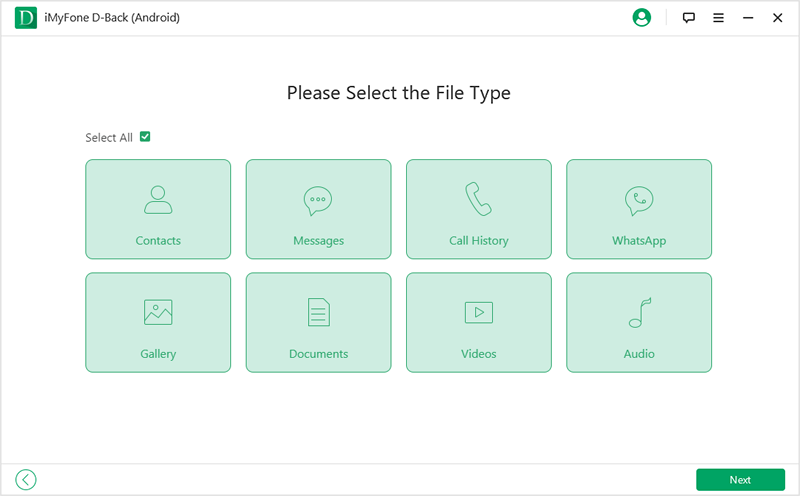 Step 7. When the scanning procedure is completed, you can search through the contacts you need to retrieve and select which files you want to restore to your computer, press recover.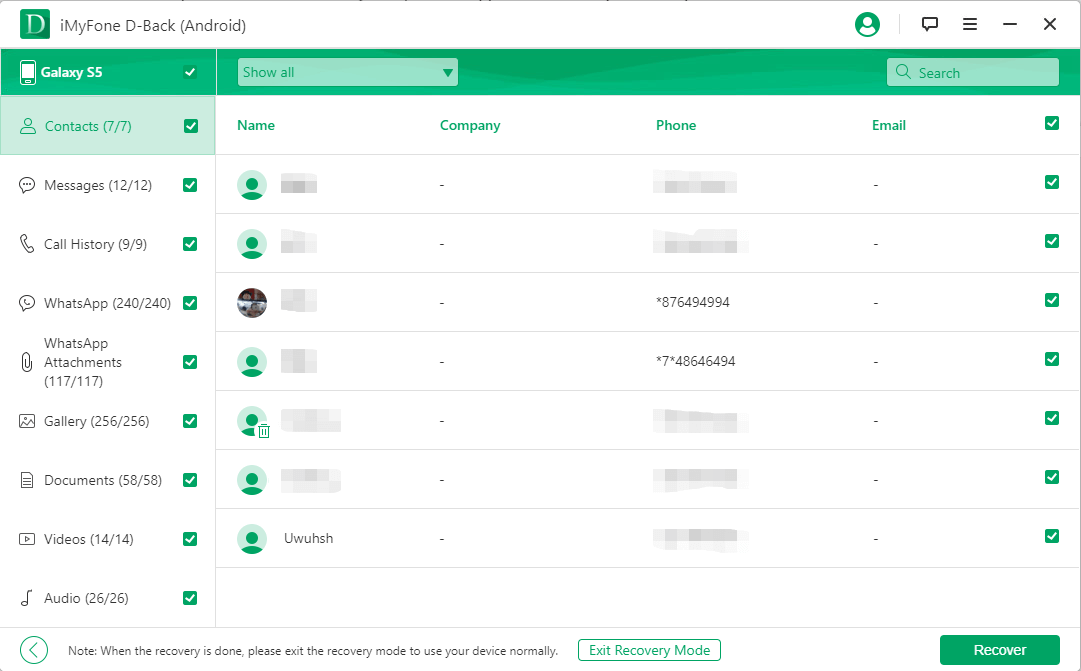 You can also choose the mode "Recover Data from Goolgle Backup" to retrieve your deleted contacts on Samsung Galaxy. Just keep in mind that this requires a prior Google backup.
Recover Samsung Contacts Through Other Ways
1. Restore lost contacts from Samsung with Google
Google syncs your data and hence acts as a backup for people. An important thing to note is that it is sometimes disabled. This method is the most straightforward for Samsung contact recovery.
Step 1. Open Settings.
Step 2. Go Personalization section, tap "Accounts".
Step 3. Select Google.
Step 4. Turn off synchronization by unchecking the relevant checkboxes on the next window.
Step 5. Tap the "More" button from the top-right corner of the window, and tap "Remove account"; on the confirmation box, tap "REMOVE ACCOUNT" to confirm.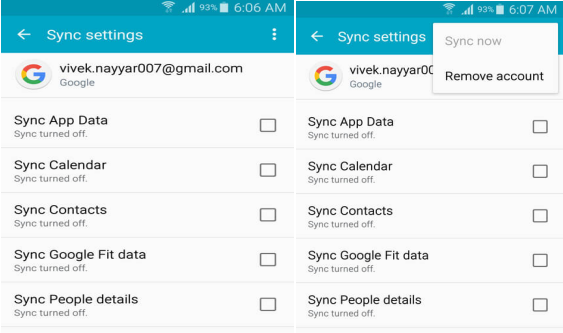 Step 6. Turn back to Accounts window, tap "Add account".
Step 7. On the next window, tap Google from the displayed options.
Step 8. On the "Add your account" window, type in your email and tap "Next", enter your password and tap NEXT, tap ACCEPT on the bottom of the next window.
Step 9. Please wait until your information is checked through.
Step 10. A Google Service window will pop out, check or uncheck the available checkbox as needed and tap NEXT.
Step 11. On the Setup payment info window, choose the payment option, tap CONTINUE. Then back on the Accounts window, tap Google.
Step 12. Enter your email address on the Google window. The current status is Syncing.
Step 13. Keep waiting until your contacts are synced and restored. Close the window after finished, restart your Samsung smartphone/tablet if needed.
Cons:
If you can't access your Gmail account, then you can't recover the data.
It doesn't allow you to retrieve specific data, so all of the backup data will overlap with existing data on your phone when you backup.
It's complex and time-consuming.
2. Get back contacts from Samsung with Samsung Cloud
Just sign in to your device's Samsung account; no need to have a separate cloud application and your contacts are saved. Samsung cloud is another useful Samsung contacts recovery app. Samsung allocates every user with space to keep their contacts and other types of data as a backup in case of any issues. If you have backed up your phone numbers, then this method will work for you.
Step 1. Go to "Settings."
Step 2. Select the "Accounts and Backup" or "Cloud and accounts" or "Samsung Cloud" option".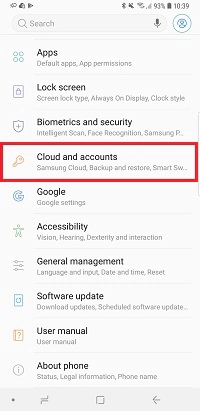 Step 3. Click on "Backup and restore."
Step 4. Choose the "Restore data" option.
Step 5. Select "Contacts (Samsung account)" and any other files you want to recover.
Step 6. Tap on "Restore Now" button to recover all the selected data and to save it on your device.
Cons:
It is unlikely unless you've backed up the contacts to Samsung Cloud before.
Directly recover contacts to your device, which may overwrite the current data on your Samsung device.
3. Retrieve lost contacts from Samsung with local backup
Besides Samsung cloud, Samsung also provides two computer-based backup options, named Kies and Smart Switch. Only a few of the customers might be acquainted with this software. Follow these steps to retrieve data using Local Backups:
Step 1. Connect your phone to the computer.
Step 2. Run the program and wait for it to detect your phone.
Step 3. Click on Backup/Restore.
Step 4. Select the data type contacts to restore.
Step 5. Choose the save location and click on restore.
Cons:
Local backups are created very rarely by people.
These are very time-consuming and require you to make backups manually.
Make sure that you have a previous backup of contacts through Kies or Smart Switch.
Importance of Creating Backups
Backup's intent is to build a duplicate of data that can be restored if a primary data loss happens. Primary data losses can result from hardware or software malfunction, data theft, or human-caused incidents such as malicious attack (virus or malware) or unintentional data deletion. Backup allows data to be recovered and enables the user to restore from an unplanned incident at an earlier point of time.
Backing up your data is extremely important, and it is the only way to be 100% foolproof method to prevent any mishaps. The best way to keep your contacts/data safe is to back up them into an external storage device and to regularly save them on cloud services like Google Cloud, Samsung Cloud, etc. Backups are crucial not only for Samsung contact recovery but for all of the data such as images, settings, videos, etc.
Verdict
There are tons of Samsung contacts recovery tools to help you recover lost contacts from Samsung, and all offer great features, but most of them take time and tedious. So a few things to keep in mind are to keep external backups of data, cloud backups, and lastly, to know how to recover data and the Samsung contacts recovery tools required to perform this retrieval. The more backups you create, the safer your data will be.