Factory reset, also known as Master reset, is simply the software restoration of any electronic device to its default system settings. One of the significant characteristics of a full factory reset is the deletion of every information, data, settings, and application on the device.
When you master reset your Android, you'll lose your data including contacts. This article will show you how to restore contacts on Android after a factory reset without backup. People factory reset their devices for a ton of reasons. To create space, to start anew, etc. Keep reading to see more.
All You Need To Know About Factory Reset
Every Android mobile device has an inbuilt option to factory reset your device. The factory reset option wipes your device of any data, making it appear new, have the manufacturer's original settings and create space on your phone.
When you factory reset your device, only the internal storage is wiped clean. It doesn't affect anything stored in your external storage device.
There are various reasons for the factory resetting a phone. A few include creating more space on your device. When you plan on selling or giving out your phone, it is required that you factory reset your device too.
Whatever the reason for doing this, the result is always similar: complete data loss. If you lost relevant data like your contacts, we would show possible ways to recover contacts on Android after the factory reset without backup.
How To Recover Contacts After Factory Reset Android Phone With Backup Free - without Computer
As the topic states, there must be a backup for this. If you believe you have a backup of your Android device on your Google account or Gmail account, keep reading to see ways to retrieve your lost contacts through any of these means.
2. 1. Restore Contacts On Android Phone From Gmail Backup for Free without Computer
I presume you have synchronized your contacts with your Gmail account. If you truly have, follow the steps below to recover your contacts after a factory reset.
Step 1. Using a desktop browser, log in to your Google account. Then from the left panel, click on "Contacts."
Step 2. Tap on "More," then from the drop-down menu, choose "Restore Contacts...".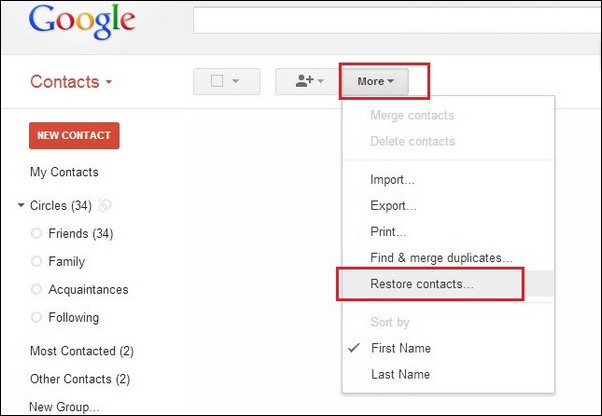 Step 3. Select a "Time Period" and click "Restore" to start the restoration process.

The catch here is, you can only restore contacts within 30 days, which means, you can't restore contacts from Gmail backup that exceeds 30 days.
2. 2 Retrieve Contacts On Android Free From Google Backup
This method is applicable only when you have synced your Android contacts to your Google Account. So yes, you need a backup too. The Google Backup solution will also work on a device after a factory reset without a PC and root.
Step 1. Go to your Android's Settings app.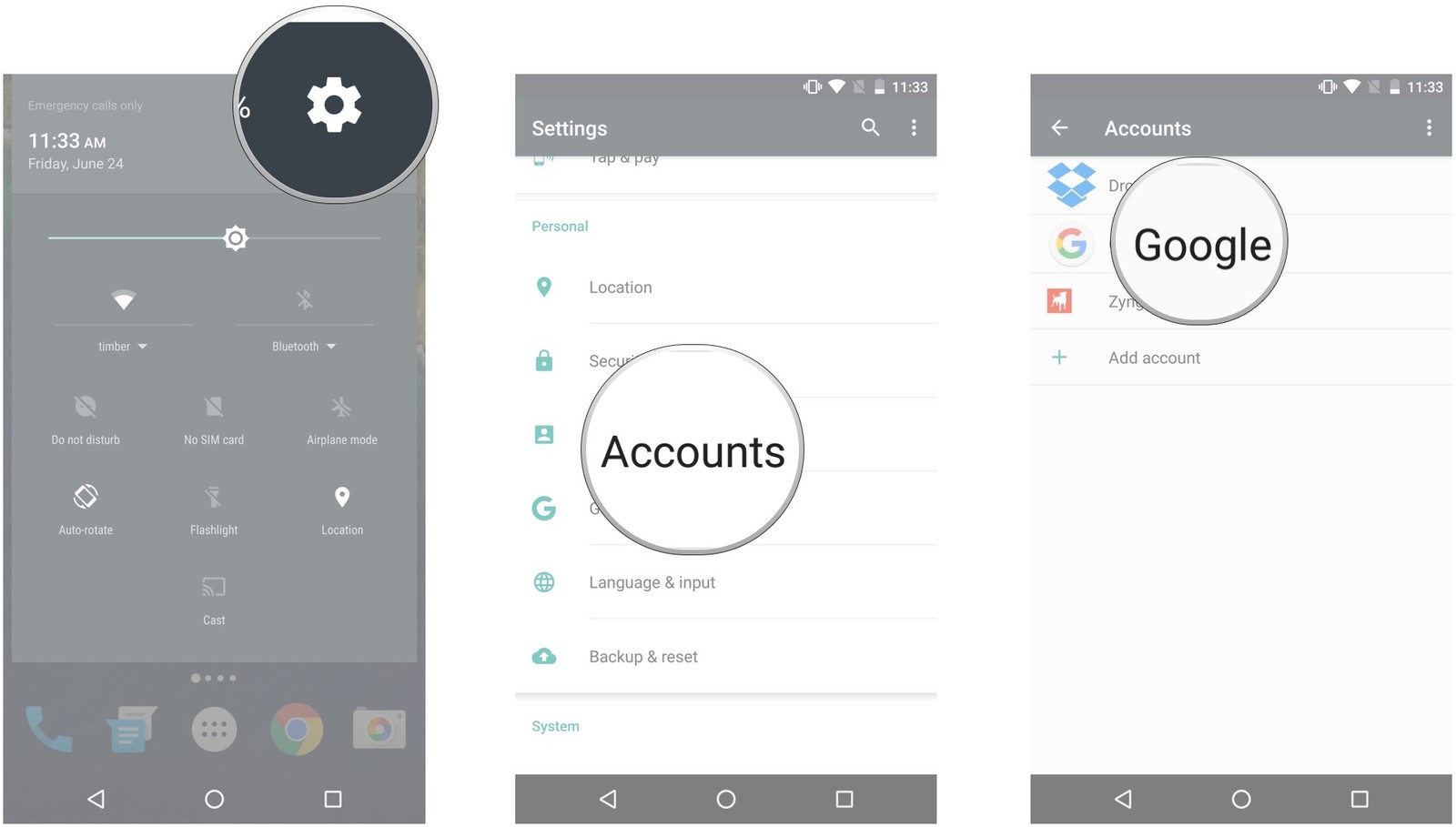 Step 2. Scroll down and tap on "Google", then under the "Services" section, tap on "Restore Contacts".
Step 3. If your device has multiple Google accounts, tap on "From Account" and pick the accounts you wish to restore your contacts from.
Step 4. Choose the device with the contacts to copy. You can select the particular storage you wish to copy the contacts from. If you want to copy from the device storage or SIM card alone, simply tap "Turn Off" Device Storage or SIM card.
Step 5. Lastly, tap the "Restore" button and allow your contacts to restore.
Google automatically restores your contact on your device when you sign in with the Google Account that has the contacts. If both of these methods didn't work for you, go ahead with the steps below.
How To Restore Contacts from Android Phone After Factory Reset without Backup without Root
Now the question is, "I reset my phone and lost my contacts, how do I restore them when I don't have a backup?" Please don't panic. We have you covered. To be able to recover your contacts after factory reset without backup on Samsung and some other Android devices, you'll be needing a software called iMyFone D-Back (Android).
iMyFone D-Back is a data recovery tool that works effectively on Android phones. With this tool, you can retrieve your lost or deleted contacts on your Android device irrespective of how you lost it and with or without a backup available. D-Back has a ton of other features, go below to see more.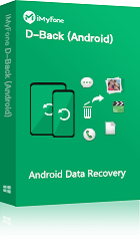 1,000,000 Downloads
Features of D-Back Android
Using D-Back, you can restore lost contacts after factory reset without backup from your Android tablets and phones.

Before full recovery, this software allows you to preview and choose the contacts you intend to recover.

You can recover multiple data and file types like contacts, messages, videos, audios, call history, and even WhatsApp data.

D-Back aids you in recovering files lost in different ways like system crash, water damage, virus attack, accidental deletion, etc.

D-Back has a 98% success recovery rate, and you're able to get back your contacts after factory reset without backup within minutes.

It treats your privacy with utmost secrecy.
[Steps] How To Get Back Lost Contacts On Android After Factory Reset without Root With D-Back
Step 1. Go to the iMyFone D-Back official site and download and install the D-Back Android program. Run its installation and launch the program.
Step 2. In the welcome screen, select the "Android Data Recovery" option, which is one of the three options given, then proceed. Click "Start" in the "Android Data Recovery" window.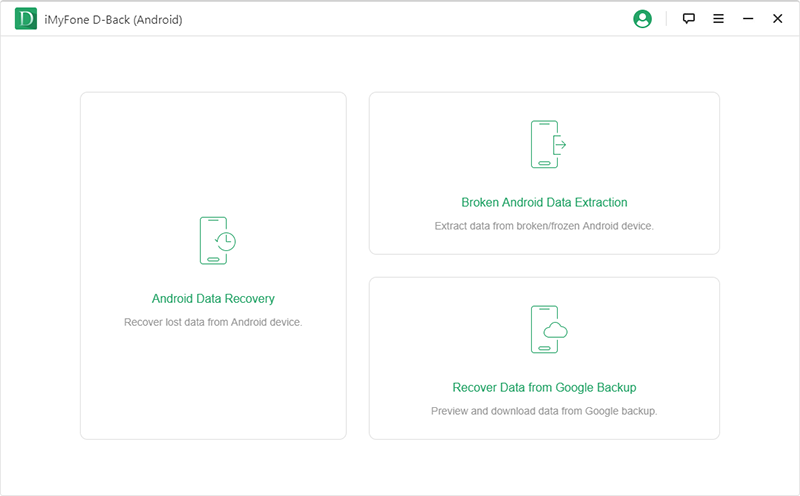 Step 3. Confirm your device when prompted.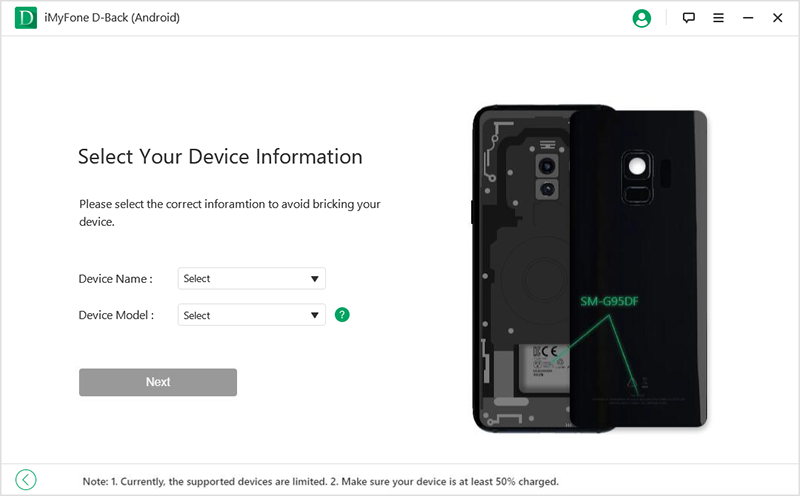 Step 4. D-Back automatically downloads the correct matching data package for your Android device. The download speed depends on your internet speed.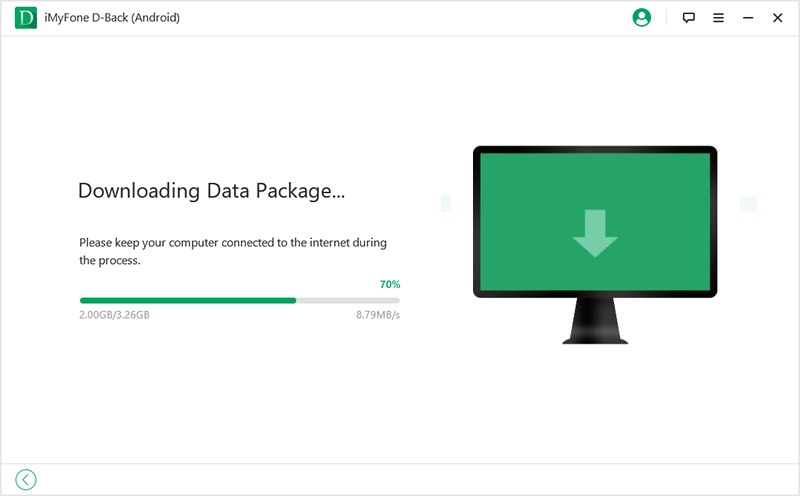 Step 5. Using a working USB cable, connect your Android device to your PC, then follow the on-screen instructions to put your device in downloading mode.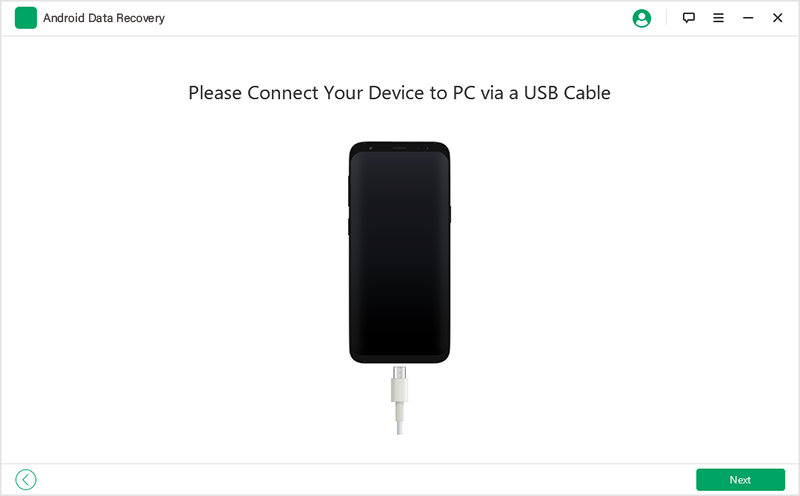 Step 6. After your device enters downloading mode, D-Back takes you to the Recovery window. Here, select the file type you wish to recover and click "Next" at the lower right bottom of your screen.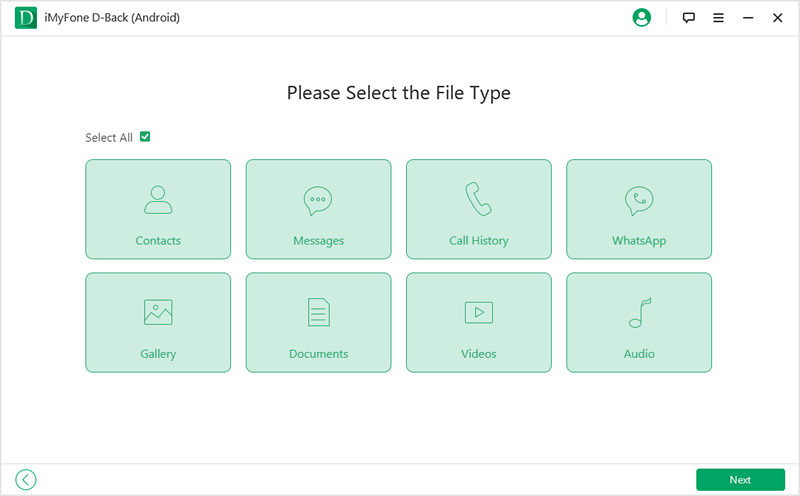 Step 7. D-Back then scans and displays all your lost contacts. Select the files you need, then click "Recover" and allow the program to retrieve your lost contacts.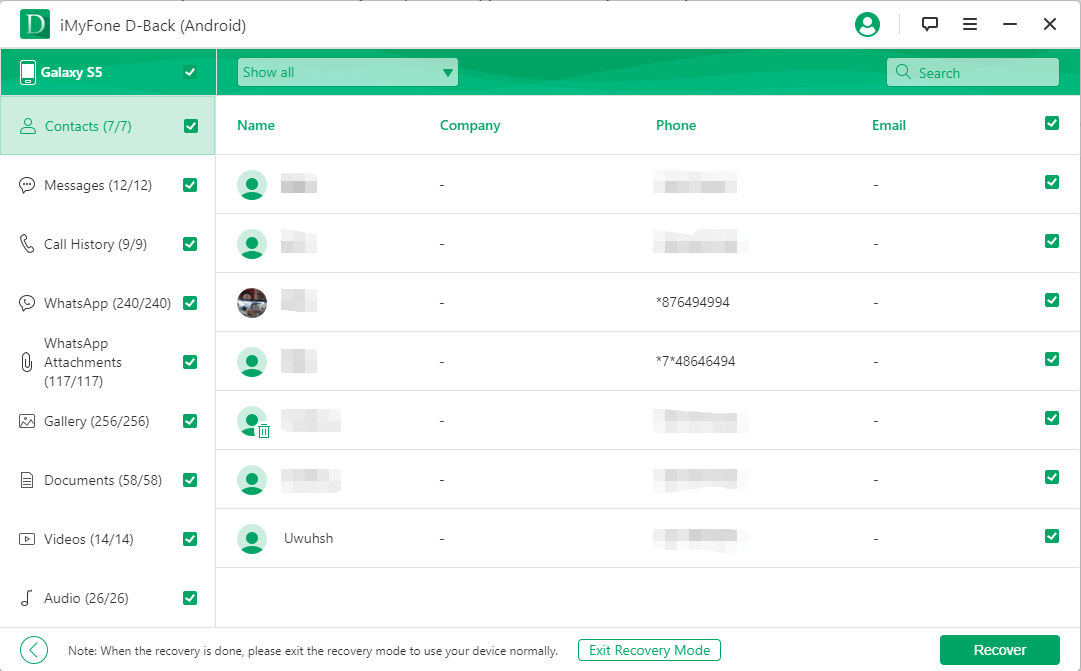 The recovered contacts will be saved on your computer, and it is advised you that copy them to another device.
Conclusion
Regardless of the reasons for carrying out a factory reset of your device, it is often not our intention to lose our contacts, especially contacts we can't get again. We explained everything you need to know on the factory reset and showed you how to recover contacts on Android after a factory reset without backup.
We introduced three methods, two of which require a backup, then D-Back Android, a third-party tool that doesn't require a backup to help restore your missing data. Hopefully, this guide will help you get back those lost contacts.