"Just now, I was scrolling through the photo gallery on my Android phone and inadvertently sent a few of them to the trash bin, but they are some of my important images. My friend suggested me to use a app that can recover photos from SD card, but my photos were stored in the Android internal memory. I don't know how I can recover deleted photos on Android from internal storage, i also dont want to root my Android phone, anyone can help me?"
If you get in the situation like this, them stop, take a deep breath, and relax. Accidents can happen to anyone. We've all been there.
There are various recovery tools that claim to recover deleted photos from SD card, but few of them mentioned to be qualified to recover lost photos from Android internal storage. It can be sure that it is possible to retrieve deleted photos from Android internal storage app without root or without computer. Here in the article, 3 options of get back deleted photos from Android internal storage are provided.
Can Photos Be Retrieved When Deleted from a Android Phone Storage Memory without Root?
Provided the trash or "recently deleted" folder hasn't been purged, there are a few methods you can use to get those images back. Although the deleted photos disappeared from the Android gallery, the photos still exist on memory storage of your phone. The pictures you deleted will remain in the memory space which is marked as "unused". But the deleted photos can easily get overwritten by newly deleted data if you keep using your phone after the deletion. So the first thing you need to do after the deletion or data loss is to stop using your device as soon as possible.
At the same time, it is a bad idea to use some Android photo recovery apps to try to rescue your deleted photos, because you're taking a risk at losing your photos permanently.
How to Recover Deleted Photos From Android Internal Storage App Free without Root
Except for Android photos recovery apps, there are still handy ways to restore deleted photos from Android internal memory free no root. Here 4 options are offered.
Option 1. Restore deleted photos from Android internal memory free without computer no root - Restore from local backup
This procedure is possible if your Android device has the Local Backup feature installed, which protects information from factory resets. While it may vary from device to device, the method is much the same. This example is for LG smartphones.
Open Settings and locate the Backup & Restore option.

Choose the file from backup list that contains your deleted photos.

Tap "Next" to continue.

Start photo recovery by clicking "OK", tap "Done" to finish this process.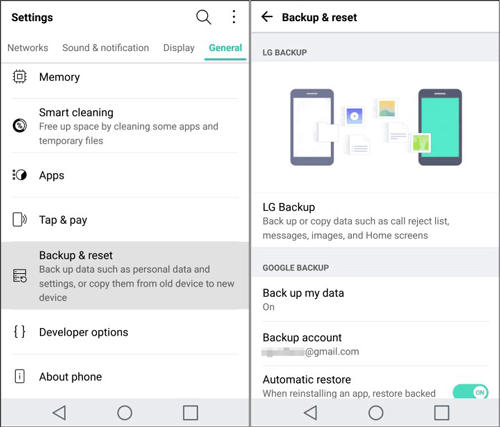 Note
Be aware that you'll be unable to selectively restore the specific photos, and it will only work if you've backed up your photos before the device was damaged. There is also the possibility that any new data or files will be overwritten during restoration.
Option 2. Recovering deleted photos from Android internal storage free using Google Photo without computer
If you have saved your photos to certain cloud storage like Google Photo, then you can easily recover deleted photos through it. You can also retrieve them from Samsung Cloud if you own a Galaxy or other Samsung smartphone and enable this feature.
The restoration process:
Open Google Photos app on your Android. Check the left top on the interface, tap on the "≡".

Go for the Trash option.

You can preview the deleted pictures, choose the one that you want to recover and tap "Restore".
Note
This will only work if you have synced the data on your device with the Google Photos App before the deletion.
Option 3. Retrieve deleted photos from Android internal storage without root on Computer - Use D-Back Android
There are times when the above procedures won't work. Perhaps you don't own a Android device or you've forgotten to back up your files. Fortunately, we've got a tool that will allow you to restore those precious memories and much more, even if you've factory reset your Android phone and you have no backup storage. The app is called iMyFone D-Back Android, and it will change your life. This mobile device restoration tool will allow you to recover almost any file type on a range of Android-powered devices. D-Back Android works great for recovering photo files without root, and it takes no tech skill or time at all. There's even a "Broken Android Data Extractor" option to use on broken or crashed phones.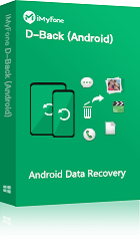 1,000,000 Downloads
Features of D-Back Android
Capable of get back deleted photos from Android internal storage without root.

D-Back Android can help to get your lost/deleted photos back on any occasion: accidental deletion, system crash, water damage and more.

Suitable for both rooted and unrooted devices.

The application has a high recovery success rate, and very safe to use.

The recovery process is very simple, you can retrieve your photos through only a few steps.
Just follow these simple steps to get back lost photos from Android internal memory without root on computer:
Step 1. Download and install the iMyFone D-Back tool on your computer. Choose the option of "Android Data Recovery"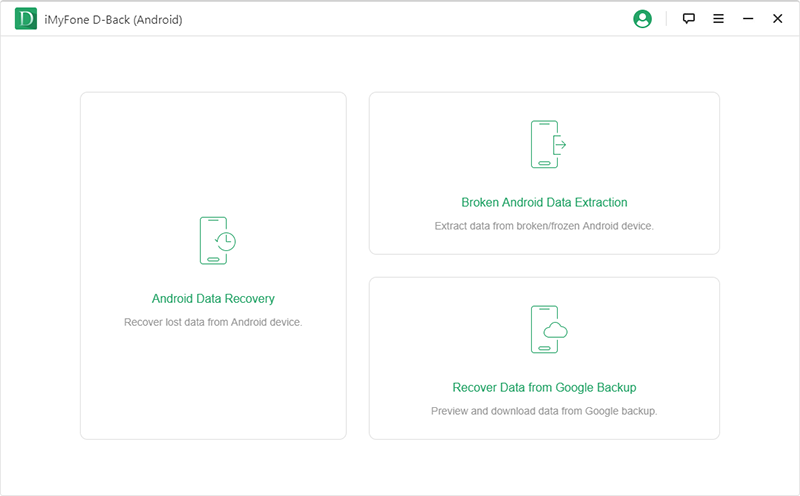 Step 2. Select the information of your device: name and model, click "Next". The program will download the data package automatically.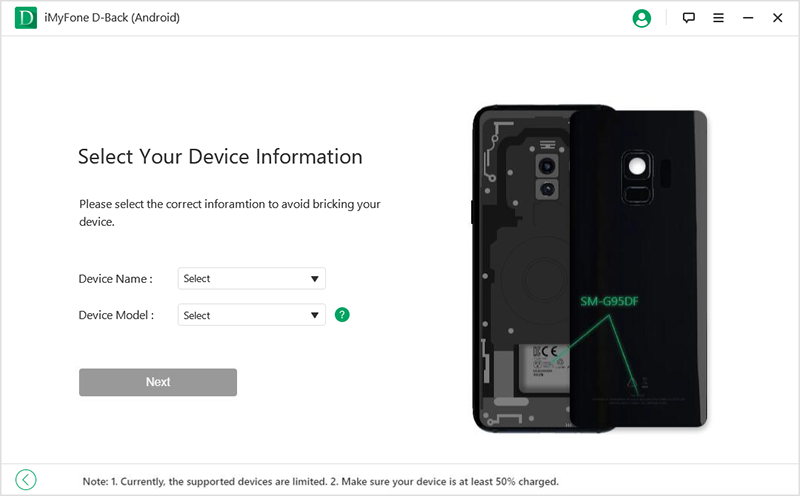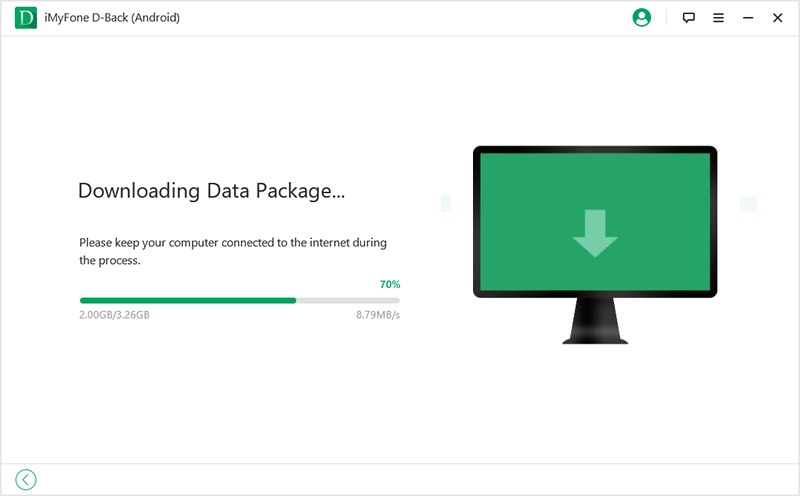 Step 3. Connect your device to the computer.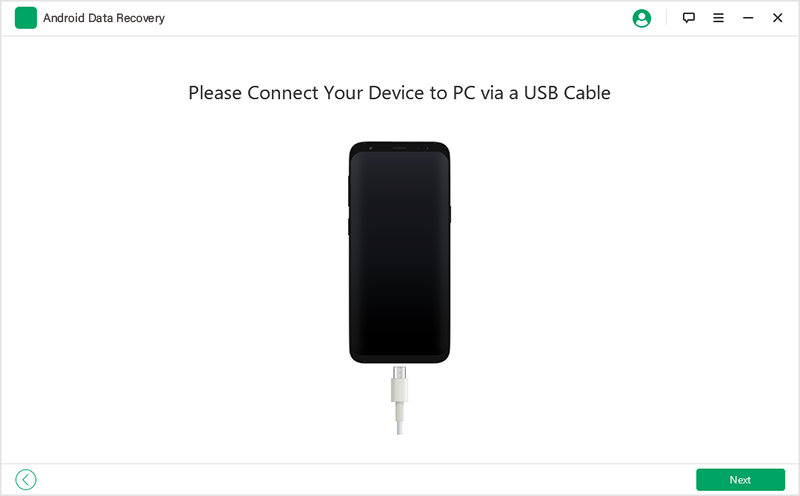 Step 4. Select "Gallery" file type and click "Next".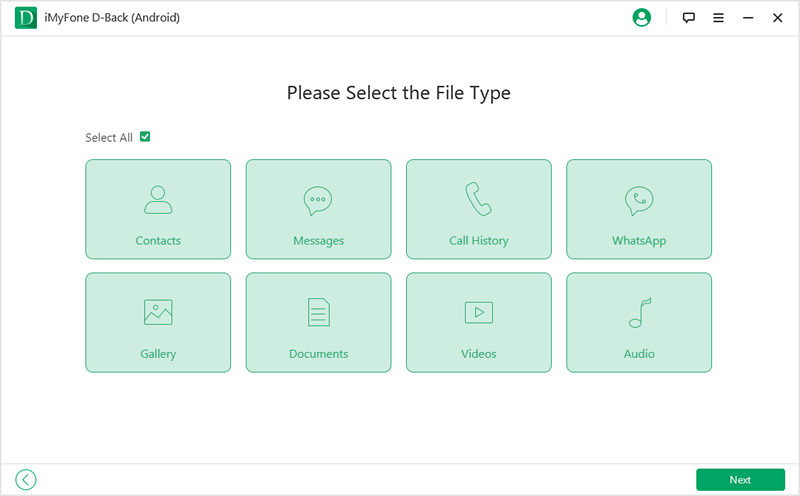 Step 5. All the results will be displayed after the scan, choose the photos you want to recover and click "Recover".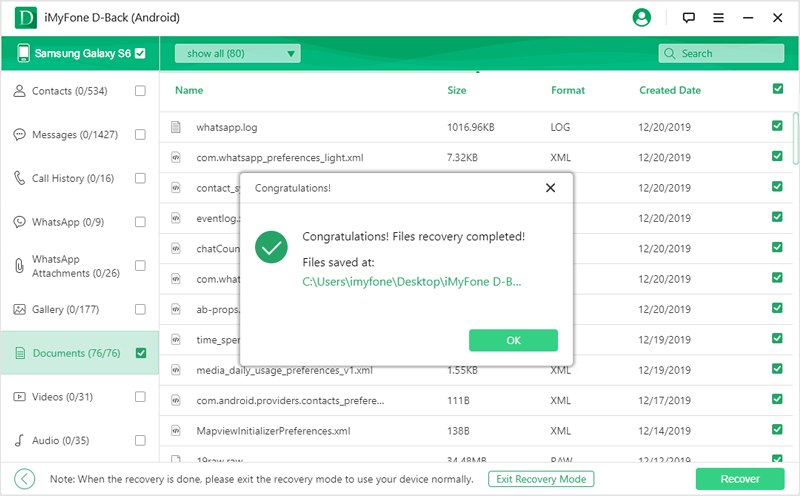 How to Avoid Losing Your Android Photos Next Time
Now that you know how to restore your deleted photos and files, it's important to keep them safe from accidents or damage.
If you're all thumbs like me, being careful is easier said than done.
That leaves us to take proactive measures to keep data and image files safely backed up and stored elsewhere.
The best way to protect your photos and other files is to place them in cloud storage. Android devices save most data files in Google Cloud by default. When you're saving a photo from your device camera, you'll be asked where you want to save the file. You can choose your Google Drive or any one of the other available cloud storage services like Dropbox or OneDrive. All of these services have an ample free storage option or you can choose premium service and get more space.
Frequently Asked Questions About Android Internal Memory Photo Recovery
Sometimes, you just need a few quick answers. Here are several of the most frequently asked questions about D-Back Android and how to recover deleted photos of Android internal storage.
Can D-Back Android recover permanently deleted photos from my Android phone internal memory?
It should work just fine as long as you attempt to recover them within 30 days after they've been deleted.
Do i need root to get more lost photos from Android phone internal memory?
Root your Android phone will get more control for your Android phone, and also increases the lost photo recovery rate, but it is too risky to root your Android phone.
How many kinds of data types can it restore?
The goods news is, this tool can retrieve data from all of your most-used apps and files. Once you learn how to do it from our above tutorial, iMyFon D-Back for Android can safely restore:
Lost photos

Audio/video files

WhatsApp messages, texts, and attachments

Document files

Contacts and call logs
I'm using Samsung Galaxy Note 3. Does D-Back Android support this model/version?
Yes, our app supports Note 3 and other Android versions, including Note 4 and Edge, Note 8.0, S series smartphones, and several Tab versions. You can find the full list here.
Final Thoughts
In the old days of mobile usage, lost data was gone for good. Due to improvements in storage capabilities, memory, restoration, and sync technology, those days are over. Our goal is to provide you with ways to manage data safely and efficiently so that you can get the best use from your devices. Following the above procedures should enable you to restore images and other types of files in no time. Let us know how it goes.