Hello, I need to retrieve my lost photos on my Samsung Galaxy S7. I was about to sync my photos to my computer, but somehow i lost all my pictures from Samsung photo gallery! What happened? I tried several methods but could not get them back, anyone know how to find disappeared photos from samsung phone? Please help!!
– Kevin
People are used to taking high-quality photos with our smartphones instead of camera, it is much easier. We take family photos, capture vacation moments, and take selfies. However, sometimes we may lose them by accident and need to find deleted photos from Samsung phone. Don't worry, we've got 3 data recovery methods for you to try.
Where Have My Photos Gone on Samsung Phone?
Photo storage on the Samsung Galaxy S7 is effortless to access and if you've connected an Android to your PC before, you must have known this already.
By default, Android stores all captured photos in one device's internal storage. More specifically, in the DCIM folder. When users insert an SD card for extra storage, they have the option to create a second DCIM folder on the card and store their photos on there too – this can be done through the Settings menu.
If you connect the Samsung Galaxy S7 to a computer and enter the device storage, you can locate photos in two folder paths:
Of course, if an SD card isn't inserted, photos will only be saved in the phone's internal storage – the first location.
Method 1. Where to Find Deleted Photos on Samsung with D-Back for Android
Now let's talk about how to find disappeared photos from Samsung Galaxy S7 extactly. It depends on if you have made a backup or not. If you don't have a backup, it still have a chance to do a successful recovery. iMyFone D-Back for Android is a professional tool for Android data recovery. As the top-class data recovery tool, it has the features below: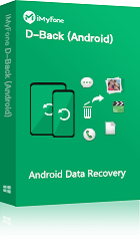 1,000,000 Downloads
Features of iMyFone D-Back (Android)
Preview and selectively find deleted photos.

Recover accidentally deleted, corrupted, and missing photos.

Can extract data from broken Android devices, too.

Support to recover texts, photos, videos, documents, and more data types.

D-Back can recover photos lost due to a virus attack, system crash, water damage, blank screen, etc.

Guarantee high success rate with its advanced technology.
If you find yourself in a situation where to find deleted photos on Samsung, follow these steps to do so without a backup.
Step 1.Install iMyFone D-Back for Android and launch it to begin.
Step 2. Click "Android Data Recovery", then on the following page, select Samsung Galaxy S7 as the device's name and also choose the model.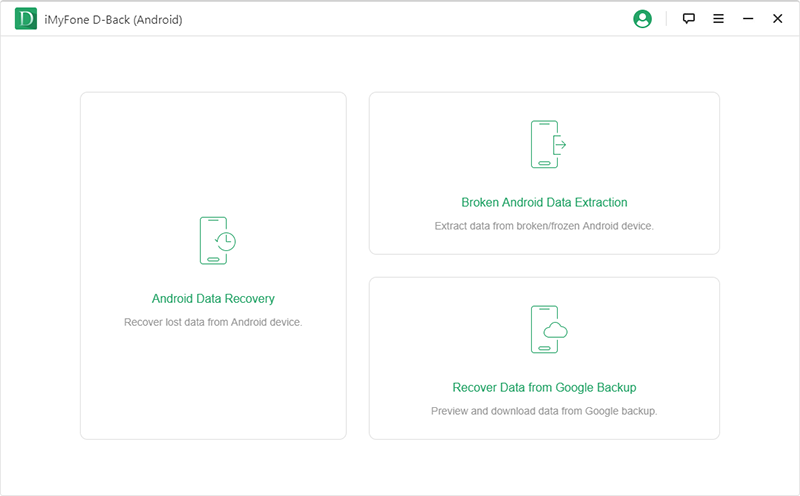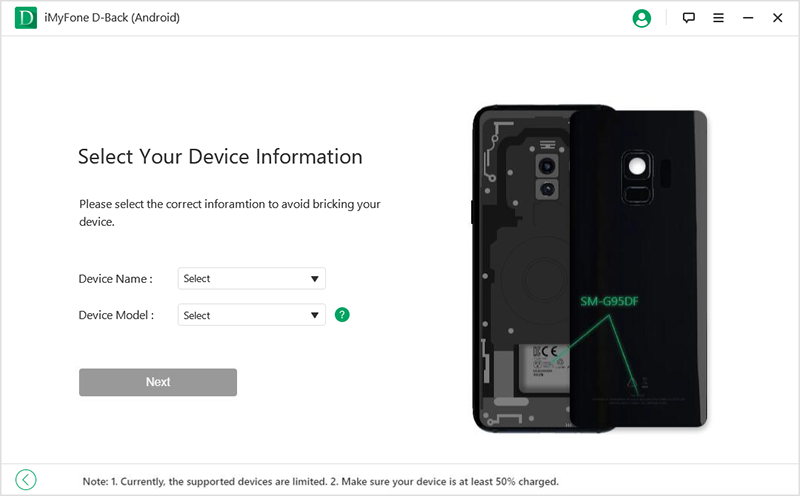 Step 3. After selecting those details, the necessary package will be downloaded for recovery.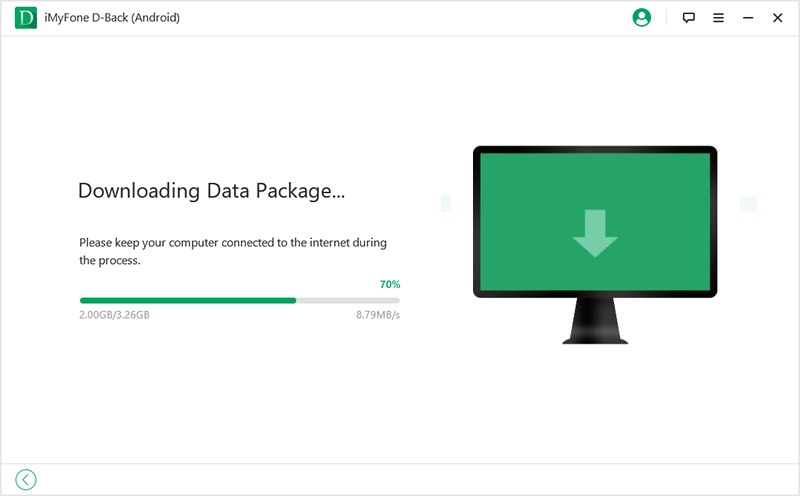 Step 4. Once the download finishes, connect your Samsung Galaxy S7 to your computer using the USB cable. When you click "Next", follow the on-screen steps to put the smartphone into Downloading Mode.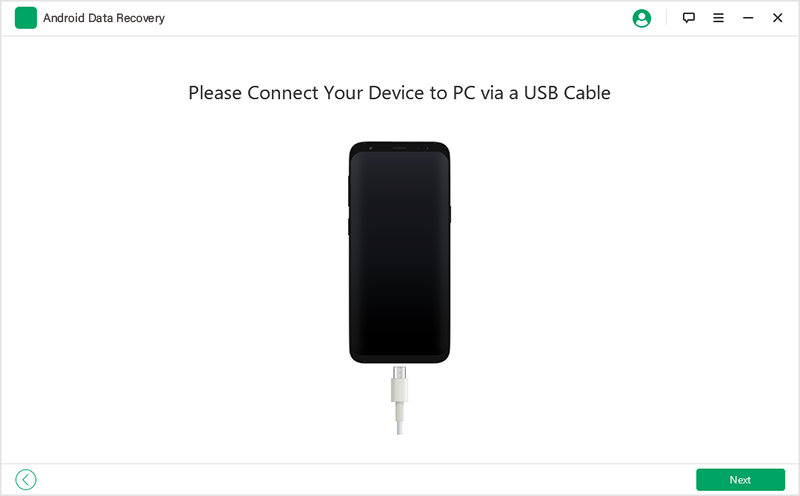 Step 5. Next, choose the Gallery file type since we desire a photo recovery.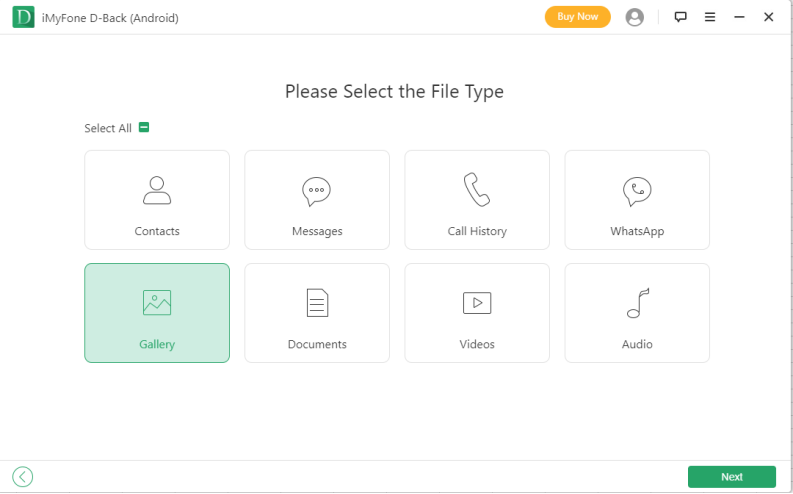 Step 6. The scan will quickly finish and you can now view all of the disappeared photos found on your Samsung Galaxy S7. Select the photos to restore, click "Recover", and choose a PC folder to save them to.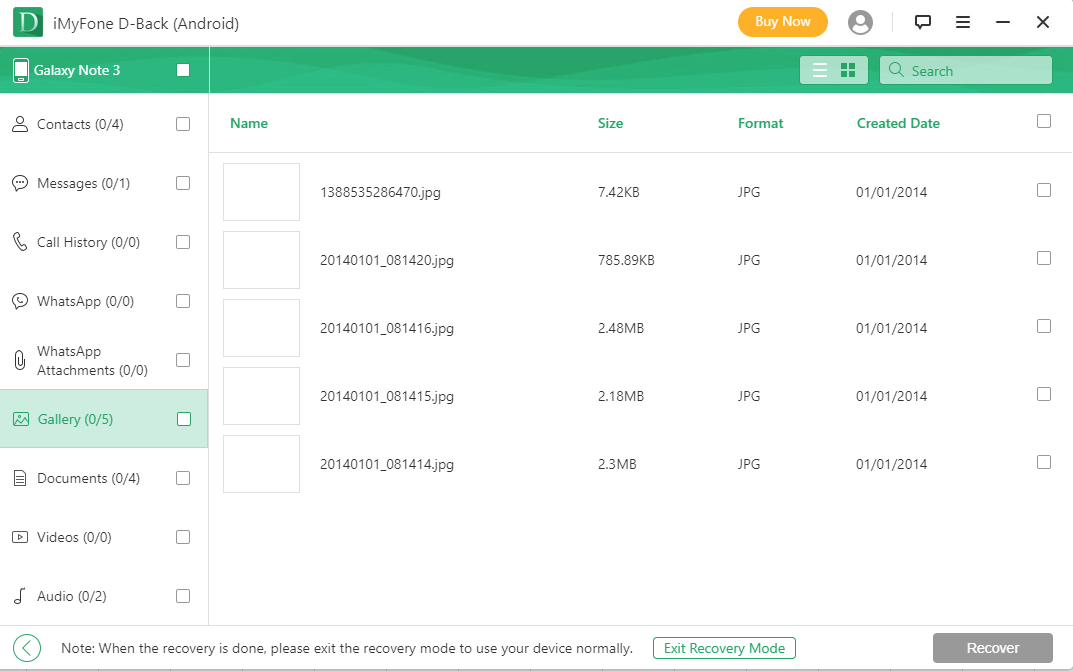 Method 2. Find Lost Photos from Samsung with Samsung Cloud Backup
Alternatively, Samsung Cloud can be useful to recover your lost photos. All Samsung smartphones have this built-in tool that is configured to automatically take backups but obviously, this recovery method requires you to have made a backup before.
Step 1 Unlock the smartphone and open the Settings app.
Step 2 Go to "Accounts and Backup > Samsung Cloud".
Step 3 Tap on "Restore Data" in the "Back Up and Restore" section.
Step 4 After enabling "Sync" for the "Gallery" data type, disappeared photos will be restored.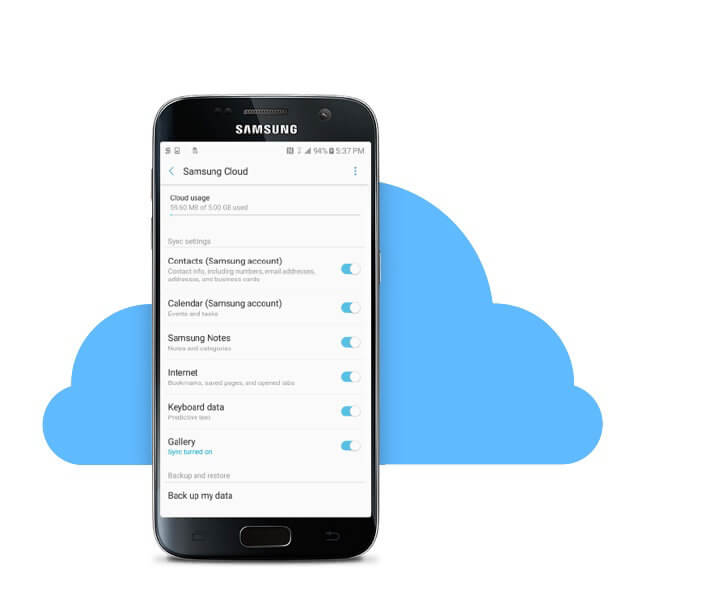 However, users who have disabled Samsung Cloud backup, or don't have a Samsung, won't find this useful.
Method 3. Find Deleted Photos from Samsung with Google Photos App
In addition to the previous section, the Google Photos application is also suitable to recover disappeared photos on Android. Typically with Google Photos installed, it will automatically sync your photos with your Google account so even if photos are deleted, they can be accessed somewhat easily.
Step 1 Launch the Google Photos application and tap the menu icon.
Step 2 From the list of folders select Trash.
Step 3 Choose the photos for recovery and tap "Restore".
Step 4 Double-check that the photos are recovered by going to the Gallery app.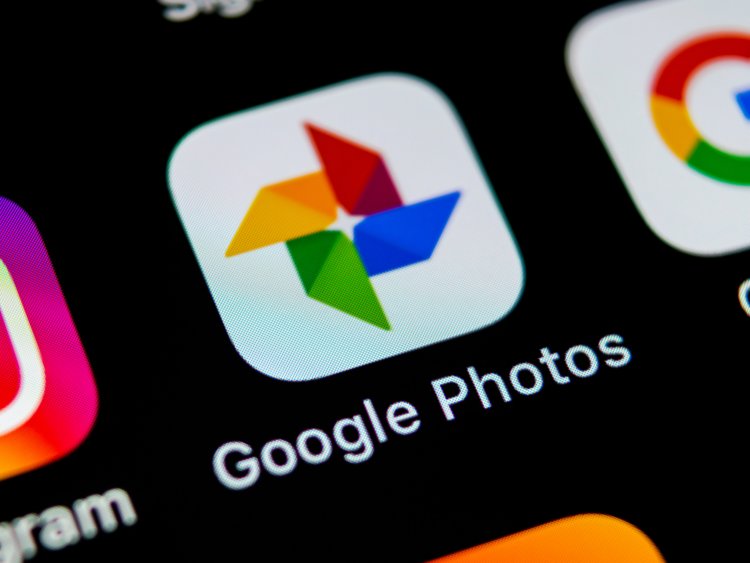 Although this method is convenient, if you have deleted the photos through the app, emptied Trash, or the cloud storage was full which overwrote deleted photos, then it won't be useful.
Comparison of Photo Recovery Methods
Now that you have three different solutions for recovering disappeared photos – iMyFone D-Back, Samsung Cloud, and Google Photos. Let's compare their features to find out which one is the best.
| Features | | Samsung Cloud | Google Photos |
| --- | --- | --- | --- |
| Preview Data | | | |
| No Backup Required | | | |
| Selective Recovery | | | |
| Offline Usage | | | |
By taking all of these factors into account, it's obvious that iMyFone D-Back for Android is the best solution for recovering photos. Even the simplest features like previewing data before recovering is what makes iMyFone D-Back stand above the rest.
Bonus Tips: How to Avoid Permanent Deletion of Photos on Android
Hopefully, these methods have led you to successfully recover disappeared photos on Android, but we're not done yet. It's equally as important to know what you can do to avoid permanent deletion of photos in the future, so here's our advice.
1. Stop using the Android device after accidental deletion to reduce the risk of overwriting disappeared photos.
2. Keep a backup of your photos in cloud storage or another safe location.
3. Take data backups of your Android device before installing any updates.
4. Use iMyFone D-Back for Android to extract a copy of photos to your computer.
A lot of data loss situations can be avoided by considering these tips and taking precautions. Follow our advice and you will avoid unnecessary deletion of photos and other kind of data.
Conclusion
The best way to avoid photo loss is to make regular backup. But if you have deleted photos permanently and can't get them back through free methods, then iMyFone D-Back for Android will be a good option.