"Hello all. I have a Galaxy Note 5 in which I dropped into a swimming pool while on vacation. For days, I tried to dry it out but it appeared that it would never turn back on so I assumed it to be completely dead. But based off this info, is it even possible for me to recover data from my water damaged phone" – Ada, from androidcentral
Dropping their smartphone in water is probably the most horrifying situation for every Android user. Like any other electronic device, smartphones (unless you own a high-end $1000 phone) aren't designed to work after getting soaked in water. So, the first thought that'll come to mind after dropping your phone in water will be, "Can data be recovered from water damaged Android?"
No doubt, it could seem like the world has frozen, but the last thing you'd want after this unexpected incident is to lose all your valuable data as well. So, in this guide, we'll walk you through two of the most effective ways to recover data from water damaged android phone sd card.
Part 1: Is Your Android Phone Damaged by Water?
First of all, it's important to verify that your smartphone has actually experienced water damage so that you can follow the right steps to recover your phone when it soaked in water. In saying that, here are a few signs that indicate the Android device is damaged by water.
For Samsung Galaxy devices, the company has added a white sticker (with red crosses) on the battery. If the smartphone has undergone water damage, this sticker will turn purple automatically. So, if you're a Galaxy owner, take out the smartphone battery and check the color of the sticker.

Many manufacturers also add other types of dedicated LDIs (Liquid Data Indicators) that'll instantly tell you if the smartphone has been damaged by water or not. You can check the official website to find out the LDIs placed on your smartphone.
Now that you know the water damage indications, let's quickly discuss how to extract and retrieve data like contacts, messages, photos, videos, etc. from your water damaged Android phone when got wet.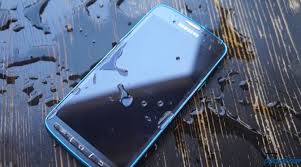 Part 2: No Data Backup? How To Recover Data from Water Damaged Android Phone SD Card
Since a water damaged phone is less likely to turn on, you'll need a third-party data recovery software to recover all the files from your phone. These days, the market is stacked with dozens of recovery tools, but it's crucial to pick the right one so that you can get back everything without any hassle. As per our experience, we've found iMyFone D-Back for Android to be quite promising when it comes to recovering data from an Android device. With an easy-to-use user interface, it'll become quite easier to recover data from a water-damaged smartphone using the D-Back data recovery tool.
D-Back is specifically designed to recover data from broken/damaged Android devices sd card, making it the perfect option when you've dropped your smartphone into water. Here are a few of the features that D-Back for Android offers that make it a remarkable recovery software.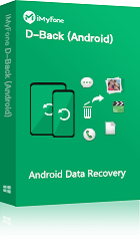 1,000,000 Downloads
Main Features
Being an all-in-one data recovery tool, D-Back will help you recover different types of files, including images, videos, contacts, and even Whatsapp conversations.

D-Back offers a straightforward user-interface, making it easier for everyone to restore the data on an Android device instantly.

It provides a preview function that gives you the ability to view the scanned files before recovering them.

Applicable to forgotten password, virus-attacked, crack screen, and system crash Android phones.

You don't need any backup file to recover the data as well.

Works on rooted and unrooted Android.

You can still choose to recover data from backup with Google account with 3rd mode.
So, let's quickly discuss the step-by-step procedure on how to recover data from a water damaged Android phone that won't turn on using iMyFone D-Back for Android.
Step 1 - Install and launch D-Back on your PC and select the "Android Data Recovery" option.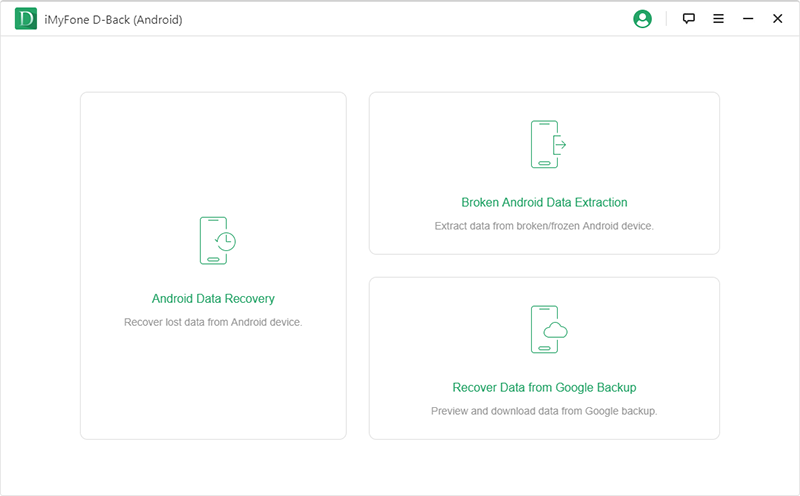 Step 2 - In the next window, you'll be asked to enter the device information. Make sure to provide the accurate device name and model as this information will be used for the recovery procedure.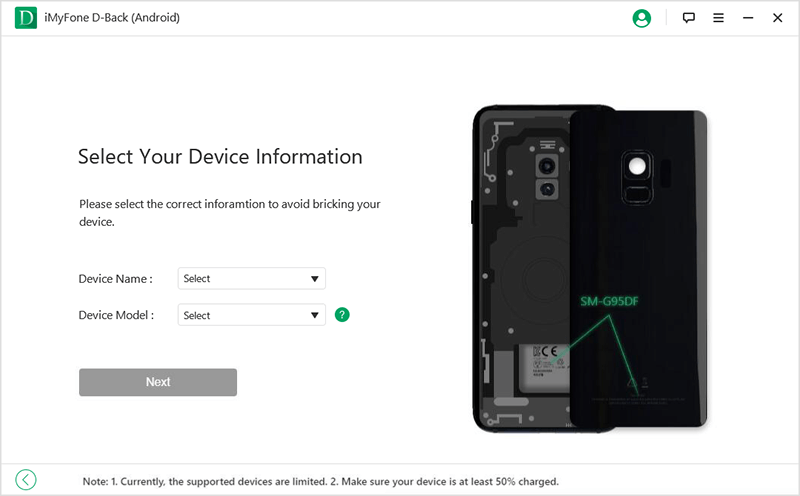 Step 3 - As per your device model, D-Back will start downloading the right data package. This process could take a while to complete as data package size can vary for different devices.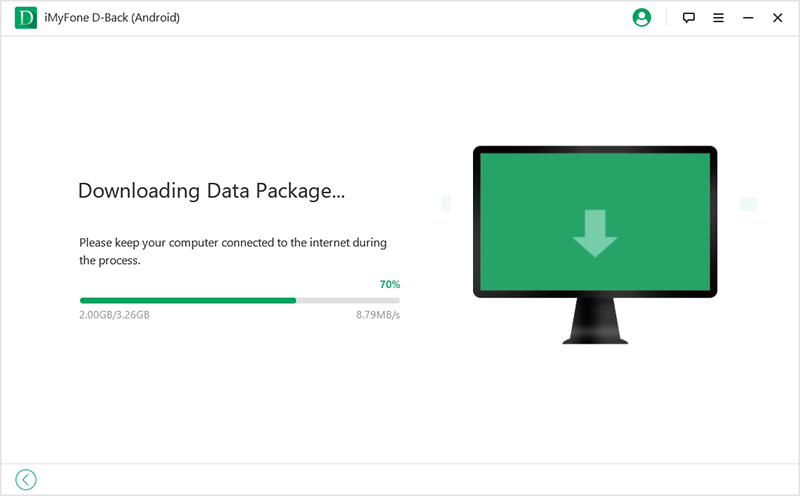 Step 4 - Once the data package is successfully downloaded, connect your smartphone to the PC using a USB cable.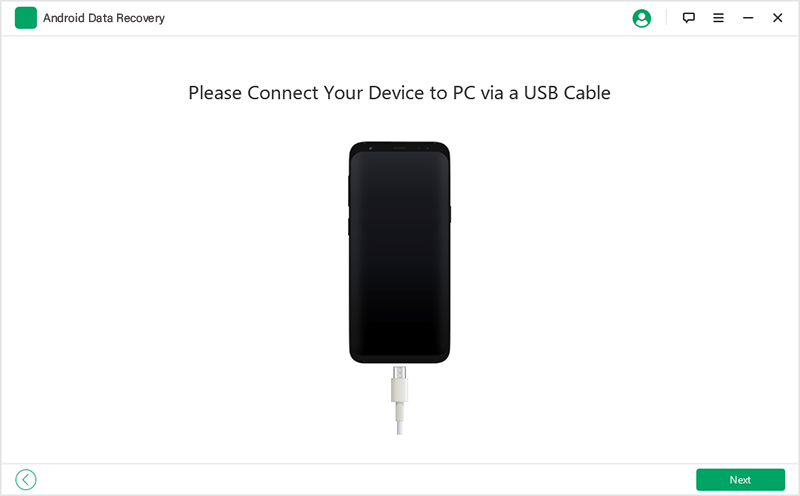 Step 5 - Now, you'll see a list of different file types. Choose the right file type that you want to recover and click "Next."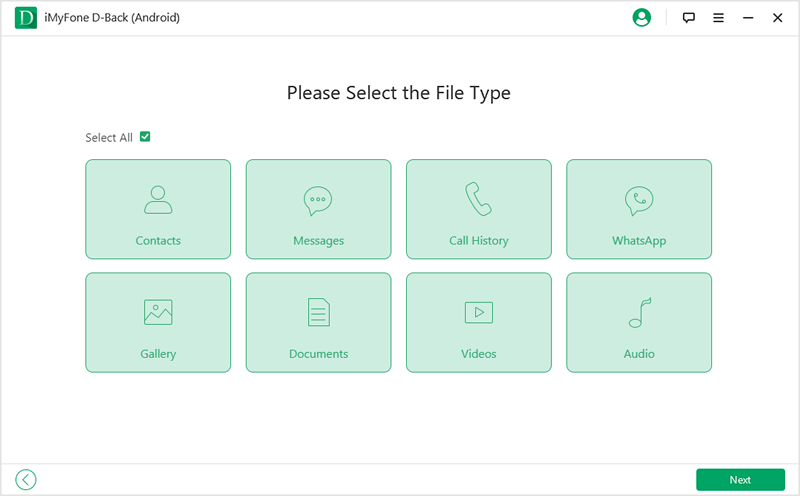 Step 6 - D-Back will start scanning your device for the appropriate files. After the scanning process completes, D-Back will list all the lost files. Select the files that you want to restore and click "Recover." That's it! These files will be instantly restored to a safe location on your PC.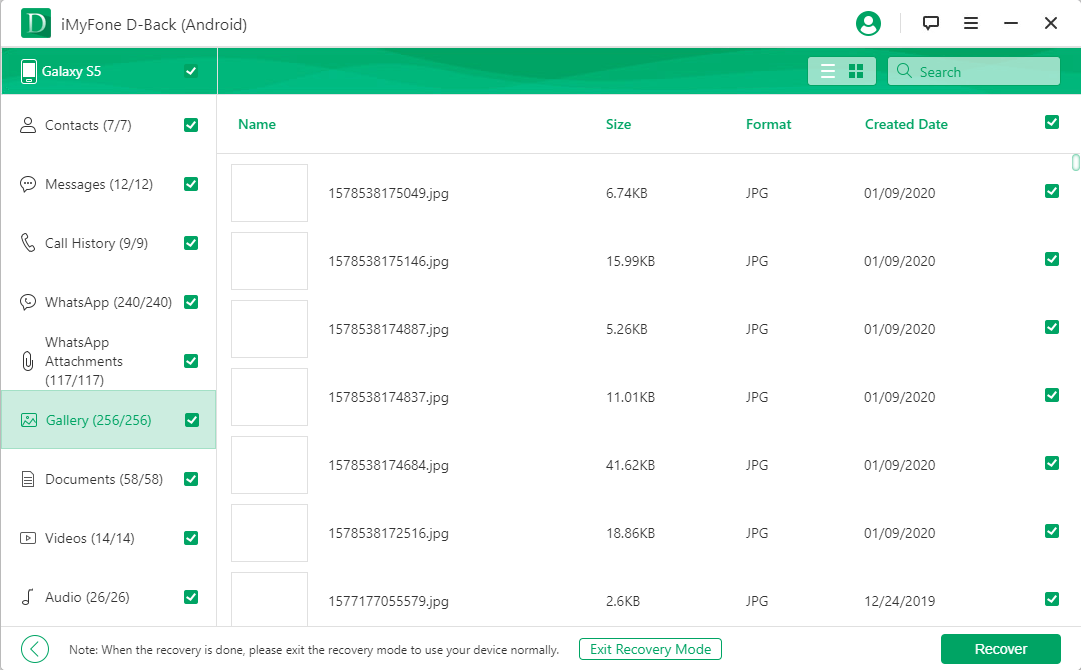 Extra Tip: The recovered data is now also the backup data of your phone. You can easily transfer to your new phones in the future.
Part 3: Restore Files from Water Damaged Samsung from Computer
If you're using a Samsung device, you can also use Samsung's official "Find My Mobile" service to retrieve the lost data. Since water damage doesn't corrupt the data on the smartphone, this method will help you retrieve pictures from a water damaged phone without any hassle.
However, it is worth noting that this method will only work if you have already logged in with Samsung account credentials on your smartphone. So, if that's the case, follow the below-mentioned steps, and you'll be able to recover all the files using the "Find My Mobile" service on Samsung devices.
Step 1 - Go to https://findmymobile.samsung.com and log-in with your Samsung account credentials. Make sure to use the same credentials that you've used on the device itself.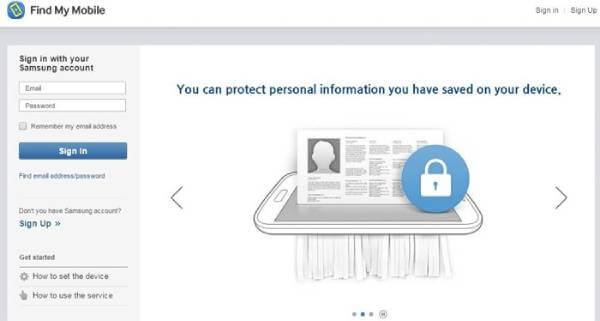 Step 2 - Once logged in, you'll see different options on your screen. Locate and tap "Unlock my screen" and click "Unlock" to confirm your action.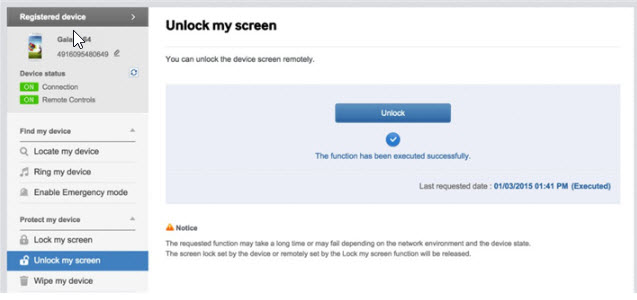 Step 3 - Once the smartphone is unlocked, connect it to the PC using a USB cable. Now, open "File Explorer" on your PC and go to "This PC." Here you'll see the phone's SD Card or Internal Memory drive. Open it and copy all the files that you want to restore. Paste them on a safe location on your PC.

Even though using Samsung's "Find My Mobile" feature works, it has a few drawbacks, which include:
Cons
First of all, you won't have any advanced recovery options like iMyFone D-Back for Android. For instance, you won't be able to recover Whatsapp conversations or contacts using this method. All you can do is restoring images and videos.
Secondly, Find My Mobile will only work if you have already logged in with the account on your device.
This feature is also limited to Samsung users only. If you use any other Android device, it's better to use an official data recovery tool like iMyFone D-Back for Android.
As compared to using a data recovery software, this method is extremely time-consuming.

Extra Tips To Remember When Android Phone Gets Wet in The Water
As we mentioned earlier, it would be quite horrifying to drop your smartphone into the water. However, instead of panicking, following a couple of tips might help you protect your device from undergoing complete damage. A few of these tips include:
Before everything, make sure to take your phone out of the water immediately. The more time a smartphone spends in the water, the lower would be chances of recovering it.
Once you've taken out the device from the water, do not try turning it on in any case. The reason being this could completely fire up the motherboard, leaving no chance of recovery.
Use a soft cloth or towel to wipe off each part of the smartphone. If the back panel opens up, make sure to remove the battery, SIM card, SD card, etc., and the dry out each component to remove the water droplets from them.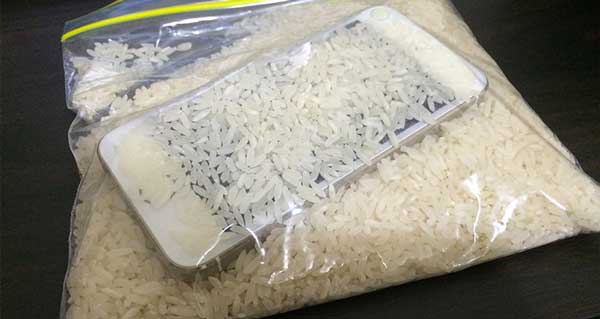 Final Thoughts
It's safe to say that many users don't care about the smartphone as much as they care about the data inside. That's why the majority of people instantly want to know the procedure to recover their files. If that's the case, the tips mentioned above will help you recover data from water damaged phone. No doubt, water damage is the last thing you'd want to happen, but instead of panicking, it's better to follow the right procedure so that you can at least recover all your valuable data from the smartphone.