"I have accidentally deleted some texts related to my business, and sadly I didn't have any backups. Now it seems I can't get those messages back. They hold great value and can adversely affect my business."
The same things have happened to all of us, and we all presume that there is no way to get recently deleted text messages back without backup, but that's not true. We can recover recently deleted text messages, and the methods are quite straight forward than what most of us think. But the question is, how would you retrieve your texts and which method complies with your device's state. The main factor is your device's root state, whether it is rooted or not. Rooted devices give more accessibility to the user, and the retrieval will be more effective, but that doesn't mean you can't recover deleted text messages from Android free without root or without backup.
Retrieve deleted text messages from Android phone is not easy, our editor recommend D-Back for Android, it can get back recently deleted messages from Android without root, it support preview recoverable data before final recovery, Download D-Back for Android free now.
What is Android Root?
For users who don't know what root means, it means full, limitless control over the device. But the main question that arises is to whom does this control or access go? Before rooting, the device puts restrictions on the user and prohibits them from making specific changes. Because it thinks that the device's safety might be jeopardized. After rooting, you can do all kinds of stuff with unrestricted access. But the problem that arises now is, if any hacker with malicious intent gets hold of your device, then your data and other things can be in danger. As now, the device isn't as protected as before. But if you know what you are doing and you are also familiar with rooting, then there is nothing you need to worry about, because there are ways to prevent hacks on rooted devices. So basically, rooting or not rooting depends on you and your device.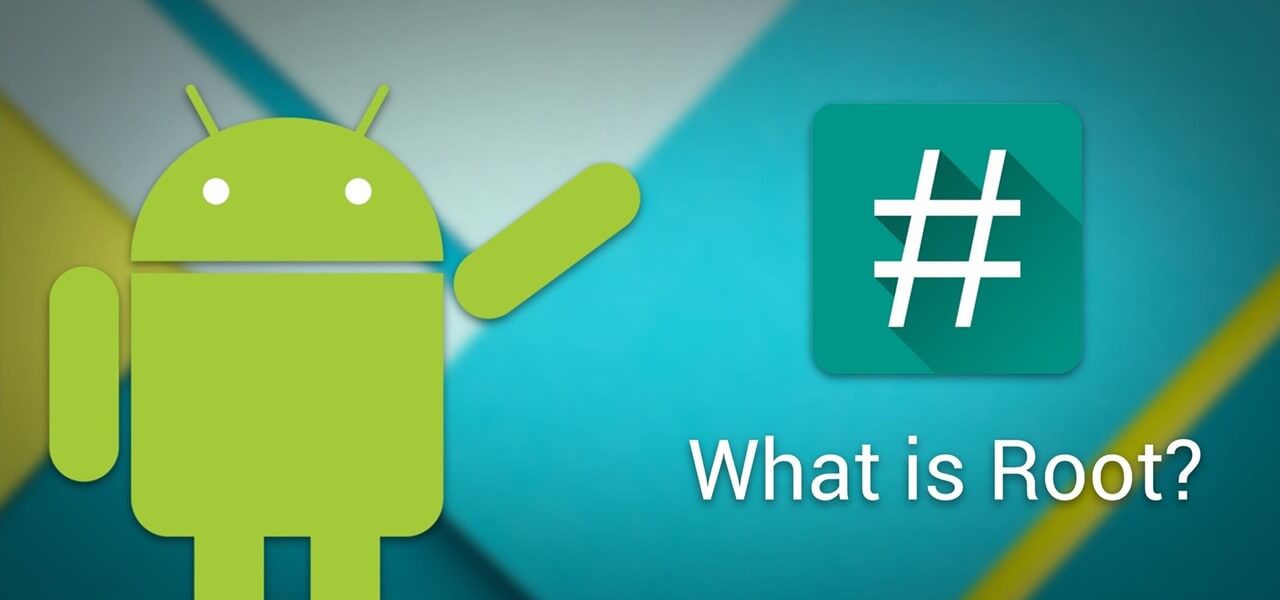 Do you have to root your Android phone to recover recently deleted text messages?
Rooting is not a must-do for the text message recovery, and it can be risky to root your device:
Security issue: Rooting can give you a full control of your device, thus you may download malware unintentionally or makes changes on your device without knowing what you are doing. Then hackers may hack your Android device and take away sensitive information.
Update issues: Rooting may lead to failure of updates due to the software modification or internal changes made by rooting.
No warranty: You will no longer have the warranty to cover you after rooting the device.
Bricking: There's also a high possibility of bricking your Android device with rooting, on such occasion, your device will be useless.
Since rooting your Android device have the above risks, then how we can recover recently deleted text messages on Android without root/backup? There are a few loopholes that can safely enable you to access the deleted SMS. It isn't mandatory to root your device for recovering text messages, but most apps require root permission.
Methods to Recover Recently Deleted Text Messages Android Free without Root
Luckily, there are reliable and effective ways to recover deleted text messages on Android free without root. You can easily get back your deleted SMS. We've listed some for you:
Fix 1. Best Software to Retrieve Recently deleted text messages Android free without root via D-Back Android
D-Back for Android text messages recovery tool is an excellent option as it gives the user many benefits making it far more useful than other applications or recovery tools. Moreover, it can help recover lost SMS from devices with issues like bricked devices, water damaged devices, broken screen devices, etc.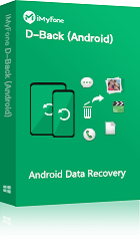 1,000,000 Downloads
Here are some features of D-Back Android:
It previews all the text messages that can be retrieved and then recover them selectively or completely as you want.

It supports to get back many data types, including text messages, photos, contacts, etc.

Deeply scan your device and get back your recently deleted text messages within minutes without backup.

Capable of retrieving text messages deleted or lost on any occasion.

It does not require backups to retrieve text messages.

It works on both rooted and un-rooted devices.
Below is a step-by-step guide for restoring your recently deleted/missing text messages from Android phone with no root/backup:
Step 1. Download and install D-Back (Android) on your computer and then choose a recovery mode. There are three recovery modes: Android Data Recovery, Broken Android Data Extraction, and Recover Data from Google Backup. Select a suitable one to guarantee better results.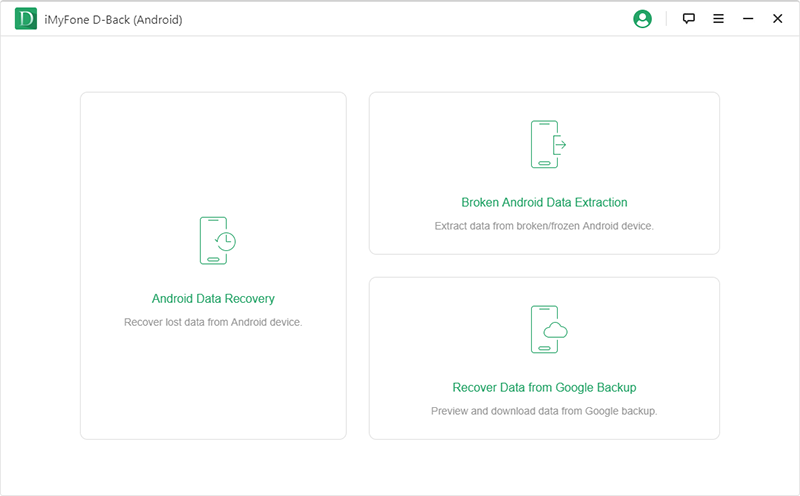 Step 2. Choose your Device Name and Device Model correctly to download a data package compatible with your device.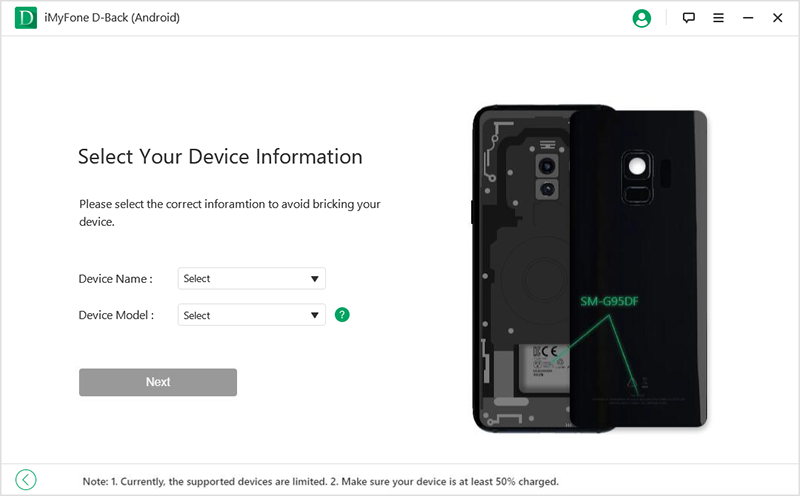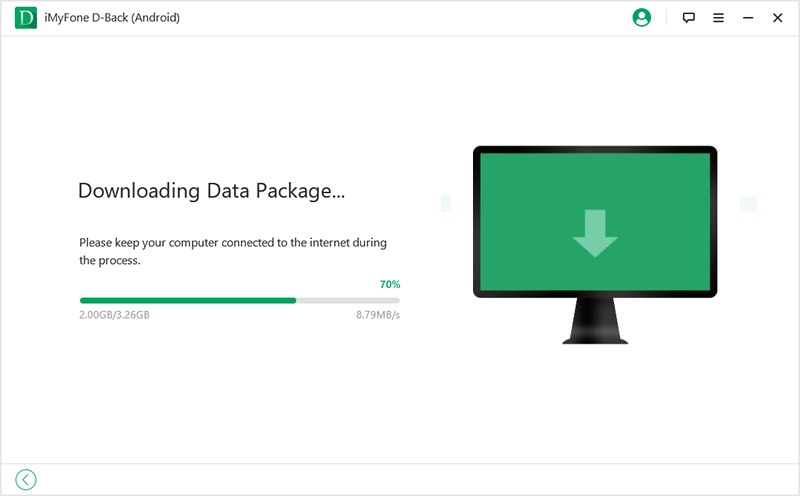 Step 4. Connect your Android device to the computer via a USB cable. D-Back (Android) helps you go into downloading mode in 3 easy steps.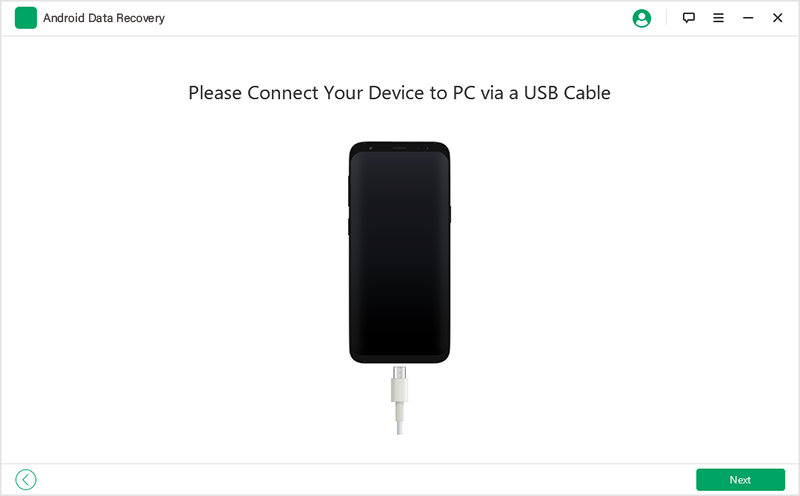 Step 5. Once the phone has been configured to download mode, the software brings you to the Recovery Screen. Select the nature of the files you wish to retrieve.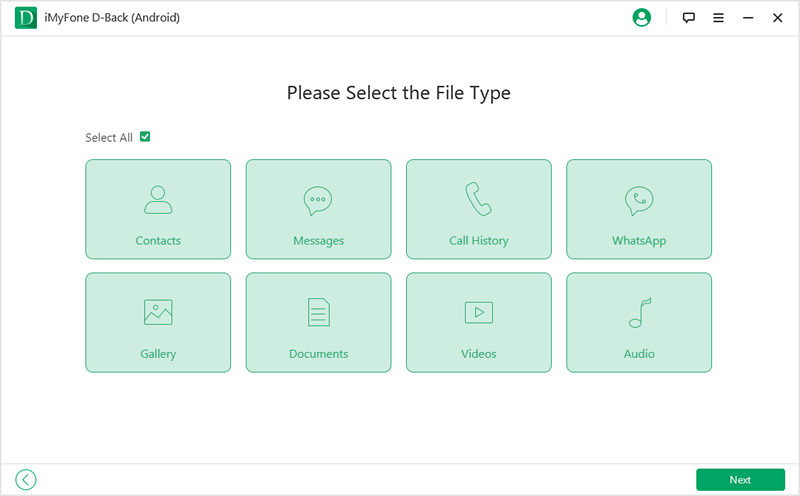 Step 6. It will scan and show a list of files that it can recover for you. Choose the texts you need to retrieve and click "Recover".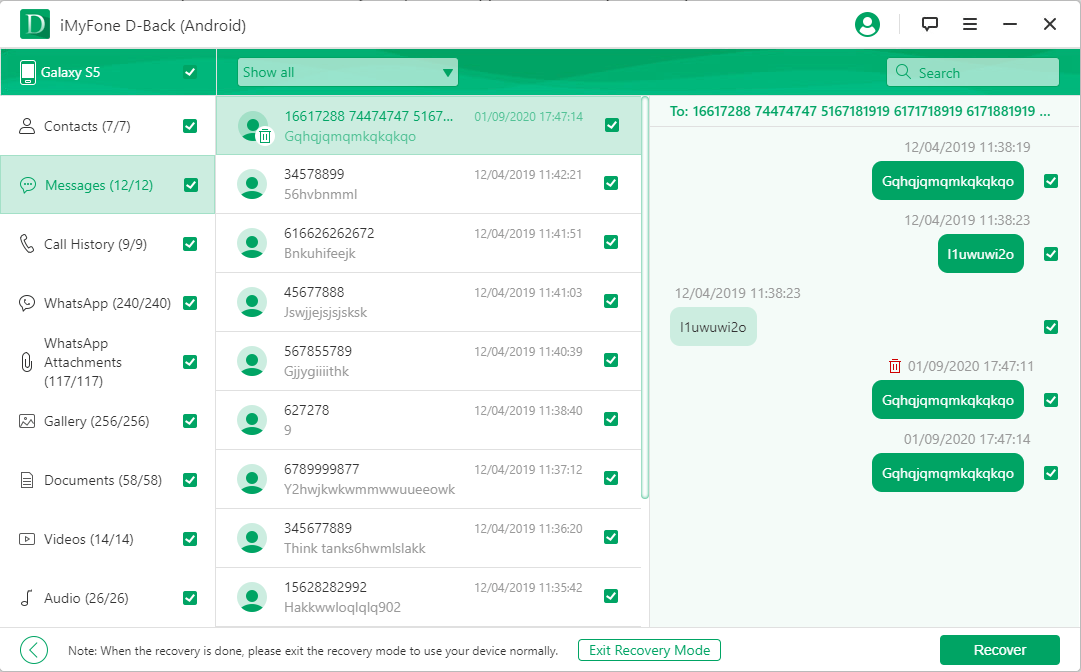 Fix 2. Use SMS Backup+ App to restore recently deleted text messages from Android phone Free without computer
SMS Backup+ is a free beneficial app for the recovery of deleted text messages on Android free without computer no need root. To make it work, you need to enable IMAP in Gmail and connect the app with your Gmail so that it can start creating backups. It has a few excellent features, like automatically creating backups and saving them on your Gmail. But the downside is that to recover any deleted text messages, you need to have a backup created for it. Another disadvantage of this app is that the process of setting it up and connecting to your Gmail account is tedious and can become confusing, but that is one time only. So if you can go through this for one time, you will be able to create backups regularly without any costs. This application is open source, which means you can view all of its contents and even edit if you want. Open source also gives users a feeling of more security as the data is not being stolen or sent to any other person, and it stays wherever you want it to be.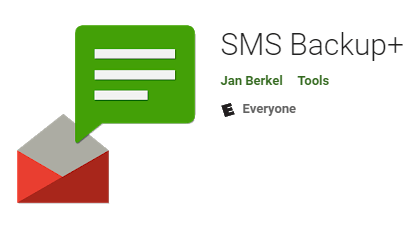 Fix 3. Get Back recently deleted text messages on Android phone from Carriers Free
You can also get the text messages from the mobile phone carriers as they keep records of the call logs and messages for legal uses, including evidence for different cases and so on. But for this, you will need to provide thorough identification to get that text message back. In this way, you can also get the deleted text back without rooting your device. The main disadvantages of going to carriers are their lengthy procedures and its tediousness. It requires you to submit documents on-site personally. This method should be a person's last go-to option.
How to Prevent Loss of Text Messages Ever?
There are many apps that you can use, but I would recommend Super Backup & Restore as a recovery & backup tool as it will help you a lot. It does not require any third-party app to store your backups. Instead, it creates backups in your phone as .xml files.
Note
But please note that if you use this app for the recovery, it needs to have a backup created first to recover your deleted text messages. If you haven't created any backups, this tool will be useless.
Verdict
Text message is one of the most important things to any person, because it may contain valuable and private stuff one wouldn't share with others, or they might be linked to one's wellbeing. When it comes to the text messages related to your business, the significance of them doubles. We often misplace or lose them for many reasons, and rooting may cause various problems. So it is essential to have apps that can help you retrieve the recently deleted text messages on Android free without root.