Ever gotten irritated or disappointed when your phone suddenly decides to give up? Everyone dreads the moment when their phone might go off never to turn on again. More than the loss of the device, what hurts the most is all the data gone with it. The gigabytes of photos and precious memories, apps, and contacts, etc. This article aims to enlighten readers on the different Samsung data recovery software, and why it is an absolute necessity for any mobile phone user with a Samsung phone.
There are many reasons why such a Samsung mobile data recovery tool is needed:
Dropping the phone and breaking the insides.

Dropping the phone in the water. Most of the phones tend to be water-resistant and not water-proof. Once the phone is submerged for a while, that's the end of the phone and everything in it.

Accidentally deleting data. How often do you accidentally delete data, only to regret it a second later? A lot would be the answer.
For all these reasons, and more, a recovery tool becomes essential. Although AnyRecover does a very good job in file-recovery, it mainly focuses on data recovery for files on desktops, while also handling recovery from hard drives and cameras. These devices can break or stop functioning for no valid reason. Now, what happens when a similar thing happens to your Samsung phone/tablet? So, with that in mind, here is our handpicked list of the top 6 Samsung cell phone data Recovery softwares for Samsung devices.
Best Samsung Data Recovery Software for Samsung Phone/Tablets on PC Free Download
1. D-Back for Android Recovery Tool for PC on Windows/Mac
This is one of the recommended data recovery tools for Samsung devices. The iMyFone D-Back for Android helps recover lost data caused by accidental deletion, system crash, virus attack, etc. The tool offers recovery for different file formats. With D-Back Android, you can recover images, contacts, documents, videos, and even WhatsApp data (to name a few). The service has a very high success rate, more than many you find online and is 100% safe.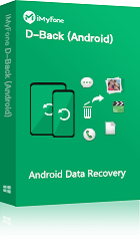 1,000,000 Downloads
Some of the features of this software:
Offers 3 recovery modes, you're allowed to recover data from Samsung with or without backup.

Works on rooted and unrooted phones.

The mode "Recover Data from Google Backup" allows you to selectively extract or recover data from Google backup.

Filter and preview functionality.

Support to extract different file types, including but not limited to texts, photos, videos, audios.

It saves your lost data as CSV, HTML, and VCF formats in PC.

100% safe to use.

The software offers a trial version that allows you to scan and preview your lost data, but the full version is paid. iMyFone D-Back Android offers three plans to choose from. The Basic Plan costs $34.95 and supports only one device for 1 year. The Family Plan costs $44.95 and supports 2-5 devices for a lifetime.
Guide to using D-Back Samsung Android Data Recovery Tool
Step 1. Launch the D-Back Android software on your PC.
Step 2. Choose from either "Android Data Recovery", "Broken Android Data Extractor", or "Recover Data from Google Backup", depending on your situation. We choose "Android Data Recovery" in this case.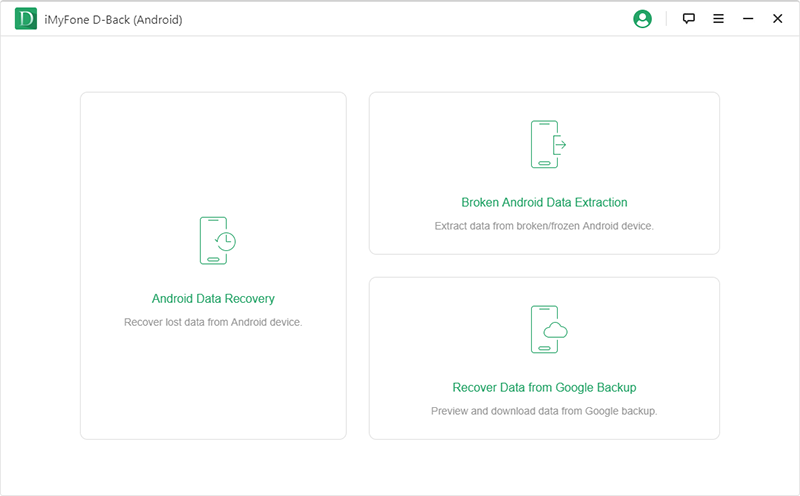 Step 3. Choose the Device information. Select your Samsung device name and model, then proceed to "Next".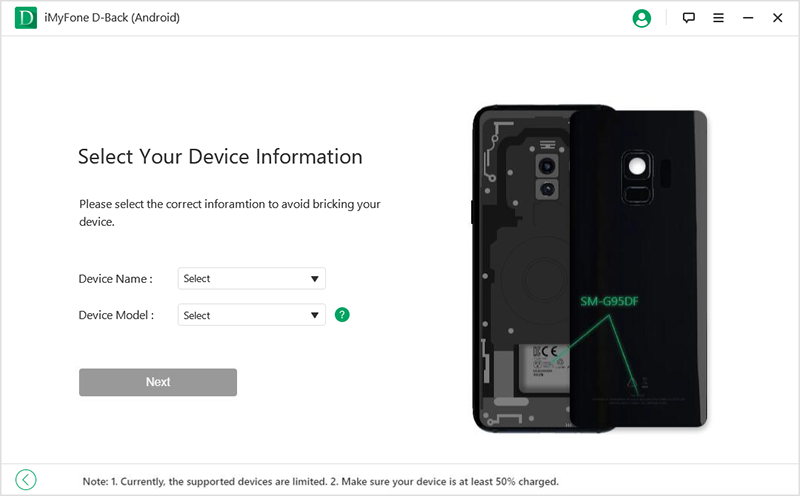 Step 4. Depending on the model, the corresponding data package will be downloaded (Internet needed).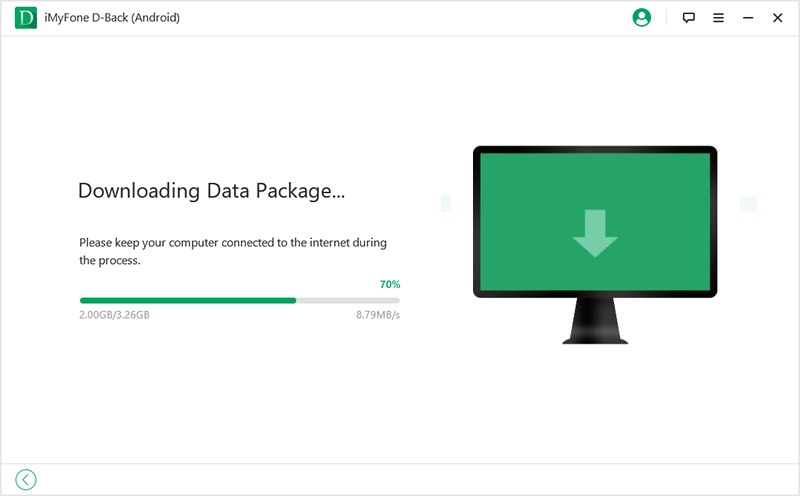 Step 5. D-Back will then prompt you to connect your device to the PC via cable. It will then proceed to tell you how to boot the phone in Downloading mode.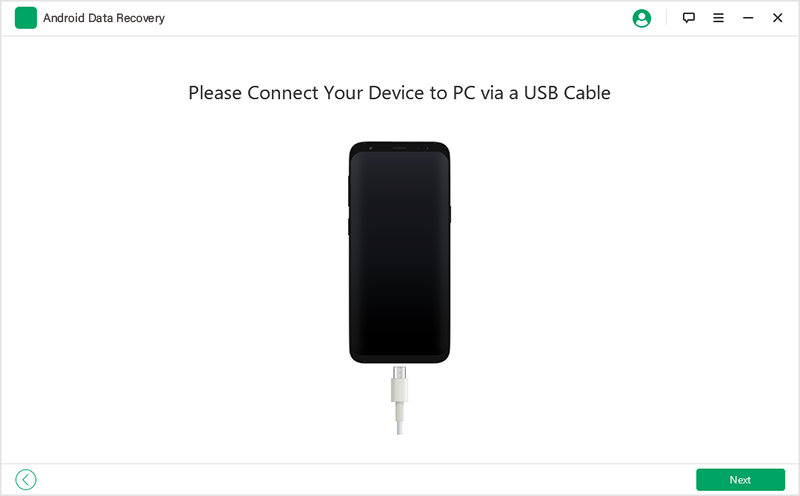 Step 6. Choose the types of files you wish to recover, D-Back will list the files on your device depending on what was chosen. Sit back and watch D-Back recover all the data you thought was gone forever.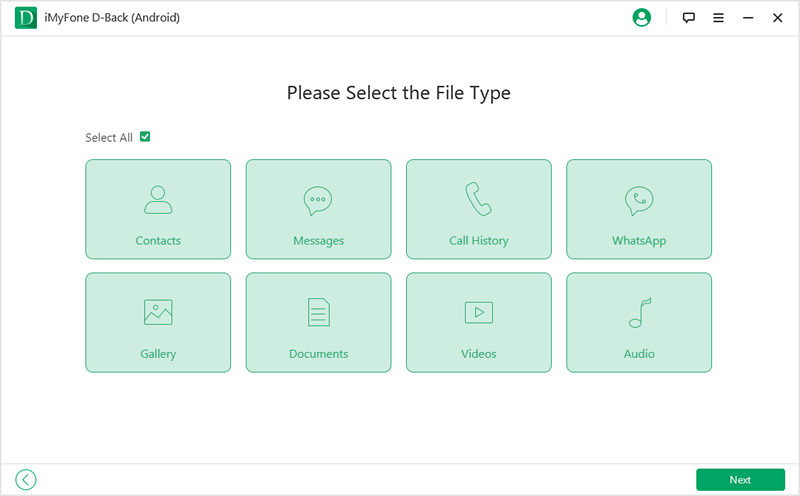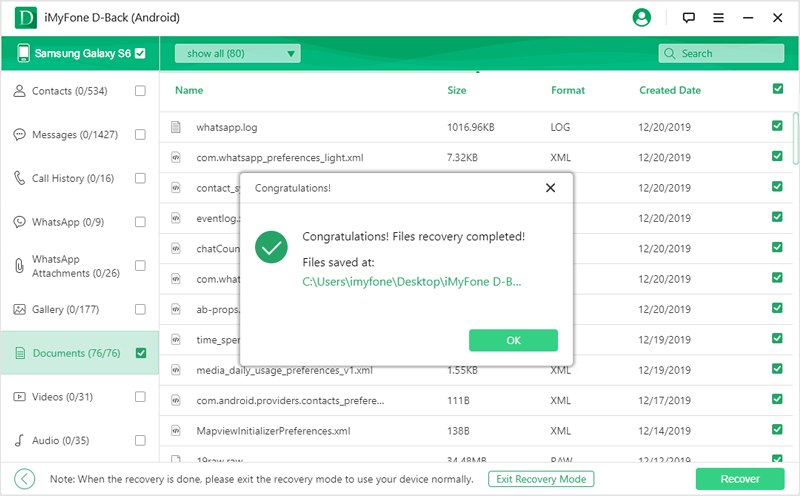 2. iSkysoft Samsung Data Recovery App
iSkysoft Samsung data recovery app is another software that helps recover data from any situation. The downside of this is that the trial version only offers data searching on the broken/ damaged devices, If you want to recover the files, you'll have to shell out cash for the full version. Also, the partition recovery feature is only available in the Ultimate Edition. One major disadvantage that many users have pointed out is that iSkysoft loses the original file names once the data is recovered. Even the locations change, making it a huge hassle.
Cons:
Only provides data searching service of the trial version.
Will lost the original file name after recovery.
The location of the recovered file can change.
3. iMobile Phonerescue Samsung Data Recovery Software
This is another samsung data recovery app for Android devices. One of the major disadvantages of iMobie samsung Data Recovery is its inability to scan particular folders. The software does not support scan selectively, this makes certain smaller data recoveries take forever. The free version is capable of recovering only 500MB data, which is, in today's world, negligible.
Cons:
The free version only supports to recover 500MB data.
Unable to scan a particular folder, which means you have to spend a long time scanning the entire drive.
4. Mobikin Doctor for Android
Mobikin allows for users to easily recover files that accidentally deleted or from phones that don't turn on. Sadly, without rooting, the software does very little and has very limited recovery. Also, the files are backed up in a definite format making it very rigid and not flexible.
Cons:
You have to root your device to get the best recovery results.
5. FoneDog Samsung Data Recovery Tool for PC
This is another data recovery tool that allows for the recovery of deleted texts, photos, and videos (to name a few). This software has received various success rates and hence a clear definite review isn't fully possible.
Cons:
6. FonePaw Samsung Data Recovery Program for PC
FonePaw does the job of recovering data from damaged devices. Sadly, it comes with its own set of disadvantages which some customers find difficult to look past. Even though it can recover different kinds of data, it can only recover small files, each of which doesn't cross 2-3 GB. The software also does not allow scanning of specific folders which increases scan time drastically. FonePaw is known to eat up a lot of computer resources. This would mean, running it would slow down your PC. The final flaw in its functioning is that it doesn't keep a data log. This makes finding out what you recovered, nearly impossible.
Cons:
It is only capable of recovering small files that don't cross 2-3GB per single file.
Does not support to scan specific folders.
Eat up a lot of computer resources and slow down your running speed.
Which Free Samsung Data Recovery Software You Should Choose?
All these Samsung mobile phone data recovery software provide the same end goal with different styles and twists. Each of these has its pros and cons, and the final decision is left to you. If you require pure recovery with no added perks, go for a trimmed-down version. If you only own a single device, don't go for the extensive packs or toolkit versions. Pick a few out of these and try their trial version to see how you like it. Go for the one which will provide you with the right results.
Our recommendation would be to go for D-Back Android since it provides the greatest amount of versatility with the most economical price points. The steps to set this software is very intuitive and simple. Even people unfamiliar with similar software find the entire process quite simple and easy to understand. It also provides high success rates in comparison to most of its competitions.
Tip for Samsung Phone Backup
Samsung accounts for 34% of the US smartphone market and about 40.6% of the European smartphone market. Given these huge numbers, it's safe to say that Samsung has a strong share of the market, with its other major competitors being just Apple and Google. If you do find yourself with a Samsung phone and are wondering how to backup your phone in case of loss of data, read on.
Note
Backing up all the data on the phone will consume a decent chunk of data. So, we suggest switching over to WiFi to avoid huge data charges.
Step 1. Go to "Settings".
Step 2. Click on "Cloud and Accounts".
Step 3. Click on "Samsung Cloud"
Step 4. Scroll down to find "Back up this phone". Choose this option.
Step 5. This is where you need to decide what exactly you plan on backing up. Samsung provides users with the ability to backup Contacts, Images, Messages, Settings, Apps, and Documents (to name a few). An important point to note here is that only what's stored in the Samsung versions of these applications get backed up. An example of this would be music. If you back up music, you will be backing up only music which is there on the Samsung Music App, not the music on streaming services like Spotify and Pandora.
Step 6. Once all the required data has been selected, click on "Back Up" to begin the backup process. A progress bar will show how far the process has completed. This could take a while depending on the amount of data to be backed up.
Step 6. This data can be recovered later by clicking on "Restore Data" from the "Backup and Restore" section.