Contacts are the essential data that is unbearable to lose. These help us in creating healthy relationships with our loved ones. If your contacts disappear or get deleted accidentally, don't worry; this article will help you retrieve them without wasting time. In this article, you will learn how to recover the disappeared contacts with or without the backup using professional tools and cloud backups.
Part 1. Why Did My Contacts Disappear On My Samsung?
There are several reasons that your contacts disappeared from your phone. One possibility is that you have some system crashes, or your SIM card may have been detached from the phone. The other reason is that you have accidentally deleted the contact.
Your contacts can also disappear due to contacts file corruption from the file manager but don't worry; they can be recovered through this article.
Part 2. How To Recover Deleted Contacts From Samsung Device
There are numerous ways to recover deleted contacts from your Samsung device, but we will guide you with the effective ones that work fast and execute a legitimate recovery. Let's learn all the ways to apply whatever you wish.
Option1. Retrieve Disappeared Contacts From Samsung Galaxy Via Professional Tool
If your contacts disappear, it will be the most efficient way to recover them without losing your time. The professional tool is iMyFone D-Back for Android, an excellent recovery software with plenty of options.
iMyFone D-Back for Android is well known for its success rate of recovery and accuracy, leading to the recovery of all past files. It not only recovers the contacts but also has 11 types of data recovery options. This software decodes your Google Drive backup and shows you all the files to restore. You can also recover your WhatsApp data, including photos, videos, voice, and stickers. It has three modes of data recovery.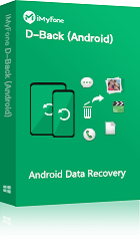 1,000,000+ Downloads
Key Features:
iMyFone D-Back can help you recover disappeared contacts from Samsung Galaxy even without backup before
It supports multiple formats (CSV, HTML, and VCF) to save the data
Capable of retrieving your lost/disappeared contacts caused by accidental deletion, water damage, system crash and more
supports to restore contacts from Google Drive without factory resetting on android phone
Step 1: Download iMyFone D-Back for Android and install it on your PC. Please open it and click Recover Phone Data from the home menu.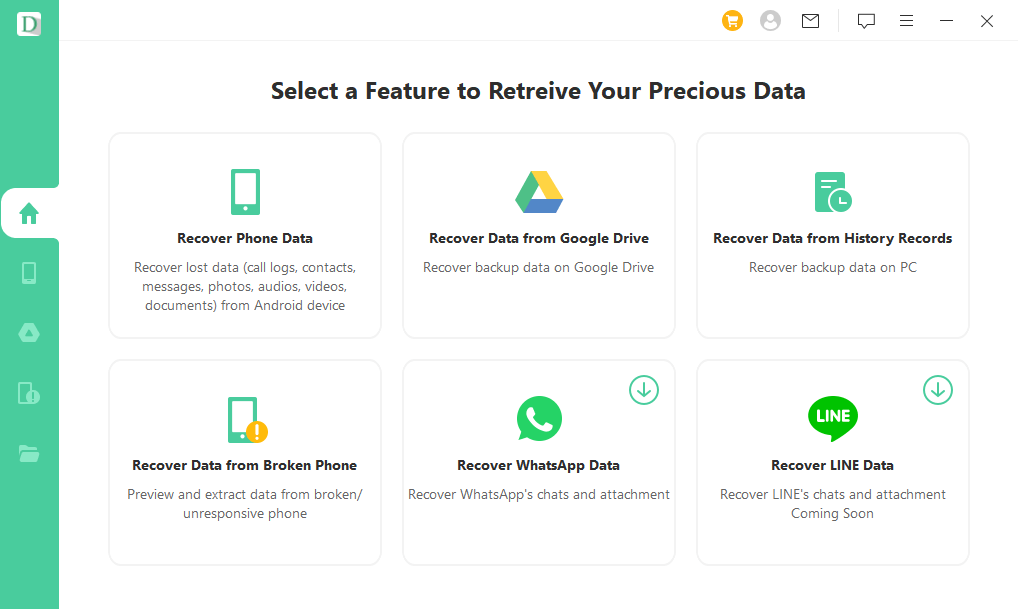 Step 2: It will show all the data types; select Contacts and hit Recover at the bottom left of the screen.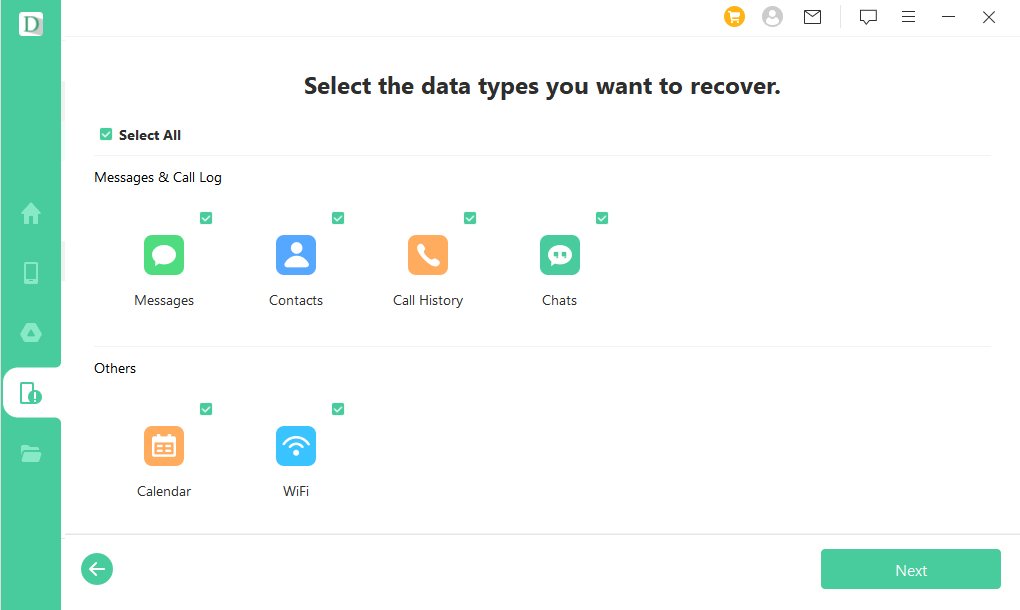 Step 3: It will show you a preview of all the lost files. Look for the contact that disappeared and select it for recovery. You can also search for it directly and hit Recover.
Select the File Type and File Path from the appeared prompt and hit Recover again to finish the process.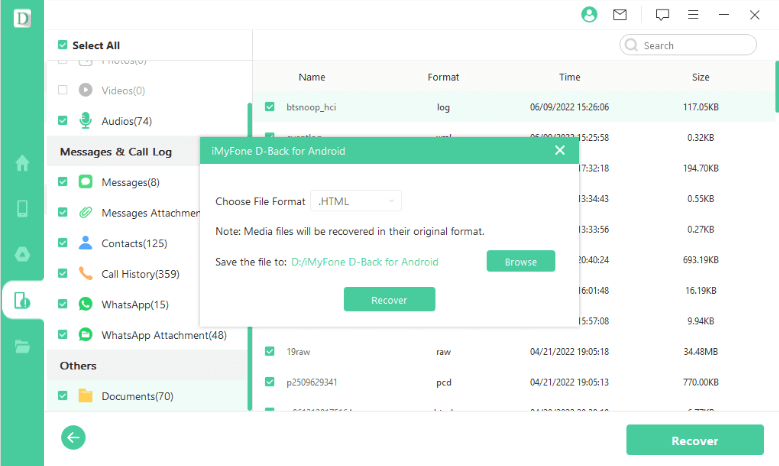 Option 2.Restore Samsung Lost Contacts From Gmail
You can quickly restore the contacts stored on your Google Contacts by following a few steps.
Step 1: Login to Google Contacts and tap Bin on the left-hand side panel.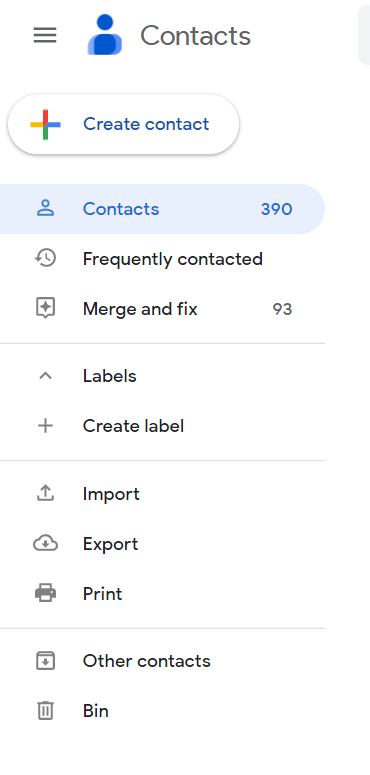 Step 2: Select the contact available there and hit Recover on the right-hand side.

Option 3. Get Back Disappeared Contacts From Samsung Cloud
If you have created a backup in your Samsung cloud account, it can be easily recovered, but it needs a strong internet connection for fast downloading. Let's start learning step by step and restore the contacts.
Step 1: Open Settings from the app drawer of your phone and tap the administrator name at the top.
Step 2: Tap Samsung Cloud and hit Restore Data from the list.
Step 3: Select the Contacts and hit Restore.
Part 3. How To Fix All My Contacts Disappeared From Samsung Galaxy Phone After Update?
If you are facing a problem after the system update, don't worry; we have worthy fixes to save your important contacts.
3.1 Check Contacts To Display
It has default settings in the contacts application of Samsung phones that might be switched to only device, which causes the contacts to disappear.
Step 1: Open Contacts from the application menu and tap More from the top right corner. Tap Settings from the drop-down menu.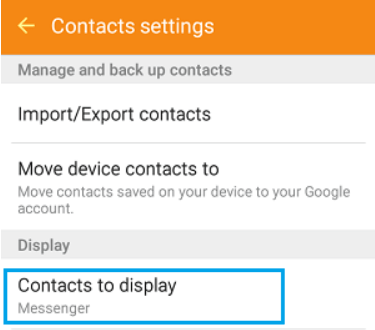 Step 2: Tap Contacts To Display from the settings and place the selector to All Contacts. It will show all the contacts; you can check it after changing.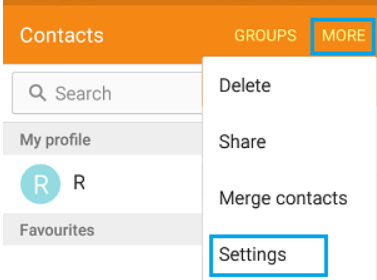 3.2 Make Sure Contacts Sync Works
This method will work if you have backed up the contacts to one of your cloud accounts, so let's see how you can fix this.
Step 1: Open Settings and tap Accounts.
Step 2: Tap Google Account and select your Google account. Hit Sync and check if the contacts are turned on.
3.3 Reset App Preferences
Sometimes the contacts app starts to malfunction due to the software update. Let's fix this issue without hassle.
Step 1: Open Settings from the app drawer of your phone and open Apps.
Step 2: Tap the More icon on the right-hand side and hit Reset App Preferences.
Part 4. FAQs about contacts missing after samsung update
4.1 Where to find deleted contacts on Samsung?
Your deleted contacts are not permanently removed from your mobile phone. They are stored in the recently deleted folder. Follow the steps to find it.
Open Contacts from the application menu.

Tap the More icon on the right-hand side and hit Trash.

Select the contacts available, and tap Restore to get them back.
4.2 How to delete a contact on a Samsung phone?
Follow the steps to delete the contacts on your Samsung Phone.
Open Contacts.

Select the contact that you want to delete.

Tap the Delete icon on the bottom right corner.
Conclusion
You are now well aware of getting back the lost contacts due to critical reasons. Still, the best way to recover them is using iMyFone D-Back for Android, an extraordinary tool to retrieve such losses. Download the tool and recover your data without any hassle.