If you have a Samsung tablet, you might have experienced data loss because of the weak security system. The tablet can get caught easily by malware and viruses, and this is the main cause of lost files.
There are numerous reasons for lost files. In this article, you will have step-by-step instructions to recover your precious data with or without a computer.
Part 1. How to Recover Deleted Files from Samsung Android Tablet with Computer
Data recovery is the process of recovering your deleted and lost files with top-notch recovery software. Your data can be accidentally lost or human or technical damage. Using third-party apps on your tablet can also result in data failures.
There are many recovery techniques, but a professional tool like iMyFone D-Back for Android has excellent performance.
iMyFone D-Back for Android is well known for successfully recovering all past lost files. It recovers data from rooted and unrooted devices as well. iMyFone D-Back for Android supports 6000+ device models. It has 11 data recovery types; you can recover almost every type of data using it. It has a feature that can recover your Wi-Fi password also.
iMyFone D-Back for Android has three modes for recovering files, and the biggest highlight is that it can recover data from a broken or damaged tablet.
Main Features about iMyFone D-Back:
It has high-speed data recovery.
iMyFone D-Back for Android is totally risk-free to use.
It also supports SD or TF cards to recover data.
It has a deep disk scanning and file preview option.
iMyFone D-Back for Android also restores deleted WhatsApp chats.
Let's see how iMyFone D-Back for Android recovers your deleted files from Samsung Android Tablet within a few steps:
Step 1: Start downloading iMyFone D-Back for Android and install it on your PC for recovery.
Step 2: Launch it on your PC, and Click "Recover Phone Data." It will take you to another window where you must enter your tablet model number to download the data package. Click "Next" to proceed.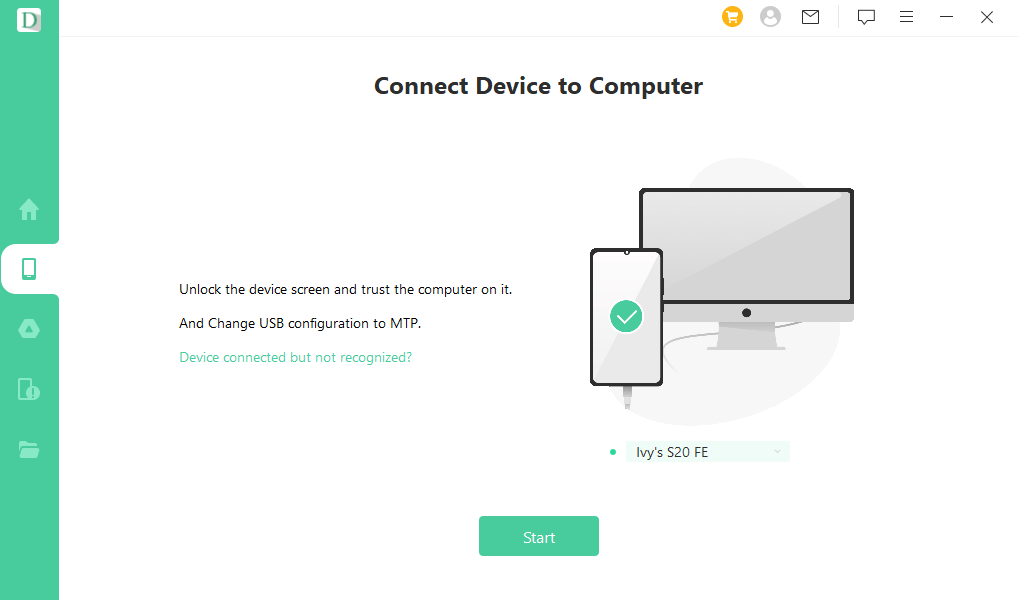 Step 3: It will ask you to connect your tablet via a data cable. After connecting, it will take you to a window with multiple file types to recover. Check mark the categories where you want to restore the deleted files and hit "Recover" to start deep scanning.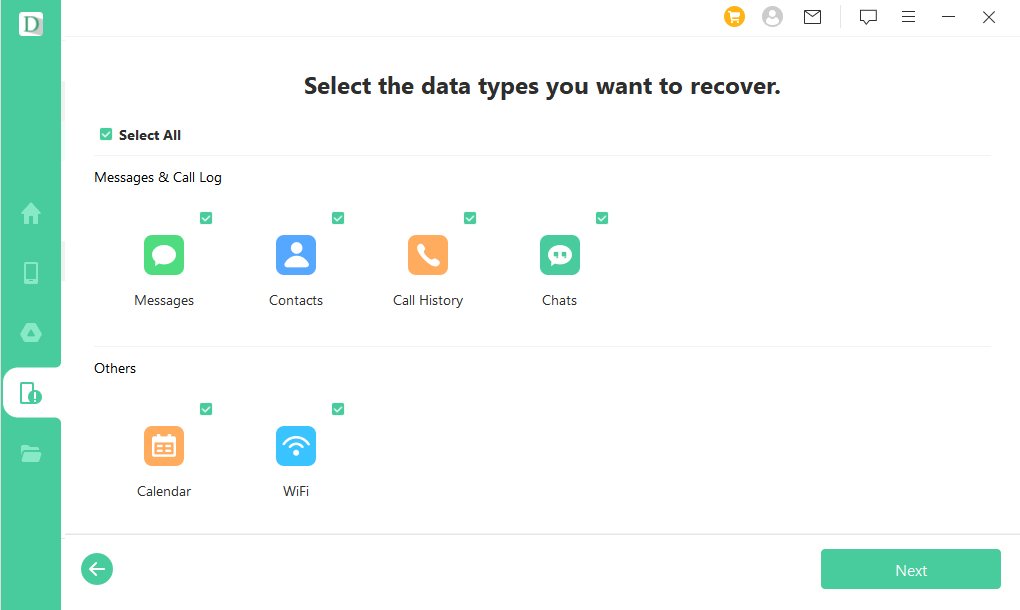 Step 4: It will take a few minutes to scan previous data. You will have a preview of your lost files. iMyFone D-Back for Android allows you to select the files you want to restore. Please select the files and hit "Recover."
It will open a window where you must enter "File Type" and your "File path." Enter both and click "Recover" to finish the process.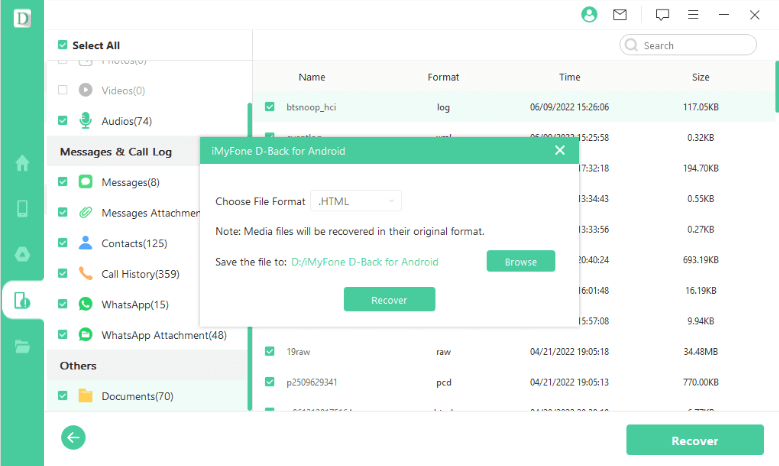 Part 2. How to Restore Deleted Files from Samsung Android Tablet for Free without Computer
You can recover your deleted files from a Samsung tablet in two more ways, but there is a condition. You must have a previous backup. It is a good habit to make a backup of your essential data and sync it daily.
The two ways are as follows:
Samsung Cloud Backup:
Samsung is a top brand because it serves its customers. It has created a cloud backup service for its devices to help the customers with the best. The steps to restore deleted files from Samsung cloud backup are as follows:
Step 1: Open the app drawer and go to "Settings." Now, tap on "name" at the top of the setting tab.
Step 2: You will see "Samsung Cloud" at the bottom; tap on it. You will have multiple options; tap on "Restore Data."
Step 3: Now, select your backed-up folder and tap "Restore." It will allow you to install it; tap on "Install" to download your deleted files. You will wait for a few minutes to download it. At last, tap on Done to finish the process.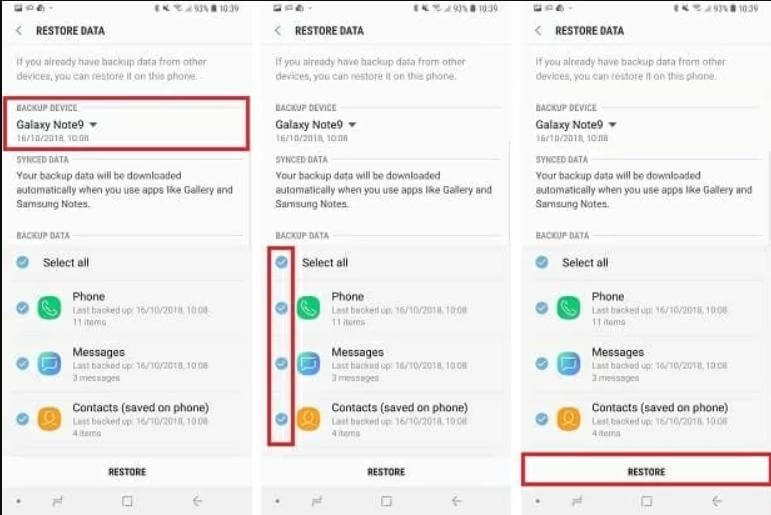 Google Drive Backup:
Google Drive plays a vital role in the backup and restoration of your data quickly. It is a convenient tool to use. The steps to restore data from the Samsung tablet are as follows:
Step 1: Open your Application menu and tap on "Drive."
Step 2: Tap on the hamburger menu on the top left side of your screen. Click on "Backups" to look for previous backups.
Step 3: Make sure you have connected to the internet. Now tap "Restore" and wait a little bit to download your lost files.
Bonus Tip: How to Prevent Files Accidentally Deleted from Samsung Android Tablet
Data is very important for all users. It is better to prevent data loss by following some tips instead of losing it permanently. The necessary and basic tips to avoid files getting deleted from Samsung Android tablets are as follows:
Always create a regular backup on your phone's built-in cloud backup app.
Do not insert a virus-infected SD card into your tablet.
Do not overcharge your tablet because it can cause some power failure or component damage.
Try to make a copy of your data every week.
Never use third-party apps without verification because sometimes they can also corrupt our files.
Part 4. FAQs
1

How to recover data from a broken Samsung android tablet?
You can recover data from a broken Samsung Android tablet with a very professional tool, "iMyFone D-Back for Android." Connect your tablet via data cable with your pc and follow the steps in this article.
2

Where are deleted files stored on the Samsung Android tablet?
The deleted files are stored in the "Recycle Bin" on a Samsung Android tablet. You can restore or delete them permanently whenever you want.
3

Does a Samsung tablet have a Recycle Bin?
Yes, Samsung tablets have a recycle bin. The files that you have deleted are stored in them and last for 30 days. You can recover it within 30 days. After that, it will be deleted automatically.
Conclusion
Data is a priceless virtual asset, and the loss is not bearable for anyone, but in some cases, losses can be easily retrieved.
If you have iMyFone D-Back for Android, you don't need to worry about losing your data. This ingenious recovery tool is responsible for swiftly recovering your deleted files from an Android tablet. It recovers all your lost files from the device, and you can select the ones that you want to save to your computer.