Breaking your phone can be very upsetting. At first, you'll want to focus on repairing the phone, whether it's physical damage or faulty firmware, but when that fails, your concern should be extracting data from the phone. If the damage prevents you from using the device e.g., if the screen is black or extremely damaged, then your best bet is to use a data extraction tool. One tool in particular that users are often curious about is FoneLab Android data recovery and Broken Phone Data Extraction and FoneLab iPhone data recovery. It's definitely one of the more popular tools for extracting phone files, and in this FoneLab Android/iPhone data recovery review, we'll be explaining all the important details about it.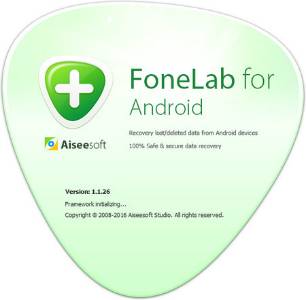 Part 1: FoneLab Broken Phone Data Extration-What to Consider
To start with, we're going to go over some of the things most users should consider when they are choosing software to manage Android data/iPhone data extraction. There are 5 areas which we believe are the most important:
1. Supported File Types
First, if you've got a broken phone, what types of data will FoneLab be able to extract for you? The main data types include:
Photos and Videos. Photos and videos can be recovered in their original quality.

Text Messages. Text messages, including timestamps, are recoverable.(iMessages for iPhone user are recoverable.)

Music. Just like videos, users can recover their music files if they lost them.

WhatsApp Messages (and Attachments). WhatsApp messages, photos, videos, or any other attachments sent to your phone can all be recovered.

Contact Info. Information including contact name, number, email, and everything you have saved for a contact can be recovered.

Documents. Users are also able to recover their documents (such as Word documents, spreadsheets, and generally any document on the Android device).
Note
For iPhone, FoneLab also supports restoring pictures, text messages, iMessage, videos, contacts, notes, calendar, reminder, voicemail, voice memo, WhatsApp messages and more from iCloud backup files.
2. Compatibility
In terms of compatibility, as in which Mobile devices FoneLab broken phone data extraction can be used for, it's clear that there is room for improvement. You can find a full list of compatible devices on the product's website, but here's a quick breakdown of them:
Android device:
Samsung Galaxy Note 3/4/5

Samsung Galaxy S4/S5/S6

Samsung Galaxy Tab
iOS:
iPhone 13/12/11

iPad Air/iPad Pro/iPab Mini

iPod 6/5/4
Obviously, this is a very limited number of devices. While it's likely that other devices aside from above devices are supported, it is not directly made clear whether this is the case. Therefore, if your device isn't listed, another extraction tool may be worthwhile.
3. Effectiveness
The next consideration we make with an Android/iPhone data extraction software is how effective it is – that's to say, whether or not it can successfully extract data.
Fortunately, this is one area whereFoneLab Android data recovery and FoneLab iPhone data recovery don't fail us, and they have proven to be great at extracting data under different circumstances. This includes extracting data from different phone models that have varying versions of the phone operating system installed.
However, there are a few holes in the level of effectiveness. Sometimes a file may not be detected from the file scan, but this is not a consistent problem.
4. Security
Security is done well with FoneLab Android data recovery and FoneLab iPhone data recovery. Here are the important takeaways from two programs' security:
Mobile devices are scanned locally, so none of the data is sent anywhere.

Data is extracted from the device to a computer, ensuring the data is not overwritten and is stored safely.

Scans have shown that there are no harmful viruses embedded in the program.
5. Pricing
For a FoneLab license, there are various options available. Depending on what you're looking for, there are two different types of License you can choose from, which both last a lifetime (rather than annual or monthly subscriptions). A license is required. Without it, full feature access will be very limited.
FoneLab for Android:
• 1 PC License, $39.95. This License allows users to install the full version of FoneLab on a single computer.
• 3 PCs License, $85.95. This License allows users to install the full version of FoneLab on a maximum of 3 computers.
FoneLab for iPhone:
• 1 PC License, $39.95. This License allows users to install the full version of FoneLab on a single computer.
• 3 PCs License, $165. This License allows users to install the full version of FoneLab on a maximum of 3 computers.
Part 2: Why Need an Alternative to
FoneLab Android data recovery

?

Now that you've taken into account the main things to consider about FoneLab broken phone data extraction, why would you need an alternative? There are some concerning issues that make an alternative worth looking into:

Purchasing FoneLab is expensive (costs more than other Android data extraction tools).

FoneLab's device scanning speeds are lacking compared to other tools.

There are a limited number of Android devices that FoneLab can scan and extract data from them.

A few data types cannot be extracted from Android.

So, if we take note of these downsides, it's clear that there are several reasons to look into an alternative extraction tool.
Part 3: The Best Alternative to FoneLab Android Data Recovery – iMyFone D-Back for Android
Once you've taken a look at FoneLab Android data recovery, you might decide that it isn't for you. It has a few downsides, and they can make an alternative seem more appealing, which is why iMyFone D-Back for Android caught our attention.
When Do You Need iMyFone D-Back for Android?
Before we get into the features that this tool will offer you, here are some situations that you might find to be useful:
• If you do a factory reset before taking a backup and want to retrieve the lost files.
• If you rooted your Android and some of the device's data was corrupted.
• If the phone is broken and you want to extract data before getting a new phone.
This alternative has proven to be a very effective data recovery tool for Android devices, and it's capable of extracting virtually any file. You can expect to see a lot more features when using this software too: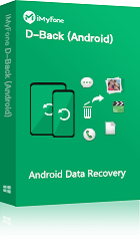 1,000,000 Downloads
What You Can Benefit from D-Back (Android):
Recover any data lost/corrupt/deleted on an Android device.

Capable of recovering call history, photos, music, contact info, and much more.

Unlike FoneLab, it compatible with a wide range of Android devices. You can easily use it with new Android versions as well as outdated Android versions.

Available as a free version (full access requires a license).

Recovers data without overwriting the original data, 100% safe recovery.

Data can be previewed before the recovery is finalized.

D-Back for Android doesn't require your Android to be rooted.

Data is exported from the device to your computer, reducing the overwrite risk.
These features show that iMyFone D-Back for Android goes a step further than FoneLab Android data recovery when it comes to Android data extraction, which is why we recommend trying it out. If that appeals to you, go ahead and follow these steps to extract your Android data.
How to Use iMyFone D-Back for Android
Step #1 – Download, install, and launch D-Back for Android then connect your device to the computer using a USB cable.
Step #2 – On the main menu, there will be 3 modes and for this method, click on "Broken Android Data Extractor."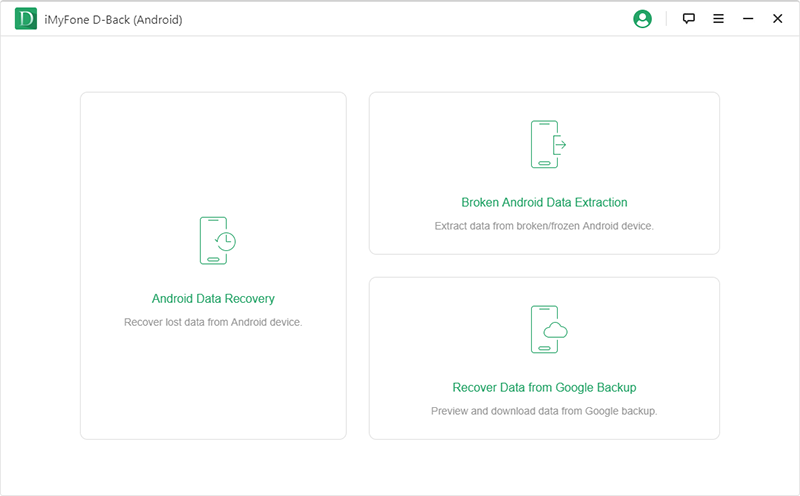 Step #3 – Next, you will be asked to enter some information about your device. Select the device's name and model, then click the "Next" button.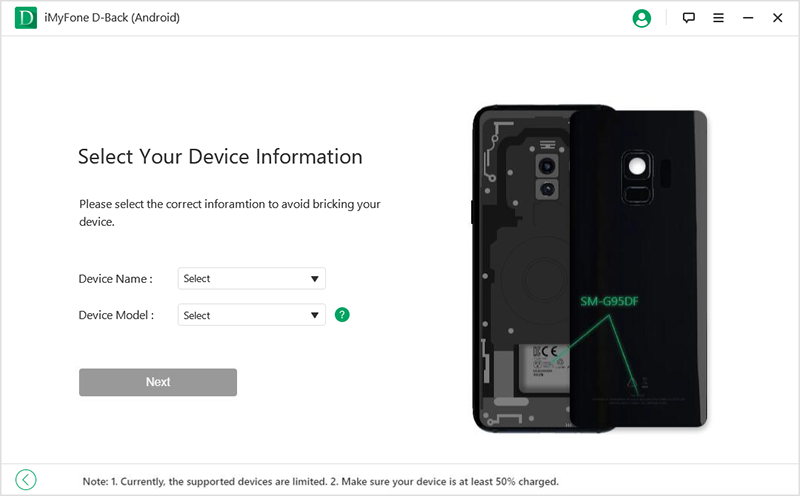 Step #4 – After the firmware has been downloaded, you will be prompted to confirm your device is connected.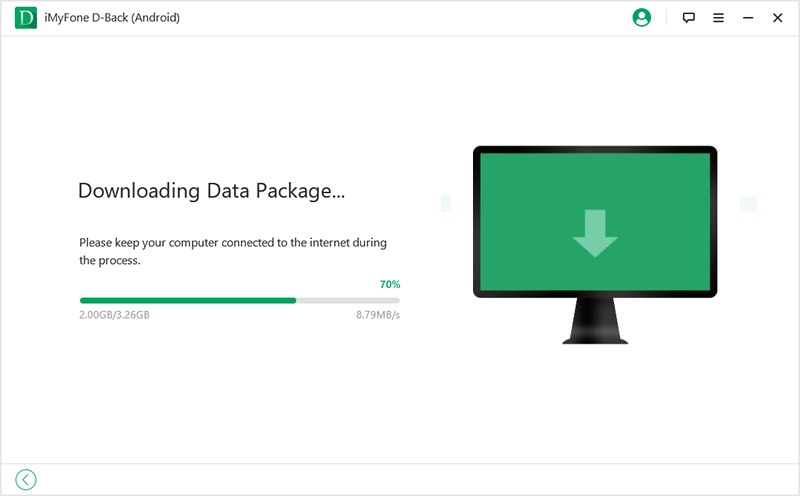 Step #5 – On the following menu, choose the data types you wish to scan for and recover from your Android device.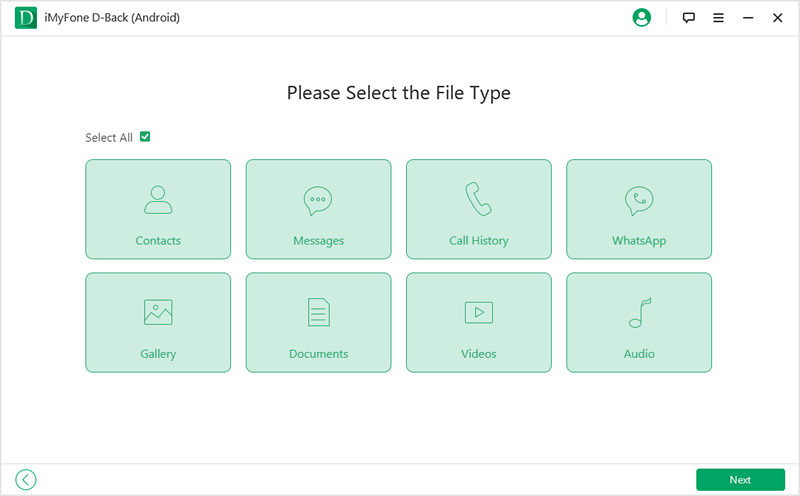 Step #6– Finally, click the "Recover" button and all of the data you chose will be extracted and saved to your computer.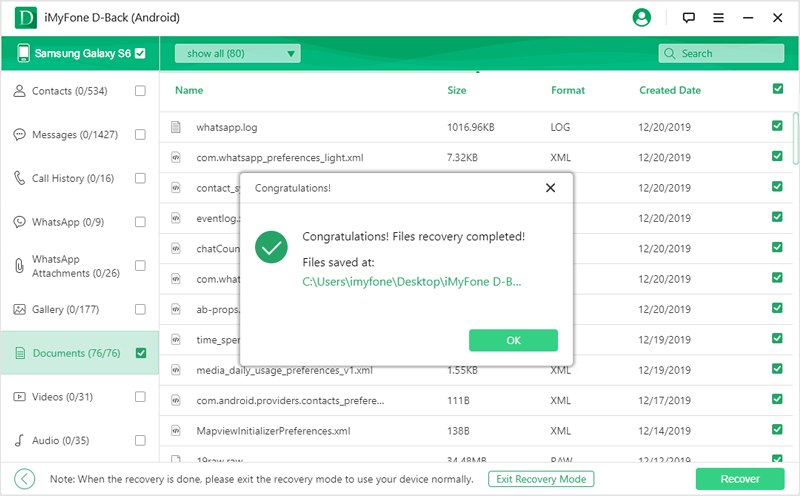 It couldn't be any easier than that. iMyFone D-Back for Android simplifies the data extraction process without compromising data and continues to be more effective than tools like FoneLab broken phone data extraction. If you're not sure about the tool, download the free trial and get a hands-on experience to understand how it works and whether it's what you're looking for.
Part 4: Broken Android Data Extraction – Comparison Between D-Back for Android and FoneLab for Android
Now that you've had the time to look at two different Android data extraction programs, and you've considered both sets of features they offer, the next step is to compare them side-by-side. Although both tools work well, there are glaring differences.
| Metrics | | FoneLab for Android |
| --- | --- | --- |
| East-to-follow process (for beginners) | | |
| Supported file types | | |
| Free trial | | |
| Compatible Android versions | | |
| Wide scope of supported Android devices | | |
| Money-back guarantee | | |
| | | |
As you can tell, iMyFone D-Back for Android has clear advantages, whereas FoneLab lacks in some areas. For each of these reasons, and with consideration to the features both tools provide for users, we'd recommend you use iMyFone D-Back.
Part 5: Bonus: Special Offer - Get iMyFone D-Back (Android) with Coupon Code
After you tried the free trial version, you can decide to purchase the full version to enjoy full functions of the program. Here, we offer a 20% off on purchases which works with any type of serial license.
When purchasing D-Back for Android , you get to choose from 3 plans. Below, we have the iMyFone D-Back(Android) full version plans:

Basic Plan –This is good choice for someone who want to use D-Back with a single device. After paying only $34.95, you should be able to use D-Back for Android in a whole year.
Family Plan –This plan costs $59.95. It will let you use this tool for lifetime with 2 to 5 devices.
Multi-User Plan –This plan is worth $79.95. If you want to use D-Back with 6 to 10 devices for a lifetime, this is a preferred choice.
Your Discount Code: 5ED-FQ1-KZU
Conclusion
That brings our review of FoneLab Android data recovery and FoneLab broken phone data extraction to an end, and we hope it has helped to clarify whether this tool is ideal for extracting Android data. Our preferred tool is iMyFone D-Back (Android), which, as we covered, proves to have more strengths than FoneLab, although both tools could be used for data recovery. If you're still on edge and can't decide, try out each tool and see which one suits your needs better!